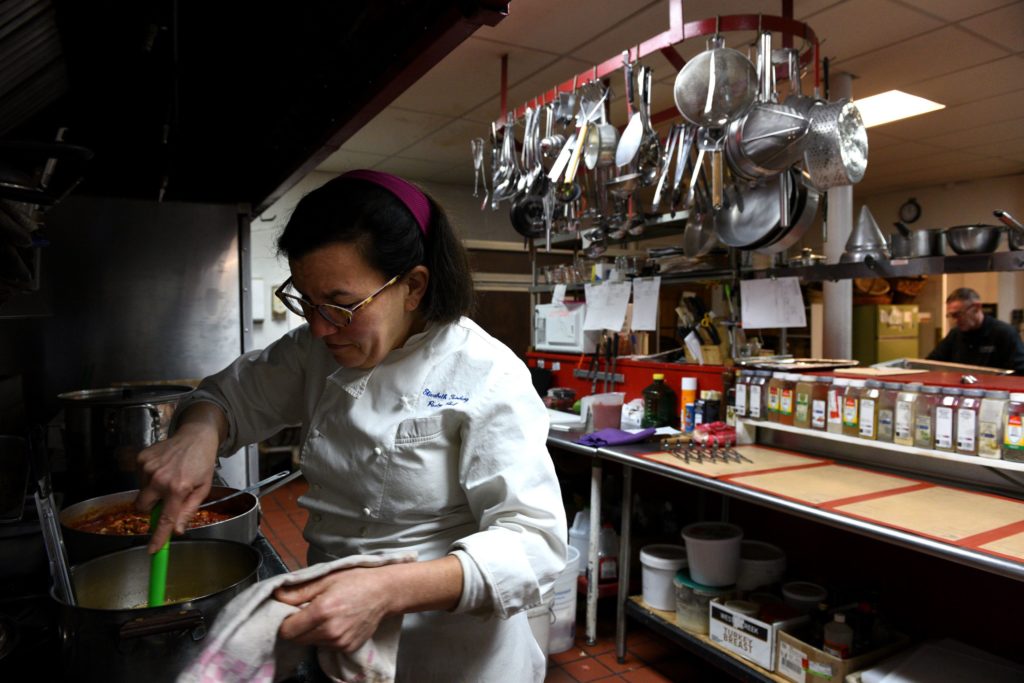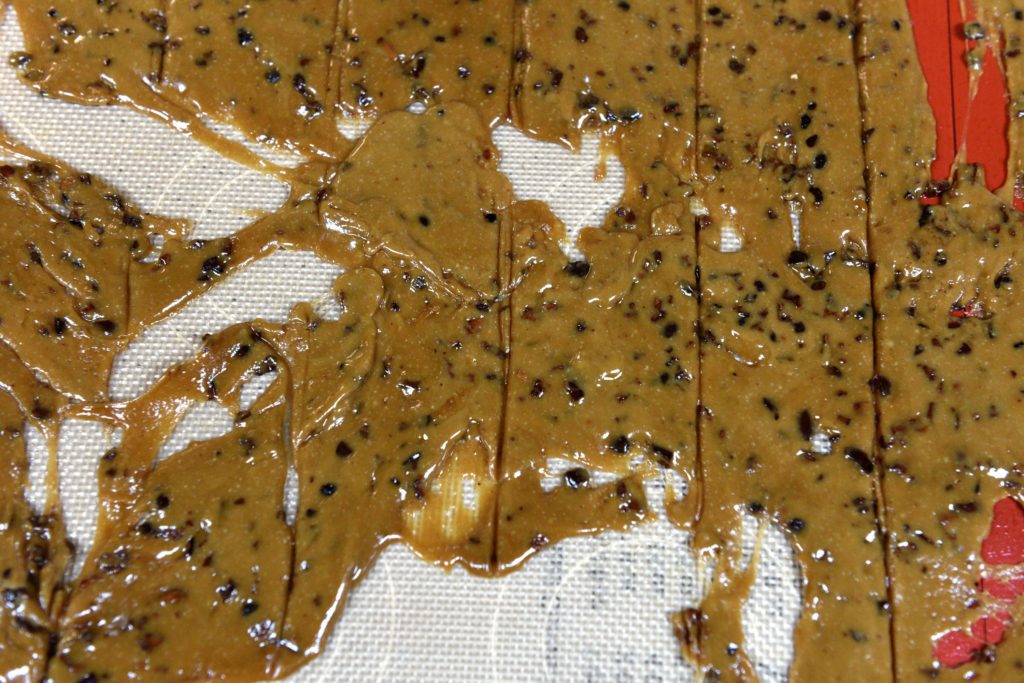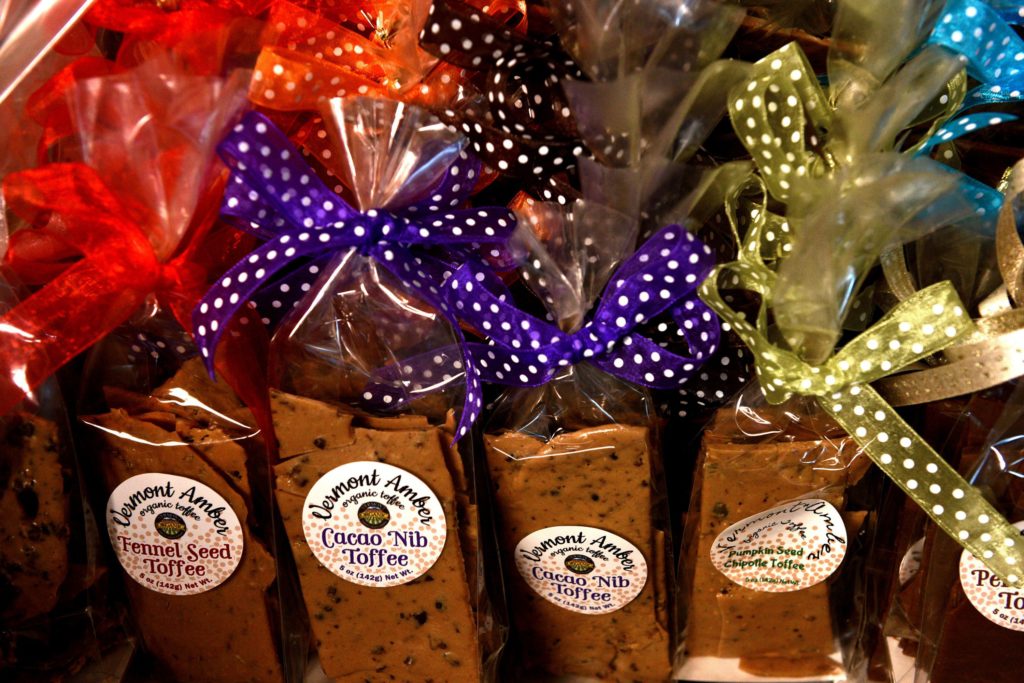 It didn't take long for Elizabeth Feinberg's organic toffee business to come to a boil.
Just months after starting Vermont Amber, the White River Junction resident outgrew her home kitchen. Recently, she picked up an account in Massachusetts — her first outside the Twin States. And in January, her company was among eight in Vermont to receive a Good Food Award — a national contest sponsored by the Good Food Foundation and the Good Food Retailers Collaborative that attracted more than 2,000 entries from which judges chose 193 winners based on blind tasting and other vetting.
Great news, right?
Yes. And.
"It's a huge marketing opportunity, obviously," said Feinberg, who flew to San Francisco to receive the award for her fennel seed toffee. "I'm still trying to process how can I capitalize on it. … A big thing for me is to not overwhelm myself with all of this stuff."
Not an easy task.
Feinberg has made toffee for years as a gift for family and friends. In November 2015, she took her friends' suggestions and started selling it, first at the Upper Valley Co-op in White River Junction.
Packaged in bags cinched with Feinberg's signature polka-dot ribbons, the confection now graces the shelves and tables of local farmers markets and more than a dozen stores. Thanks to online sales, it's traveled throughout the United States and to a handful of foreign countries.
Continue reading after the video.
Last summer, Feinberg started leasing production space from Coventry Catering, which also runs the Boho Cafe in White River Junction. The move out of her home kitchen was prompted by state regulations that apply to food processors grossing $10,000 or more a year.
Now, just over a year into her journey as a business owner, the former teacher is facing a sweet conundrum: how to capitalize on opportunities to expand, given the common constraints of space, time and money.
"I'm struggling with how to grow and what growth looks like," Feinberg said.
Feinberg, who turns 55 this month, is a Philadelphia native who went to hotel school in Colorado and made her way to the Upper Valley two decades ago via San Francisco. She's a trained pastry chef, but you won't see her in a puffy white hat.
On a recent afternoon, she wore a yellow sweatshirt, her brown hair pulled back as she tended a pot in the shared kitchen.
The toffee in progress would be packaged up later that day — thank-you gifts for people who'd written college recommendation letters for her younger daughter.
Dipping a candy thermometer into the heavy-bottomed 6-quart stockpot, she tested the temperature of the bubbling batch of buttery goodness. Next, she poured the lava-like liquid onto silicone baking mats and spread it out with a narrow metal spatula. Before cutting the candy, she dabbed at it with a paper towel, removing the excess butter. All the while, she talked animatedly about her venture.
Handmade, one 5-pound batch at a time, it's slow going. But increasing production isn't as simple as a buying bigger pot, Feinberg said. "There's a limit to how much you can spread out at one time without it hardening. It's a process I am struggling with mightily right now."
It's just one in a series of growing pains, which has included a steep learning curve.
"When I first started I would wake up and say, I don't want to learn something today. Can't I just make toffee?" Feinberg said.
New to the business world, she's tapped into a number of resources, including the Green Mountain Economic Development Corp. in White River Junction and the Montpelier-based Vermont Specialty Food Association.
She also tunes into food startup podcasts and works with a business mentor through the Vermont Small Business Development Center. "I think it's amazing I have this resource, and it's free," she said.
A single mother, Feinberg balances family life and the demands of business ownership, from seeking out new markets to filling orders and, sometimes, delivering those orders. Although it's not enough to live on, the business is profitable, if intense.
"It's simultaneously crazy and exciting and like, crap, I have to go make toffee," she said.
Some weeks she's so busy she doesn't even make it up to Dan and Whit's, just a few miles away, said Feinberg, who's kicking around a number of time-saving tweaks, including using a third-party distributor.
A part-time employee helps with packaging, and Feinberg recently brought on another person, also part time, to help her make toffee. She's still sorting out the related logistical hurdles.
Coventry Catering has been "fine and generous," and sharing the kitchen has worked out great, she said. While there's a limited amount of workspace available during the day, the kitchen is quiet after hours. But Feinberg has two kids at home and hates being up all night.
With those questions in mind, she's looking ahead. The toffee will make a showing at Lake Morey Resort this month, and some of Feinberg's recipes will be featured in an upcoming book about organic and non-GMO food.
Her goals for 2017 include expanding into western Massachusetts and co-ops in Concord and Keene, N.H.
Ultimately, she hopes the company will serve as the foundation for a larger mission, perhaps an incubator kitchen for use by fledgling businesses, or a program to teach professional skills to people in transition.
"I love this product and where it's going, but I don't want to be standing here in five years unless I have to," she said.
In the meantime, she's trying to find the balance between growth and manageability.
On a recent morning, soon after the marathon toffee-making extravaganza that filled her holidays, she didn't arrive at the White River Junction kitchen until — gasp! — 10:30 a.m.
She could have been there at 6 a.m., but "you have to walk the dogs and pay the electric bill like everyone else … and make sure there's something there (to eat) when the kids get home," Feinberg said. "Being a single parent is hard enough, and add in having your own business … ."
That said, she has faith in the future.
"You find your way," she said. "And you find your place."
BY THE NUMBERS

15-25: pounds of toffee made daily, Monday through Friday

2,040: pounds of butter used annually

$9: price of a 5-ounce bag of Vermont Amber at a farmers market ($12 online at vermontamber.com, with free shipping)

The flavors: Feinberg's best-selling flavor, Perc'olator, is a chocolate-colored toffee infused with coffee essence produced in partnership with Saxtons River Distillery in Brattleboro, Vt., which makes perc, the liqueur for which the toffee is named. Other flavors include cacao nib, fennel seed, ginger cookie, plain, pumpkin seed-chipotle, salted sesame and sun-dried tomato with smoked salt and black pepper.
Valley News staff writer Aimee Caruso can be reached at acaruso@vnews.com or 603-727-3210.