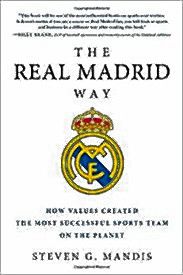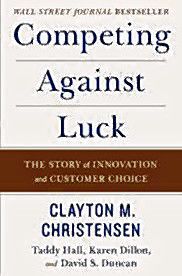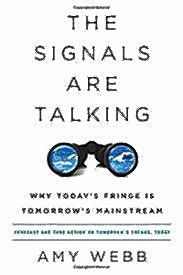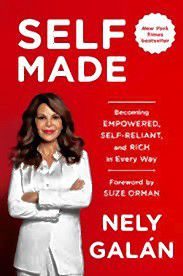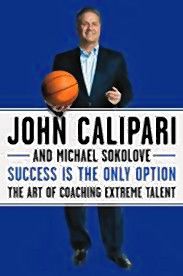 The top five business books the CEO can't put down.
1. Self Made: Becoming Empowered, Self-Reliant, and Rich in Every Way
By Nely Galan
What does it mean to be self-made? It's not just about having money, but financial empowerment is where it begins. It means getting out of survival mode, where you are one problem away from catastrophe. It means being rich in every way: in money, in family, in love, in time. For Galan — entrepreneur, TV producer, and real estate mogul — helping women to become self-made is a movement and a mission. She pulls no punches as she shares candid, no-nonsense lessons: There is no Prince Charming. Think like an immigrant. Don't buy shoes, buy buildings! When you become self-made, the change in you inspires change in those around you, because one of the greatest rewards of a self-made life is seeing how the sparks from your personal revolution can light a fire in others.
2. Competing Against Luck: The Story of Innovation and Customer Choice
By Clayton M. Christensen, Taddy Hall, Karen Dillon, David S. Duncan
Christensen revolutionized business with his disruptive innovation theory. Here, he gets to the heart of business and product development success, concluding that the only thing a company needs to know about its customers are their "jobs to be done." This provocative approach and organized framework is at the crux of discovering the why behind customer choices and actions — and is the first often missed step toward making innovation inevitable for companies and entrepreneurs alike.
3. The Real Madrid Way: How Values Created the Most Successful Sports Team on the Planet
By Steven G. Mandis
How did Real Madrid become the most successful sports team and franchise in the world? It starts with its fans and the team's devotion to the values those fans hold dearest. Mandis delves into why the team with the most trophies in the world's most popular sport continues to win. Even to the author's surprise, success does not come from deep statistical analysis or simply accumulating the best players, but rather from how the team embodies the spirit and culture of its community — a valuable lesson for sports and global business teams alike.
4. The Signals Are Talking: Why Today's Fringe Is Tomorrow's Mainstream
By Amy Webb
Webb, a noted futurist, combines curiosity, skepticism, colorful storytelling and real-world analysis in this essential book for understanding the future. She reveals a systemic way of evaluating new ideas and distinguishing a real trend from the merely trendy, helping us hear which signals are talking sense, and which are simply nonsense. Her methodology shows how to think like a futurist and ask the right questions: How will technologies like artificial intelligence, machine learning, self-driving cars, biohacking, bots and the Internet of Things affect us personally? Our businesses and workplaces? Most important, Webb allows us to see ahead so we may forecast what's to come challenging us to create our own preferred futures.
5. Success Is the Only Option: The Art of Coaching Extreme Talent
By John Calipari, Michael Sokolove
Kentucky's charismatic coach shares the secrets of creating one of the premiere programs in college basketball, revealing how he transforms a group of former high school superstars into selfless, cohesive teams including a remarkable squad last year that fell just one game short of a perfect season. Calipari, highly regarded for his ability to recruit the country's top high school talent without making outlandish promises, distills his team-building methods in ways that apply to CEOs, business owners, coaches, teachers and leaders of all kinds — lessons for anyone seeking to inspire talented individuals to reach for their best selves and contribute to a greater good.
— As compiled by 800CEOread.com