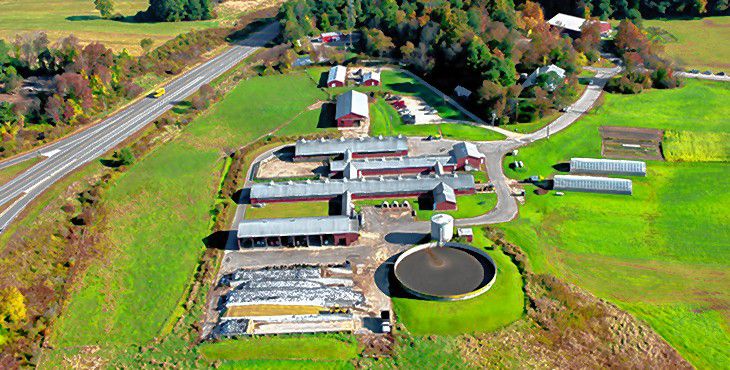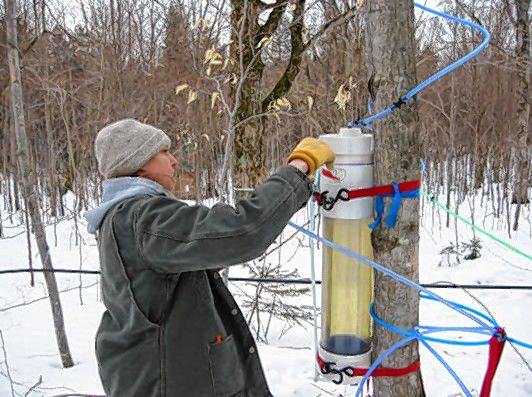 They are constantly humming with research projects that benefit agriculture, forestry, the environment and consumers of New Hampshire and Vermont, and very often their work has impact nationally and even overseas. These are the farms operated by the universities of New Hampshire and Vermont as part of the classic land-grant college mission of harnessing science for the improvement of the health and welfare of the general population.
In their early years, farm operations for research and teaching were centerpieces of the land-grant institutions, established with the passage in 1862 of the Morrill Act, which was sponsored by Strafford's own Sen. Justin Morrill. Although on many campuses they have been overshadowed in modern times by glitzier functions, such as professional schools and big-time athletics, college farms remain vitally important for the large amounts of money they attract for research work and as platforms for hands-on teaching in a broad array of disciplines.
The University of New Hampshire recently was ranked 12th among the best college farms in the United States, well ahead of many land-grant schools in states with a far larger agricultural presence. UNH's lineup actually consists of several distinct farm operations, including the Fairchild Dairy Teaching and Research Center, the Woodman Horticultural Research Farm, the Macfarlane Research Greenhouses, the Kingman Research Farm and the Organic Dairy Research Farm.
Best College Reviews cited UNH for having an "academically centered farming operation" with various facilities close to the core campus, large amounts of research funding, close attention to sustainability factors, plenty of experiential learning and extensive outreach to communities beyond the institution.
UNH's organic dairy farm was the first of its kind in the country, a separate facility with its own herd of milkers and cropland dedicated to research on profitable production of forages using organic principles exclusively. It was built with major support from the private sector, notably from Londonderry, N.H.-based yogurt maker Stonyfield Farm. Dairy research has long been a strong suit of UNH's farms, especially in the area of bovine nutrition, where study findings have had global impact.
For decades, the UNH research farms have developed new strains of fruits and vegetables suited for northern climates, improved for appearance and taste, and capable of greater and greater yields. A particular focus in recent years has been what's called "season extension" — developing varieties and cultural systems that bring crops to market earlier in the spring and later in the fall. Plant breeding is a science only for the patient, and developing a strawberry or a squash that's better than what's already out there can take decades, but it seems like every year there's something new and exciting that the UNH scientists pitch to growers to try.
The University of Vermont has its horticultural farm near the main campus, a small teaching herd of dairy cows nearby, the nationally known Morgan Horse Farm about 30 miles south of Burlington in Weybridge, Vt., and the Proctor Maple Research Center in Underhill, Vt. Just about anyone involved in the maple syrup business anywhere in North America knows about the Proctor Center, for it is a fount of scientific information about the maple tree, its sap and the processes of converting maple sap into syrup and other products. Proctor doesn't just do deep technical stuff, though. Recently it has gotten a lot of attention with its examination of the potential of tapping maple saplings rather than waiting until the tree has grown 30 or 40 years. And it was deeply involved in monitoring an outbreak of forest tent caterpillars in maple sugarbushes during 2016.
The UVM Morgan Horse Farm is famed for the bloodlines of its stable of Morgans, the riding and driving horse whose origins are in Vermont. It affords a venue for classes in equine studies in UVM's Department of Animal and Veterinary Sciences. UVM's Horticulture Research and Education Center, like the one at UNH, is the site of many research projects in fruit, vegetable, floral and ornamental development and production.
An interesting farm program conducted at both UNH and UVM is called CREAM, which stands for Cooperative Real Education in Agricultural Management. It may be an unwieldy title, but it's a straightforward, hands-on experiential course. About two dozen undergraduates take charge of a herd of 30 or so dairy cows for the academic year, handling feeding, breeding, milking, record keeping and financial management. Professors keep an eye on the proceedings, but it's largely up to the students to try to make a go of the project. Competition to get into the program is intense, for it looks great on an application for veterinary college or grad school, but it's no easy gig handling a 5 a.m. milking shift, facilitating a difficult calving or mucking out calf pens. It's worth four credits per semester and students have to carry a normal load of other courses.
There's a distinct Upper Valley connection to the story of the University of New Hampshire's farms and how they came to be located in Durham. Prior to 1890, New Hampshire's school of agriculture was, by edict of the state Legislature, part of Dartmouth College. It was a terrible fit. Dartmouth didn't want it and the aggie students commonly were referred to as "dungies" by their brethren on the Hanover campus.
But an old man named Benjamin Thompson thought a school of agriculture might be better off if it separated from Dartmouth and relocated elsewhere, so in his will he bequeathed his money, and his farm in Durham, for this purpose. His heirs unsuccessfully tried to break the will, and in due course the "New Hampshire College of Agriculture and the Mechanic Arts" was established in Durham.
The aggie school at Dartmouth had some valuable farmland on Hanover Plain — essentially all the flat land east of what are North and South Park streets today — and it eventually would become athletic fields for Dartmouth and housing for the growing Hanover community.
The University of Vermont had issues of its own over agricultural education — or, rather, lack thereof. After the passage of the Morrill Act, Washington allocated thousands of acres of public land to each state, which often was sold to support education, including colleges of agriculture. For most of the rest of the 19th century, UVM accepted the grants and spent the money, but didn't bother to teach any agriculture.
The state's Grange Movement eventually seized on the issue and a protracted political struggle ensued. The Grangers sought to fire the UVM trustees and almost prevailed. Eventually, UVM grudgingly and slowly added agriculture to its curriculum.
Steve Taylor lives and farms in Meriden. He serves as a director of the Cornish Fair Association and of the Eastern States Exposition.