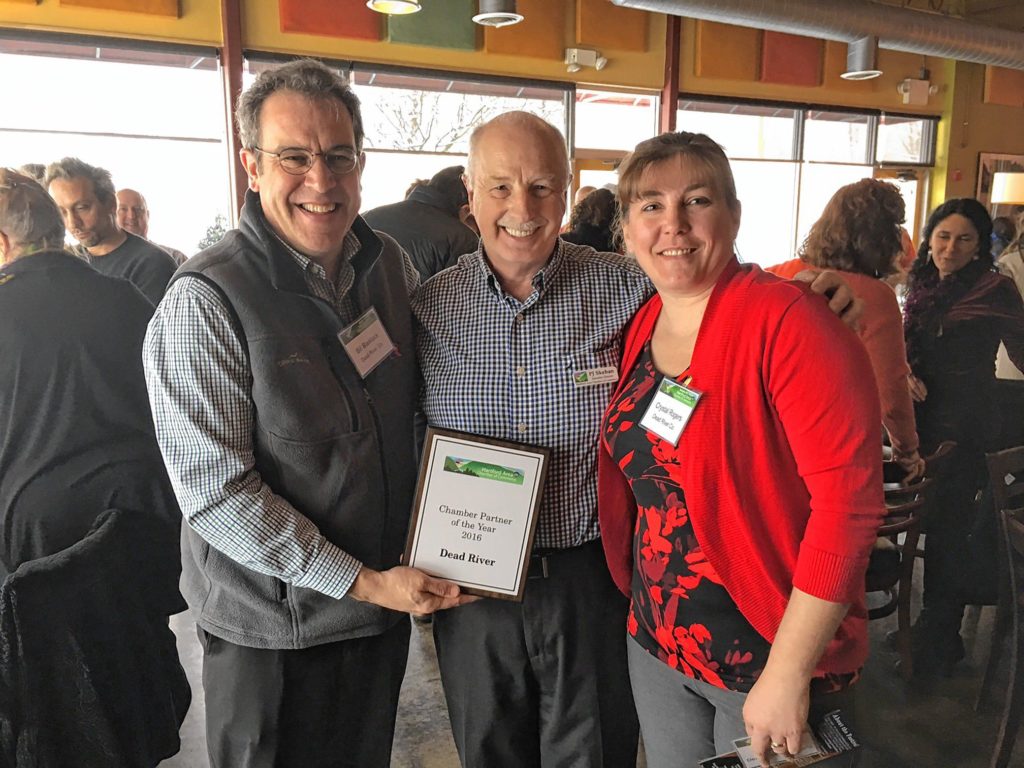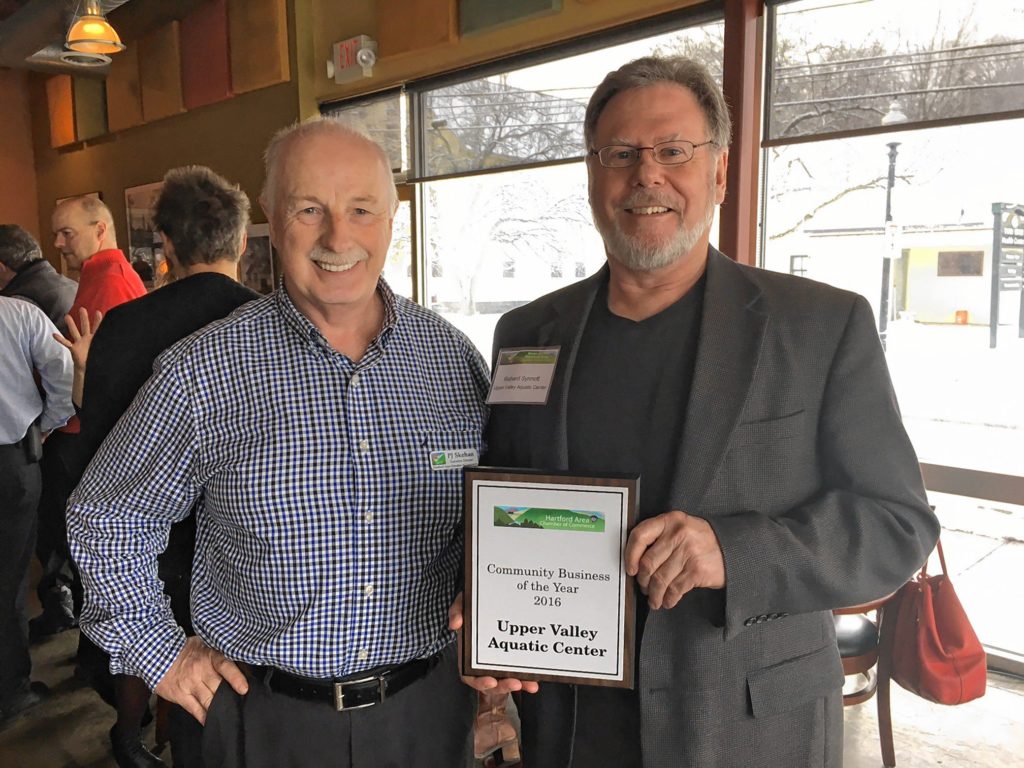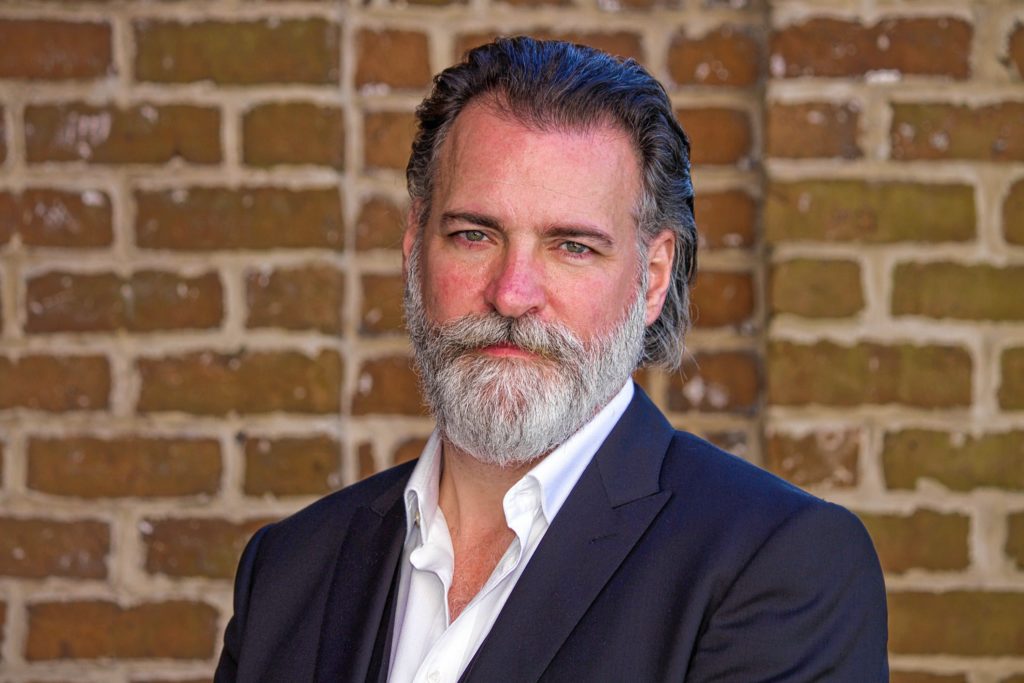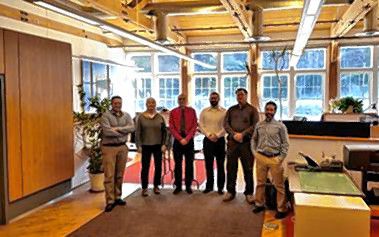 Woodstock Pizza Chef was named the Woodstock Area Business of the Year at February's annual meeting of the Woodstock Area Chamber of Commerce. Gary Thulander, president of the chamber's board, presented the award in recognition of Woodstock Pizza Chef's "outstanding spirit and contribution" to the Woodstock area community. Andrew Pearce Bowls was selected as the chamber's 2017 New Business of the Year. "Andrew Pearce holds a very strong artisan spirit, a love of his family tradition, and at the same time, the courage to take a new path," the chamber said in the release. "The beauty of using raw, sustainable materials and minimizing environmental impact is deeply appreciated by our community residents and visitors, and represents the brand of Vermont." Mary MacVey was named the chamber's Woodstock Area Volunteer of the Year for her support for community organizations including The Woodstock Job Bank, Pentangle, Vermont Symphony Summer Performances, the Thompson Senior Center, the Woodstock Rotary, the Ottauquechee Health Foundation, the Woodstock Garden Club, the East End Action Group and Sustainable Woodstock.
Dead River Co. was named the Hartford Area Chamber of Commerce Chamber Partner of the Year, and the Upper Valley Aquatic Center was selected as Community Business of the Year at the chamber's recent annual meeting at the Tip Top Cafe in White River Junction. Bill Blaiklock and Crystal Rogers accepted the award on behalf of Dead River, and Rich Synnott accepted on behalf of UVAC. The Hartford chamber's board of directors and officers elected for 2017 were: Tammy Latvis of Curves, chair; Nicolaas Bekker of Ledyard National Bank, vice chair; Irene Green of Northern Stage, secretary; Cheryl Lindberg of Lindell Associates LLC, treasurer; Tricia Kent of Community College of Vermont; Steven Burnett of The Richards Group; Rick Trahan of The Quechee Inn; Lindsay Obar of Mike's Store & Deli; Lynn Luczkowski of L2 Communications; Jason Whitney of Whitney Pension Associates; Tan Nunez of Hartford Parks and Recreation; and Marcos Stafne of the Montshire Museum of Science.
National Field Representatives has been named Business of the Year by the Greater Claremont Chamber of Commerce. The company, which serves lenders holding mortgages on residential properties that are in delinquency, was started by Deborah and Steve Cossingham in 1989 in Windsor before moving to Old Church Road in Claremont a year later. More recently, the company has operated from three different locations in the city, including the Wainshal building on Water Street and on Maple Avenue, where an addition, scheduled to be finished in July, will allow for the consolidation of all the company's offices in one location. "Their decision to locate in Claremont and their … decision to expand their extensive physical building when they could have chosen to go elsewhere speaks volumes about their commitment to our community," the award nomination states. Catherine "Cat" Andrews, the general manager at Amcomm Wireless, was named the chamber's Young Professional of the Year. A 2007 graduate of Hartford High School, she has been with Amcomm, a Verizon wireless franchise, for 11 years, including the last four as general manager of the Claremont store and locations in Lebanon, Hanover and two in Maine. Cory LeClair, assistant superintendent of schools at SAU 6, was named the chamber's Citizen of the Year and TLC Family Resource Center was named the chamber's Nonprofit of the Year.
Jeff Sessions, a veteran sales executive who most recently served as president of Red River Computer Co., has succeeded Rick Bolduc as CEO of the Claremont-based information technology contractor and computer equipment supplier to the U.S. government, the military and civilian agencies. Bolduc, who joined Red River in 1995 and was named CEO in 2005, will remain with Red River as executive chairman of its board of directors. Sessions joined Red River in 2007 as the company's first vice president of sales. He then served as senior vice president for corporate strategy before becoming the company's president in February 2016. Before coming to Red River, Sessions was vice president for federal sales with GMRI, a division of Manassas, Va.-based PC Mall Gov Inc., a technology supplier for government and educational institutions. Red River, which has about 250 employees, including 100 at its Claremont headquarters, is approaching $500 million in annual revenues, Bolduc said, and expects to continue hiring people as it becomes a "technology integrator" to manage the computer networks and data storage needs of both the federal government and private sector.
Booksellers and partners Mike DeSanto and Renee Reiner, owners of Phoenix Books, have acquired the Yankee Bookshop in Woodstock. Susan Morgan sold the 82-year-old shop on Woodstock's Main Street, which bills itself as "Vermont's oldest continuously run bookstore," to the Phoenix Books owners, who operate bookstores in Vermont in Essex, Burlington, Rutland and Chester. Kari Meutsch and Kristian Preylowski, who have relocated from Jericho, Vt., will serve as managers and co-owners of the store. Meutsch has been an assistant general manager for several years at Phoenix Books, and her fiance, Preylowski, most recently has been an assistant manager at image processor PhotoGarden in South Burlington.
Engineering Ventures, which provides land use planning, permitting, and civil and structural engineering to institutions, housing organizations, public facilities and private clients, has relocated its offices within the Rivermill Building at 85 Mechanic St. The new office is Suite E2-3, a ground-floor location that the company said will help improve client service, offer new amenities for its 30 employees, and allow room for growth in both civil and structural services. "Recent growth in the structural staff in the Lebanon office was the catalyst for a larger space," the company said in a news release. Engineering Ventures also has an office in Burlington.
White River Junction-based Vermont Amber, maker of organic toffee, was presented with a Good Food Award at a ceremony last month at the historic Herbst Theater in San Francisco. Chosen from among 2,059 entrants nationwide, the 193 Good Food Awards recipients met specific standards of environmentally sound agricultural practices, good animal husbandry, sourcing transparency and responsible relationships throughout the supply chain, the Vermont Agency of Agriculture, Food, and Markets said in a news release. Vermont Amber was selected for its Fennel Seed Toffee. Other Vermont winners from the Upper Valley region included Fat Toad Farm, of Brookfield, and Spring Brook Farm, of Reading.
Liberty Utilities has completed a $6 million upgrade to an electrical substation at 19 Medical Center Drive in Lebanon. The project, performed in cooperation with National Grid, took more than four years to plan, engineer and construct, the company said in a news release. Liberty Utilities spokesman John Shore said the project at the company's Mount Support substation "will increase reliability and allow for future growth in Lebanon and Hanover." The upgrade consists of new transmission and distribution circuits that will provide redundancy in the event of a supply failure. "This project will allow for future business growth in the region," Shore said in the release.
The former Dexter Richards and Sons Woolen Mill in Newport, commonly known as the Ruger Mill, has been named to the National Register of Historic Places. The National Park Service designation, announced in February by the New Hampshire Division of Historical Resources, means the owners of the mill are eligible for tax credits and grants for its redevelopment. The Sunapee Street mill is owned by 169 Sunapee Street LLC, a Naples, Fla.-based business, according to the New Hampshire Secretary of State's website. Assessed at $1.25 million, the three-story, 70,000-square-foot building, with about 28 acres, was sold for $1.1 million. The property also includes two operating hydroelectric dams that were restored by the former owner, William Ruger Jr. The designation makes applicable property owners eligible for grants such as the Land and Community Heritage Investment Program and the Community Revitalization Tax Incentive, which freezes the pre-renovation assessment for up to seven years on any qualifying structure. However, that program it is not on the books in Newport and would need voter approval. The mill is currently vacant and most recently was used to store a collection of vintage automobiles owned by Ruger. There also was a computer and electronics recycling business on one floor that was operated by Lyle Patterson, who worked for Ruger. Patterson died in July 2015. The new owners have not made public their plans for the property. Newport's planning and zoning administrator, Julie Magnuson, said the property is located in several different zones, including industrial, light commercial and residential.
Aspen Dental hopes to be the first tenant to move into a new building proposed for the former Pizza Hut site on Route 12A in West Lebanon. The dental office anticipates moving later this year from its current home next to Wal-Mart. Developers announced plans to raze the former restaurant building this summer, almost a year after it became vacant following the November 2015 closing of Pizza Hut. A new, 6,000-square-foot building with space for both Aspen Dental and an as-yet-unnamed coffee shop with a drive-up window is planned take its place. Aspen Dental would use 3,750 square feet in the proposed building and be allotted 15 parking spaces, according to plans filed with the city. The coffee shop would occupy 2,250 square feet and have 18 parking spaces. New York-based Aspen Dental, which specializes in low-cost dental care and dentures, has more than 500 franchised offices in 22 states.
A 9-year-old program that has River Valley Community College and the Hypertherm Technical Training Institute collaborating to train workers in the field of advanced manufacturing has proven so successful that it will be continued despite the end of a $5 million grant that has supported it over the last four years. "We have been able to create a sustainable program now that the grant is winding down," said Scott Lazzarro, advance machine tool technology director at RVCC. About 400 people have completed the program, which was funded through the U.S. Department of Labor's H-1B program. The college, which has locations in Claremont, Keene and Lebanon, acts as a satellite campus for the initiative. The course is taught at Hypertherm's Heater Road facility in Lebanon. Lazzarro said an advanced manufacturing certificate can be earned tuition-free through Hypertherm's technical institute and those accepted become full-time employees of Hypertherm the day they start the course. Successful graduates earn the certificate and 28 credits that can be applied toward an engineering technology associate degree at the college.