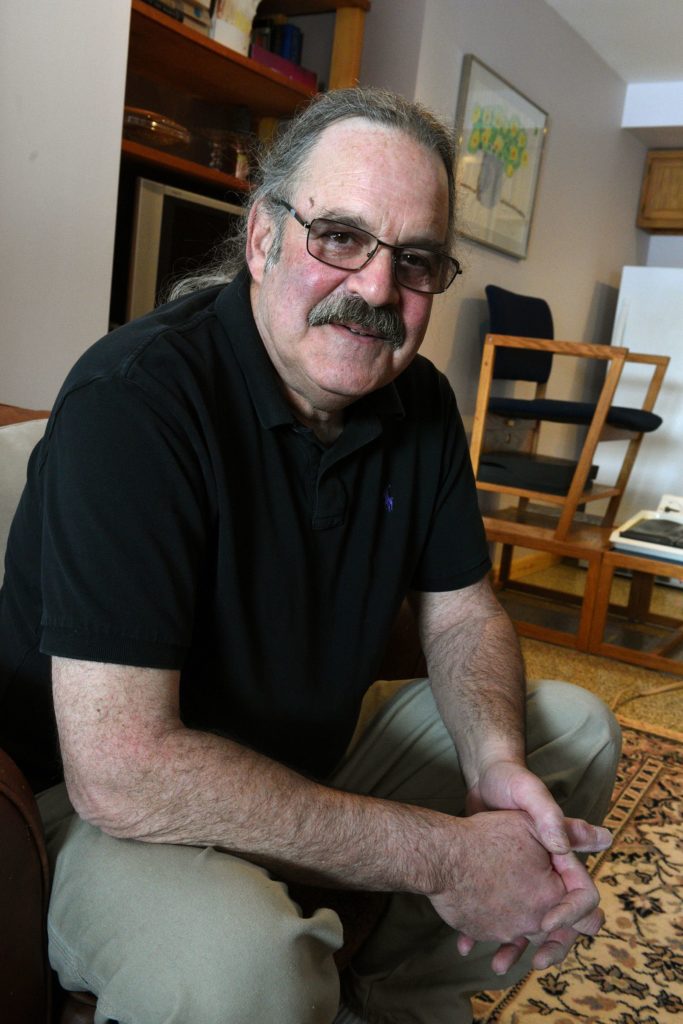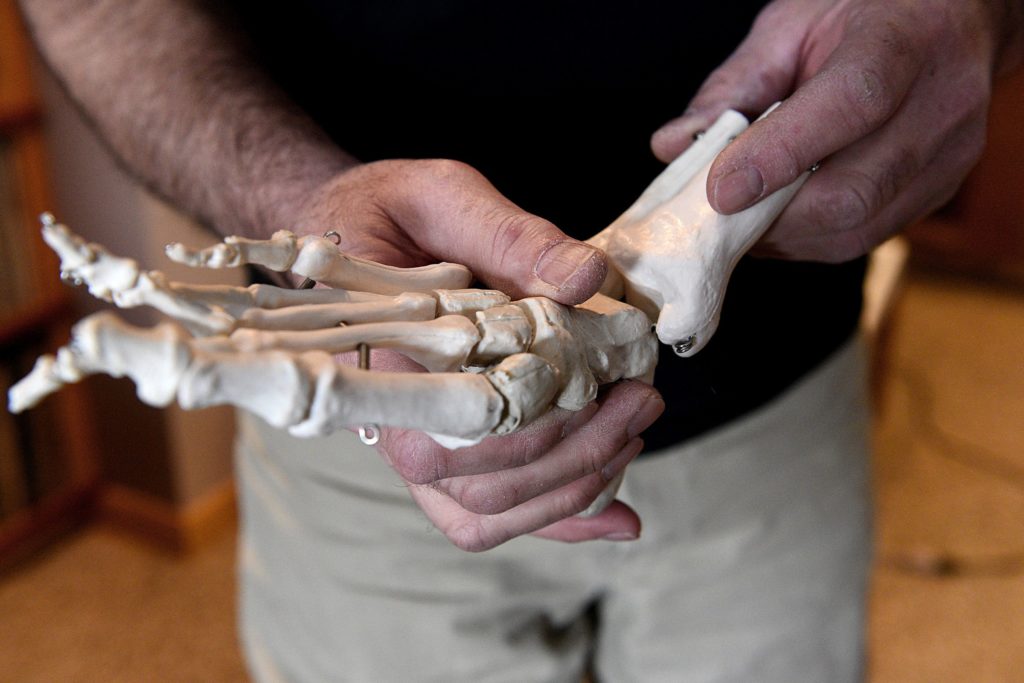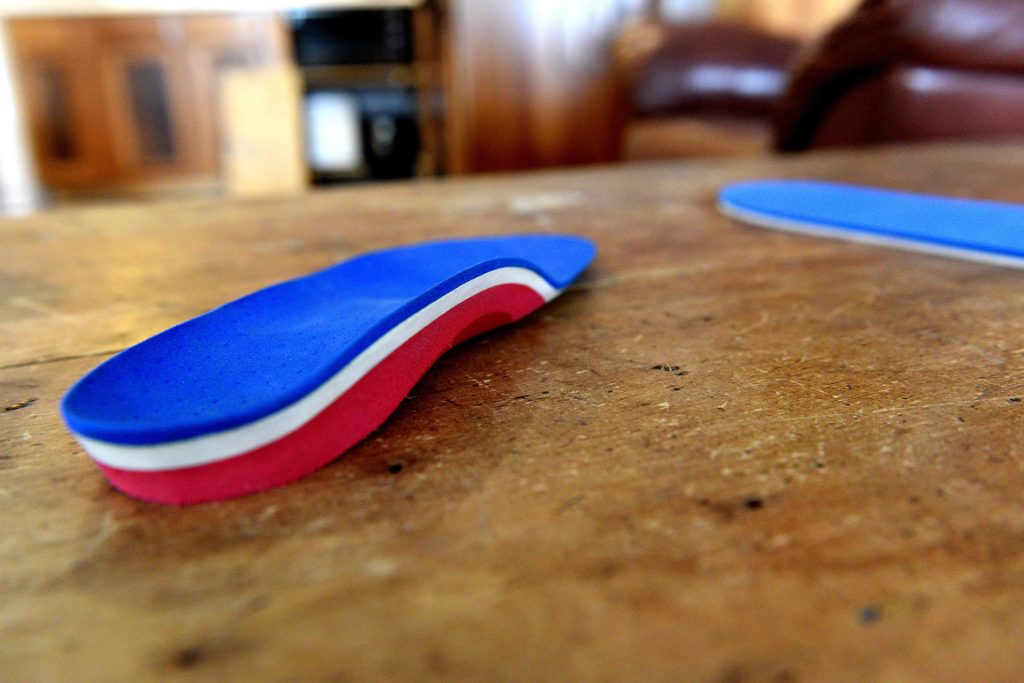 If their customers are lucky, sports shops have at least one employee who's a whiz at fitting shoes and boots. During his four decades in the ski industry, David Strousse was that guy.
"I've seen thousands and thousands and thousands of feet, and they're all different," said Strousse, a tall, personable Hartland resident. When it comes to ski boots, "practically everybody needs a tweak."
Over time, his quest to make customers as comfortable and successful as possible on the slopes led to a new career.
Last spring he left the Killington shop where he was lead boot fitter to work for himself full time as a pedorthist. Pedorthists are trained to assess problems that originate below the knee, often in the foot and ankle, and modify footwear and make and fit devices to ease and treat those issues.
With only a few thousand pedorthists in the country, it's an unusual profession. For Strousse, 59, it's a good fit.
"I really like it. I get to spend a lot of time with each person," he said. "I like to look at their shoes and see the choices they make."
Often, by the time they seek him out, his clients have suffered from nagging alignment issues and pain for a long time, he said. Making that go away "is very rewarding."
An avid skier and hiker, his interest in fitting shoes started with his own size 15 dogs, said Strousse, whose ski boots "always needed a lot of work."
A Connecticut native, he managed ski shops in that state and, starting in 1980, in Vermont. His work included adjusting ski boots based on customers' foot pain. But over time, certain patterns prompted him to seek out deeper fixes.
For instance, people with narrow feet often had the same problem with pain on the outside of their feet as those with wide feet. If their boots were wide enough, he'd ask himself, why did their feet hurt?
Also, a skier might ask him to "blow out" a boot, freeing up room where the talus, or "ankle bone," rubbed against the plastic. But the real problem was that the boot fit poorly, pushing the foot to the side.
So he started focusing on supporting people's feet, rather than just modifying their boots.
Expanding a boot to fit someone's ankle is an accommodative, not a functional, fix, he said. "It's amazing how a properly made orthotic can make so many problems go away."
To provide better fittings, he started taking courses in pedorthics, eventually racking up almost enough hours to sit for board certification. In the mid-1990s, he closed the loop with a course at Century College in Minnesota and earned board certification. He's currently certified through Board of Certification/Accreditation, a Maryland-based nonprofit.
He continued helping ski shop customers and also worked with people referred to him by doctors whose ski boots he'd fitted.
Rather than seeing clients in a ski shop setting, he began meeting with them in a physical therapist's office in Woodstock. It "kind of grew from there," Strousse said.
He's continued to see clients in the physical therapist's office and a second medical office in Woodstock, and plans to get his own space soon. He's not a medical doctor, he stresses, and his services generally are not covered by insurance. Instead, people pay a flat fee for a consultation and a set of orthotics.
While he still does "athletic enhancement," usually for skiers and runners, his client base has changed dramatically. These days, walkers are his biggest class of athletes, and his business focuses more on "keeping the general population ambulatory."
Like back pain, foot pain is "a very universal thing," said Strousse, who often sees people suffering from plantar fasciitis and neuromas. "That's why, when you go to Wal-Mart, there is an aisle of foot care products."
While some people do fine with off-the-shelf products, others require custom-made insoles, he said.
That was the case for Stuart Matlins, who several years ago was having trouble walking because of pain in his arch and throughout his foot, which cramped his style, both personally and professionally.
Walking is not only a healthy activity, when you have to get around cities and exhibits at conventions, it's "a very vital means of locomotion," said Matlins, a South Woodstock resident who travels frequently for business. "In the Upper Valley walking is so pleasant. … That's why we all live here. It's so nice to be outside."
He'd been referred to a foot specialist who prescribed standard inserts for his shoes. They helped a little, but not for long, Matlins said. Then, his doctor told him about Strousse.
The orthotics helped instantly, Matlins said. "I went from walking with pain to walking without pain."
Over the years, Strousse has made him five more pairs, which he keeps in various pairs of shoes.
He's "very grateful" to Strousse, Matlins said, and for a solution that doesn't involve medication, injections or surgery. To find something non-invasive that eliminates pain, improves function and "gives you back a piece of your freedom? That's really terrific."
Strousse, who said he has the "gift of gab," said he takes his time during consultations. "I like going over with a person what they're doing in their home."
For clients who are active at home, he might recommend wearing more supportive shoes in the house.
"So many problems people have with their feet are environmental problems, and they are self-inflicted," he said, recalling childhood trips to Buster Brown or Thom McAn.
A guy with a shoehorn in his pocket, who knew how the shoes ran, measured your foot on a Brannock Device and ran to the back room for appropriate pairs "is a lost art," said Strousse, who also is a Brooks shoe dealer.
While some pedorthists outsource their orthotics to a lab, Strousse makes them himself.
During the consultation, a client steps onto "molding" pillows or a special machine, creating an impression of his or her foot.
Strousse heats a "blank," an unformed piece of ethylene-vinyl acetate foam, in a convection oven and places it in the impression.
The client then steps onto the softened foam, shaping the top portion of the orthotic. Additional foam is added to the bottom of the insert, which is fine-tuned with a sander.
The orthotics can be used in any shoe that has a "sock liner," or removable insole that comes inside the shoe, said Strousse, who holds the lowly foot in high regard.
"Feet are the barometers of your body," he said. "If your feet are hot, you're hot. If your feet are tired, you're tired. … If your feet are happy, you're happy."
From that standpoint, it's no surprise he sees a universal benefit in orthotics.
People think they need them only if they have pain in their feet, he said. "If I offered to give you a brand-new $3,000 Tempur-Pedic mattress, you wouldn't say, 'Oh, I don't need it. My back doesn't hurt.' "
Editor's note: Strousse can be reached at 802-436-3063.
—
VALLEY NEWS staff writer Aimee Caruso can be reached at acaruso@vnews.com or 603-727-3210.