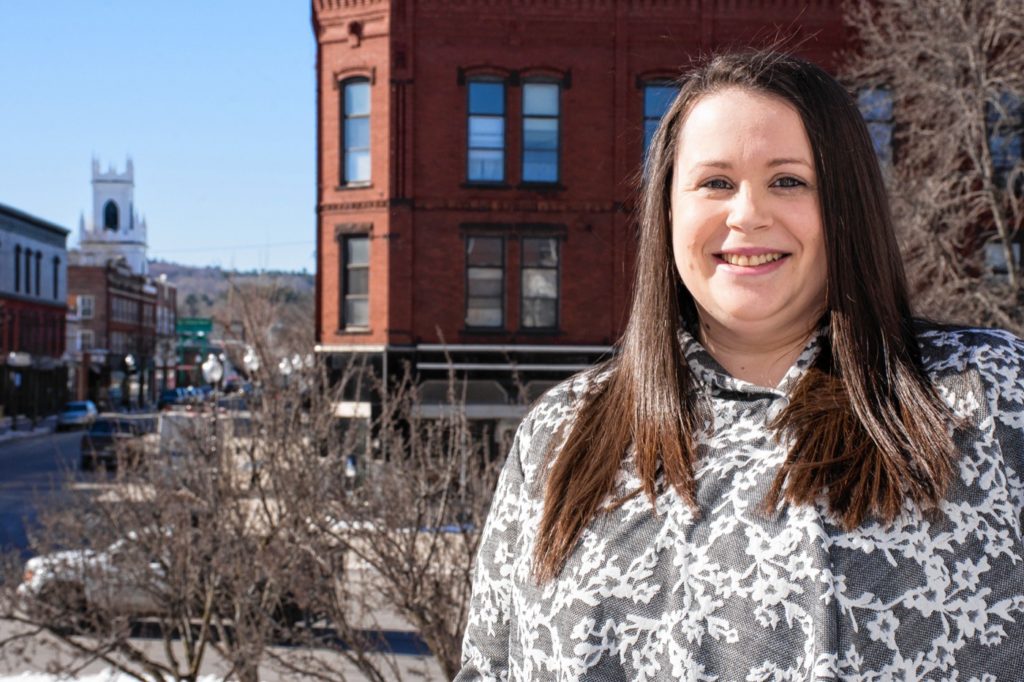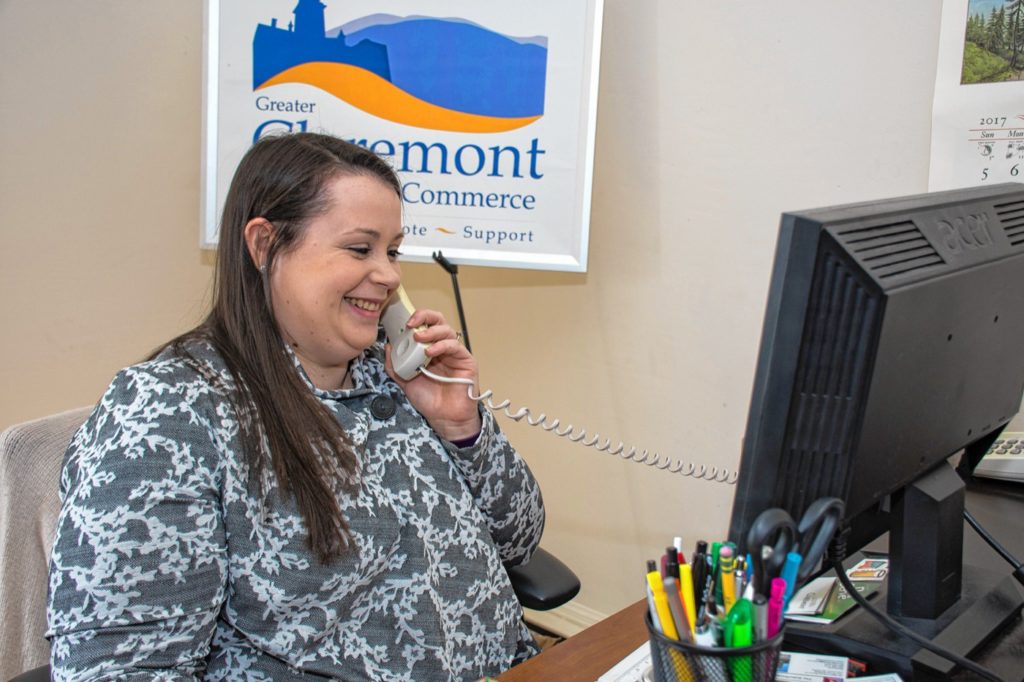 If Elyse Crossman could bottle her energy and focus, she'd be a multimillionaire. At 29, Crossman is young to be leading a chamber of commerce, a fact often pointed out by people meeting the lively Claremont native for the first time.
"You're not the first person to mention that," Crossman said with a laugh in response to a remark on her youth. "I'll be the big 3-0 in October."
Sitting in her office in the historic Moody Building on Opera House Square, Crossman has a great view of the town she grew up in, and some of the businesses she now works to promote as executive director of the Greater Claremont Chamber of Commerce, which serves Claremont, Charlestown, Cornish, Lempster, Plainfield and Unity. Her friendliness and warmth are exceeded only by her astuteness and devotion to her community.
After graduating from Stevens High School, Crossman went to High Point University in North Carolina and earned a degree in human relations.
"I graduated from college in 2010 and it wasn't the most booming time, so I came home. I wasn't sure what direction I wanted to take, and my mother had a retail store that she was expanding, so I joined her and essentially ran a small gift shop here in town for about three years," Crossman said.
Newly married at that point, Crossman and her mother decided to close the shop. Running a business 24/7 was taking its toll, and mother and daughter wanted more time to focus on family. For the next two years, Crossman worked in a variety of roles, including manager, at a retail shop in West Lebanon when, in 2015, the chamber job became available.
"This job was floating around, and a number of people in my life said, 'You should apply for that job.' I thought, what's to lose? If I send in my application and they don't like me, they won't call. Well, they liked me, and they offered me the position."
Crossman was looking to create more work-life balance, and to do something more meaningful, so she accepted the job. She took over in June 2015, and set out to invigorate the chamber, which was founded in 1922.
When she first took over, Crossman's biggest challenge was making it clear that she was not going anywhere — some assumed, because of her age, that she would not stay in the job for long.
"It was a concern, not that anyone ever said it outright, but I think my age was a factor. The last two directors worked part time, so people wondered how much I'd be around," Crossman said, adding that the position is now full time.
Crossman set out to learn from businesses, whether members or not, what they thought of the chamber and how she could improve it.
Of the roughly 150 members, the majority are Claremont businesses and nonprofits; Crossman pointed out that many of the other communities included in her chamber overlap with other area chambers. She also noted that many of her members have businesses based in Lebanon but do business in Claremont, even though they may not have a physical location in the city.
"We have a huge amount of workforce that leaves here to work in Lebanon and vice versa, as well as the social and entertainment connection through the opera houses and dining options," Crossman said, describing the unique relationship between the two cities.
In the past two years, Crossman has rejuvenated many of the chamber's programs, including the "Lunch and Learn" education series, which she brought back in 2016. The series is free to all members and last year featured presentations on topics ranging from advanced directives to small-business social media marketing. In response to feedback, half the sessions this year will be held at lunchtime, and the other half will be held in the evenings. The new session begins in April and the schedule will be posted on the chamber's website (www.greaterclaremontnh.org).
Other initiatives Crossman is revitalizing include the Auction Gala, an annual event to raise money for the chamber; and the President's Awards, which were established 60 years ago to acknowledge the city's citizen of the year and now honor a citizen, a business, a nonprofit and a young professional of the year. Crossman is refocusing the event on its recipients, noting that in past years it was combined with other events and inconsistently scheduled.
The Fall Festival and Chili Cook-off, which this year will mark its 20th anniversary, is a free event for the community put on with the Parks and Recreation Department. Crossman described it as a feel-good fall event that typically draws about 1,000 people.
"I think often, not just with chambers but with every nonprofit organization, they get into a cycle where everything they're doing is a fundraiser, and people get burnt out. Sometimes it's just nice to attend an event and have fun. We think it's important that we do that for the community, as well as our membership," she said.
New initiatives include adding back a chamber golf tournament to benefit the scholarship fund, a separate 501(c)(3) that was founded in the 1990s. Two awards in the $100 range are given each year for college or trade school, and anyone with a connection to the chamber is eligible.
This month, the chamber is partnering with the United Way of Sullivan County to host a concert featuring the Twangbusters and the April Cushman Band at the Claremont Opera House. The two organizations will split the proceeds, but Crossman emphasized that fundraising is secondary to the goal of bringing something fun to the community.
Asked about her strategy to grow the chamber, she said it involves cultivating relationships to create longtime members. Among the chamber's selling points, she noted its membership categories, which are based on dues and benefits rather than business size or industry, as well as referrals and networking opportunities.
Crossman also noted that she takes a hands-on approach to networking, often hosting meetings in her office to facilitate professional relationships and collaborations among members.
"That's something that I really enjoy," Crossman said, adding that not every member wants that level of involvement. "And that's OK!"
Jaimie Seaton, of Hanover, has been a journalist for more than 20 years. She reported for the SUNDAY TIMES of London from Johannesburg and is a former Thailand correspondent for NEWSWEEK. Her reported stories and essays have appeared in numerous publications, including GLAMOUR, the GUARDIAN and THE WASHINGTON POST. Follow her on Twitter @JaimieSeaton.