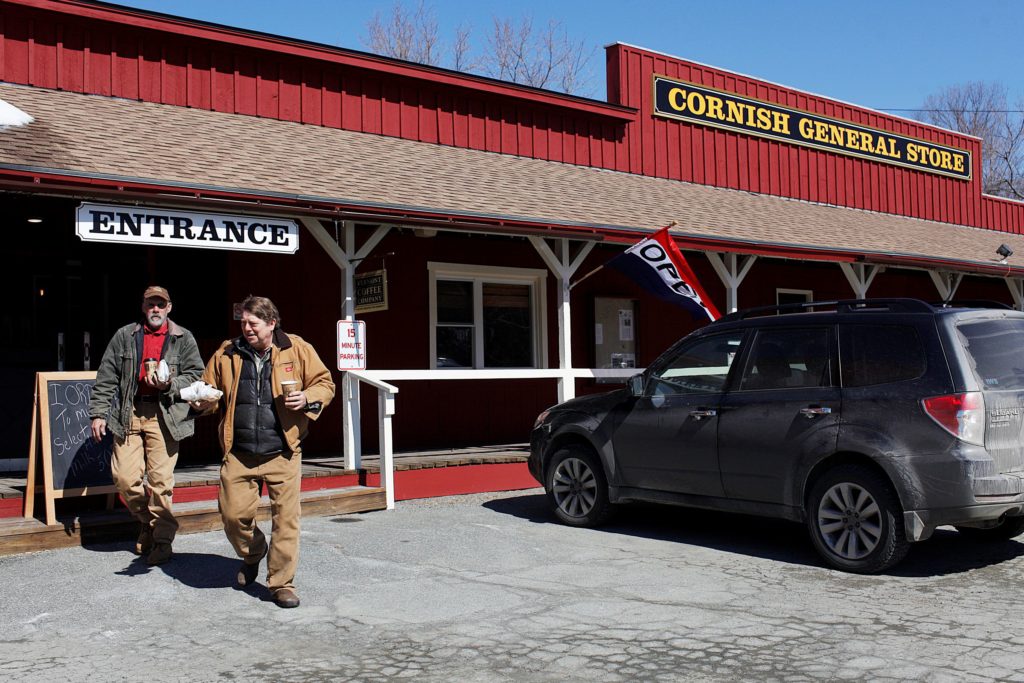 After being closed for nearly four years, the Cornish General Store on Route 120 has reopened and now offers homemade sandwiches, shelves and refrigerators stocked with convenience items, a keg master to draw cold-brewed coffee, a sitting area with tables and free Wi-Fi — not to mention the opportunity to catch up on town happenings — to residents and travelers along Route 120 between Lebanon and Claremont. Co-owners Mark Abrams, a former manager at the Concord Food Co-Op in New London, and Maureen Jenks, an emergency room nurse at Alice Peck Day Memorial Hospital in Lebanon, said they had long talked about opening a general store and in 2015 bought a home in Cornish Flat within sight of the store, which former owner Shirley Bladen had closed in 2013. To prepare themselves to become storekeepers, Jenks and Abrams took a class at SCORE, the Upper Valley nonprofit that assists people with business planning. There they met Colleen O'Neill, a Cornish philanthropist and preservationist, and widow of novelist J.D. Salinger, who also had been eying the store property in the hope of reopening it for the community. The three set to talking and hammered out a plan whereby O'Neill purchased the property from Bladen for $288,000 and Abrams and Jenks leased the building from O'Neill. After eight months of preparation, including repainting the outside barn red, refurbishing the inside, buying kitchen equipment, updating the electrical system, making sure the site was in compliance with water and sewer permits and establishing relationships with area farmers and suppliers, the store opened in March.
Interior renovations to the Claremont MakerSpace property at 46 Main St. are expected to be finished by late summer. Commonly called the Sawtooth because of a roof design that allows in natural light, the building is roughly 11,000 square feet and two stories tall. There is no floor separating the stories, so the interior is open to the roof and the equipment and work studios will be on one floor. The concept behind MakerSpace is to allow anyone — from hobbyists to entrepreneurs — to have access in a shared workspace to equipment they couldn't obtain on their own. In Claremont, those work spaces will include metal, wood and electrical shops, jewelry and textile studios, and a computer lab training room. Additionally, there will be a common work area and 13 individual work spaces. The brick wall dividing the interior will remain. "One side will be for heavy equipment and the other side will be mostly classrooms and workspaces," said Jeremy Katz, who founded MakerSpace with Steve Goldsmith. Plans say the equipment to be installed will include embroidery and sewing machines, jewelers' work benches, drill presses, table saws, sanders, hand tools, printers and scanners. "It is a range of specialty and high-tech tools for all types of makers and entrepreneurs, from the industrial side such as machining and woodworking and then the technology side, for high-tech fabrication, and then the arts," said Josh Busheuff, MakerSpace's assistant director, during the tour of the building in 2015. In September 2015, Claremont MakerSpace received a $250,000 grant from the Northern Border Regional Commission to help finance restoration of the mill building. MakerSpace also received a New Hampshire Community Finance Authority tax credit of $360,000 and support from a variety charitable foundations, Katz said. Claremont MakerSpace is one of two projects being undertaken TwinState MakerSpaces, started by Katz and Goldsmith. The other is Upper Valley MakerSpace, which is still looking for a site.
Kay Litten, of Hanover, a former board member and past president of the Hanover Consumer Cooperative Society Inc., was named the 2017 "Neighboring Co-operator" by the Neighboring Food Co-op Association at its sixth annual meeting held in March at Greenfield Community College in Greenfield, Mass. Litten received commendation for her "special contributions to the advancement of the vision" of the co-op association. Litten served two terms on the Neighboring Food Coop Association's board of directors and was recognized for her work as an advocate for the association's mission, the Co-op said in a news release. The Shelburne Falls, Mass.-based Neighboring Food Co-op Association includes more than 35 food co-ops locally owned by more 100,000 people across New England and New York.
Ledyard National Bank was awarded first place in the Public Relations category at the New England Financial Marketing Awards for last year's campaign and contest celebrating its 25th anniversary. The bank's winning public relations effort involved a contest that asked five local nonprofit organizations to create a two-minute video that incorporated the bank's tagline, "Plan well. Live well," and describe how it fit into their charitable initiatives. The videos were posted on the bank's Facebook page and were voted on by visitors to the site for a four-week period. More than $20,000 was awarded to the winners. The awards were established in 2013 and produced by West Hartford, Conn.-based Agility Resources Group. All banks, credit unions and mortgage providers in New England were eligible.
Green Mountain Hypnosis has opened 10 Buck Road in Hanover. Karen Gray, director of Green Mountain Hypnosis, specializes in smoking cessation, weight loss, stress management, pain control, PTSD, and addiction. She is a registered nurse licensed in Vermont and New Hampshire who earned her nursing degree at Castleton University and is certified by the National Guild of Hypnotists, which requires at least 100 hours of classroom, in-person training from a guild-certified instructor and an additional 15 hours of training per calendar year. Gray is a member of the Hartford Chamber of Commerce and the Hanover Area Chamber of Commerce. For more information, call 802-5660464 or visit http://www.greenmountainhypnosis.com.
The owners of The Sheridan Group, parent company of Hanover-based Dartmouth Printing, have sold the company to CJK Group of Minnesota. The sale price was not disclosed. Dartmouth Printing, which traces its roots to 1793, when it was Dartmouth College's in-house printer, employs 240 people at its printing facility on Lyme Road in Hanover and 235 at its sister company in Waterbury, Vt., formerly known as Dartmouth Journal Services. Dartmouth Printing's ties to the college ended in 1843. CJK Group has pledged that "all of the employees in Hanover and Waterbury will have their positions," according to Susan Wiercinski, vice president of marketing at The Sheridan Group. CJK Group, based in Brainerd, Minn., is a rapidly expanding, privately owned printing and book manufacturing company with operations in California, Minnesota, Ohio, and Maryland. Sheridan operates printing facilities and affiliated businesses in New Hampshire, Vermont, Pennsylvania and Michigan The acquisition of Sheridan helps to provide CJK with a "national footprint," Chris Kurtzman, chief executive of CJK Group, said in a news release. He said combining the two printing companies would have a "transformational effect on our organizations." Sheridan had $196.5 million in revenue for 2016, according to information it reported to trade publication Printing Impressions for the magazine's annual ranking of printing companies. That compares with $201.4 million in revenue it reported in 2015 and $202.3 million in 2014. The company reported approximately $344 million in revenue in 2007, according to financial reports Sheridan filed with the Securities and Exchange Commission in 2011 as part of a refinancing transaction.
After a five-month renovation, the former Seven Barrel Brewery reopened in April as the latest location in the growing Salt hill Pub restaurant empire. Owners Josh Tuohy and his brother, Joe, bought the venerable brewpub, which was at the forefront of the craft brew movement in New Hampshire, from James Mulligan and his partners in December. Among the changes, the West Lebanon landmark, at the busy crossroads of Interstate 89 and Route 12A, is no longer a brewpub. The fermenting tanks have been removed and brewing equipment sold off because New Hampshire regulations do not allow beer that is brewed on premises to be sold in other pubs, Josh Tuohy said. That prompted the brothers to focus on their successful model of offering beer on tap, pub food and live acoustic music. The West Lebanon pub is the Tuohys' fifth in the Upper Valley. The Tuohys opened their first restaurant, on the Lebanon mall, in 2003. They opened their second Salt hill Pub in Newport in 2007; their third in Hanover in 2010. In 2014, they took over the restaurant on the site of their parents' eatery in Newbury, N.H., near the base of Mount Sunapee Resort.
Dartmouth-Hitchcock's wireless health monitoring service ImagineCare has been sold to LifecareX, a Stockholm, Sweden-based "digital health company" that will now adapt ImagineCare for the Swedish market as a "test bed" before commercializing it in other markets around the globe, said LifecareX Chief Executive and co-founder David Kruse. ImagineCare is the brand name for a technology that monitors the health status of chronically ill people, measuring such signs as blood pressure, oxygen and glucose levels, through wearable sensors. The information is transmitted via smartphone to nurses and "health navigators," who analyze it with the help of other data sources, to stay abreast of the individual's health risks and treatment. D-H developed ImagineCare two years ago in partnership with Microsoft, which provided cloud-based analytics computing along with its athletic wristband tracking device; and Tribridge, a Tampa, Fla.-based software developer. One of the service's chief selling points promoted by D-H is that ImagineCare's real-time monitoring of chronically ill patients leads to greater preventive care, thereby reducing medical costs before problems become acute. But ImagineCare's development costs weighed on D-H's $39 million operating loss in fiscal 2016. Although D-H's finances have since improved, and it expects a swing to positive results when the fiscal 2017 year ends June 30, the nonprofit health system said it didn't have the financial resources or expertise to bring the service to market. D-H shut down ImagineCare in February and laid off about three dozen employees. In a D-H company Q&A, D-H Chief Executive Jim Weinstein noted he recently had "signed the papers" to sell ImagineCare to LifecareX in a deal that could "pay D-H royalties for the next 10 years, which could amount to as much as $200 million." No further financial details were released.
Champlain Oil of South Burlington is proposing to build a gas station, Jiffy Mart convenience store and a Subway restaurant at the site of the Circle K store and gas station on Route 131 just off Exit 8 of Interstate 91 in Ascutney that was burned in an arson attack and burglary in February. At 4,800 square feet, the new store would be more than double the size of the 2,200-square-foot Circle K. Matthew Wamsganz, planning, development and construction manager for Champlain Oil, said the new station will have four gas pumps as before, with diesel added at one pump. Champlain Oil operates Jiffy Marts with Subways in Charlestown, Claremont and Newport. The tentative date to start construction is June with a completion date in October. Estimated construction cost is $1.5 million. The Circle K sustained major damage on the morning of Feb. 1 when a person or persons cut the power, internet and cable lines to the store, broke in and set a fire. The business was closed at the time and has remained closed, with the broken front windows boarded up. No one has been arrested in the case.
The Kleen Laundry location on Pleasant Street in Claremont is closing, primarily because of damage done to the premises over the last several months, company president Dennis Kim said. Kleen leases the space next to Dusty's Cafe in a storefront that also includes Family Dollar. Kim said the company will be removing its washers and dryers and other equipment after the closing. The location has always been low margin, Kim said, and combined with the criminal activity, which Kim didn't see getting better, the company decided to close, he said. The business is unattended while open during the day, which Kim suggested is why there have been so many problems. The doors lock automatically at 11 p.m. The first incident occurred last August when someone broke into the laundry, smashed through a wall and stole money from a cash register in Dusty's. There was an arrest and conviction in that case but not in any incidents that occurred after that. Kleen also operates a Laundromat on Washington Street.
The emergency veterinary hospital known as SAVES, which provides emergency and critical care and internal medicine services to dogs and cats at its location at 63 Evans Drive in Lebanon, has returned to providing services 24 hours a day, 365 days a year. Small Animal Veterinary Emergency and Specialty is the second New Hampshire location in the network of six veterinary hospitals operated by IVG Hospitals by Ethos, which in turn is a member of Ethos Veterinary Health, formed by the merger of four specialty hospital groups: IVG Hospitals in New England, Premier Veterinary Group in Chicago, Wheat Ridge Animal Hospital in Denver and Veterinary Specialty Hospital of San Diego. Peak Veterinary Referral Center in Williston, Vt., joined the network last year.