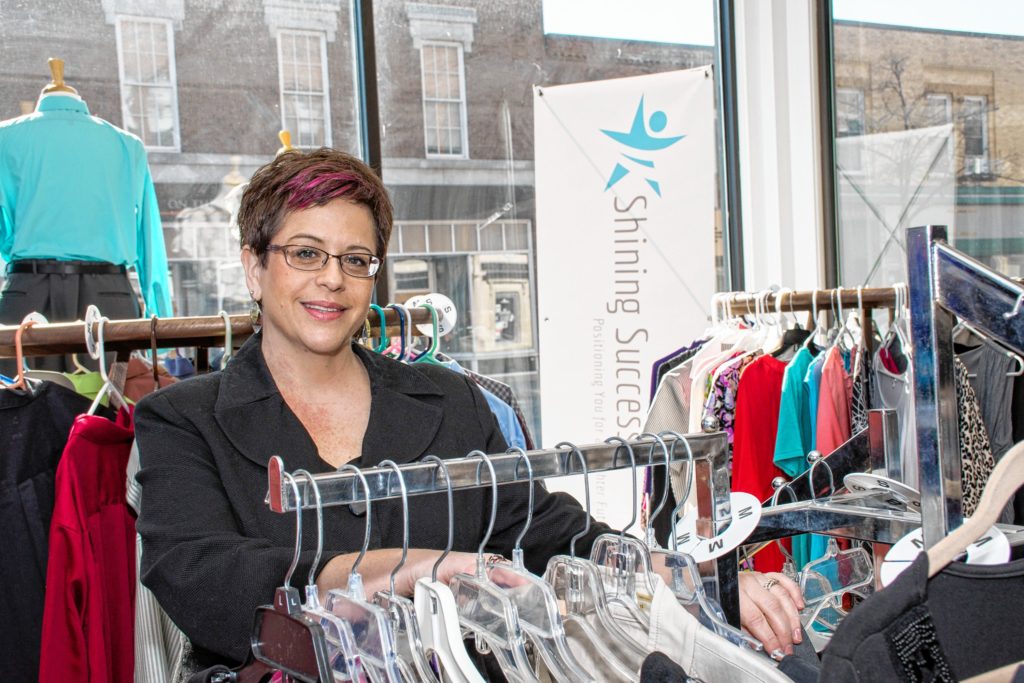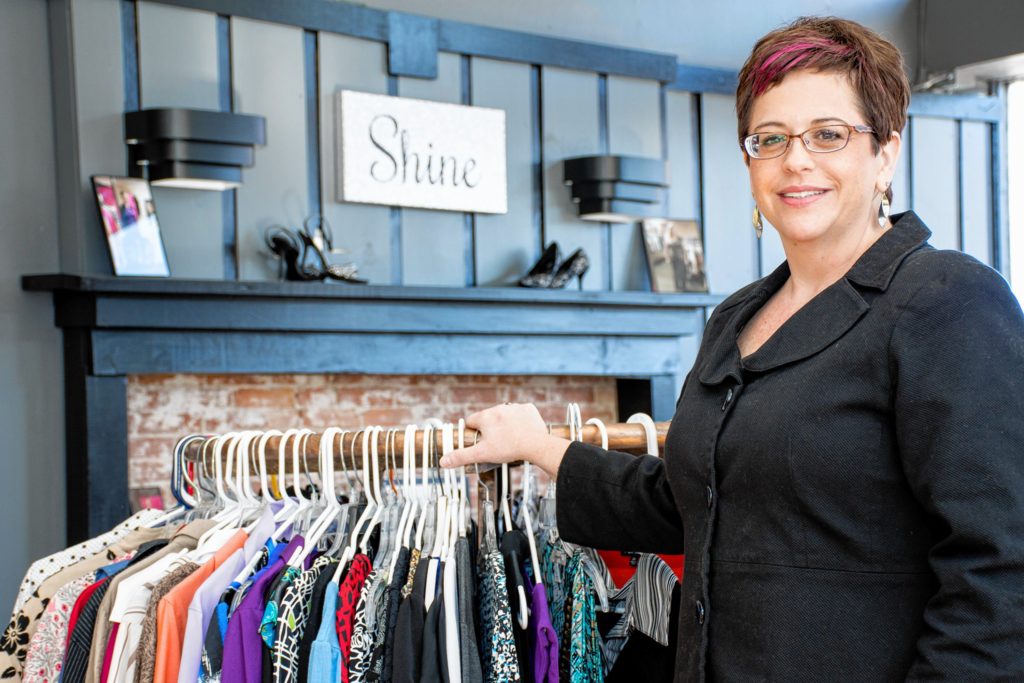 Shanna Moody is on a mission. The Newport, Vt., native is the founder of Shining Success, which provides free professional clothes to men and women seeking employment and has outfitted 145 job seekers since 2009. The 44-year-old Moody, who moved to Claremont in 2001 to be near her husband's family, is a secretary at Life Fellowship Foursquare Church in Charlestown, an esthetician at Walpole Village Salon and a mother to two teenage boys. On the eve of opening a new Shining Success location in Claremont last month, she sat down with Enterprise to share her motivation and her go-to interview outfit.
Why did you start Shining Success?
This was an answer of a direct prayer of how to serve my community. I knew I wanted to serve and I knew I wanted to work with women, and this is what the Lord placed on my heart. I had been praying about how I could serve in the community and this was the idea that came to me. That was 2009, and we opened in March 2011. Up until now we have only served women, but with the new space we'll be able to serve men as well.
We are a nonprofit, but I am officially a ministry of my fellowship church. I raise all my own funds, and the church supports me by letting me use their 501(c)(3) status for donations, and they housed me for the last three years.
Who is your typical client?
Our client is anyone that is actively seeking employment. They come to us by referrals from job training programs or social services, mostly from the Claremont area, but some come from the surrounding area. Until now the typical age has been between 25 and 30. I don't know how that will change now that we are serving men. We've also started targeting youth in the area and that may alter the age as well. We've been in touch with Stevens High School in Claremont, and we are partnering with IMPACCT to teach students how to dress as they start their professional careers. (IMPACCT, which stands for Inspiring Mastery of Post-Secondary Achievement in College, Careers and Training, is a partnership of New Hampshire Vocational Rehabilitation, Granite State Independent Living and state high schools, and works to help at-risk students become part of the local workforce.)
What kinds of needs do they have?
They come to us specifically for business professional clothing. We prepare them for interviews for volunteer positions and employment.
Do you advise on personal grooming as well?
We do. Through the course of the appointment we talk about fit and style, how to build a wardrobe and the basics of hygiene and personal presentation.
How does it work?
The case manager calls us with a referral and we generally contact the client directly to make the appointment. They come to us, the appointment lasts about an hour and they usually leave with two or three outfits that they keep. It usually includes shoes, but it comes down to what we have available.
Where do you get the clothes?
They are donated specifically to us. We are currently in need of women's plus-size clothing, women's shoes sizes 8 and above, and men's professional clothing.
Do you remember how you felt at your first job interview?
I do. I was very nervous. It was to be a bus person at a restaurant when I was 16, and I got the job. I remember that I wore a red cape type jacket.
Do you remember what you wore to your first professional interview?
I remember shopping for business clothes when I was graduating from college but I don't remember what I wore to the interview. It was for a secretary at a car dealership, and I got the job.
What advice you would give people regarding how they dress for an interview?
To wear what's appropriate but what makes you feel most comfortable and most confident.
What's the biggest mistake people make with their appearance at job interviews?
Being too casual. I think we live in a very casual society, and some of that formality has gotten lost, but when you go to an interview you need to dress more formally.
Do you stress over what to wear to job interviews now?
Yes, of course I do. I think having the proper clothes in your closet is important, and then when you have an occasion to need it, you have something available.
What should every woman have in her closet?
A business suit. You may not always wear it together — you can wear the jacket separately and the pants separately. But if you have an occasion where you need a formal suit, you have the pieces that match. It's the same for men.
Contact:
Shining Success
1 Pleasant Street
Claremont, N.H.
The Exit Interview is ENTERPRISE'S latest feature. Each back-of-the-magazine edition will feature a question-and-answer interview with a member of the Upper Valley's business community.