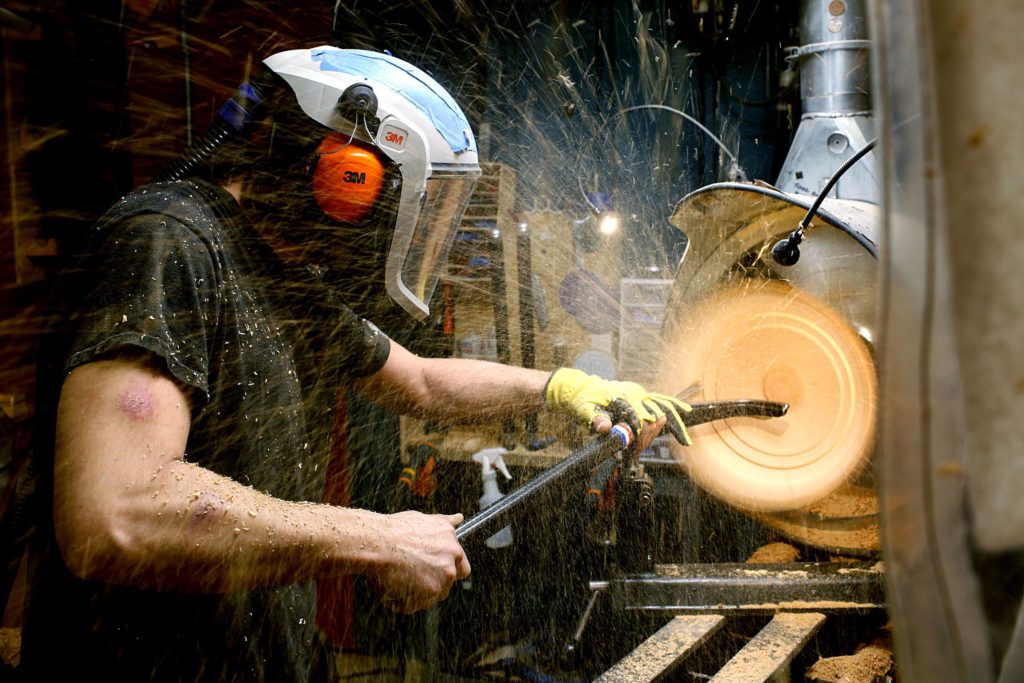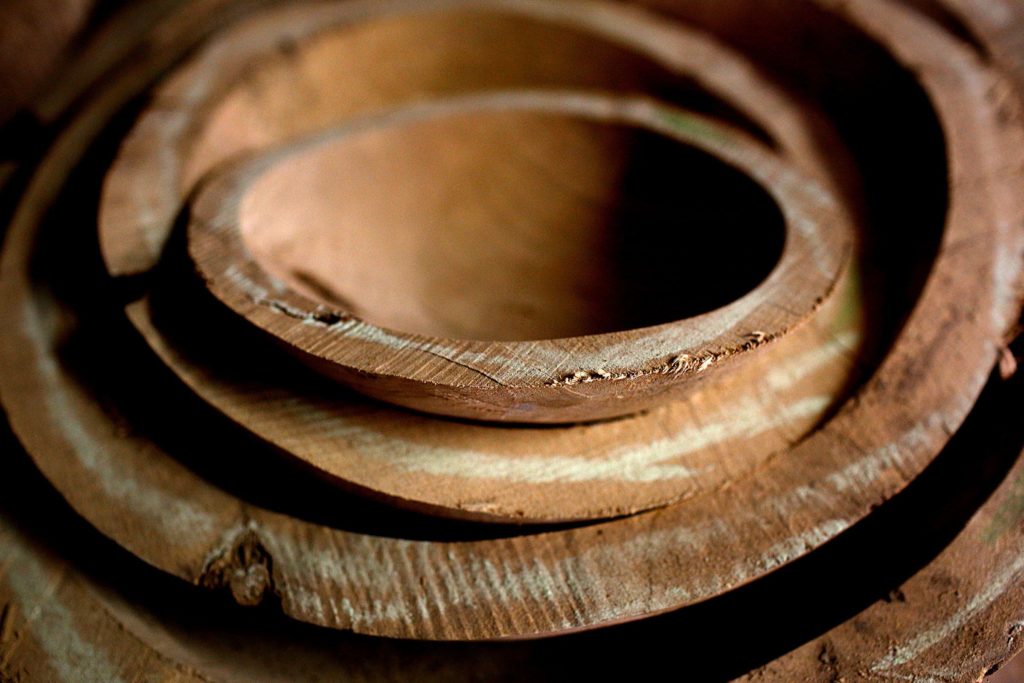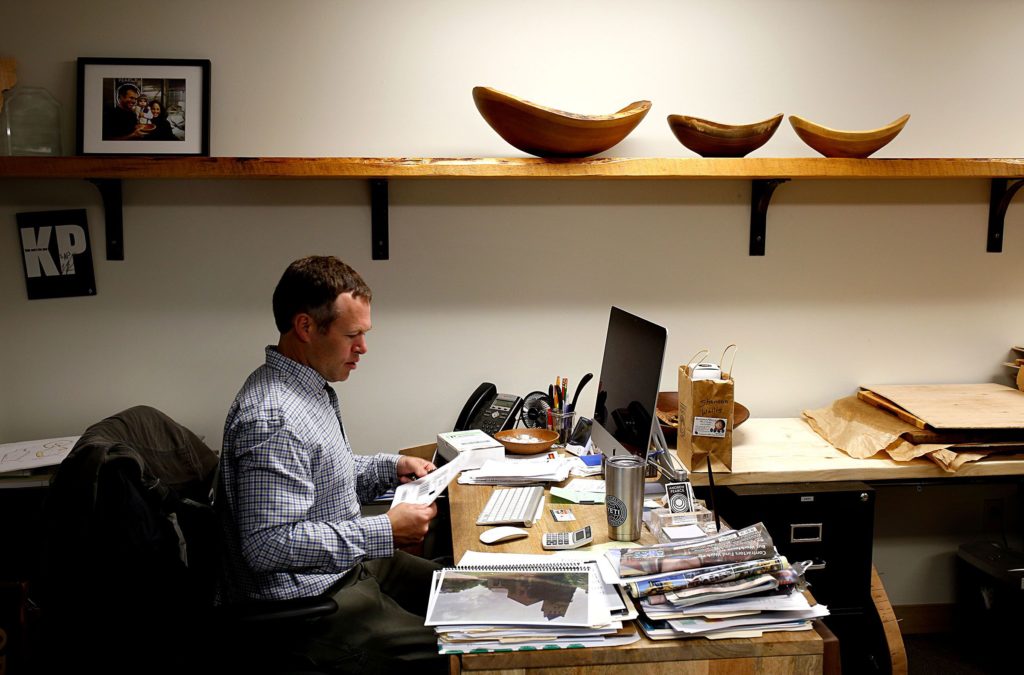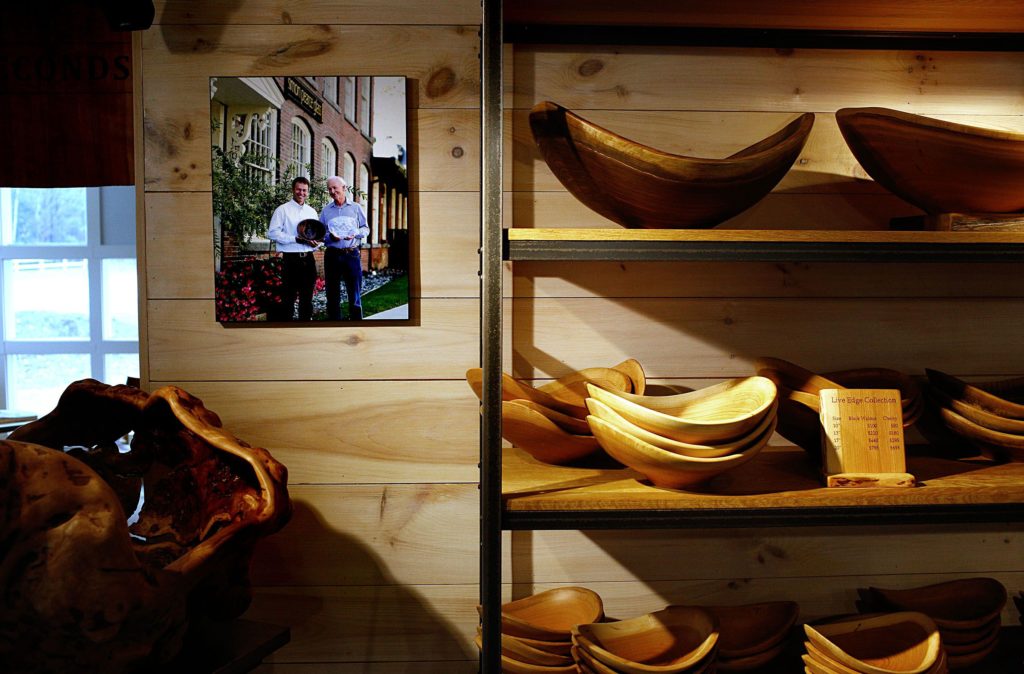 For Andrew Pearce, success depends on knowing what appeals to his customers, even if they themselves can't quite put their fingers on it.
Earlier this spring, he gestured toward a satiny, ample sized wooden bowl on display in the retail area of his business, Hartland-based Andrew Pearce Bowls, where softly playing jazz and the low whir of a woodworking machine traded air time.
"The sexy curve down the side, a machine-made bowl doesn't have that, it doesn't have a foot underneath it like this," the 35-year-old Pearce said. That "foot" gives an object a bit of a lift that makes it stand out.
"It's something that everybody notices, but you do it subconsciously," he said. "That's why we go to the farthest extent that we can to make the nicest product that we can. Even though some people don't know exactly why they like it so much … they know that something about (it) really is right for them."
That insight is just part of the knowledge he acquired while working for his father, glassmaker Simon Pearce. Over the course of a decade, Andrew Pearce immersed himself in just about every aspect of the business, from building equipment to working in the restaurant and production area to managing a retail division and shipping warehouse.
In 2011, when Tropical Storm Irene destroyed the bottom three floors of the flagship store in Quechee, he led the restoration process. A few years later, following in his ancestors' footsteps, he branched out on his own.
Andrew's grandfather, Philip, had worked in his family's London-based printing business before leaving to start a pottery with his wife in County Cork, Ireland, according to the Andrew Pearce Bowls' website. His father, Simon, helped in the family pottery operation and then ventured out to learn the glass business, opening his first glass workshop in Ireland in 1971. In 1980, he and his wife, Pia, moved the workshop to Quechee.
"We have this family tradition now of helping our dad out for just long enough and then bailing and doing our own thing," Andrew Pearce quipped, chuckling. "It seems to work out really well."
Pearce's bowls, which range in price from $75 to $440, or $139 for four salad bowls, are made from cherry and walnut wood harvested in Vermont, New York and Pennsylvania. They were designed, in part, to fill a gap in the market.
His father had been looking for a really nice handmade wooden bowl, but in a particular price range, Pearce said. Handmade wooden bowls were too expensive, and machine-made bowls didn't meet quality standards.
Andrew Pearce's creations forged a middle path, using a production method he dreamed up after visiting a Simon Pearce glass supplier. Pearce and his father, both "very mechanically minded," toured the wooden bowl company in northern Vermont, which was in the process of closing.
A highlight was the coring machine, which, starting with a huge block of wood, cut "a bowl out of a bowl," making progressively smaller bowls.
"I was amazed at how efficient it was," said Pearce, comparing that approach to the labor-intensive, less-efficient hand-turned method, which "basically takes a big block of wood and turns the whole thing into wood chips just to make one bowl."
On the return drive, he suggested combining the two techniques, merging efficiency, beauty and craftsmanship. They should set up a shop, the two men agreed. The next day, they went back to work and forgot about it.
But five years later, that seed would germinate, taking the form of Pearce's first workshop, a rented truck garage in Bethel.
In 2015, two years after its founding, Andrew Pearce Bowls moved into its current digs, a former furniture factory and showroom on the section of Route 4 that crosses a tiny corner of Hartland. The spacious tan building needed some renovation, but had come equipped with all of the necessary ingredients — a retail store, office space, workshop area, and even a window through which customers can watch bowls being made. Christy Pearce, Andrew's wife, helped get the store set up before stepping back to look after the couple's two young children. The building's previous owners, family friends, still work in half of the factory space, and the site's proximity to Simon Pearce's Quechee store makes it easy to refer customers.
Putting the Pieces Together
Running the business calls upon all of Pearce's experience and skills.
During high school, he attended the Hartford Area Career and Technology Center, and later earned a degree in automotive engineering from Wyoming Technical Institute.
These days, much of his time is spent building jigs, templates and customized production machinery to accommodate new designs, or tweaking existing machines — of the 60 or 70 in the shop, perhaps two are unaltered. Otherwise, he might be developing new products, meeting with employees, visiting a retail store or doing a signing event, all of which suits him.
The company's CEO and sole owner, he enjoys figuring out "how to put all the pieces together," he said. "I love bouncing around, doing a little bit of everything."
Once a solo operation, Andrew Pearce Bowls now employs 13 people and is the largest hand-turned bowl company in the country, said Pearce, who's cultivated his workforce carefully, searching out employees who were eager to learn. "I'm a firm believer that we really needed to teach people our way of doing (things)."
Nonetheless, the business has had its challenges, such as being "very tricky" to start, he said. "There are very few people hand-making things in the U.S. anymore because it's expensive and hard to do. And we're definitely kind of a luxury category. When you sell a wooden salad bowl that's $400, there's a small demographic that can afford that."
Also, while making bowls fascinated him, he's new to woodworking, so to make the items he envisioned, he needed to hone his skills quickly. Several years ago, he took a three-day woodturning course, knowledge he's supplemented with self-study and help from more skilled woodworkers, including some of his employees.
Advice and Support
Other assistance has come in the form of business advice and financial and logistical support.
"My dad's been really helpful with sharing things he made mistakes on in his early days," Pearce said.
Simon Pearce said he really had fun helping Andrew figure out his business.
Starting the company "was a really good move on his part," he said. "I am incredibly proud of him."
The Vermont Economic Development Authority helped finance the new building and machinery.
And, as he did when he was at Simon Pearce, Pearce has worked closely with the Vermont Manufacturing Extension Center, which has provided assistance with staff training and leadership development, and implementing efficient manufacturing principles.
Early on, the Randolph-based nonprofit helped the fledgling company through a serious production crisis.
Transforming raw logs into bowls is a three-step process. First, they're rough cut by machine. Then, they're kiln dried for more than a month. Finally, each bowl is hand-turned, hand-sanded and finished. But the work isn't as straightforward as it sounds.
In the early days, when the company had just two kilns, getting the timing right was especially challenging, Pearce recalled. "We have all these orders, all this wood, and we don't have any of the right product at the right time. Nothing's ready when the customer needs it."
The Vermont Manufacturing Extension Center helped the business develop a workable schedule.
Without their support "we probably would have gone bankrupt before we could have figured it out," Pearce said. "It was like a safety raft for us."
Bob Zider, VMEC's director, said it's been satisfying to see the company's successes, "which are good for the community, obviously."
Pearce has created a number of good jobs in the manufacturing sector, making a product with local employees, some of whom he's trained onsite, said Zider, who is Andrew Pearce's father-in-law. And such jobs have an outsized effect on the economy; in Vermont, manufacturing accounts for 10 or 11 percent of GDP, the largest in the private sector.
Andrew Pearce Bowls and Simon Pearce have acted as magnets, attracting tourists and others intrigued by the prospect of seeing manufacturing in action, he said. "People really enjoy that."
And Pearce and his father, who each bring an artisan's eye to their businesses, are always creating new and unique products and developing processes to make them a reality, he said.
"These days, if you're not growing, the danger is you may be dying," Zider said. "The world is a competitive place."
Half of sales at Andrew Pearce Bowls come through the retail store and website. The rest are wholesale, with a focus on small specialty stores, including 120 businesses across the country. Among them are the Omaha-based Borsheims Fine Jewelry, owned by Warren Buffett, and, of course, Simon Pearce, which buys much of their product.
The bowls have been "fantastic," Simon Pearce said. "People love them, and they have been selling incredibly well. It's a combination of how beautiful they are and the price being about half what it was for what we used to sell."
In addition to bowls, Andrew Pearce Bowls also makes wooden salad servers, shelving and, in a new father-son collaboration, a cutting board with a glass dish set into it.
Sales are concentrated mostly in the last two months of the year. "We are definitely a fourth-quarter business," Pearce said.
There are lots of reasons for the products' appeal.
Wooden bowls are "very giftable," and have become staple items in wedding registries, Pearce said. And sometimes people buy the bowls for themselves.
"What people really love is a high-quality solid hardwood bowl at the right price, and they love the fact that it's made in Vermont and that wood is such a renewable resource," he said. "There are a lot of warm fuzzies that go along with our product and what we do and how we do it."
VALLEY NEWS staff writer Aimee Caruso can be reached at acaruso@vnews.com or 603-727-3210.