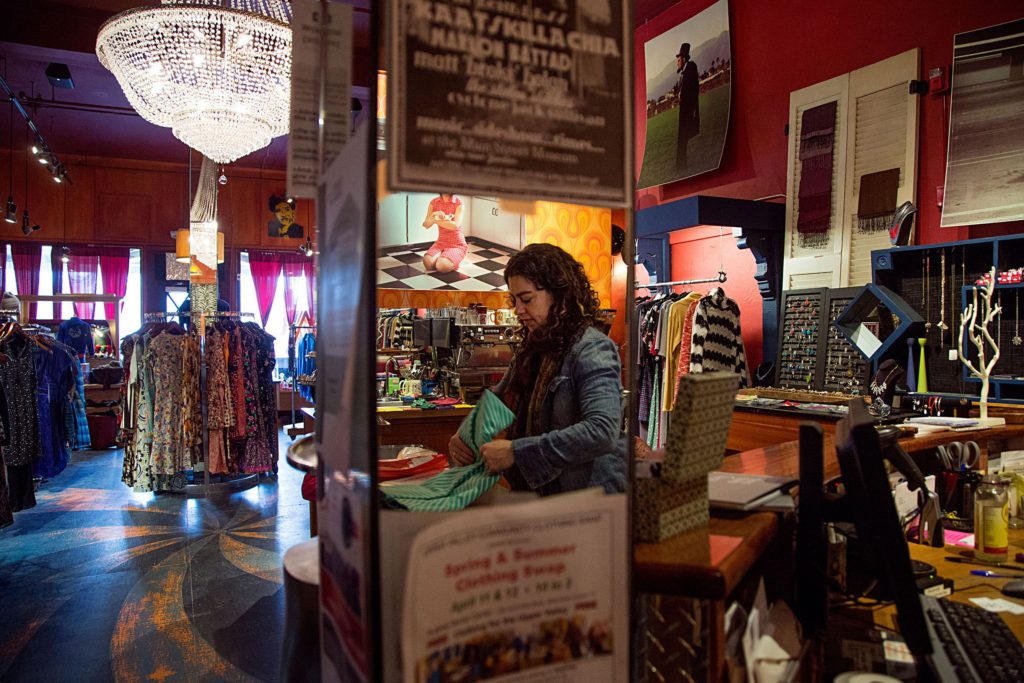 Passion, perseverance and adaptation were the dominant themes at a recent breakfast meeting hosted by the Hartford Area Chamber of Commerce that included a snapshot of the status of female-owned businesses in Vermont and personal stories from four Upper Valley entrepreneurs.
The event, Women in Business: Confronting the Challenges and Defining Success, was the last in the chamber's business breakfast series until next fall. Event organizer Tricia Kent, a financial aid counselor at the Community College of Vermont and head of the chamber's education committee, and the chamber's convivial executive director, P.J. Skehan, were on hand to greet the nearly 85 women — and a few men — who arrived at The Engine Room in White River Junction.
"An article about the impact of women-owned businesses on Vermont's economy by Tom Torti, president of the Lake Champlain Regional Chamber of Commerce, piqued our interest, and we figured that it would also be of interest to our members and the public," Skehan said via email after the breakfast.
Jessica Nordhaus, owner of Gear Shift Consulting in Burlington, kicked off the breakfast by presenting research from Change the Story Vermont, an initiative of three statewide organizations — the Vermont Women's Fund, the Vermont Commission on Women and Vermont Works for Women — to advance women's economic status.
"Women-owned businesses are vital to Vermont's economy," Nordhaus began. "We contribute $2.2 billion to the state's economy every year; 7.25 percent of all working-age women in Vermont own a business — nearly twice the national average."
"The work that we do as business owners is really quite critical, and there are some challenges," Nordhaus said.
According to the Change the Story report, women own nearly one-third of all privately held firms in Vermont, and generate more than 36,000 full- and part-time jobs. However, women own fewer and smaller businesses than men, and female-owned firms generate only 19 cents to every dollar of revenue generated by male-owned businesses. One reason is that female business owners are significantly underrepresented in nine of the 10 highest-grossing business sectors, such as construction, finance and transportation.
"Some of the data is challenging, but we also see it as a huge economic development opportunity for Vermont," Nordhaus said.
Challenges Faced, Challenges Met
Moderator Tammy Latvis, owner of Curves in White River Junction and chairwoman of the chamber's board of directors, then asked each woman on the panel to discuss the biggest challenge she had to overcome in starting her business.
Kim Souza, owner of Revolution boutique in White River Junction and an active participant in the town's economic development efforts, recalled how she left a corporate executive position in 2002 to open the retail store, despite having "zero retail experience."
"My expectations were much greater than the reality," Souza said of the $1,000-a-day revenue benchmark she set for her store at the time. "I'm still barely approaching $1,000 a day, 15 years later, so I think having these wild expectations was my biggest obstacle."
Souza was on the verge of selling the store in 2006 when an angel investor swept in and allowed her to stay open. At the time, Souza was working five jobs in addition to running the store.
"Going in with a big heart and a fire in your belly but without the financial resources doesn't always work," she said.
Sheila Armen, co-owner of the Strong House Spa in Quechee, had been a dental hygienist for 20 years when she teamed up with massage therapist Shelly Yusko. Like Souza, Armen's biggest initial challenge was financial. She and Yusko unsuccessfully shopped their business plan to numerous banks, finally securing a loan only after they decided to buy their own building to house the spa in 1994.
"This really surprised us because the business plan hadn't changed from when people said no," Armen said.
Armen elicited laughter from the audience when she described her marketing technique 25 years ago: standing at the finish line of The Prouty, begging people to get on the massage table. They all said no, she said, until she started targeting exhausted racers who were "in agony."
"That's how it started," she said, adding that the biggest hurdle is taking the leap and adapting when things don't work.
"If you think massage is something you might not understand, try cartoon school," Center for Cartoon Studies President Michelle Ollie said, to more laughter. "I can't tell you how many times I'd be sitting across a table from an investor and they'd be looking at me like, 'Is this for real?' "
Ollie said she's learned to shift gears frequently, rely on networking, and to shun traditional marketing in favor of publicity.
"Show them what you're good at," she advised.
By the time Peggy Allen, owner of Savage Hart Farm, shared her experience, the room was relaxed and jovial, and her tale of leaving the corporate world in Chicago to open a sheep farm in the Vermont hills — "having never even met a sheep" — had the audience in hysterics.
For years, Allen had been saying to her husband, "Wouldn't it be cool to own a sheep farm?" While on vacation six years ago they decided to take the plunge. A year later they had the farm in White River Junction and their first flock of sheep — two of which immediately ran away.
For the first 2½ years, Allen continued to work remotely as vice president of programming and operations for the Live Well Network, part of The Walt Disney Co., while learning how to monetize the sheep. Today, Allen sells yarn to six retail outlets, and also sells sheepskin rugs, meat and sausage at farmers markets.
"I think it's always a good thing when businesswomen gather. It's inevitably a two-plus-two-equals-seven," Allen said after the breakfast. "There were a lot of diverse contributions and yet there was a common thread. We had these very different careers and jumped feet first into something we hadn't done before."
Skehan said via email he thought the event, which proved to be a hit with the audience, was an enlightening and invigorating discussion with real insights into the hows and whys of starting and operating a successful business.
"This is certainly a topic we will revisit in the future," he said.
Jaimie Seaton, of Hanover, has been a journalist for more than 20 years. She reported fro the SUNDAY TIMES of London from Johannesburg and is a former Thailand correspondent for NEWSWEEK. Her reported stories and essays have appeared in numerous publications, including GLAMOUR, the GUARDIAN, and THE WASHINGTON POST. Follow her on Twitter @JaimieSeaton.