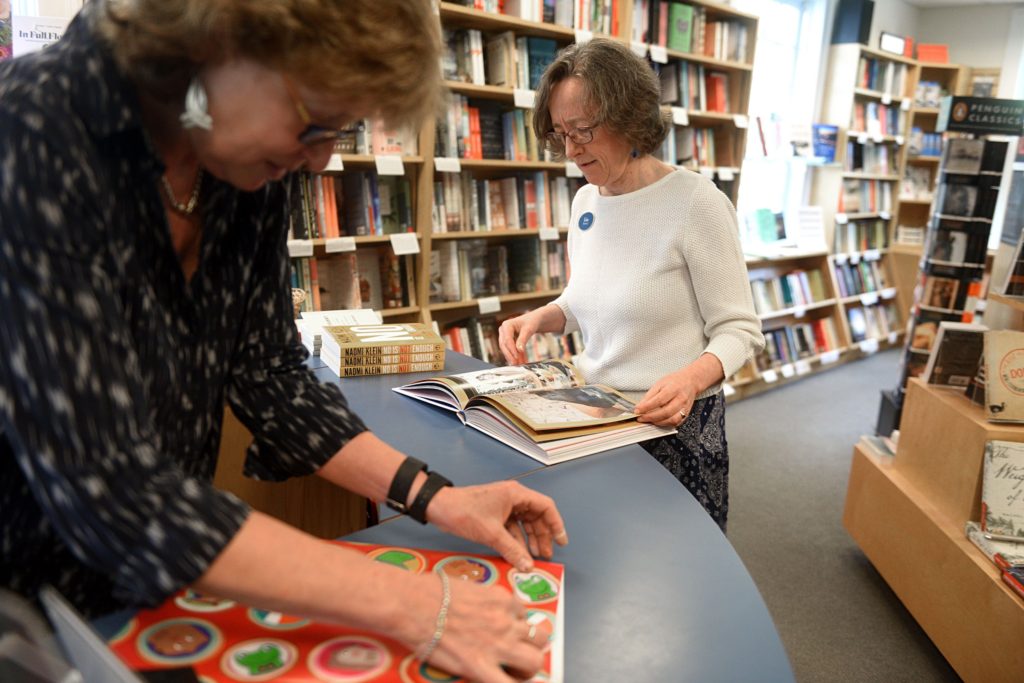 It has been said that Liza Bernard is a force of nature; at the very least, she's certainly a force of the local economy.
Along with business partner Penny McConnel, Bernard opened the Norwich Bookstore in 1994 and has been a key player in the "Local First" movement in Vermont and the Upper Valley ever since.
"When we first opened, people thought we were a little crazy," Bernard said.
The two met at a book study group in 1988. McConnel worked at the Dartmouth Bookstore, then one of the oldest independent bookstores in the country, and Bernard worked as an independent artist and consultant. As both approached work transitions in the early 1990s, Bernard — envious of McConnel's work surrounded with books and people who love them — suggested the two open their own store together. The rest is history.
Though shopping trends seemed to be shifting away from brick-and-mortar stores to the growing internet marketplace at the time, Bernard and McConnel had a clear vision for their business: To create a friendly place in the community centered on customers' desires and a "curated selection of thoughtfully chosen books for everyone in the family."
"Books aren't just things; they're holders of great ideas," Bernard said. "We're really excited to share that with people."
Now, more than two decades later, the Norwich Bookstore continues to offer books tailored to customer interests, along with many public events, often in collaboration with other local organizations like the library or historical society. A significant physical expansion two years ago has allowed the bookstore to grow its event offerings, including regular Thursday night book discussion groups and private events.
"I think one of the keys to a business like this is to be very in tune with what the community wants and very flexible to provide it," Bernard said. "That's what makes it exciting — it's a new business every day."
At the first conference they attended together 26 years ago, in anticipation of opening their store, Bernard and McConnel had one goal: to decide whether they needed a computer. Today, customers can check availability, order books or gift cards for in-store pickup or to be mailed, download e-books, stream audio, watch videos of past events taped by CATV, and check the calendar for what's coming up, all right on the Norwich Bookstore's website.
"With technology, little guys can do what the big guys do," Bernard said. "We can't compete on price, but we can compete on nice."
In that department, you can hardly beat the Norwich Bookstore's commitment to free book delivery to retirement communities for "avid readers who don't drive. This epitomizes what we want to be — an integral part of the community," she said.
After opening the bookstore, Bernard was deeply involved with the formation of Local First Vermont, now run by Vermont Businesses for Social Responsibility. "Place is really important. To have a village, you need to support the businesses in the village," she said. "Keeping it local is important to the uniqueness of a place. We'll lose that personality if we don't support local businesses."
As a bookseller in the Upper Valley, though, "I felt like I was leaving out half of my colleagues. I identify with the Upper Valley as a region, and that means crossing the border."
For that reason, Bernard was eager to help get the Upper Valley's own Local First Alliance up and running. Initially a project of the Co-op Food Stores, Local First Alliance launched as a program of the nonprofit Vital Communities in 2009 and today has about 100 members strengthening and promoting the Upper Valley's economy. The Norwich Bookstore is, of course, one of them. Consumers can find others online at VitalCommunities.org/LocalFirst.
"Everything comes around," Bernard said. "The Norwich Bookstore is in a position to support Project Graduation because the school library purchases some of its books from us. Shopping locally helps create a cycle of financial health."
When Local First Alliance was founded nearly a decade ago, Bernard said, it was to share the message about the importance of "thinking local" when shopping, banking looking for service providers. According to the American Independent Business Alliance, the impact is dramatic: For each dollar spent at a local business, an average of 48 cents recirculates in the local economy, compared with only 14 cents per dollar of purchases made at chain stores. And that's only the direct dollars and cents. The contributions of local businesses to their communities take many forms, from offering stable employment opportunities to making donations to local charities to simply providing physical spaces where residents can meet and interact with each other.
Now she's seeing a culture shift, Bernard said. "Customers are coming in and telling me how important it is to shop local," she said. "That is such a great feeling."