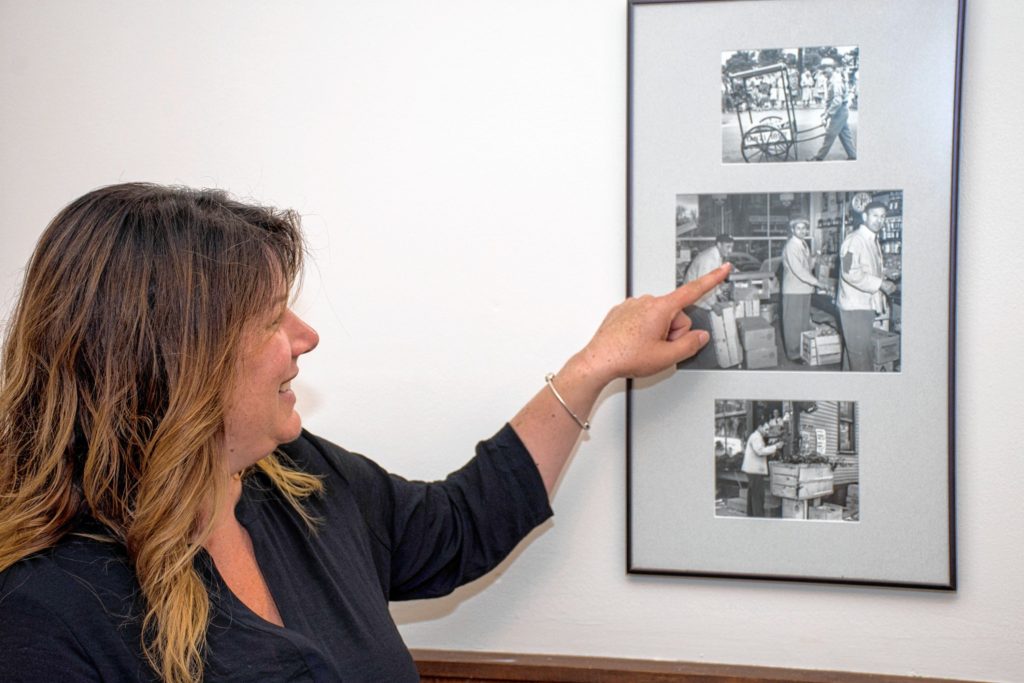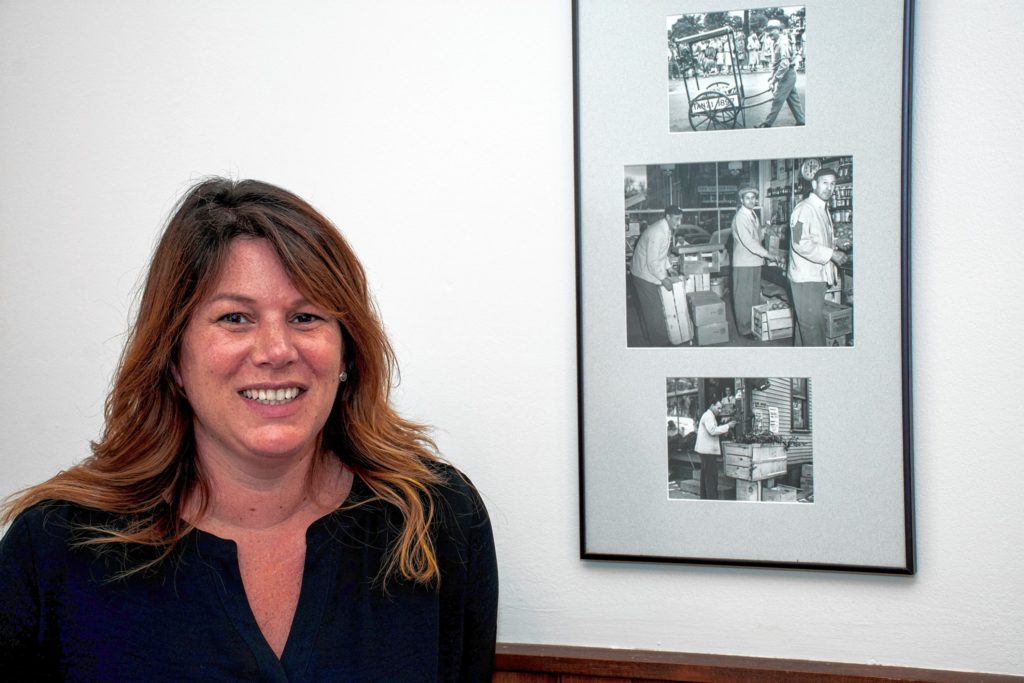 It's natural for a business owner to be proud of opening a new establishment. In the case of Heather Simpson Blake, proprietor of Tanzi's Salon on Main Street in Hanover, the pride stretches back generations. Blake is the great-granddaughter on her mother's side of Angelo Tanzi, who in 1897 opened The Hanover Fruit Co., which sat directly across Main Street from the site of Blake's new salon.
"I was inspired by my great-grandfather," said Blake, 41, who grew up in Piermont and now lives in White River Junction. "I never met him, but my grandparents lived in Hanover and I spent a lot of time here. My family was a big part of Hanover for a long time. Angelo had nine children and they all lived here and raised their children here. I thought it would be a great tribute to them to open this and call it Tanzi's."
During a recent conversation in the waiting area of her bright, new salon, Blake recalled her family's long history with the town of Hanover, often proudly referencing old photographs and a written account prepared by her cousin, Mardi McGregor, all of which are on display for her customers.
Angelo Tanzi was born in Parma, Italy, in 1869, and immigrated to New York in 1886. A few years later, he moved to the Upper Valley to join his brother-in-law, Giovanni Bonardi. The two men worked for the Twin State Fruit Co. in White River Junction. On the side, they peddled produce from a horse-drawn pushcart, which caught the eye of Dartmouth College President William Tucker. Tucker encouraged the two men to open a produce store in Hanover. Tanzi, Bonardi and another brother-in-law, Alessandro Piccinotti, opened their establishment on the east side of Main Street in 1897 on a site next to what is now Ledyard National Bank.
Not long after opening the fruit market in 1897, Tanzi bought out his partners and soon became one of the town's leading businessmen. By the time he retired, in 1927, his fruit market was the largest produce store in the area. His sons, Ernest, Harry, Angelo, Leon and John (Blake's grandfather) took over the store and renamed it Tanzi Brothers Groceries. They ran it until it closed in 1969, at which point John, Angelo and Ernest went to work at the post office a few doors down.
The soft-spoken Blake was animated when discussing Tanzi Brothers and her great-uncle Harry, whom she described as the unofficial mayor of Hanover. Among the photographs in the waiting area is one of Harry giving New York Gov. Nelson Rockefeller, who was then running for president, the "key to the city" of Hanover. The same photograph is prominently displayed across the street at Lou's Restaurant.
"Harry used to go to the reunion tents at Dartmouth after the store closed, and he would sit there and call out the names of people who owed him money," Blake said through laughter.
In the short time her salon has been opened, she's had quite a few visits from Dartmouth alumni and town residents who stop in to share their memories of Tanzi Brothers. One former customer, Bill Aldrich, of Norwich, practically grew up at Tanzi's.
"My mother used to take me there weekly while shopping in Hanover in the 1940s and '50s. They added up the groceries on the paper bag they would use to put the groceries in," Aldrich wrote in an email.
During a subsequent telephone interview, Aldrich, 79, said he was about 10 years old when he first started visiting the shop, and like all children who dropped in, he always got a free cookie. As a teenager, Aldrich went to work for Tanzi's part time, delivering beer on big Dartmouth weekends. They sold lots of beer, according to Aldrich.
"Harry was a jokester. He knew everybody and he'd be standing there eating a peach or apple or eating something. He was a real friendly guy and he knew practically everybody who came in, and if he didn't, he made it his business to find out who you were. It was like being in the middle of a family when you walked in there," Aldrich said.
One notable customer was Robert Frost, who stopped in to Tanzi Brothers every day for a can of dog food while he taught at Dartmouth as a Ticknor Fellow in Humanities in the 1940s.
"He used to pull up a ginger ale crate and sit chatting with everyone in the shop," said McGregor, who is writing a memoir about the Tanzi family.
Angelo's sons were not the only successful business owners in the Tanzi clan. His eldest daughter Tad's husband, Tony Cacioppo, established Tony's Barber Shop on Main Street in 1928. At some point, Tad began to do women's hair and eventually had her own hair salon across the hall, above Campion's clothing store. In 1957, Angelo's daughter Roxie and her husband purchased Tony's Barber Shop from Cacioppo.
Fourteen years after Tanzi Brothers closed in 1969, Blake's sister Theo Snyder and her husband, Carlo, opened Cafe Buon Gustaio. According to McGregor, the cafe became not only a popular meeting place in town, but was featured in Yankee magazine and The New York Times for its sophisticated Mediterranean menu. It closed in 2006.
Coming Full Circle
Exactly 100 years after her great-grandfather opened his store, Blake began working in Hanover, first at the (recently closed) Everything But Anchovies and Molly's Restaurant and Bar, and then at Cafe Buon Gustaio as a bartender. It was there that she met Hilde Wood and her daughter Margot Schafflinger, who ran Hilde's Salon Vienna. In 2001, Blake gave up the restaurant business to work at the salon a few days a week while she apprenticed under Margot and got her beauty license.
Blake spent the next 16 years working as a hairdresser at Hilde's and Hanover Haircutters, all the while dreaming of owning her own salon. When Hilde's closed its doors last September, Blake decided the time was right.
"I'd always wanted to have my own place. I thought of taking over Hilde's but the space was too big, and I wanted to do something on my own, from scratch," Blake said.
She knew she wanted her salon to be on Main Street but couldn't find the right spot. Then one day last January, as she was turning onto Allen Street, she saw a "for lease" sign in the window of the space previously occupied by The Gilded Edge Frame Shop (which moved to Lebanon).
"I stopped the car and called the agent from the parking lot to make an appointment to come and look," she said. "I knew the owners because my father has a stone quarry and he's done work for them, and they were customers at Hilde's."
Once the deal was made, Blake had the space gutted and refitted as a salon. She and a friend did the painting and staining themselves, and she created a warm and welcoming space that includes a toy car for children to sit in while they have their hair cut. Tanzi's is a full-service salon and, in addition to Blake, there are three other stylists, two of whom worked at Hilde's. Eventually, Blake plans to increase the staff to six.
So far it looks like the latest Tanzi to open a business has the family touch. Blake says business is brisk, and although many clients migrated from Hilde's, she has new clients as well, and walk-in traffic increases daily.
"We should recognize what he did," Blake says of the Italian immigrant who started it all. "I think there should be a plaque or a bench where the store was."
Blake looks out the window and across the street to where her great-grandfather's shop was located. "It seemed like Tanzi Brothers was a fun place where everybody gathered to see what was going on. I think salons are a lot like that, too."