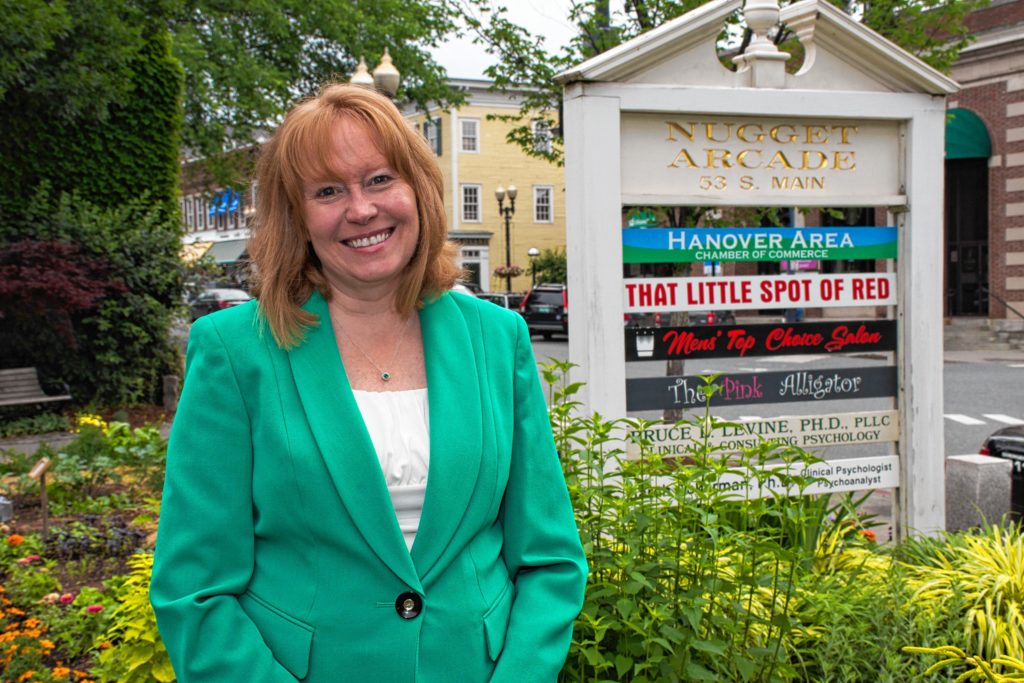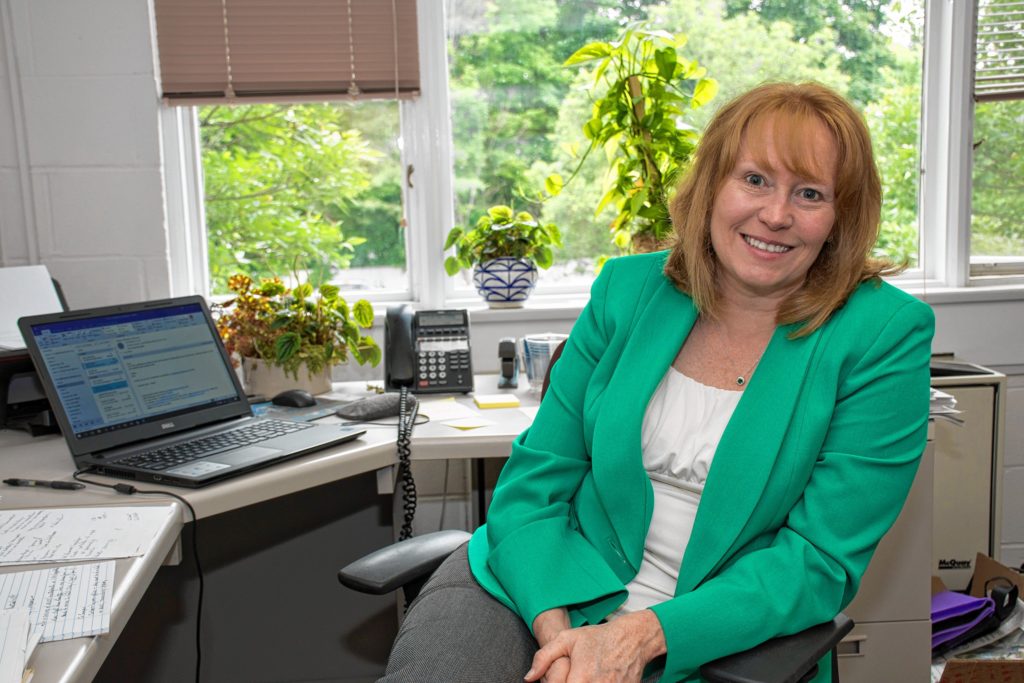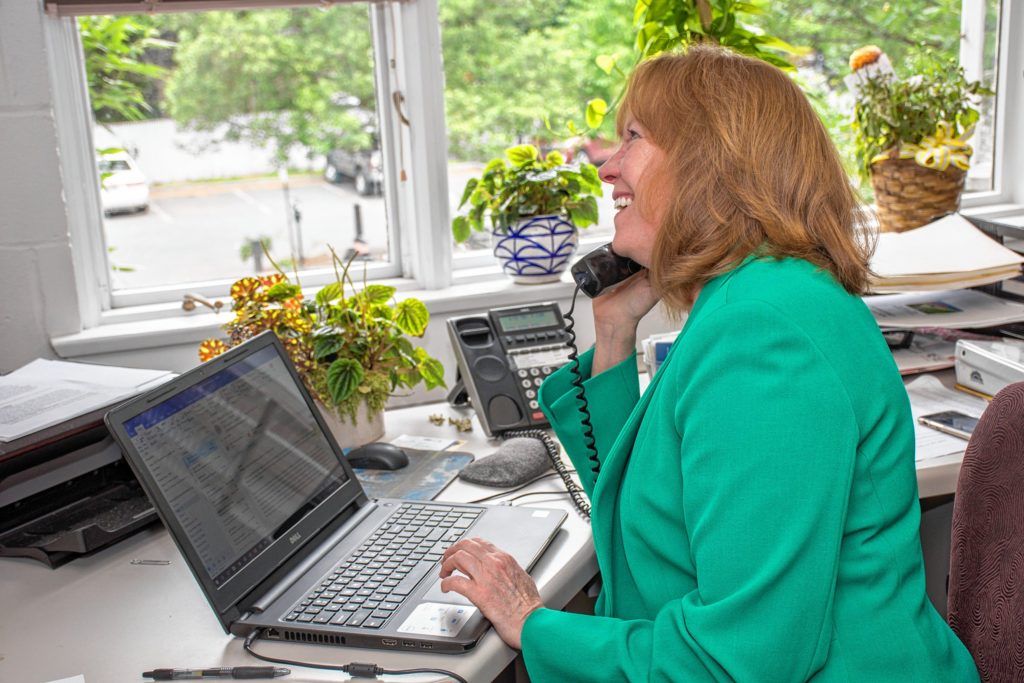 Tracy Hutchins brings decades of experience to her new role as executive director of the Hanover Area Chamber of Commerce. The Derby, Vt., native headed up the Souhegan Chamber of Commerce in Amherst, N.H., before beginning her new position in the Upper Valley on May 1.
"I had been in the chamber world for three years and before that spent 10 years working in downtown revitalization with two separate Main Street programs," Hutchins said. "I love this type of work."
Hutchins holds a master's degree in environmental resources management, and worked for 10 years in conservation, agriculture and environmental fields in New Hampshire. She also was partner in her own consulting firm, Ecotech, which did surface water quality testing, and consulted for nonprofit agencies.
"My parents live in Bethel … and I saw this job was open and I was ready for a change," she said. "I wanted to be closer to my parents and my two daughters are at a point in their lives where I could pick up and move. All roads kind of came together."
From her office on Main Street in Hanover, Hutchins exuded warmth and friendliness and spoke enthusiastically about taking over from the previous executive director, Janet Rebman. She said the finances of the chamber, which covers Hanover, Lyme and Norwich and has about 350 members, are very strong and she is looking forward to working with people and businesses in both states.
"That's something new for me and I think it's great. It's neat because I'm a native Vermonter, so I can work in Hanover and do things with folks in Vermont as well."
Membership in chambers and other kinds of associations, she noted, has changed over the years.
"I sit on the board of the New Hampshire Association of Chamber Executives, and I have spent a fair amount of time looking into this and talking with peers. Every kind of organization, from Rotary to Lion's Clubs, has changed. People are very busy and their time is divided. For chambers, it means our members are expecting a lot more return on investment. That's something that all of our chambers are working really hard on," she said.
Though her priorities are still developing, Hutchins is focused on raising the visibility of the chamber, which she said is well-respected in the region but has had a lower profile. She wants to build membership across all business categories, and encourages very small businesses to join, along with larger organizations.
The chamber also is working on initiatives to help area employers attract and retain employees, which has been an issue in both New Hampshire and Vermont.
"What I'm hearing from some of my members is that it's particularly an issue in the Upper Valley," she said. "If an employer is trying to attract a doctor or a top professional in their field to move up here, one challenge is the cost of housing, but it's also the geography and the fact that our winters can be challenging and long."
Another challenge, Hutchins noted, is the perception that the area is too rural. She said there's a lot going on in Hanover and it has a really good quality of life, but someone from outside may not realize that.
"They look at the fact that, sure it's a college town but it only has a population of 15,000," she said, "but we're close to everything — New York, Boston, even Montreal. We're right there in the center. I think that's the message the chamber needs to work on, is getting that out."
The chamber contracts with five of the larger employers in the area to produce twice-monthly programs aimed at attracting and retaining employees. Hutchins said she hopes to expand on the programs, while continuing to hold Business After Hours events every month. Hutchins is working on other initiatives, but said it's too early to announce anything concrete.
For now, Hutchins is concentrating on getting to know the region and her members, which she says is among her biggest challenges. Though she has visited Hanover many times, she only moved to the area on May 10. She also concedes that the job of leading a chamber changes with each person, depending on what she or he brings to the job.
"We all bring a different flavor, and sometimes in small New England towns people really like that, and sometimes they don't like change. I'll be getting to know people and taking the temperature, and hoping the ideas I bring are accepted, and I'll be receiving ideas as well."
One group Hutchins looks forward to getting to know better is the Hanover Improvement Society. "Hanover is very lucky to have an organization like that, especially one that is well-organized," she said. "Volunteerism has changed a lot over the years, and people don't have the time to dedicate, so the fact that they have such a well-known proactive group is a huge benefit for the town."
Since taking up residence in Orange, Hutchins and her partner, John, have been exploring the Rail Trail on their bicycles and kayaking in area ponds, but most of their time has been spent settling in and getting the lay of the land. Hutchins is also getting used to the hustle and bustle of Hanover.
"I didn't remember it being so busy. That was a surprise, how bustling and vibrant it is. People asked me, 'Why are you moving way up there?' and I said, 'You don't understand. There is a lot going on,' " she said. But for all the excitement and new things to explore, Hutchins said, the pace here is a little more relaxed.
"I see it when I'm driving in, people wait for you to make a left turn, and they wait for a pedestrian to cross the street," she said. "It's not like that in the southern part of the state."