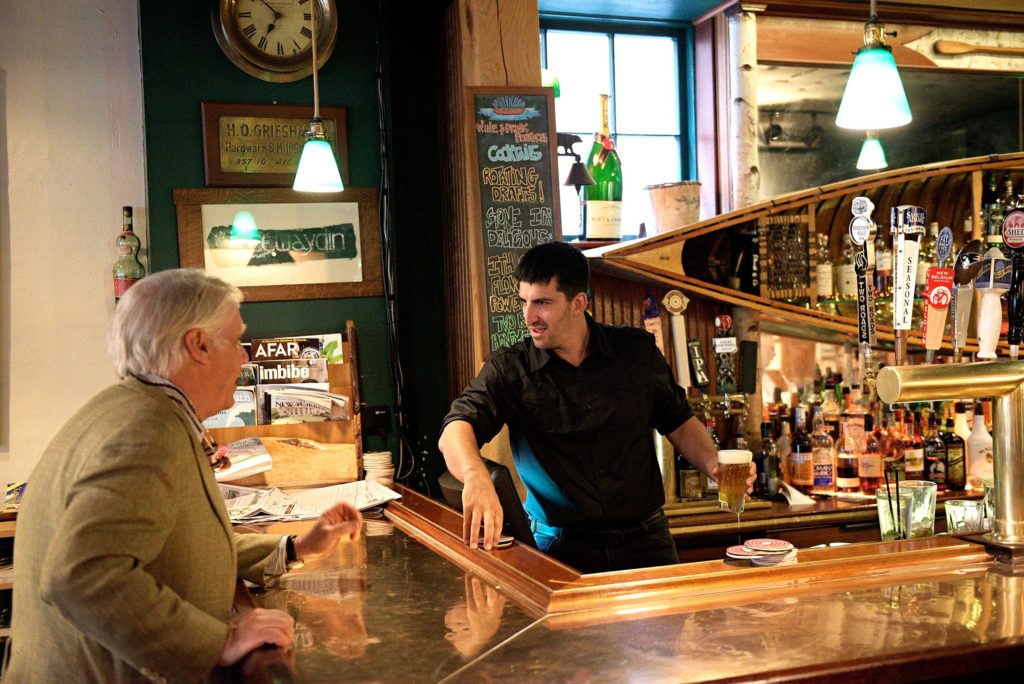 Longtime Canoe Club bartender Daniel Levitt, along with Tuck School of Business executives Daniella Reichstetter and Curt Welling, have purchased the Hanover restaurant from owner John Chapin. Reichstetter is the executive director of entrepreneurship at Tuck's Center for Private Equity and Entrepreneurship and Welling is a senior fellow with Tuck's Center for Business, Government and Society and a former business executive. The Canoe Club is a favorite watering hole for Tuck students, and Levitt said in a news release that the new ownership team hopes "to continue the best traditions of the Canoe Club while simultaneously adding new elements to attract additional fresh clientele."
Josh and Joe Tuohy, who have run the Salt hill Pub in the historic Eagle Block on Newport's Main Street since 2007, have purchased the three-story brick building from the Economic Development Corporation of Newport, known as ECON, for $550,000. The Tuohys started Salt hill in 2003 and own pubs in Lebanon; Hanover; Newport; Newbury, N.H., near Mount Sunapee; and most recently, West Lebanon. Salt hill's Newport location employs more than 30 full- and part-time workers.
The Country Cobbler, of West Lebanon, has added drop-off and pick-up locations at Farm-Way in Bradford Vt., The Pink Alligator in Hanover, and Topstone Barber in New London. In a news release, owner Jeff Peavey, who opened The Country Cobbler in 1981, and his wife, Nancy, said many cobblers in the region have retired or closed their shops over the years and the new drop-off and pick-up locations are designed to help customers who might find it difficult or inconvenient to bring their shoes to the Glen Road Plaza shop for repairs.
Twin Farms, in Barnard, was one of two Vermont hotels to be named Travel + Leisure magazine's Top 100 Hotels in the World. The rankings were based on the luxury travel publication's annual "World's Best Awards" survey of readers. Twin Farms, a five-star hotel for adults only, was ranked the No. 1 property in Vermont, No. 5 in the United States and 15th in the world, according to the survey. Rabbit Hill Inn, of Waterford, was the other Vermont winner.
Thai Orchid, which operated under two different owners over 18 years on the second floor of the former Campion's clothing store at the corner of Main and Lebanon streets in Hanover, closed abruptly in July, with the owner announcing via social media that she plans to reopen at a new location in Lebanon. Robert Lamprey, husband of Thai Orchid owner-chef Pim Pinitmontri, said parking problems, high rents in Hanover and a general decline in retail activity contributed to the decision to close the restaurant, which operated under the name Mai Thai for 14 years before Lamprey and Pinitmontri took it over four years ago.
Sears Hometown in the plaza on Washington Street in Claremont, where Kmart closed about five years ago, is moving to Newport. Store manager Anna Lallo said the move to the former Connecticut Valley Home Care building on John Stark Highway is expected to be completed by Aug. 1. Lallo said the store will double in size to 6,000 square feet and gain more customer visibility on a main road. Sears Hometown stores are independently owned and operated.
Kata Thai Kitchen, which opened in 2016 on Allen Street in Hanover, is changing its name to Pho Q and broadening its menu to include both Vietnamese dishes and samosas prepared on-site by Fuad Ndibalema, who has been selling his pastries stuffed with meat and cheese at the Hanover and Lebanon farmers markets for several years. Janet Wong, who bought the restaurant from the Chompupong family in February, formerly owned J's Nails & Waxing on Hanover Street in Lebanon.
The Aubuchon Hardware in Newport's Sugar River Plaza has completed its expansion into an adjacent storefront, doubling the retail space to about 10,000 square feet. Assistant store manager Don King said the larger store will allow the staff to stock products the store has not had before, including lumber, expand the pet supply department and provide a more open floor area. The expansion was into a vacant space that was previously occupied by Rent-A-Center, which moved next door.
Springfield Bowl, at 2 Chester Road in Springfield, Vt., has a new name, Up Your Alley, a renovated full bar, and a relatively new owner with plans to grow the business. Rob Foster has been working at the bowling alley since 2010, became manager in 2011 and took over as owner in November. His efforts to update the facility have included the installation of new flat-screen monitors and the addition of five more big-screen TVs. The business employs six part-time workers during the summer, with two more on board during when adult and youth leagues are active.
Hanover's BE Fit Physical Therapy has opened a second clinic location inside the Upper Valley Aquatic Center in White River Junction. The business, established in 2009 by physical therapists Eric Ellingson and David Barlow, has grown to six therapists serving more than 500 patients annually.
Kathleen Danforth, of Strafford, has opened Kathleen Danforth Home Care LLC, which specializes in non-medical home care for Upper Valley residents who need assistance staying at home. Danforth has more than 20 years of experience providing and coordinating these services.
Items of interest to the local business community are published in the Business & Money section of the Sunday Valley News and also are collected in Enterprise. Submissions may be sent by email to biznotes@vnews.com.