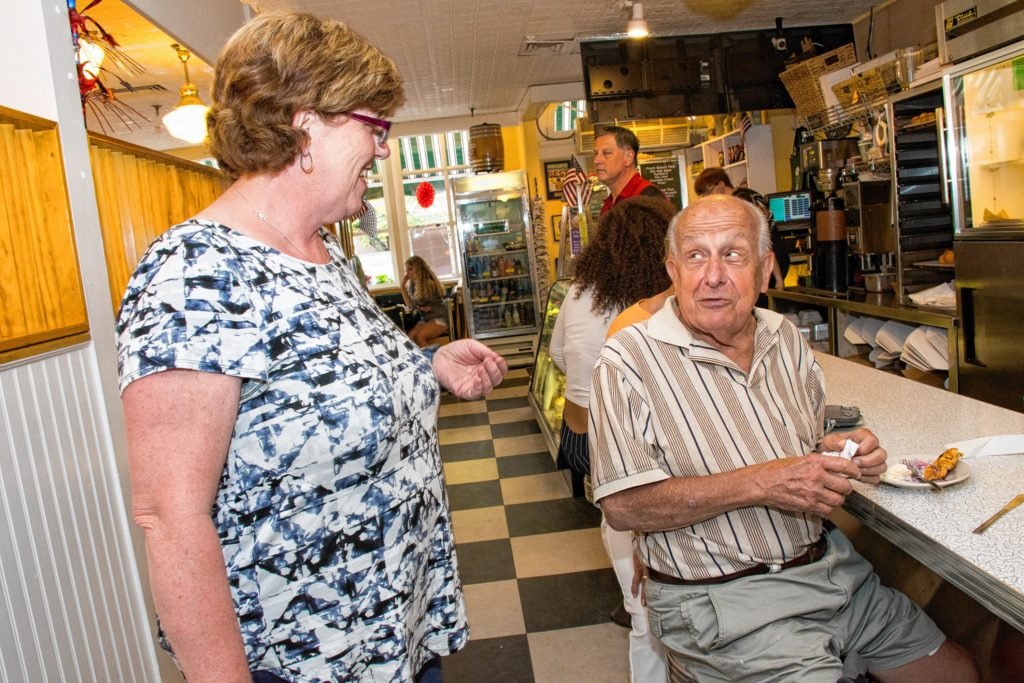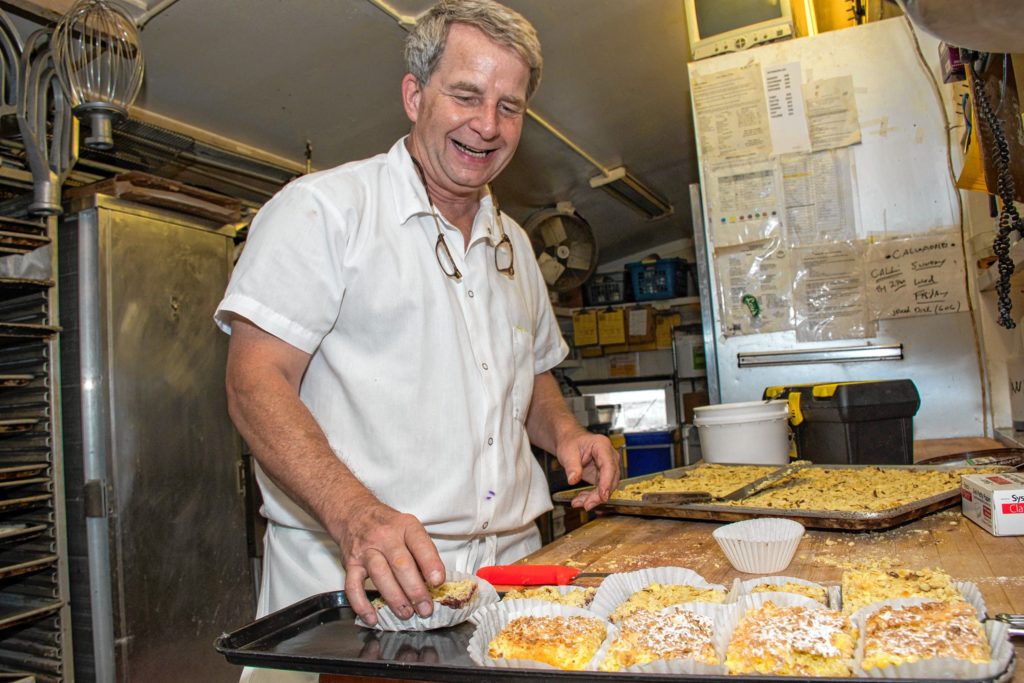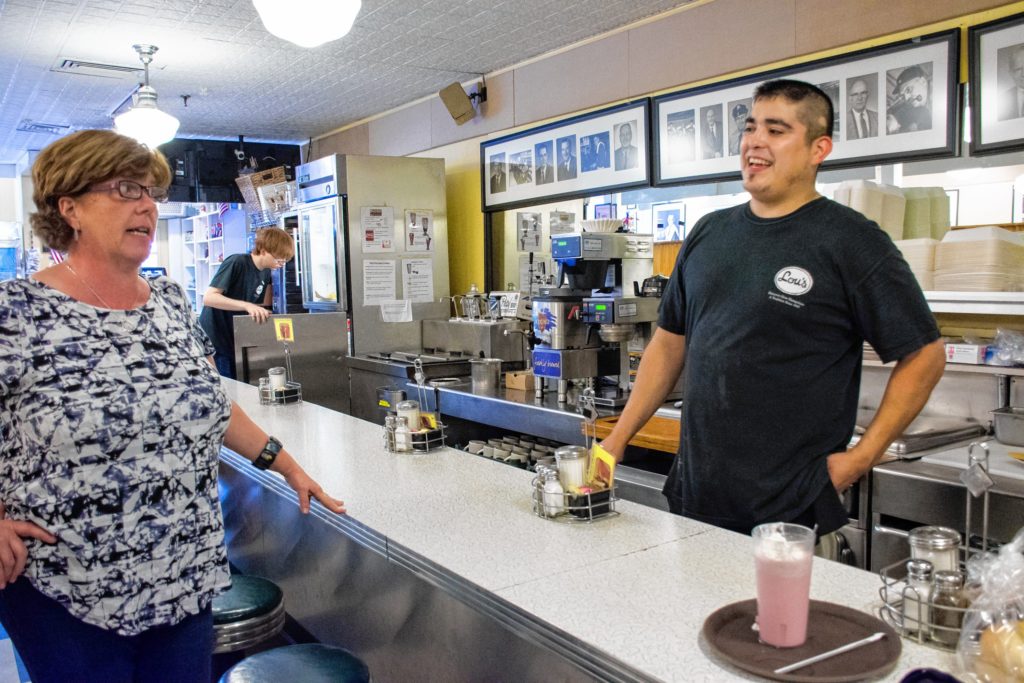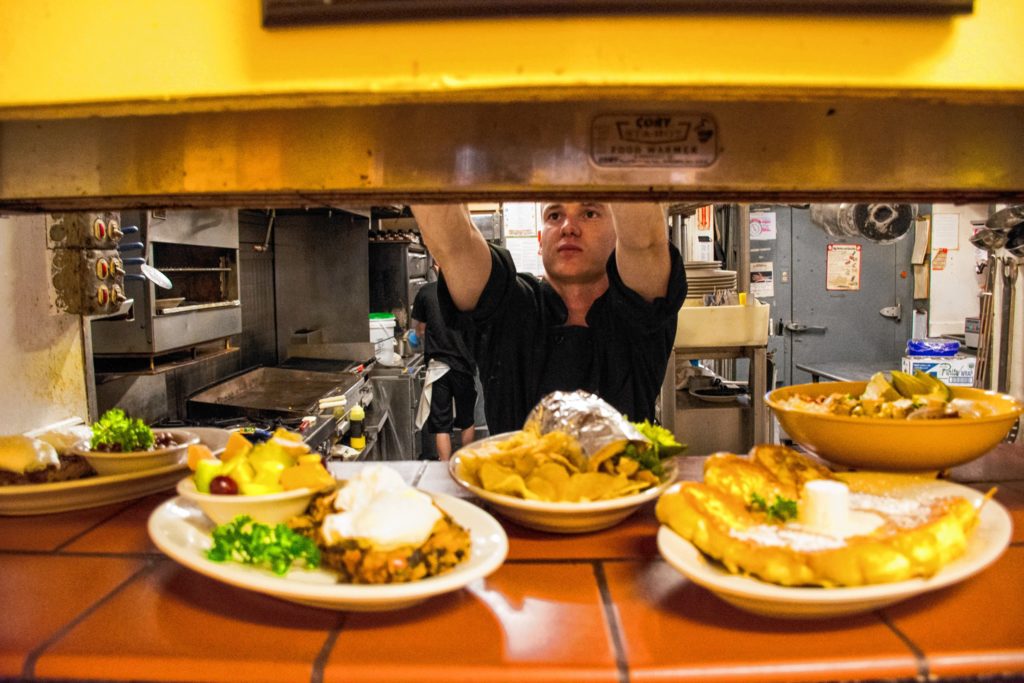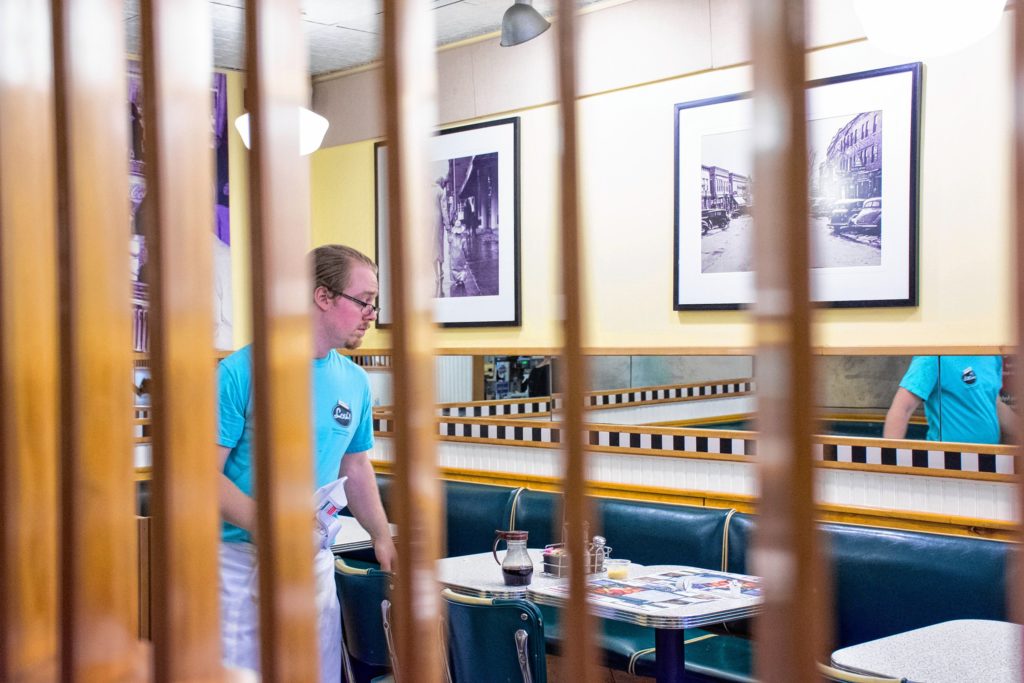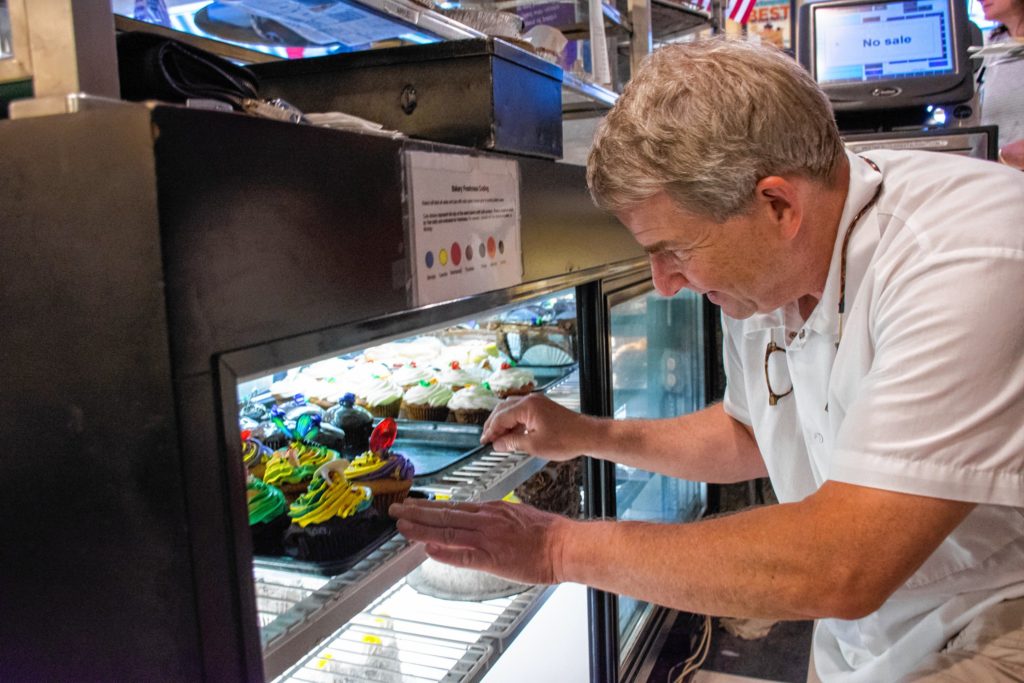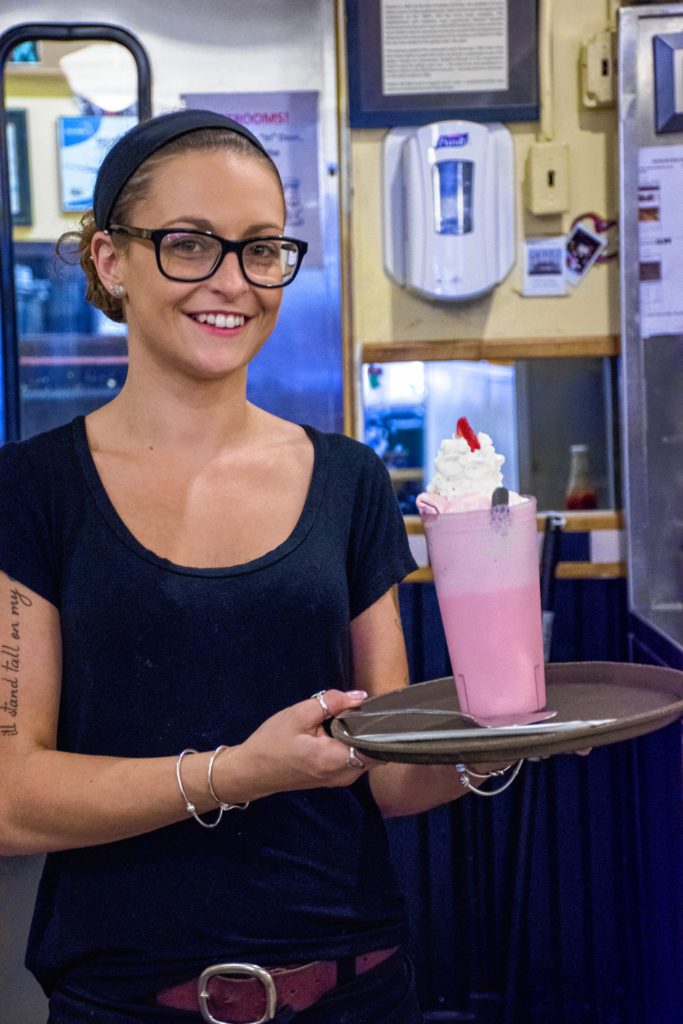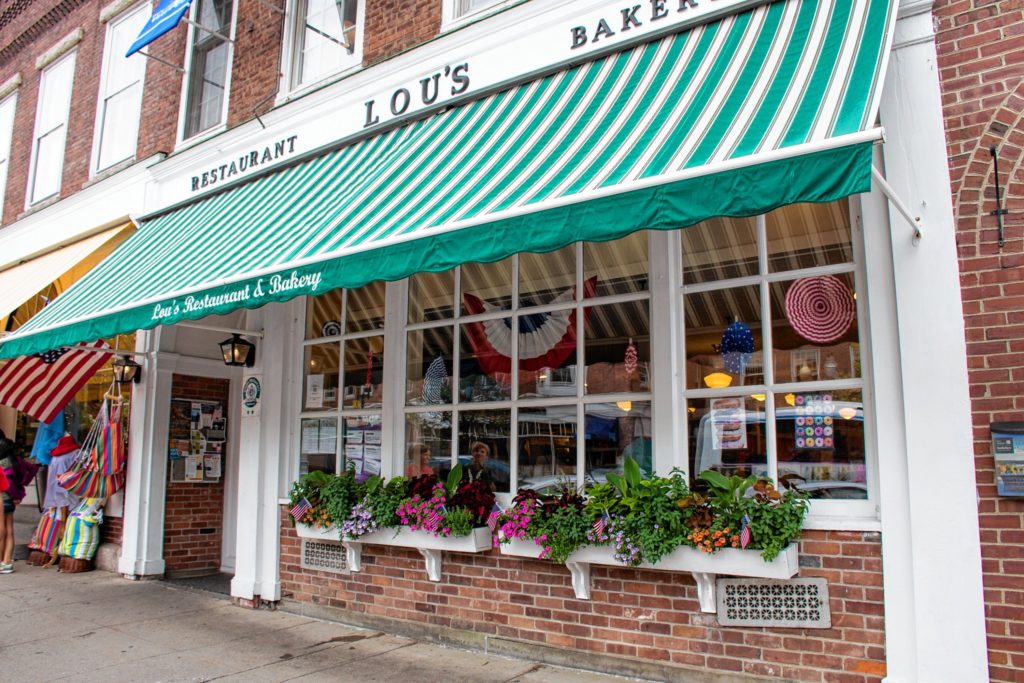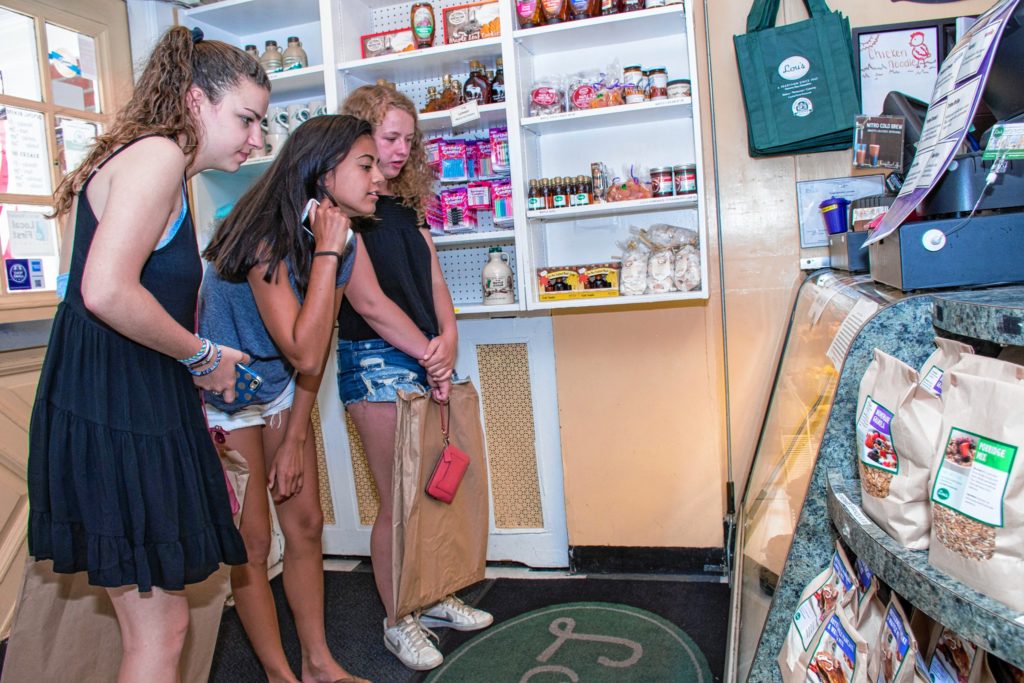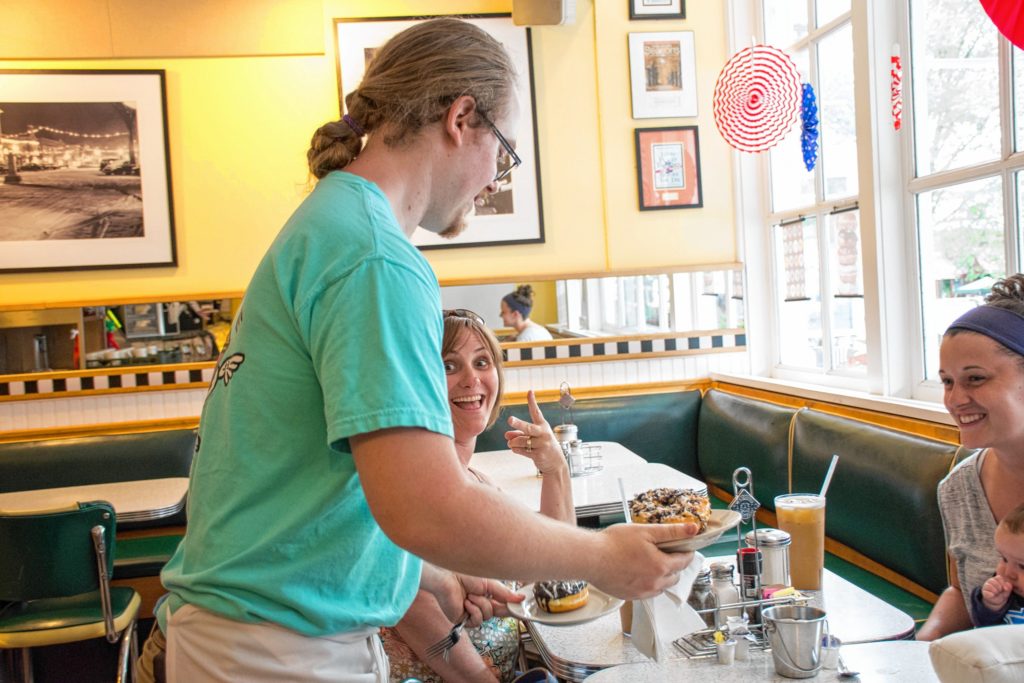 "Great food, fabulous staff and tradition are what keep me coming here about three or four times a week for the last 20 years," said Hafiz Shabazz, who was seated at the counter on a recent visit to Lou's Restaurant and Bakery in Hanover.
That, in a nutshell, is why Shabazz, an adjunct assistant professor at Dartmouth College, is among the throngs of locals and visitors who have frequented this popular hangout since it began serving everything from cruller French toast, buttermilk pancakes and homemade corned beef hash to a full lunch menu including burgers, Reubens, gyros and other delectable dishes 70 years ago.
While polishing off his waffles with a side order of scrambled eggs and bacon, Shabazz said he usually orders Doc's special (homemade corned beef hash and poached eggs). "Today is one of those days; I'm hungry enough to order two breakfasts, which usually carries me over until lunch," he grins between forkfuls. "I'm grateful I have a good metabolism and I'm grateful to Lou's."
Lou's Restaurant and Bakery has been a gathering place for hungry locals since Lou Bressett, a Hanover native and decorated Marine, opened the eatery on April 11, 1947. It also has sweetened many a palette with its fresh baked goods and cakes.
In 1979, Bressett sold his business to Robert Watson, who operated the establishment for 13 years until its current co-owners Toby and Pattie Fried bought Lou's in 1992.
From the moment they took over the business, Pattie Fried said, the couple wanted to be "good stewards" and "maintain the integrity of Lou's brand." They have been pleasing customers as well as curiosity seekers with great food and service for the past 25 years.
But just prior to taking the reins and assuming ownership, the Frieds were focused on initiating and automating operations from the "old-school" management style which had no point-of-sale system. To grasp all that was needed and strategically incorporate change, the couple met with Upper Valley SCORE counselors. SCORE also helped evaluate the costs of running a restaurant and empowered the Frieds on how to balance the debt. They also helped the Frieds understand breakfast trends.
"We worked on inventory, menu development and we wanted to track the data wherever and whenever possible," Pattie Fried said. "Toby is the numbers guy and wanted a healthy business. Data provided us a real pulse on labor and food costs in real time. We were able to identify the peak hours and busiest times so we could staff accordingly. In the restaurant business, if you take too long to notice trends, it's too late to tighten things up."
With close to 74,000 doughnuts and crullers sold last year, suffice it to say Lou's is known for more hearty, comfort food-type offerings, but healthy fare also has made its way onto the menu.
When comedian, writer, actor and television producer Larry David visited Lou's several years ago, the Seinfeld creator was surprised and thrilled with the menu options. " 'Wow, you can get egg whites in New Hampshire?' " Pattie Fried recalled him saying.
Toby Fried was quick to point out they removed egg whites from the menu for a short period when they weren't a popular item, but have since added them back. Because culinary trends come and go, the Frieds constantly are re-evaluating their offerings and now serve vegan and gluten-free dishes as well as nutrition-rich acai, Buddha bowls and bone broth soups. They also promote local farms and food producers who supply the restaurant.
Lou's has maintained its reputation as a popular meeting place, having served 134,815 in-house guests in 2016. It also has been a regular stop for politicians on the stump, particularly during the New Hampshire primaries. Days after Howard Dean's notorious rallying cry (also known as "the Dean Scream"), the former Vermont governor and presidential hopeful made a surprise Jan. 22, 2004, appearance on The Late Show with David Letterman to read the "Top 10 Ways I, Howard Dean, Can Turn Things Around." The backdrop was the familiar dining area of Lou's.
The pulse of Dartmouth College's Main Street, Lou's shaded brick storefront seats 16 at the counter for diners on the go and another 74 seats in the dining room for those who want to settle in for a meal and conversation. On busy weekends when guests aren't interested in waiting, Lou's curbside coffee and sweet treats are yet another reason this efficiently run operation churns out record numbers. In 2016 they sold 73,892 doughnuts and crullers, 47,906 cups of coffee in house and another 11,654 coffees to go.
In recent years, Lou's has expanded the bakery offerings to showcase Toby Fried's pastry-making skills, which he learned in his native Vienna and further established at The Ritz-Carlton in Boston. His sweet treats include celebratory cakes; seasonal pies; cheesecakes and pastries; Zwetschgenkuchen, an Austrian plum cake; apple strudel; Stollen and European holiday cookies.
Pattie Fried, who previously worked at Dartmouth College's Geisel School of Medicine prior to owning Lou's, majored in marketing at Emmanuel College in Boston. A macro planner, she handles the daily marketing. Toby Fried can be found in the bakery and overseeing day-to-day operations.
And while one can go on and on about the food and the baked goods, the staff is another reason people leave delighted and keep coming back.
"Our staff (of 34) takes great pride and are really good at what they do," Pattie Fried said. "We have a wonderful mix of people here, including mother and daughter duos and relatives of Lou Bressett's, and many have been with us for years."
Caz Kuklowsky is attentive and compassionate while managing counter customers. The stepson of Valley News' single copy manager Dick Bressett (Lou Bressett's oldest son), Kuklowsky started working curbside 13 years ago, as many high school students do, selling muffins and doughnuts during the madhouse hours. Having worked full time since 2009, Kuklowsky's perpetual smile, attention to detail and interest in customer engagement are evident.
"It's a great place and we get to see lots of good people," he said.
Jenny LaVoie, who has been serving customers for eight years, introduced her daughter Haley Armstrong to a server job while she was a student at Sunapee High School. Now with six years under her belt, "a lot of regulars come back to see us," Armstrong said.
"If (our employees) can keep calm during the chaos and are willing to jump in, they will move up, whether it's as a cashier, a server or (someone at) the counter. We are all about cross training. The more our staff learns, the busier (and happier) they are," Pattie Fried said. Whether they're supervising staff, baking or bookkeeping, the Frieds are always busy. The couple won't even try to count the number of 12- to 15-hour days they have logged in the past 25 years.
"We started with nothing and thought, 'If we could see the business through to its 70th birthday, that would be cool.' Yes, it's hard work, but we see ourselves as stewards of this landmark institution and here we are celebrating this milestone (since Lou's first opened). It has given us a beautiful life," she said.
To commemorate the anniversary, the restaurant will serve birthday cake and hold a raffle on Saturday, Sept. 9.
The parents of two adult children, 27-year-old Daniel and 20-year-old Rachel, the Frieds engage regularly with their employees to ensure the "front of the house (dining room), the back of the house (the kitchen and bakery), and all of the house" is in sync.
"We are constantly fine-tuning our business. Sometimes we're so busy we can't get out of our own way, but we plan, we tweak and we always try to make things run as smooth as possible," Pattie Fried added of Lou's, which is one of just three New Hampshire restaurants to receive a certified green designation from the Green Restaurant Association. As smooth and efficient an operation Lou's is, it is common to see an overflow of students, visitors and townies lined up for a seat at lunchtime or on the weekends.
"I am always amazed people are willing to wait in line, but that is part of the experience," Toby Fried said. "We hope to one day see the restaurant owned and operated by someone who will continue the Lou's tradition and uphold the brand."
Satisfying customers and connecting with patrons is what this lifelong journey has been all about for the Frieds. They take delight in feeding customers and seeing Lou's fans engage on Facebook, Instagram and Twitter — some even Snapchat their doughnuts.
Today, people break bread and socialize at Lou's, just as they did long before the Frieds arrived. But the Frieds were sensitive enough to understand the significance of the restaurant's history and recognize the landmark that is important to so many people. Soon after purchasing Lou's, the Frieds spent hours sifting through Lou Bressett's personal photo collection in the basement and even more time in the historical archives at area libraries in an effort to showcase the images of patrons and staff from the restaurant's inception.
One mural tells the story: a black-and-white image taken in the early 1950s covers the entire back wall of the restaurant and illustrates an all-too-familiar visual of an overcrowded counter scene with the original owner, Lou Bressett, working near the vintage Coca-Cola fountain. Alongside Lou is a Dartmouth student who, as Pattie Fried recalled from her many retellings of the story, worked his way through college at Lou's and never returned to Hanover until nearly half a century or so later.
"One day the now Dartmouth alum, while seated at Lou's, realized, 'Oh my gosh, that's me from when I worked while at Dartmouth,' " Pattie Fried recalled. "His wife approached me quietly after their meal and asked for a copy of the photo so she could surprise him with it," she added with tears in her eyes.
Weeks later, after she had sent them the photograph, the couple reappeared at the restaurant, this time with their grandchildren and family in tow. They had all driven from Connecticut to visit Lou's, Pattie Fried said.
"The look and the pride he had on his face as he absorbed that moment in time and pointed to himself is unforgettable," she said. "He shared with his grandkids his days at Lou's and how the image on the wall portrayed the landmark and how he is now part of the history. That story still gives me goose bumps."