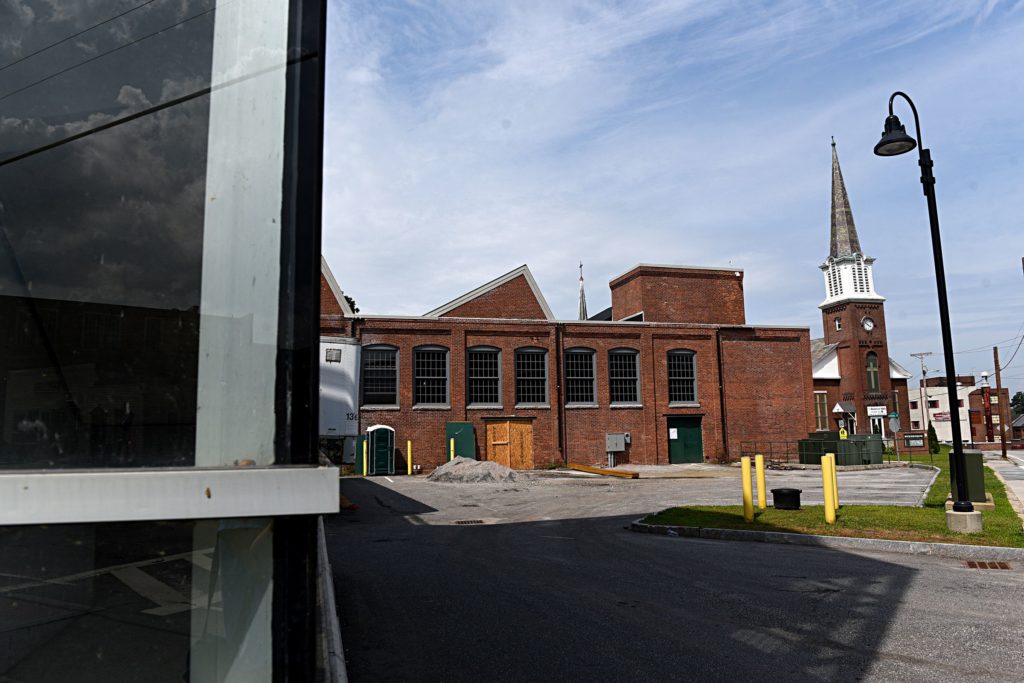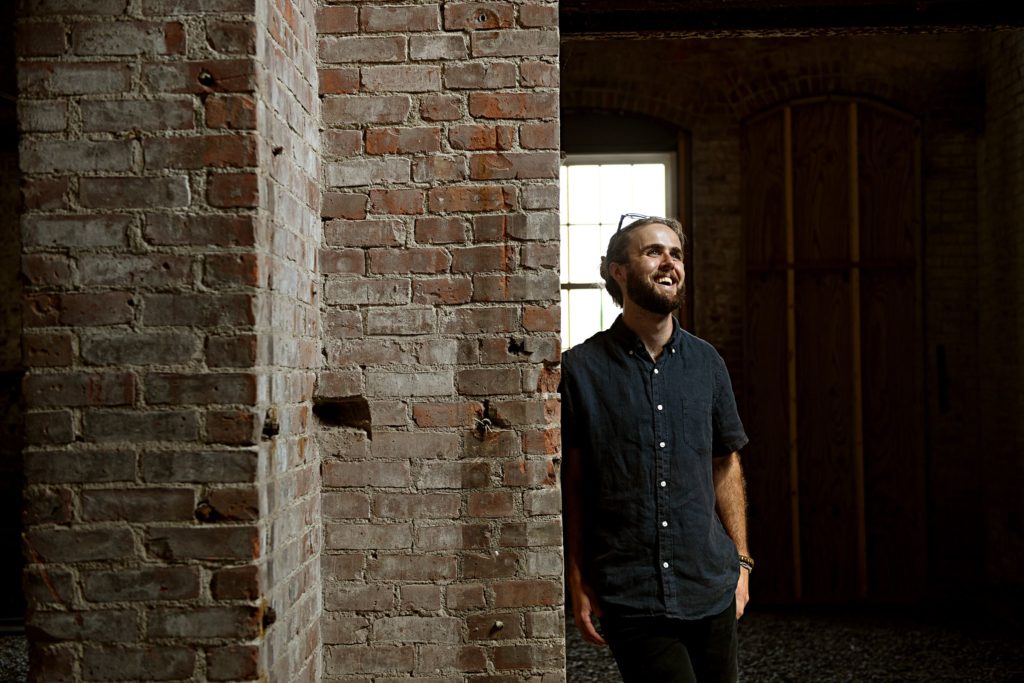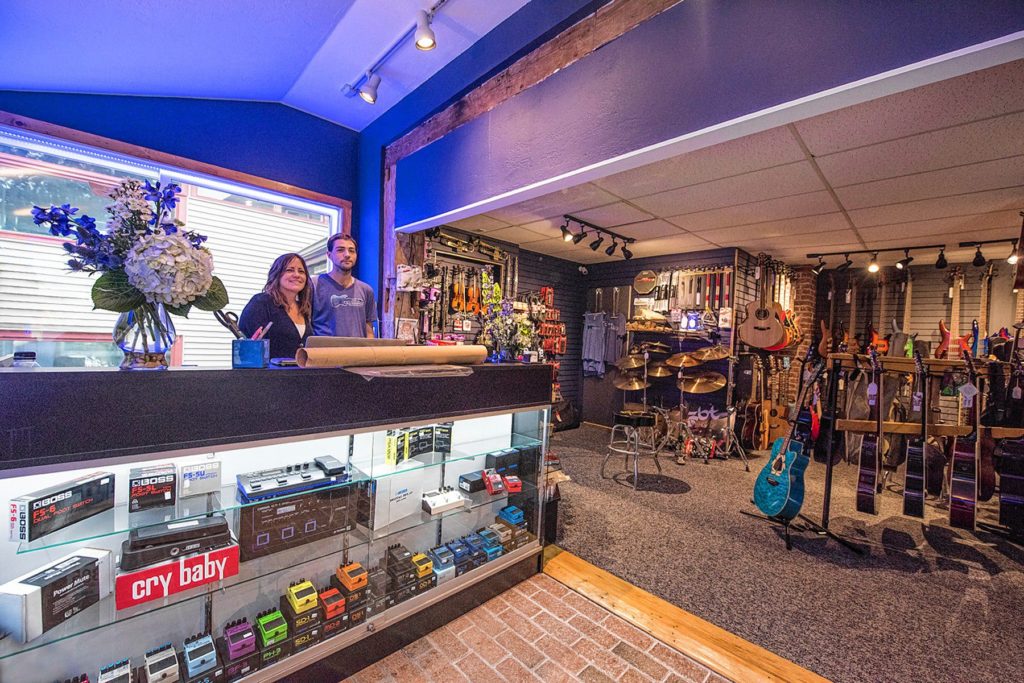 The next phase of the redevelopment of Claremont MakerSpace in the former Sawtooth mill building on Main Street has begun. The building's owner and developer, TwinState MakerSpaces of Lebanon, began work earlier this summer and is anticipating completing renovations before the end of the year. Steven Goldsmith, president and co-founder of MakerSpaces with Jeremy Katz, said "cores" have been run through the footings for plumbing and electrical conduits and interior grading of the floor, which is dirt, is finished. Additional concrete footings for the interior walls and the main electrical service panel were installed. The "makerspace" concept will allow members, from budding entrepreneurs to hobbyists, to use high-tech tools and equipment in a shared environment for a variety of purposes including technology, woodworking, jewelry making. The interior will be divided into areas for metal, wood and electrical shops, jewelry and textile studios and a computer lab training room, according to plans on file with the city. There will also be a common area and individual work spaces.
Quechee Lakes Real Estate Center, the real estate agency in the familiar 1850 red brick farmhouse on Route 4 in Quechee, has been sold to Scott Rome and Herb Hart, who have renamed it Brick & Barn Real Estate Group and are broadening the agency's market area to encompass northern New England. Rome and Hart, Upper Valley natives who were classmates at Hanover High School in the 1980s, bought the property and agency, which has traditionally focused on sales in the Quechee Lakes area, from Charlie Bacon. Bacon is staying on with the new owners as a principal broker. Rome said the six-agent Brick & Barn is set up to be a "boutique" real estate firm that will expand its listings in Vermont and to New Hampshire and Maine. A Portsmouth, N.H., outpost will open in the fall, Rome said. Hart had been with Quechee Lakes Real Estate Center for 14 years as an agent. He will continue separately to operate Quechee Lakes Rental, which leases Quechee Lakes properties for seasonal residents, out of the Brick & Barn's offices. Rome has had a longtime sales and marketing career, working both in the tech software industry and earlier in television program syndication.
The extended-stay Residence Inn in Lebanon has completed a $6 million renovation project begun in November that includes a redesign of all 114 rooms along with a redesigned gatehouse and lobby and a state-of-the-art fitness center. Norwich Partners, the Lebanon and Florida-based hotel development and investment firm headed by David Leatherwood and Eric Sachsee, repurchased the Route 120 hotel, marketed then under the name The Residence Inn by Marriott Hanover-Lebanon, in 2015 from Moody National REIT. Moody had originally acquired the hotel from Norwich Partners in 2007. The Residence Inn's "comprehensive makeover" includes new appliances, cabinets, countertops, tile work, carpeting, furniture and beds, a news release said. The indoor pool facility was converted into 1,200-square-foot fitness center. The Residence Inn's renovation comes as a fourth major hotel complex, the Hilton Garden Inn and Conference Center, is under construction along the Route 120 corridor near Exit 18. The $12.3 million, 100-room hotel and conference center project is expected to be completed for opening in the fall.
Blue Mountain Guitar, a fixture in West Lebanon's Colonial Plaza shopping center for more than three decades before closing its doors last summer and switching to online sales only, has reopened in an alcove of shops on Main Street in New London directly across from Colby-Sawyer College. Co-owner Barb McKelvy and her business partner, Tyler Geno, said online sales are "doing well" and the e-commerce business has sold musical instruments and equipment to customers in all 50 states. But buyers of musical instruments frequently prefer to pick the instrument up and hold it in their hands and play it before making a purchase. "We went online-only but our old customers really wanted us to have a store again," McKelvy said. "They are hands-on people." In addition, Blue Mountain Guitar is expanding its musical instrument and equipment rental business and is looking at offering music lessons, which McKelvy said people in the New London community have been requesting. She and Geno are also weighing adding a digital recording studio to the mix. "That's something in the future," she said.
After operating for 13 years out of the Hotel Coolidge, BoHo Cafe and Coventry Catering owner Lynn Caple is downsizing his business and moving his catering operation to Wilder, where he will operate out of the former Wilder Sandwich Co. storefront on Route 5. The shift follows the decision by his wife, Karen, last November to close White River Yarns, which also was located in the Hotel Coolidge building. Caple said he was downsizing his business because he and his wife are preparing to move to Florida in order to assist in the care of his wife's parents. Caple is expected to wind down operations at Hotel Coolidge over the next several months, although a specific date for the transition is still unknown. Caple, who previously operated the Plainfield General Store before starting Coventry Catering, said the combined in-hotel catering business, outsider catering business and Boho Cafe collectively generated about $600,000 in revenues last year.
Worthy Burger, in its first expansion since it opened Worthy Kitchen in Woodstock in 2013, plans to open a take-out deli in downtown Woodstock on Mechanic Street. The town's Development Review Board has granted approval for the South Royalton "farm diner" to convert the small white clapboard building that was formerly a real estate office into a take-out sandwich shop. Most of the food will be prepared offsite at the nearby Worthy Kitchen facilities on Route 4, according to review board records, and there will be no indoor seating. Plans do call for patio seating for 20 people, and doughnuts will be fried on site.
The Public House restaurant is opening a second location, called The Public House Diner & Deli, in the space formerly occupied by CJ's at Than Wheeler's Tavern at Quechee Gorge Village. The diner-restaurant, which will serve breakfast and lunch only, is expected to be ready for customers on Sept. 10, two years after owners Andrew Schain and Scott Bacon opened The Public House in the spot formerly occupied by Shepard's Pie Restaurant on Route 4. The new location has a seating capacity of 110 and will have outdoor seating and a take-out window. Schain previously managed Bentley's restaurant in Woodstock. Bacon also runs a house painting business, The Perfect Coat, in Quechee. CJ's at Than Wheeler's Tavern relocated from downtown White River Junction to Quechee a couple of years ago. The location, with its 1947 Worcester Diner car, has been a restaurant under a succession of names and operators, including The Farmers Diner and before that, The Quechee Diner.
Norwich resident and Hartford High School graduate James McCoy plans to open The Blue Thistle, a microbrewery and whiskey distiller, in space adjacent to Strafford Saddlery on Route 4 in the cluster of buildings just east of the Quechee Gorge. McCoy, a graduate of the University of Vermont, went on to get a master's degree in distilling at Scotland's Heriot-Watt University and previously worked at Harpoon Brewery, Litchfield Distillery in Connecticut, Wachusett Brewing in Massachusetts and Vermont Spirits Distilling in nearby Quechee Gorge Village. He is in the process of lining up the requisite local, state and federal permits to convert the space into a brewery and distiller. He expects to open in the early fall, initially as a tap room and serving a light prepared-food menu with the brewing and distilling operation to begin in 2018. The space has room for about 50 seats.
A new combination car wash and laundromat is in the works for Quechee, bringing two services that currently do not exist in the Route 4 corridor between Hartford and Woodstock. Jake's Market & Deli owner Ed Kerrigan has closed on the purchase of an approximately 1-acre parcel of land adjacent to the Dunkin' Donuts on Route 4, a short distance east of his Jake's Market and Deli location. Kerrigan plans to demolish the building now on the site to make way for the automatic two-bay car wash and laundromat. The target opening date is next spring, according to Kerrigan. The car wash would be similar to the one at the Jake's Market and Deli on Mechanic Street in Lebanon, "except with the next generation of car-washing" equipment, Kerrigan said. Kerrigan said he is also weighing adding a "wash and fold" service to laundromat, in addition to having it serve as a drop-off and pick-up location for dry cleaning.
The owners of the Vermont Alpaca Store have opened Quechee Gorge Italian Bakery adjacent to their store at Quechee Gorge Village on Route 4. Lisa Mattei said when she and her husband, Brian Mattei, who together opened the alpaca wool clothing store 15 months ago, began thinking about what could be done with the space adjacent to their store they realized an "Italian bakery is the one thing that's missing in the village and surrounding communities." Mattei said most of the treats they offer are baked on the premises.
Upper Valley Automotive in Enfield has added U-Haul rentals to its services. Owner Leon Dixon said he wasn't planning on becoming a U-Haul location but a representative for the Phoenix-based company "just showed up one day and asked: 'Would you like to become a U-Haul dealer?' And I said, sure, I guess, yeah." Dixon, whose automotive service center located on Route 4A celebrated its 22nd anniversary on July 4, said so far signing on with U-Haul has turned out to be a good decision. Demand for U-Haul trucks and moving equipment, he said, "has been really good. I am kind of surprised." U-Haul lists 75 locations in New Hampshire, including nine in the Upper Valley. Other U-Haul dealers in the Upper Valley are located in Lebanon, Claremont, Hanover, Canaan, Newbury, Newport, North Haverhill and Springfield.