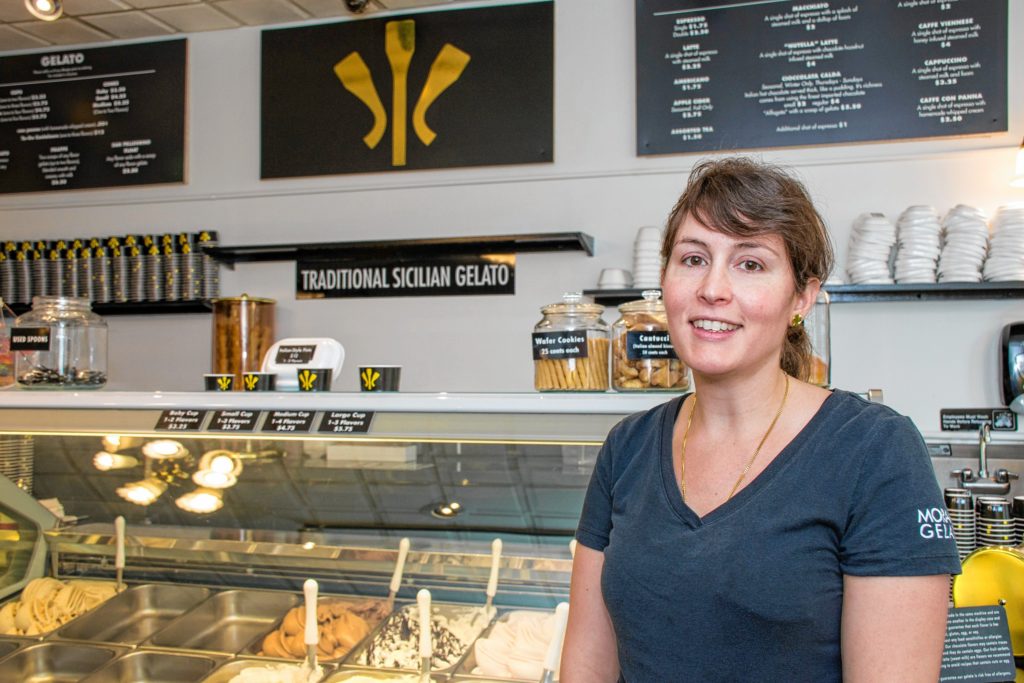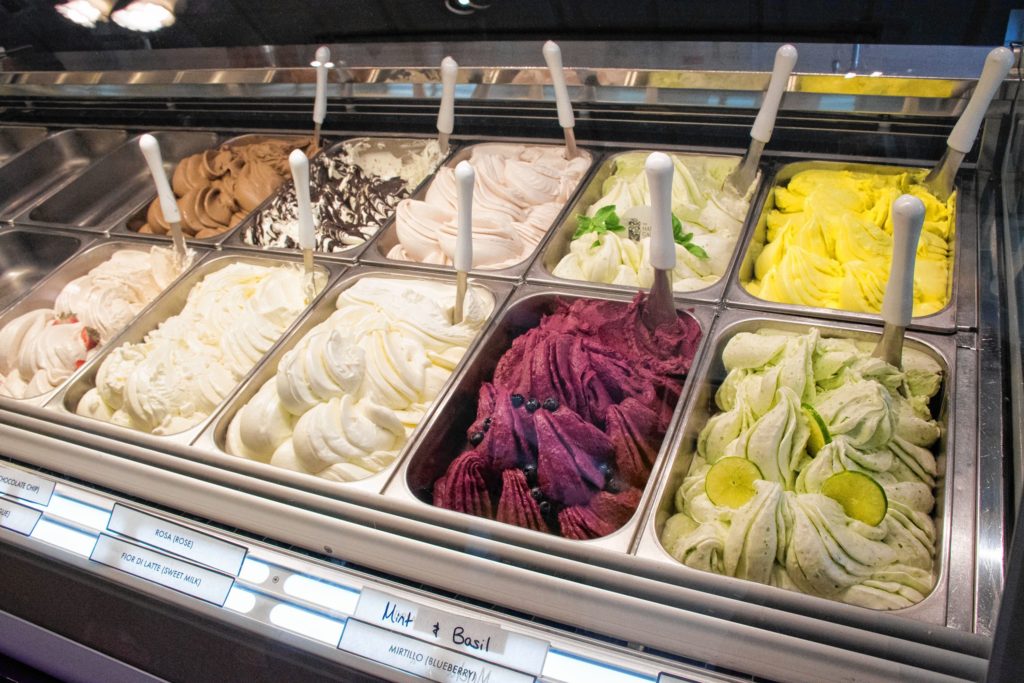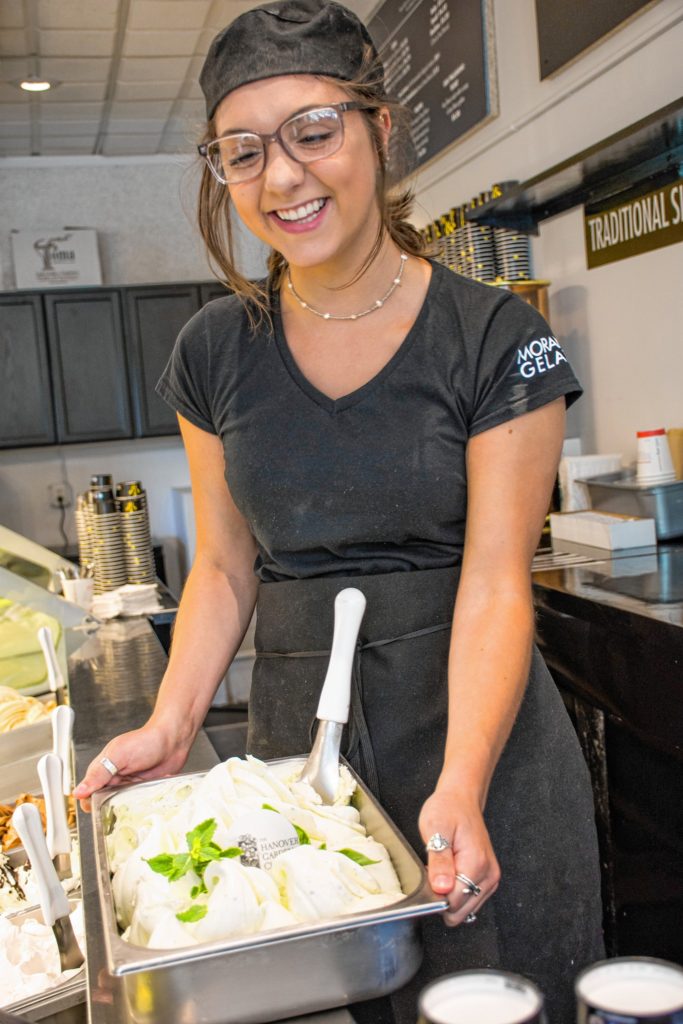 Morgan Morano, CEO and owner of Morano Gelato, has experienced an amazing seven-year run — first mastering the art of making gelato, then serving thousands upon thousands of people who lined up outside the flagship Hanover location for a taste of the luscious treat, and then taking the leap into franchising the business.
Morano is the first to attribute her success to the Hanover community and its continued support of the shop. Now, with locations recently opened in Chestnut Hill, Mass., and Westfield, N.J., Morano remains confident in her growth plans and her ability to maintain the "values and philosophy" of freshly made gelato.
"I truly believe our gelato is better today than it was seven years ago," she said.
Morano recently took time to answer questions via email about where her company is now and her plans to start a new chapter with franchising. (Questions and answers have been edited for length and clarity.)
Question: When did you know you wanted to franchise or expand the brand? Was it always part of the "game plan" when you opened your first location, or even when you first started making gelato?
Answer: Franchising was never part of the initial game plan. I was working so hard to just simply get one shop opened that my vision was continuously limited to six months ahead, not necessarily six years! It wasn't until we opened on Main Street, lines were forming, and people would walk in assuming the shop was a franchise, that I began to do more research on expanding the brand. I've always been very systematic and organized, and I unknowingly had set up the operations very similar to what would be a franchise concept. Once I realized I had already done much of the work, I recognized the value in a franchise business model.
Q: How is the business doing?
A: All three Morano Gelato locations, Hanover, Chestnut Hill and Westfield, are doing very well. It's exciting to be back and involved in the Hanover store (she sold the Hanover store in 2013, and then she and two partners bought it back at the beginning of this year), to have it as the flagship franchise, and to have our first franchise in Westfield up and running well. It's also great that I can continue to fully own and operate a store in the Boston area. Chestnut Hill has proved to be a very successful location and I enjoy being part of the larger community of Newton. We are still working on finding the right partners for our franchise and will continue to take our time to grow at a rate we're comfortable with. It's important we are able to maintain consistency of the quality of gelato, service and experience we're known for. I'm also working on a second edition of The Art of Making Gelato, which is super fun for me. I'll be adding a few new recipes to it as well.
Q: What have you learned from having multiple locations?
A: I have learned that it is easier to work with franchisees/partners who believe in Morano Gelato, understand and share our vision, and want to work together. By having the right people in all of our stores, it has made operations smoother and consistency more prevalent than ever.
Q: What other attributes do you look for in your business partners?
A: High integrity, a strong character, a passion for gelato and the desire to jump in and get to work, whether that's scooping or marketing. I also look for people who have a respect for franchise systems and understand the importance of consistency within our brand.
Q: How do you know when you've found that person? What seals the deal — the right paperwork, recommendations, a face-to-face interview?
A: A face-to-face interview is critical for me. Part of our interview process is a full day with me at Morano Gelato Chestnut Hill. This allows me to ask on-the-spot questions and get a better understanding of the the prospect's interest in being part of Morano Gelato. It also allows them to interview me and gives us both the opportunity to see if it's a good fit.
Q: Are there any national franchises or brands you look to or take "best business practices" from?
A: There are definitely many entrepreneurs and brands I admire, not so much for their model of expansion but for their business practices. Most notably, I would say it wasn't until I was introduced to the book Pour Your Heart Into It: How Starbucks Built a Company One Cup at a Time by Howard Schultz (this was shortly after I sold Hanover in 2013), that I started to take all of my core values from the business and our philosophy and realize how similar they are to many large companies. The unfortunate thing is a lot of people outside of business are quick to vilify large companies, and certainly at times companies lose their way. But what Starbucks reminded me of is to focus on people — finding the right people to work in our stores and the right partners to help expand the brand. It also encouraged me to continue to push for my vision. When you're young, it's easy to be influenced by people who believe they "know better." But by following one's instincts and heart, I realized over the years that no one has more dedication and love for Morano Gelato than I do. Coming from a place of humility, it took me six years to be able to say that! Companies like Starbucks encouraged me by their compassionate capitalistic approach to business and helped further define the type of expansion right for Morano Gelato. It also reminded me that if the type of expansion I'm seeking for Morano Gelato doesn't exist, it doesn't mean I can't create it!
Q: What's the biggest misstep you've made in your time leading Morano Gelato, and how did you recover from it?
A: I would say my largest misstep has been my openness in letting people into Morano Gelato (whether directly or in advisory roles) over the years who had different intentions than they let on. I think this is largely due to the fact that I was so young and not confident in my abilities when I started Morano Gelato, and unfortunately didn't trust my instincts. I started Morano Gelato with a passion for creating moments of happiness with the gelato, and wanted those same intentions to transfer to all business relationships (naive, I know). I've since recovered from this misstep through creating a close circle of mentors who I trust, who share the same moral fiber as me, and who ultimately remove their ego from any conversations we have and are simply there to impart wisdom and insight. I also am a lot more careful in what I share and have learned that not all relationships work out, despite best intentions.
Q: How much of an investment does a Morano Gelato franchise location require?
A: As noted in our 2017 Franchise Disclosure Document, we give a conservative range of $301,194 to $533,709.
Q: How much does one need in operating capital reserves to cover losses after opening the franchise until it reaches the breakeven point in terms of cash flow?
A: Every location is different. We outline in our Franchise Disclosure Document to have upward of $50,000 extra in reserve when first opening.
Q: How involved are you in the financing options?
A: At this time we do not offer financing, but we work with local banks that help with loan applications with the Small Business Administration. We are also a pre-approved franchise company with the SBA.
Q: How did SCORE help you in the early stages of your business?
A: When I first started Morano Gelato and registered with the Hanover Farmers Market, I was encouraged to reach out to SCORE regarding my larger business plan of opening a store in downtown Hanover. I met with a SCORE member and we reviewed the business plan. Once the product premiered, I moved into Rosey Jekes Cafe and the business was able to build a strong foundation in Hanover. I looked to SCORE to help validate a business that seemed to create a lot of dead ends for me in the beginning. I realize now that it was simply a matter of getting people to try the product. It tasted better than a business plan! It was a helpful meeting, and it's been fun seeing SCORE members visit our Hanover store over the years.