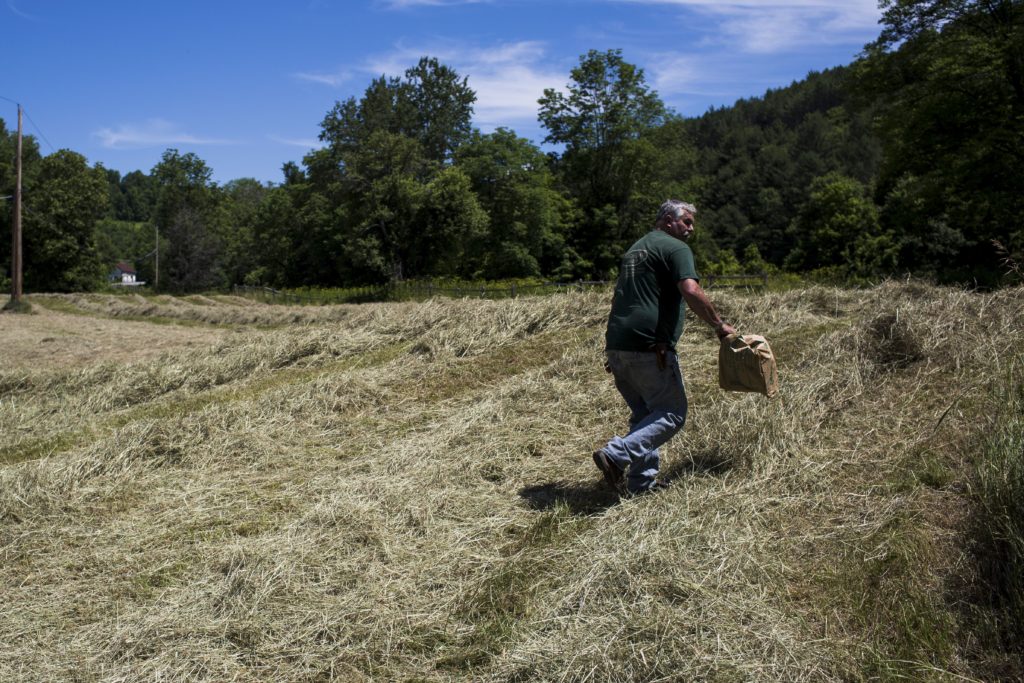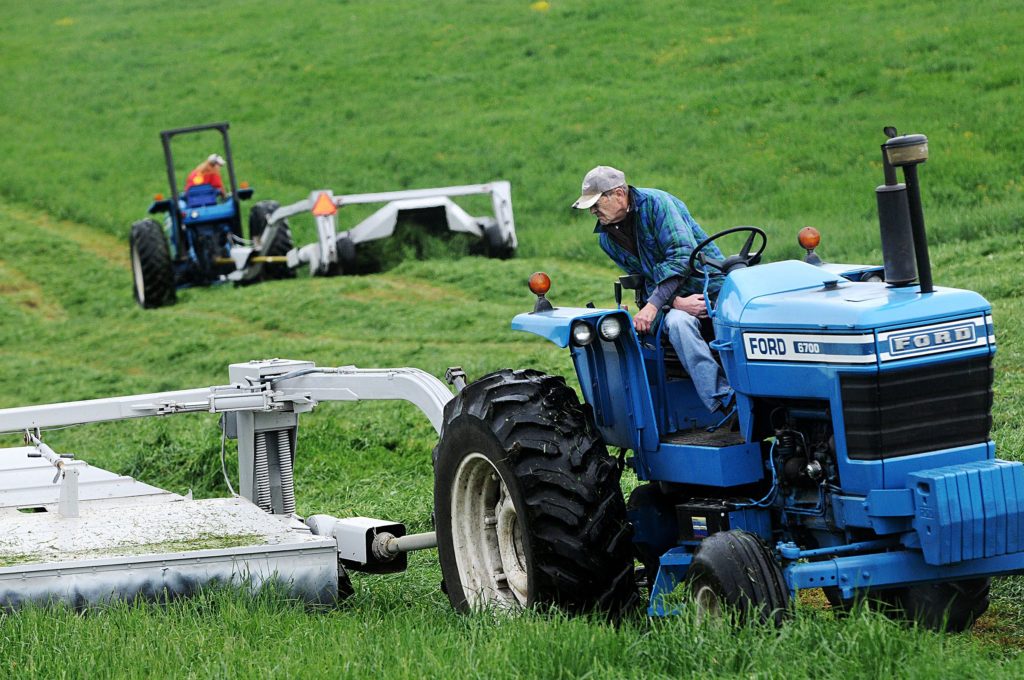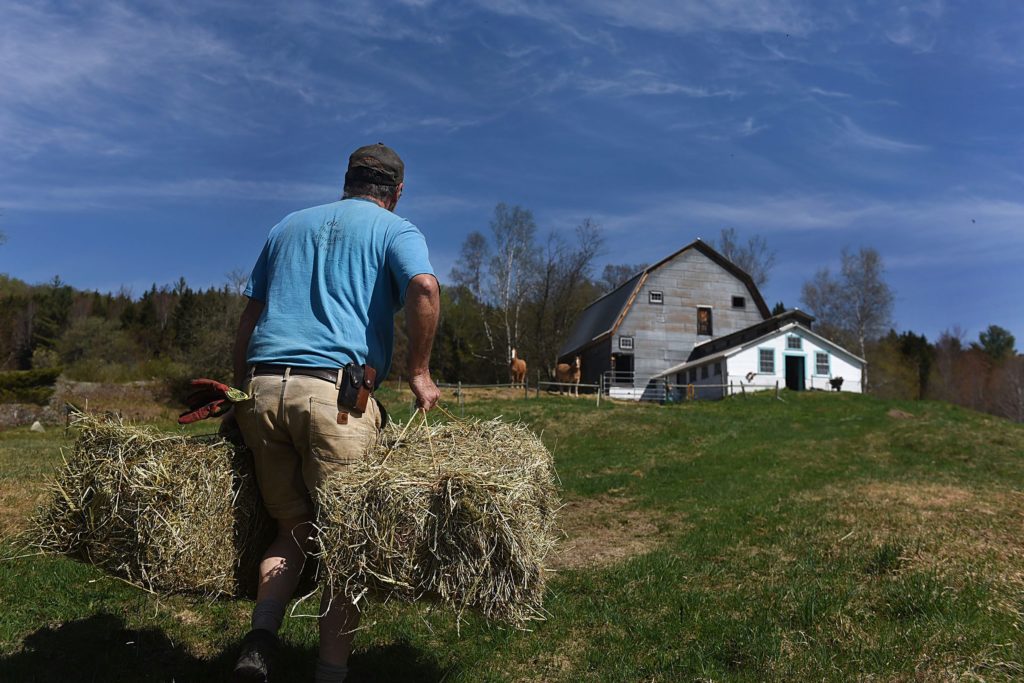 In mid-to-late July, hundreds of acres of Upper Valley fields and meadows were showing tan and brownish stands of first-crop hay, stuff that should have been harvested and stored away in barns a month and a half earlier. It's been a once-in-a-decade kind of hay year, one with a lot of rain and many cloudy, cool days that dragged out the harvest, reduced its quality and left farmers frustrated and discouraged.
Even when the sun came out, the soil on many fields stayed sopping wet, preventing tractors and machinery from functioning, or, if they could, leaving muddy ruts that will reduce yields for years to come.
For 250-plus years hay has been the Upper Valley's most important agricultural commodity and it remains a bulwark of nutrition for ruminant animals including cattle, goats, sheep and rarer critters like alpacas and llamas. And it is the core piece of the diet of horses and ponies.
Pioneering settlers in the pre-Revolutionary War period relied heavily on the cow for survival as the lowly bovine provided protein and fat for the human diet through cheese and butter derived from her milk, leather from her hide, meat from her muscle and offspring which, if female, added to the productive herd and, if male, could be made into an ox, the primary source of power of early New England agriculture and forestry.
With only about five months of plant growth that could afford grazing for the cow, it was necessary to cut, dry and store grass to sustain the cow over the seven long, cold-weather months. From the get-go, vast amounts of labor were required to put away sufficient stores of dried grasses — hay — and the clearing of land to grow ever greater quantities of the crop ranked along with building shelter as a leading imperative of Colonial life in the Upper Valley region.
More Than Just Feed
Hay production would continue to be the dominant farming activity for generations. Starting about 1810 and lasting about 40 years the great sheep boom, often called the time of the "Merino Craze," would involve about every able-bodied male in the harvesting of hay to feed the tens of thousands of sheep that were kept on Upper Valley farms. By the peak year of 1835, towns such as Lebanon, Hartford, Hanover, Plainfield, Norwich and Lyme would each have sheep numbers in excess of 10,000 head.
Men and boys cut the crop with scythes, often fueled by generous quantities of rum, and turned to the task of getting it dry, gathering it up and forking it into the mow in the barn. The harvest traditionally began on the first Monday after the Fourth of July and dragged on until the killing frosts of early fall.
Hay became more than simple animal feed as it served as an important commodity for barter and, for all practical purposes, a unit of currency. Hay could be exchanged for livestock, firewood, cheese and butter, labor and household necessities or most anything a willing seller and a willing buyer might choose to exchange. Some farms sold or traded enough hay to warrant installation of platform scales in a barn floor to weigh out loads. All of this hay was "loose" hay that had to be stored and moved around with hand labor.
The technology of haymaking began to change in the middle of the 19th century, when tinkerers, blacksmiths and other visionaries began to develop mechanical mowing machines. In a couple of decades, reliable mowers pulled by teams of oxen or horses could harvest as much hay in three hours as 20 men and boys with scythes could cut in a day.
Loose hay takes up a lot of space — hence the great Victorian barns still scattered across the Upper Valley landscape — and so came contraptions to compress the material into compact cubes. The first were called hay presses, and the hay was brought to a stationary location to be pressed. Later machines, known as balers, gained wheels and could be rolled out to where the cured crop lay in the field to be gathered up and baled.
The technological march would continue through the 20th century with development of ever more efficient mowing machines and related equipment. A new approach came along, one in which the crop was partially dried and then chopped into fine particles and stuffed into an oxygen-free storage that might be a vertical cylinder or a horizontal stack covered with plastic film, both referred to as silos.
A variant of this "haylage" system, also known as a baler, makes round rolls that can be encased in plastic film. These giant marshmallows are a familiar sight in many Upper Valley fields today.
As harvest methods have evolved, so too has there been great change in how hay is grown. Science has brought understanding of soil fertility, plant genetics and best methods for planting and sustaining the growth of grasses and legumes. Another contribution of the cow in early Upper Valley agriculture was her daily production of manure, which for generations was the only fertilizer farmers had to promote crop growth. Manure from all types of farm animals continues to this day to be an important source of nutrients for hay production.
Research would lead to an understanding of how inputs of nitrogen, phosphorus, potassium, calcium and other elements affect plant growth, the role genetics plays in increasing yields and how to achieve greater nutritive value by timing harvest according to the plant's growth cycle.
One great change in the hay game in the Upper Valley that just about any farmer will bring up is the nearly complete disappearance of young people willing to work on a haying crew. They'll recall how, as recently as the 1970s, there'd be teenagers knocking on the kitchen door looking for a job driving a tractor and rake or bucking bales coming off a conveyor in a barn loft. Nobody like that today, they lament — gone to soccer camps, the Cape, or more interested in their iPhone.
Two Different Markets
Here in 2017, the hay business in the Upper Valley breaks down into two distinct communities of producers growing and harvesting for two different markets.
First is the production of hay and haylage for feeding animals on the same farm. These operations most likely are dairy farms, although there's also a smattering of livestock operations producing animals for slaughter in this category. A majority of the crop these operations harvest is partly cured, cut into small particles and stored in a silo. Round plastic-wrapped bales may be partially cured material (about 60 percent moisture content) or in some cases dried hay (less than 20 percent moisture). And then there are what are today called square bales, low-moisture crop material tied with twine and weighing in the range of 35 to 45 pounds each.
The other producers make hay to sell to others. Horse owners form the largest group of buyers for custom hay growers, followed by a broad mix of backyard and small-scale farms and 4-H Club animal project youngsters. And there's also a market segment that takes the lowest quality hay — mulch — to cover bare soil around construction and landscaping projects, curing concrete in cold weather and as animal bedding.
Some Upper Valley hay producers show up in both of these communities. An example is McNamara Dairy in Plainfield, which puts up hundreds of tons of haylage for a 230-cow milking herd and youngstock and a neighboring dairy farm, dry round and square bales for calves, and then about 6,000 dry square bales for various horse and livestock farms in the vicinity.
Father and son Linwood and Gordon Huntington, of Newbury, Vt., retired from dairy farming earlier this year, but they have the land base of a fine riverside farm and all their equipment to produce and market hay to a mix of customers up and down the Valley. There are several other retired dairy farmers in this region who have kept their haymaking equipment and land base to meet the brisk demand for hay.
Then there's Chet Miller, of Norwich, who may be the Upper Valley's biggest hay dealer. He delivers dry hay in 100-square-bale truckloads to customers from Springfield, Vt., to the south to Fairlee to the north and up the White River valley and east to Canaan. He's busy year-round lining up supplies from reliable growers as far off as Tunbridge and making deliveries, mostly to repeat customers.
For everyone producing hay for the commercial market it's been the same this summer: bad weather delaying the harvest by weeks and weeks, and reducing the quality of the hay when it finally has gotten cut. Horse owners are particularly fussy about the hay they buy, and keeping them happy is always a challenge for sellers.
Miller said there is a small amount of top-quality hay that was cut in June between rainstorms, but there's a lot more over-ripe, late-cut stuff around that some customers are going to have to get by with.
For most of the post-World War II period, hay imported from Quebec and New York State helped balance out the market in the Upper Valley. But in recent years considerable land in southeastern Quebec has been switched from hay production to growing canola, and trucking costs have pushed prices for hay coming out of New York state out of reach for many.
The freaky 2017 crop year will be recalled by many for a long time, but the Upper Valley will continue to have a strong hay enterprise.