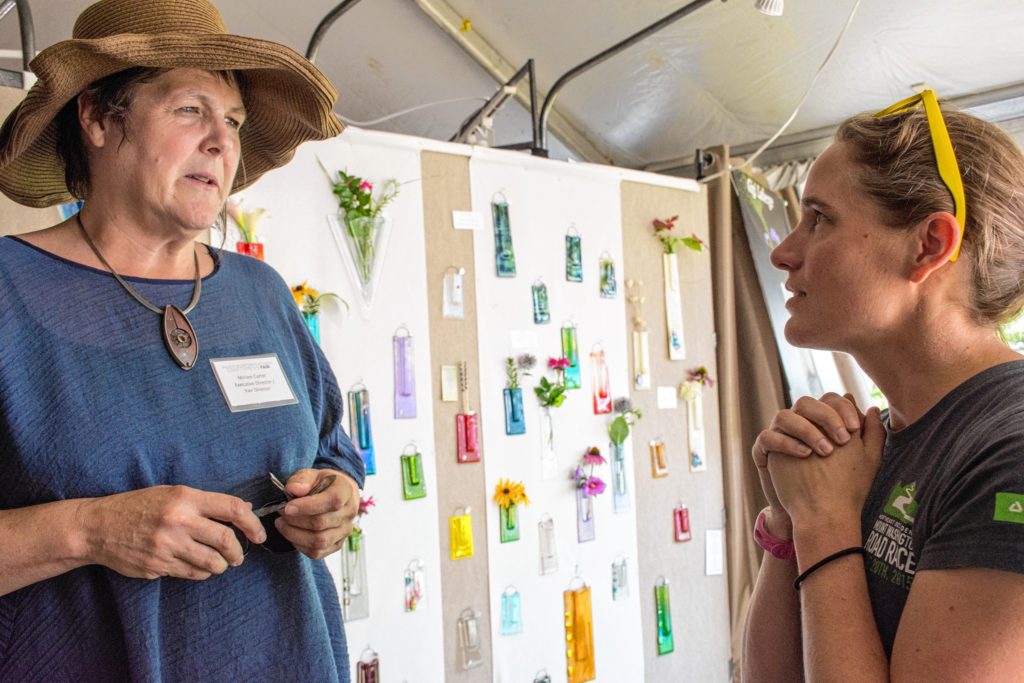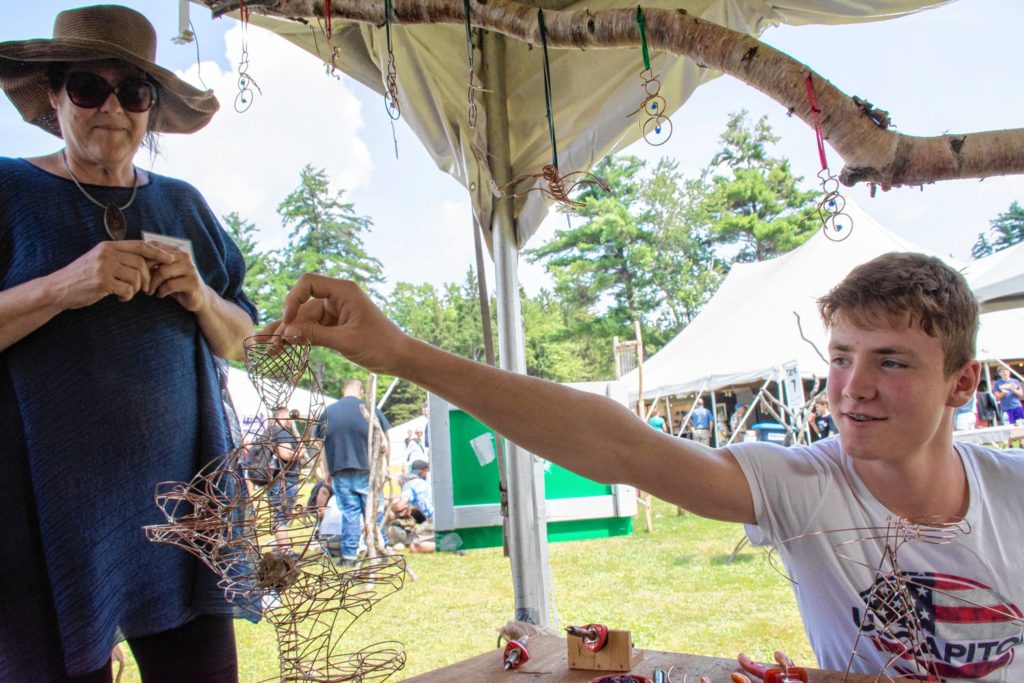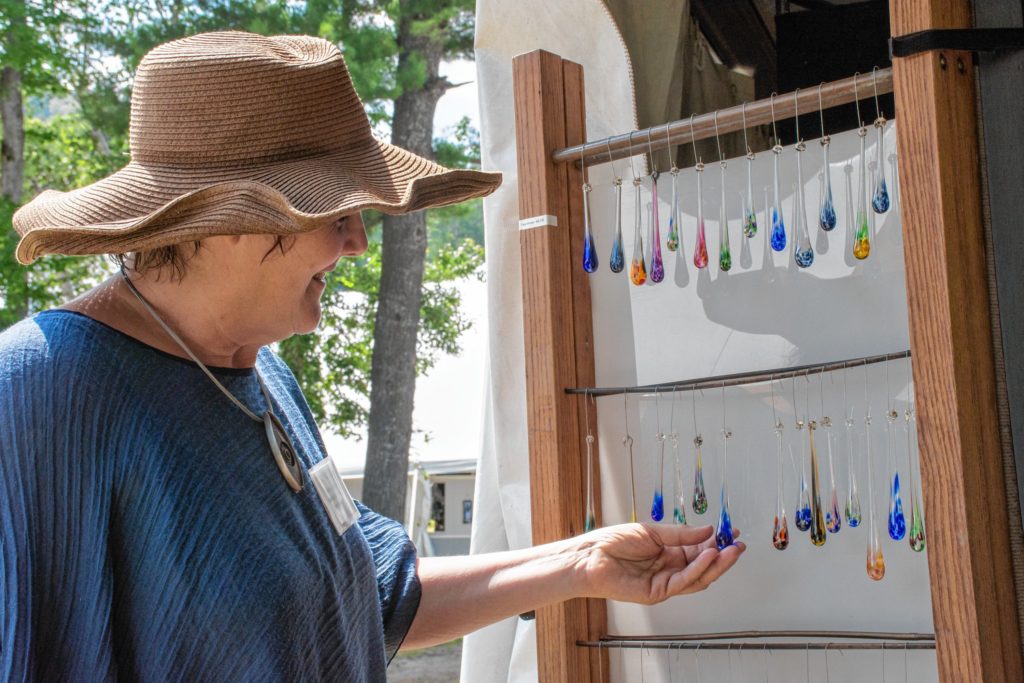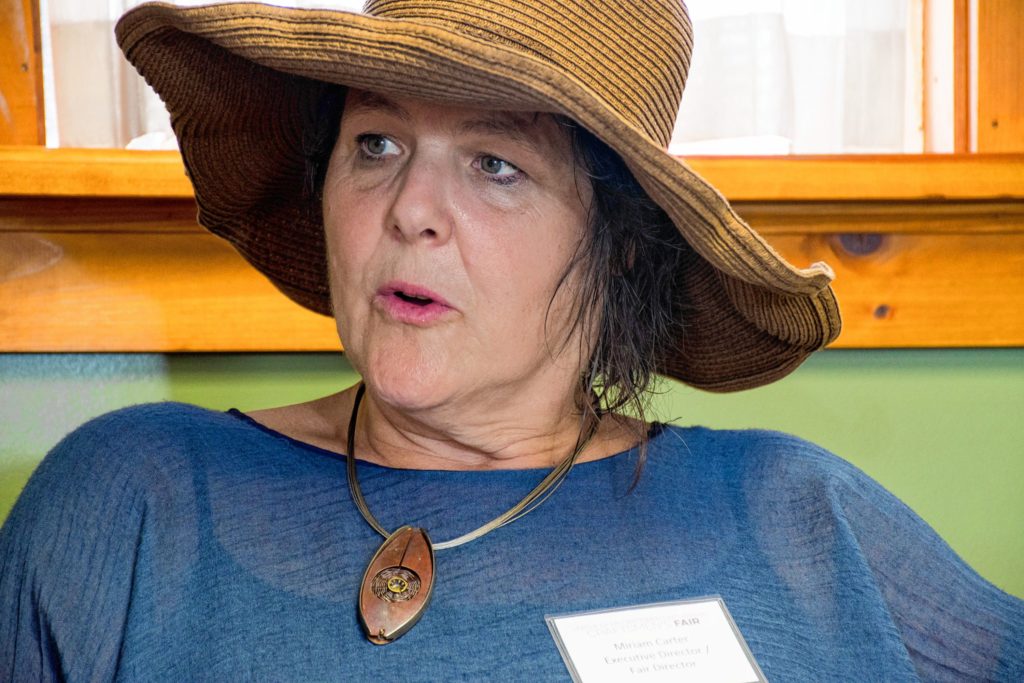 On a hot and hazy August morning the gates of the annual League of New Hampshire Craftsmen's Fair at Mount Sunapee Resort in Newbury, N.H., are just opening. Already there is a steady stream of cars pulling into the resort and excited whispers among fairgoers that Aerosmith's Steven Tyler is shopping here today. Visitors run their hands over tapestries, watch glassblowers in action and peruse handmade jewelry.
For Miriam Carter, the executive director of the League of New Hampshire Craftsmen, there is no time for meandering. In the league's office on the fairgrounds, she answers phone calls, fields questions from vendors and sprints out the door to speak with someone before sitting down for an interview. For Carter, this is business as usual.
"Inherently people think that craftspeople aren't good business people," she said. "But frankly, to sustain yourself, you have to be competent in the entire business aspect of the operation in order to be successful."
When Carter was appointed interim executive director of the league in January, a position that was made permanent in July, she demonstrated to the board that her experience as a self-employed fiber artist had given her the skills to run the nonprofit, which has a $1.4 million operating budget. She is only the second craftsperson and juried member of the league to run the organization during its 85-year history, but she knew that she had the tools to do so from years of running her own business creating felt hats.
"I was the janitor and I was also the CEO," said Carter, who lives in Dublin, N.H. "There's nothing that doesn't get tackled."
Now, Carter works to help the 750 members of the league thrive — both as craftspeople and businesspeople.
"Our job is to promote these craftsmen and give them every opportunity to sell," she said.
In addition to the craftsman's fair — the oldest crafts fair in the country — the league also runs eight year-round galleries throughout the state. The organization works to market its members throughout New Hampshire and the country, lending its well-established brand to their work.
"The league has been around for 85 years and it has built a reputation based on quality. Our brand is reflecting that quality," Carter said. "When you see something with the league's name on it you know it's handcrafted, it's a piece made by a master craftsman or -woman, and it represents excellence."
Most of the members of the League of New Hampshire Craftsmen make a full-time career of creating. In addition to mastering their craft, they must also learn how to apply to and be accepted into shows, how to create good promotional images of their work, and how to manage inventory, time and finances.
"You can create and hope for the best, but it really is a business," Carter said.
People often begin to pursue craft driven by artistic energy. If they're going to make a career out of it, however, they must learn about running a small business and being self-employed. Deb Fairchild, a bead artist from Hampstead, N.H., left her job in the financial industry 10 years ago to pursue her craft full time and quickly realized that her business experience was working to her benefit.
"A lot of artists and craftspeople don't start out with those skills," she said. Now she teaches classes around the state, including at Hanover High School, and makes sure to discuss the business side of being a craftsperson in addition to teaching about beadwork.
"That's critical for making young people aware and showing them choice and opportunity," she said.
Education also helps the public understand why crafts are valued as they are. Fairchild was selling a necklace in her booth for more than $2,000, but when she explained that she had spent about 300 hours making the piece the price did not seem unreasonable.
"Craftsmen owe it to our public to educate them," Carter said. The fair has demonstrations running throughout its weeklong run so people can witness the time and skills needed to create different pieces.
Of course, as with all art, some of the value is in the eye of the beholder.
"Sometimes people buy because just for the sake of the fact that it's pretty and they love it," Carter said. "They don't really want to know how it's made, they just appreciate the piece."
Carter has seen the demand for craftsmen's products rise as the public becomes interested in buying American-made and local products.
"People are willing to hold onto their money and wait for something really, really special," she said. "They'd like to invest in something of quality that is made by someone they know or someone they've come to know."
Despite the increased interest, one of the biggest challenges of the creative economy remains unpredictability. The most well-established craftsmen's fairs in the country require that people apply and be accepted, a process that can be expensive and time consuming. In order to make a livable wage, a craftsperson may need to exhibit in 20 shows a year, Carter said, especially since being accepted into a show does not guarantee solid sales.
"If you are fortunate enough to get into a show, you're up against the weather, the economy, the stock market, the political climate and the general attitude of people that particular weekend," she said.
No matter how good at business a craftsperson is, there remains an element that's out of her control, Carter says. "It's living your life as an act of faith."