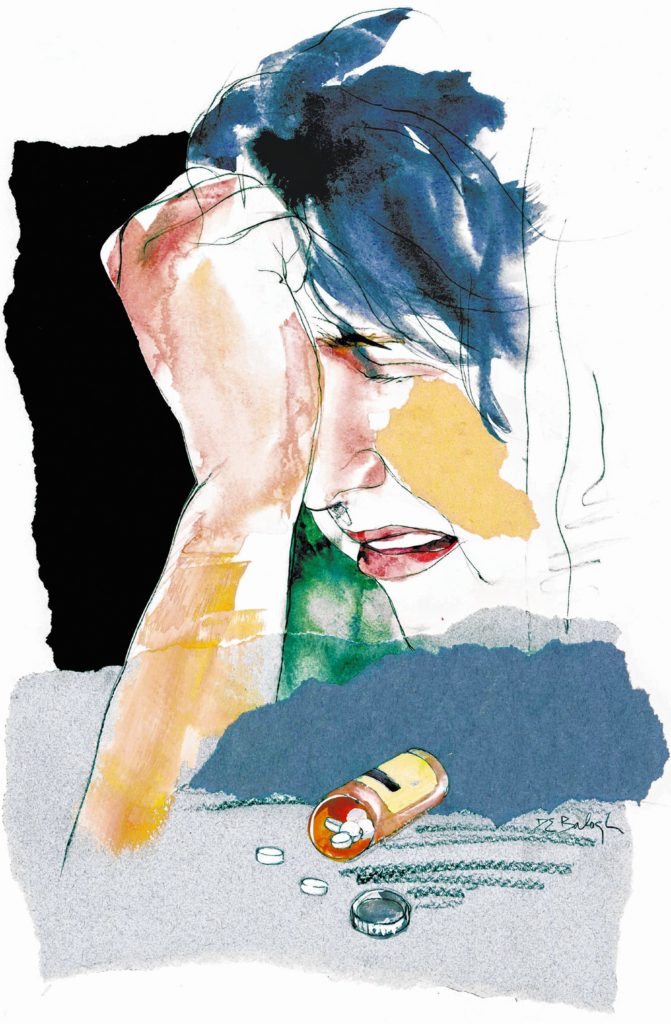 News of the national and local health crisis from opioid addiction has permeated the media for a few years. The underreported aspect of this crisis, at least until recently, is the impact on employers. Some 10 to 12 percent of U.S. workers are under the influence of drugs on the job according to 2015 data from the federal Substance Abuse Mental Health Services Administration. Those numbers are likely higher in certain industries, particularly construction, manufacturing and trucking.
More than 70 percent of employers are feeling the direct impact of prescription drug misuse in their workplaces, according to the National Safety Council. The opioid crisis costs employers approximately $10 billion from absenteeism and "presenteeism" (working while not fully functional due to illness or drug use). When an employee abuses drugs (or alcohol) on the job, there can be serious ramifications, including injuries, traffic accidents, poor work quality and lost productivity. A PBS Newshour report in May of 2017 detailed an additional problem employers are facing as the unemployment rate drops: finding potential job candidates who will take and pass a drug test. Employers report that marijuana has been the biggest hurdle.
A growing number of states — 29 at last count, plus the District of Columbia — have enacted legislation legalizing medical and/or recreational marijuana use. New Hampshire and Vermont both have medical marijuana laws, and Vermont may soon legalize recreational marijuana. Marijuana in the workplace is a complex and unsettled legal issue that has significant implications for employers that use drug tests and maintain drug-free workplace policies. While many states have moved toward legalization, marijuana is still illegal under federal law and the current attorney general has had a long history of opposition to legalizing marijuana.
As a result, the legal divide between state and federal law will continue to cause confusion for employers who seek to maintain a drug-free workplace. Increasingly, employers will be faced with the question of what to do with an otherwise "legal" marijuana user. Indeed, three recent court cases in New England — one each in Massachusetts, Rhode Island and Connecticut — have held that an employer with a drug-free workplace policy could be held liable under state disability discrimination laws for terminating an employee who tests positive for marijuana due to his or her lawful medical marijuana use.
What can an employer do? There are no perfect solutions, but there are some steps employers can take.
1. Have a Policy
Employers can and should maintain a policy prohibiting drug and alcohol use at work. A thoughtful drug-free workplace policy can address the situations under which employees know it is safe to disclose an issue to the employer and provide the employer with a process to follow. A policy also facilitates an employer's option to take disciplinary action without a drug test in circumstances where reasonable observations indicate that drug use may have been involved in a performance problem.
Zero tolerance drug policies are historically the most common and they continue to have their place. However, the reality of the opioid crisis and the evolution of medical marijuana laws may mean that employers need to be flexible in certain circumstances. For some companies experiencing workforce shortages, a commitment to recovery geared toward returning employees to productive work after treatment may be the right choice. In other situations, a dialogue to discuss a reasonable accommodation with an employee who uses medical marijuana may be necessary. In any event, employers can post their policy in the workplace and in employee handbooks. Companies can ask employees to read and sign an agreement stating that they understand these policies.
2. Train Supervisors
Train supervisors to involve human resources as soon as they learn an employee is a medical marijuana user so that potential disability law violations can be averted. Human resources may want to explore whether the employee's condition allows him or her to do his job without being under the influence at work. An employer can ask questions to determine whether the employee's marijuana use can be accommodated for the relevant position with your company. For example, a position that involves safety hazards (driving or working with dangerous machinery, for example) raises different issues than a desk job does.
Training supervisors to discern signs of drug abuse may also be helpful. Supervisors should document performance problems, including date, time and description of the performance issue, and any perceived behavior issues, such as staggering, slurred speech, odors, tremors, bloodshot eyes, sleeping at work, avoiding contact with supervisors, excessive or inappropriate loudness. At the very least, supervisors should involve human resources when there is a suspicion of drug use.
3. Take Prompt and Appropriate Action
In the case of medical marijuana patients, employers should consider disability issues and engage in a dialogue with the employee about whether an accommodation is possible. On the other end of the spectrum, employers should promptly and properly deal with employees they suspect of abusing — which may include drug testing, referral to an Employee Assistance Program, or discipline. Consultation with counsel prior to termination may be warranted.
Drug Testing
Drug testing is subject to regulation in a number of states. In New Hampshire, most employers, except health care facilities, are free to impose pre-employment drug screens or post-employment drug testing. Health care facilities in New Hampshire — including hospitals, doctors' offices, home health care providers, outpatient rehabilitation centers, ambulatory surgical centers, urgent care centers, nursing homes, assisted living facilities, adult day care centers and hospice care facilities — must have a written policy addressing drug testing and diversion prevention of controlled substances.
The policy, which applies to employees, contractors and agents who provide direct patient care, must include procedures for drug testing, including, at a minimum, testing where reasonable suspicion exists.
In Vermont, employers are subject to stringent restrictions on drug testing. Drug screens following an offer of employment are allowed in Vermont only if the employer has a written drug testing policy in place. Random drug testing of employees is prohibited in Vermont. An employer in Vermont that wants to drug test must have "probable cause" that the suspected employee is under the influence and must have an established written policy that incorporates the drug testing statute. Even if those pre-requisites are met, Vermont employers may not terminate an employee who tests positive. Rather, employers are required to refer that employee to an EAP program. If, upon completion of a drug treatment program, the employee tests positive again, the employer can then terminate the employee.
Medical Marijuana Laws in Vermont and New Hampshire
As of 2013, New Hampshire has a medical marijuana law that allows individuals with certain medical conditions to obtain marijuana. The law does not require "any accommodation of the therapeutic use of cannabis on the property or premises of any place of employment." Further, the law does not "limit an employer's ability to discipline an employee for ingesting cannabis in the workplace or for working while under the influence of cannabis."
Vermont has had a medical marijuana law since 2003, and has amended it numerous times since then to expand, among other things, the list of conditions for which a patient may obtain medical marijuana. Vermont's law specifically states that a person can be arrested and prosecuted for being under the influence of marijuana while at work.
While certain provisions in both New Hampshire's and Vermont's laws are seen as helpful to employers' efforts to maintain a drug-free workplace, no case decisions or administrative guidance exists on whether the statutes will limit an employer's rights to refuse employment or terminate the employment of qualified medical marijuana patients who test positive on employer-mandated drug tests for marijuana, especially pre-employment drug screens. As in the other New England states, Twin State courts are likely to see cases arise on this issue in the not-so-distant future.