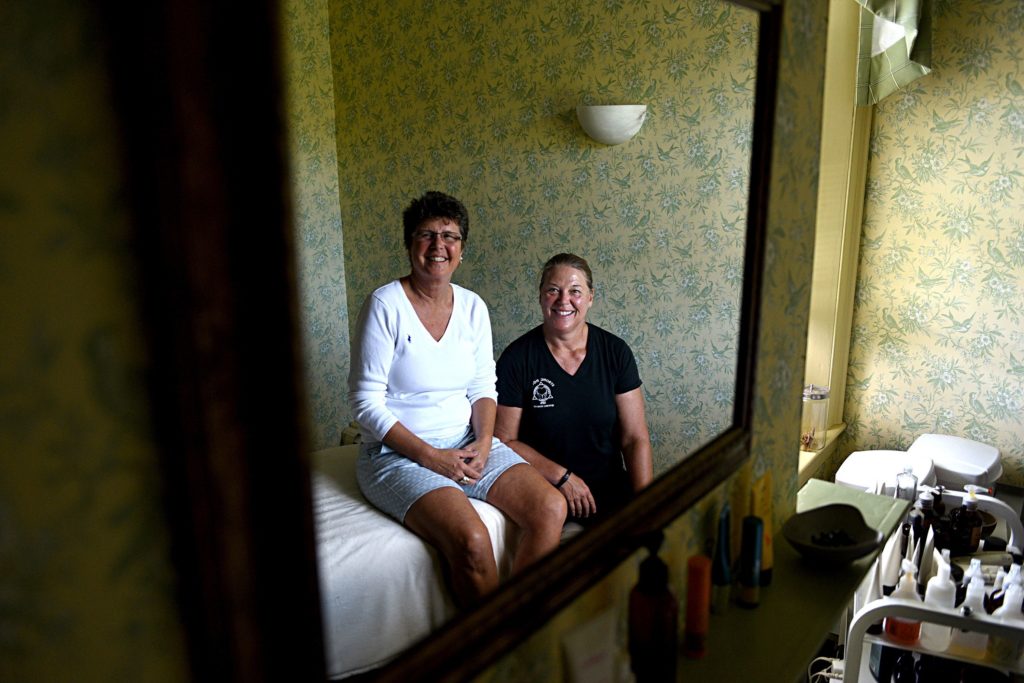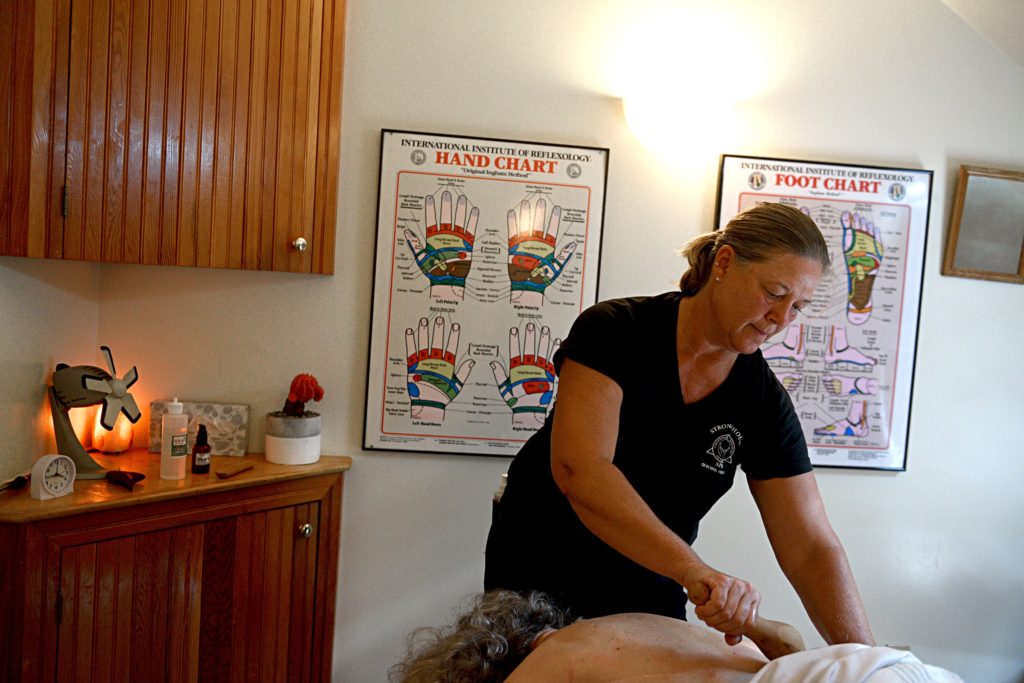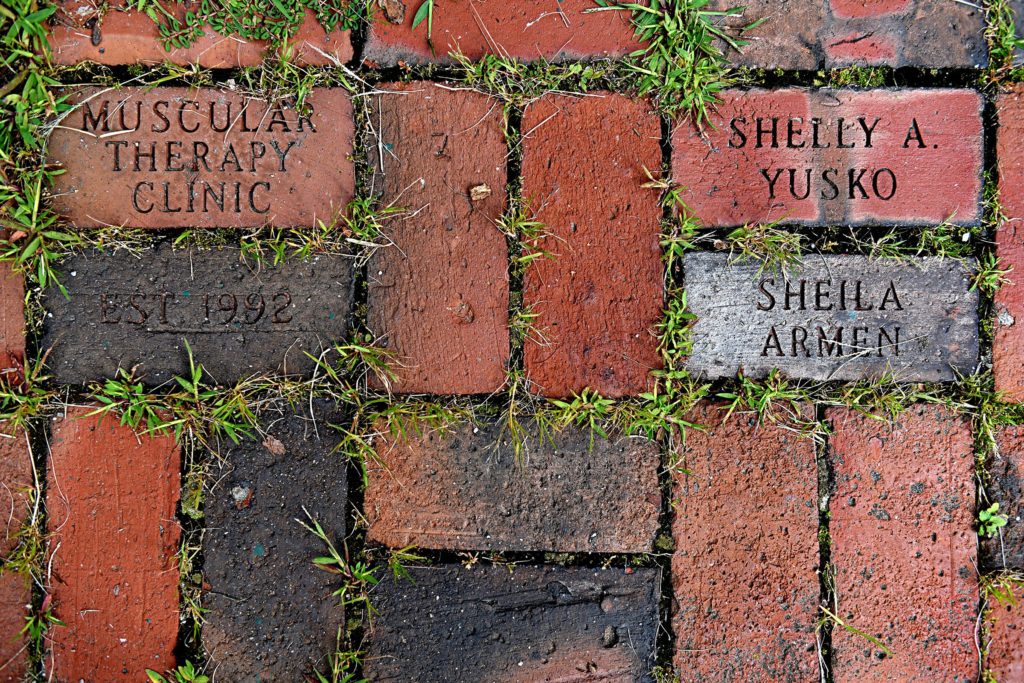 Many people still think of going to a spa as a luxury for "ladies who lunch" who want a pedicure or a facial. Sure, the treatments are relaxing, but they are indulgences and not really essential.
Sheila Armen, 63, and Shelly Yusko, 56, owners of the Strong House Spa in Quechee, are on a mission to change that assumption.
"Name one thing that's not necessary," Armen said during an interview in the waiting area of the spa, housed in a historic, 200-year-old brick landmark on Main Street. "No one would walk down the street in Europe and tell you a facial isn't necessary. If you ask someone in Europe what a spa is, they'll tell you it's a wellness center. End of story."
From the beginning, Armen and Yusko, who are married, have envisioned a whole wellness approach with their spa, which is celebrating its 25th anniversary this year. They say they have used their core beliefs as a guide as the business has grown and expanded.
Twenty years ago, Yusko and Armen were in Las Vegas at a convention of the International Spa Association where, they said, the cigarette smoke was thicker than the music. Outraged at the incongruity, they got together with a handful of other spa owners who were equally infuriated and formed the Green Spa Network — which, they confirm, will never have a convention in Vegas.
"We wanted to set the standard of 'greening' spas with the idea that we were positioned to be front and center of the movement," Armen said.
The two have made their space as "green" as possible, given that the structure is two centuries old, use cups made of cornstarch, work only with vendors who will ship in recycled or recyclable material (no Styrofoam peanuts), and use Pellon paper strips for waxing (which is done mostly with a sugar, water and lemon juice compound).
"Every aspect of our business has to go back to what is the greenest and most sustainable practice that we can do — in the quality of the products we buy, the way we receive them, the way we treat our patients, and in the atmosphere that we create," Yusko said.
While they have their share of customers who do want simply a pedicure or other treatment — and said there's nothing wrong with that — Armen and Yusko advocate a paradigm shift in the entire notion of spas. Their philosophy embraces the idea that prevention of disease is self-care, which leads to wellness, and it's all connected to sustainability.
"It's not just recycling your cans. True sustainability means that each one of us does self-care in a way that creates mind-body sustainability. If everyone had wellness and consciousness as part of their focus, the whole world would be that way," said Armen.
Yusko used the example of organic food to explain the concept. Not too many years ago, she said, grocery stores had very small organic sections, if they had one at all. Now organic food is everywhere because people began to really care where their food came from and how it was produced.
"Those same people haven't gotten the information about their skin, which is the largest organ on your body," said Yusko. "Everything you put on your skin is absorbed into your body. So if you eat organic, then why would you put a chemical on your skin or in your hair?"
Armen said many people don't give themselves permission to practice self-care, and that the goal with the spa is to work with people to create wellness. She said the participatory part is the next stage of health care.
Take the basic facial. Yusko said our faces age faster because we don't use sunscreen or moisturizer, or we simply wash our face, let alone exfoliate — all because education is lacking. But the philosophy goes beyond hygiene.
"Some people don't like touch. They can't even fathom someone touching their body, but they are stressed out and they're tense and sad, and their skin's unhealthy. A facial is very healing and nurturing. You can chill out and take a break — particularly women who can't get away from little kids, and they are cooking and cleaning and they have a full-time job. They can have a moment where they have their head, neck, shoulders, arms and feet all worked on in their hour of the facial, and they walk out of here like a new person," Yusko said.
Armen added that even a pedicure is necessary — for good foot care. "Do you realize how many infections start in the feet? The feet take the biggest beating all day long and we don't care for them. Foot care is incredibly important. You don't want to put chemical products on your feet either," she said.
In addition to the usual services, Strong House Spa offers nutritional counseling, acupuncture, detoxification procedures and also donates massages to cancer patients through the Norris Cotton Cancer Center.
Yusko is passionate about the benefits of massage because she said it literally changed her life. With a degree in health and physical education from Pennsylvania State University, she came to the Upper Valley in 1985 to teach tennis at a summer camp. Falling in love with the area, she took a job in construction so she could stay on for fall and winter. She worked as a stonemason and suffered painful injuries for which she sought alternative treatments. That led her to chiropractic, acupuncture and massage.
"Massage was so effective on me, I found my calling," said Yusko, who now specializes in massage for injuries and chronic pain.
Some people, she said, subconsciously keep their aches and pains so they can justify continuing the massages. They're not faking the pain; they actually feel it. "If they get rid of the pain, they stop taking care of themselves," Yusko said.
She and Armen see their mission as educating people so that they no longer need justification to practice self-care.
"People need to get fully engaged in their wellness. In the spectrum of disease and wellness, most of us live right before disease," Armen said, using her hands to illustrate a horizontal scale. "We need to be where we are doing everything we can to prevent getting even close to disease in the first place."
Jaimie Seaton, of Hanover, has been a journalist for over 20 years. She reported for the SUNDAY TIMES of London from Johannesburg and is a former Thailand correspondent for NEWSWEEK. Her reported stories and essays have appeared in numerous publications, including GLAMOUR, the GUARDIAN and THE WASHINGTON POST. Follow her on Twitter @JaimieSeaton.