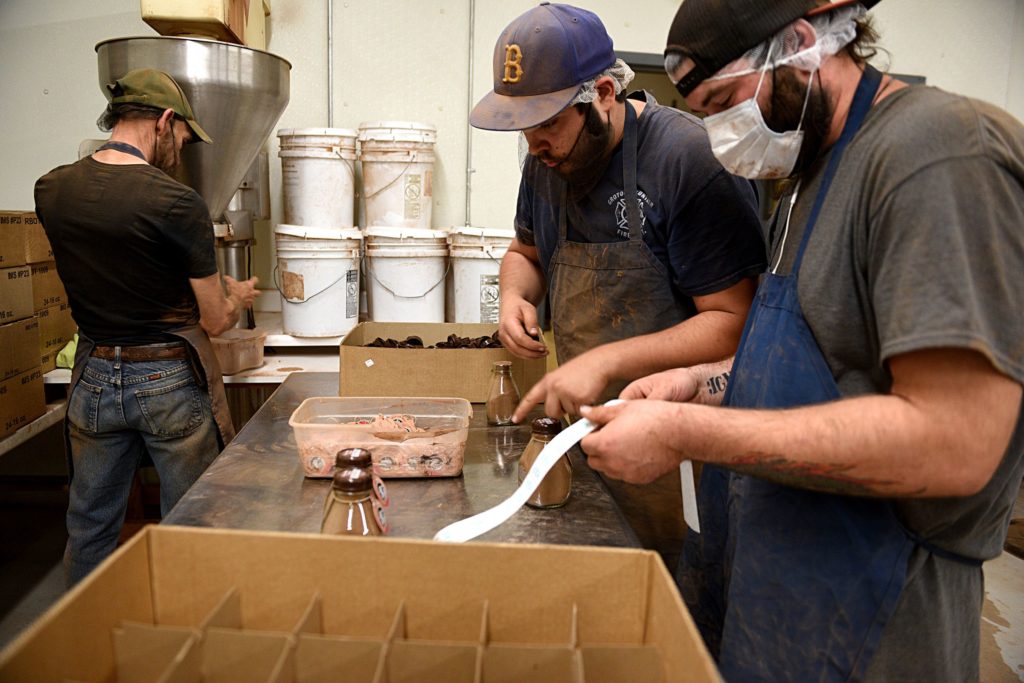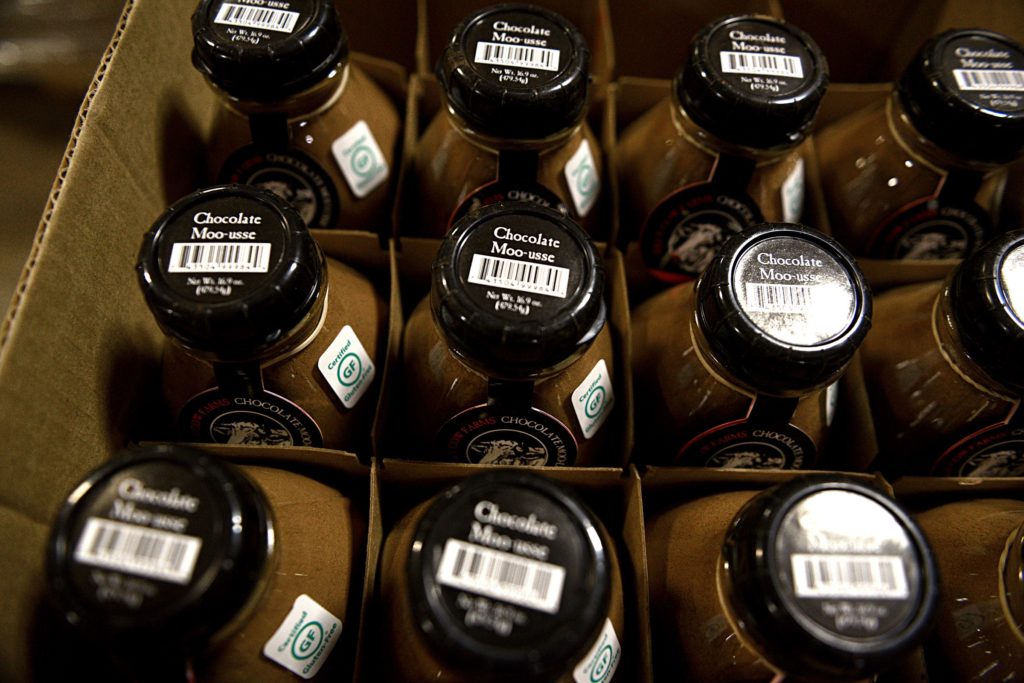 At the Wells River headquarters of Silly Cow Farms, the Vermont hot chocolate company that has become a nationally recognized brand, Christmas started way back in June. That's when production kicked into high gear and the company began filling cocoa orders for the holiday season. The holiday rush will be followed by the winter rush, and there won't be a lull in production until March.
There are no Christmas carols playing in the warehouse. Instead, Lynyard Skynyrd's Simple Man blasts as a dozen workers push around one-ton pallets of cocoa, mix it with sugar and flavoring and pack it into Silly Cow's signature glass milk bottles.
"It's amazing what we do out of here. It really is," Silly Cow owner Jonathan Rutstein said as he walked around the floor of the warehouse. "People have no idea what we pump out of this building."
This year the 9,600-square-foot Wells River facility will produce 1 million bottles of Silly Cow hot chocolate. Rutstein laughs, recalling that just a few years ago he was impressed when the facility produced 100,000 bottles. In 2016 the facility produced 900,000 bottles, and Rutstein said that, this year, the facility is at maximum production.
It's an unlikely success story for an owner with a background in urban planning. Rutstein jokes that Silly Cow started with his midlife crisis. He and his wife, Fran, wanted to own a company, so they bought Bread and Chocolate, a local business that made dessert sauces.
"I asked the retailers, if we were going to do something else what would we do? and they said get into cocoa," Rutstein recalled. A popular cocoa company had just folded and there was an opening in the market.
In 1991 Bread and Chocolate made its first cocoa, which was marketed in tins designed to look vintage. The product was successful, but there was no solid branding behind it."
"We were doing cocoa and about 10,000 other products," Rutstein said. "We didn't have a brand identity."
In 2008 Rutstein's intuition told him something needed to change. He happened across the milk bottles that Silly Cow is now sold in, and asked an artist to sketch up a logo with a cow.
"She came up with a cow that looked silly. We said 'That's Silly Cow. OK, Silly Cow Farms.' That's how it started."
The Rutsteins did a sample product line of Silly Cow and brought it to a national trade show where buyers were immediately interested. Big names like T.J. Maxx and Whole Foods bought the product immediately.
"I said, 'We have something.' You could just intuitively feel that there was something going on with it," Rutstein said.
That was in 2008, but the recession didn't slow down Silly Cow at all. Bread and Chocolate slipped into the background while all resources were directed at Silly Cow. The company continued to grow, fueled by demand for gluten- and allergen-free products.
"We always were committed to being a clean as possible product," Rutstein said. "You can read the label and you can understand the label. That's who we are. We've created this following."
Silly Cow is now in many major retailers in the United States and Canada. By 2019, Rutstein said, the company is expected to have more than $10 million in sales.
Although the bottle of hot cocoa is still the flagship product, Silly Cow recently expanded into single-serve packets, which will be used in food service, and the company is considering expanding into cold chocolate milk drinks and yogurts.
Although the success is welcome, it has put a strain on the Wells River facility. Rutstein said Silly Cow could easily add 10,000 square feet of production space. The company recently considered doing just that, but at an estimated $1 million, the cost was too high.
Instead, Rutstein invested in a third and fourth filler machine in Wells River, pushing the facility to its absolute maximum.
Silly Cow also began working with two production companies, known as co-packers, in Philadelphia and Ithaca, N.Y.
Those locations produce about 200,000 bottles, as well as all of Silly Cow's food service products.
In addition to being cost-effective, working with co-packers meant Silly Cow didn't need to find too many new employees, something that is a continuous struggle for the company.
"Labor is a big issue for us," Rutstein said. "We have 18 employees and we could hire 10 more without batting an eye."
However, there just aren't many people looking for work in Wells River, so Silly Cow makes do with the employees it has, as trucks come in bearing cocoa, sugar and bottles and leave with hot chocolate destined for grocery stores all over the country.
When the Rutsteins first began making hot chocolate back in the early 1990s they would put cocoa and sugar into large cardboard drums and roll them around a friend's commercial kitchen to mix the ingredients.
"Needless to say, we were covered in cocoa," Rutstein said.
Today the process is more sophisticated, if only slightly. Cocoa and sugar are poured into one of four large mixers in Silly Cow's two kitchens.
Once the base is mixed, the cocoa is manually transferred to the filler machine.
An employee standing at the base of the machine fills a glass milk bottle with cocoa, another puts on the cap, and another puts on Silly Cow's tag, which sits around the bottle neck.
"(The process) here is semi-automatic," Rutstein said. "We looked at an automatic line, but it was just going to be too expensive."
Labor costs are only a small portion of the company's expense, so Rutstein isn't looking to reduce the number of employees needed.
But he is interested in making the process more efficient as demand for Silly Cow outgrows the capacity of the factory.
"The labor cost isn't the issue. It's speed," he said. "How much more could you produce out of here?"
Silly Cow will soon be setting up a feeder system that automatically moves the hot chocolate base from the mixer to the filler, which will keep production moving at a more consistent pace.
"Then you can't fool around because you don't control the speed," Rutstein said.
The factory has just one shift right now, but Rutstein said they likely will add a night shift son.
However, the amount that can be produced is still governed by the amount of warehouse space available to store ingredients and finished product.
Despite the restrictions, Rutstein said, Silly Cow would be able to handle new large accounts (he expects to be selling in Walmart soon) by fine-tuning the production line in Wells River and relying on co-packers when needed. After all, continued growth is a welcome challenge.
"We will have outgrown the facility this year," Rutstein said. "Silly Cow is bucking the big boys."
Kelly Burch, of Claremont, is a freelance journalist and editor. Her work has appeared in THE WASHINGTON POST, the CHICAGO TRIBUNE, BOSTON Magazine, COSMOPOLITAN and elsewhere. Follow her on Twitter @writingburch.