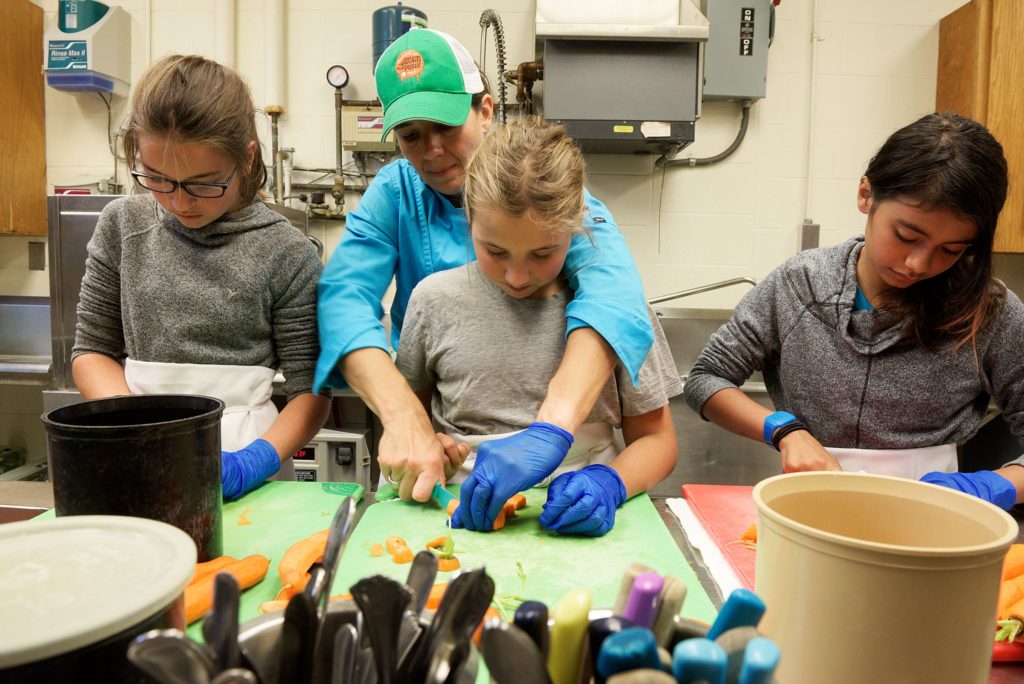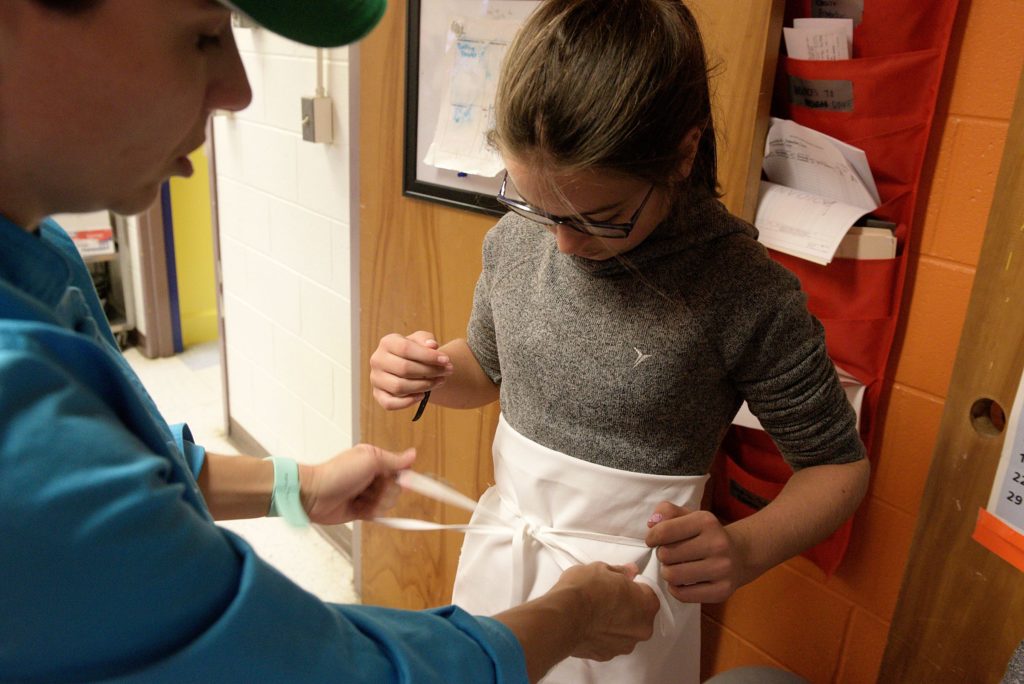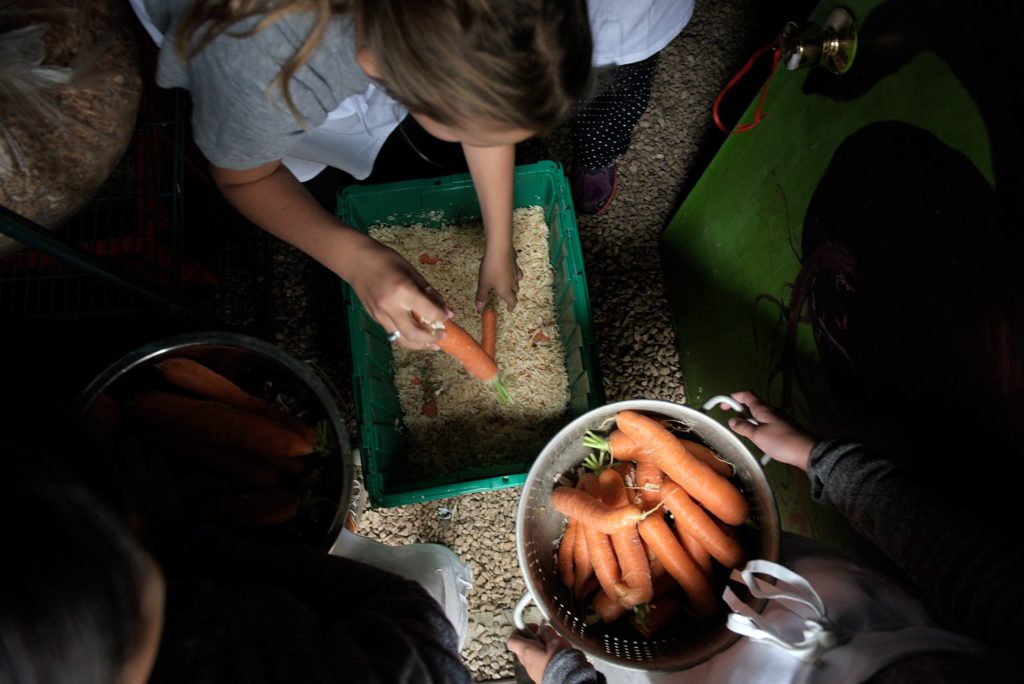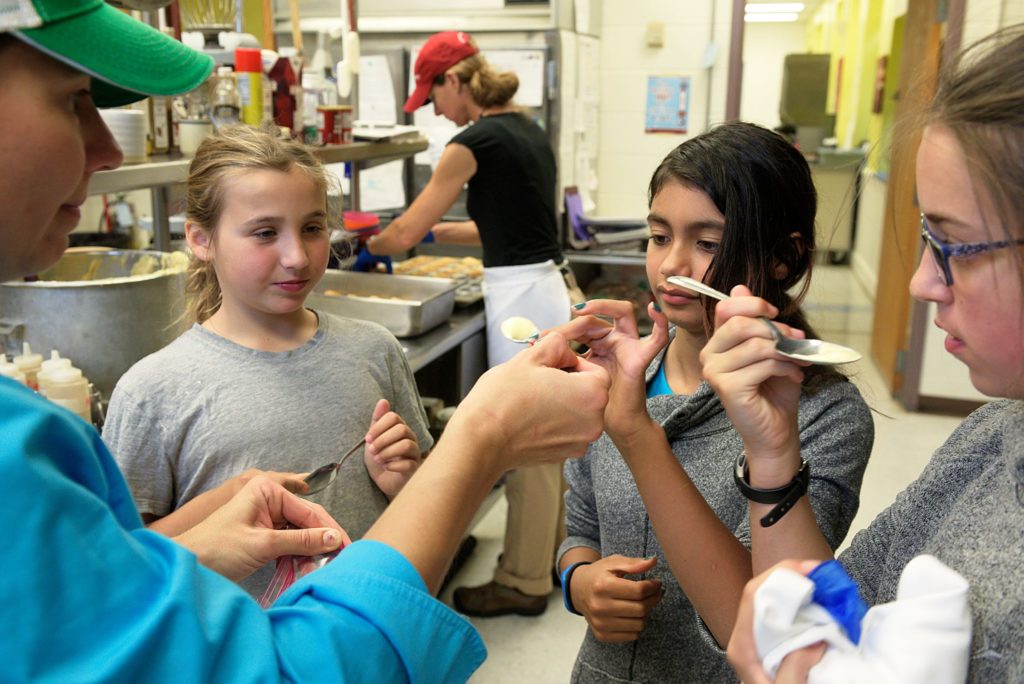 "Farm to school" practitioners connect students to farms through curricula, field trips, gardening, farmer correspondence, Vermont and New Hampshire Harvest of the Month, Agriculture in the Classroom, oral history, and myriad other projects. These educational initiatives leverage local landscapes and businesses as a teaching resource, whether it be for math, nutrition, writing skills, botany or job training. The aim is for students to gain an understanding of the value of local agriculture and grow up to support policies and habits that enable our local producers to thrive.
From this viewpoint, farm-to-school efforts sow seeds for the next generation to keep our rural businesses alive.
Public schools, of course, not only educate students but feed them, too. In Windsor County alone, approximately 7,450 children spend the day at school, where they eat a home-made or school-made lunch, and many eat breakfast there as well. A substantial portion of the student population, over 50 percent in many schools, receives free or reduced-price meals based on their family's income — and too often school food is their only reliable meal of the day.
Local farms grow food, local schools buy food, and it seems they could support one another. The Vermont Farm to School Network reports that every $1 spent by Vermont schools on local foods adds $1.60 to the local economy. From 2013-14, $1.4 million was contributed to Vermont's economy from local food purchasing by schools. If schools double their local purchasing, $2.1 million will be contributed to the state's economy.
The potential economic and quality promise of local school meals supplied by local farms is often thwarted by a simple problem. School food service is charged with creating nutritious, USDA- and kid-approved meals that cost under $3 per child, five days a week, two to three times per day. Aside from fluid milk, a bulk price-controlled commodity, our local farms can't really match the low costs of global industrial agricultural products.
In part this relates to the character of our working lands. Our large farms are dedicated to dairy products, with most meat and vegetable producers operating at a smaller scale and growing a mix of products at higher cost. "I think all the (school food) budgets are set for what you can get from Sysco (the Colorado-based multinational corporation that markets and distributes food products internationally), and if you can meet those prices you might have a chance. But I don't know anybody that could be anywhere close to Sysco prices and have an actual functioning business," said Steve Fulton of Blue Ox Farm, a vegetable farm in Enfield.
Of course, price is not the only barrier to getting local foods on the cafeteria menu. Buying local requires finding, ordering from, and paying more than one vendor, which takes time and dedication. Local produce direct from farmers comes whole, and it takes time and equipment to prepare it for cooking (think whole carrots versus carrot sticks, or whole potatoes instead of fries). Many schools no longer have fully equipped kitchens. Complex procurement regulations, staff skills, storage, busy farmers — the list of barriers is daunting.
To many in the Upper Valley, these challenges only make farm-to-cafeteria success sweeter.
"Imagine how great our food system could be in our schools if we supported them financially with the same level of investment and commitment and pride as we do as something like our sports programs," said Amy Richardson, the farm-to-school coordinator at Windsor Southeast Supervisory Union. "It's kind of a touchy idea, but it's so true."
Driven by dedication to children's health, farm success and delicious meals, farmers, distributors and school staff are using creative solutions often customized to their communities and schools.
The Upper Valley is helped by two local food distributors committed to local producers — Black River Produce and Upper Valley Produce — which work with schools and food service companies to bring locally sourced products for meals and taste tests.
Woodstock Elementary School is just one school focused on meal improvement and local purchasing. "Families were upset with the food that was being served here," said Gretchen Czaja, Woodstock Elementary's healthy foods educator and provider, discussing the motivation for making changes in the school's program. "When school parents see big issues, they go after the issues. The administration at the time was really able to look outside the box and say, 'We are feeding children. This is part of their education.' "
The school buys pork from On the Edge Farm in Bridgewater and beef from Cloudland Farm in Pomfret. "Meat is so predictable. They always know how many pounds they are going to have, they always know they are going to supply to us. We also do Thomas milk, a cooperative regional milk," Czaja said.
Bill Pape of On the Edge Farm describes a simple, fair business relationship with the school. "It's pretty basic: If they want to buy it and we've got it, we're selling it. The school has been great and they've been happy with the product, and we're happy to get it to them."
When asked how other schools could cross the price barrier, Czaja said it can be a matter of priorities and being creative with funding. "People have to stop looking at food programs as businesses. Most food programs are getting dug out of the hole by general (school) funds anyway. We're not in the hole. It's not an exorbitant amount of money. You don't ask any other department to break even. This is an investment in your kids and your school. We do some fundraising, there are grants available, and we do a pancake breakfast. There's creative ways around it."
Indeed there are many ways to be creative with funding, including increasing a school's federal reimbursement dollars. When schools add local items to the menu it can increase the perceived quality of the food, raise school meal participation by paying families, and begin a positive financial feedback loop in which more money comes in to the meal program, the staff have more to spend on quality local products, participation continues to increase, and the financial stress of the meal program eases up.
"Ever since we've changed the program, our participation rate has tripled," said Czaja, echoing the experience of schools around both states that have made these changes.
Similarly, increasing the participation of students eligible for free and reduced meals is an important step. Many eligible families do not register for free and reduced meals. Increasing enrollment in the program, through promotion or logistical shifts such as changing the timing of breakfast to after the start of the school day, not only feeds hungry kids but also increases federal education funding.
In just five short months last spring, Hartland Elementary School changed breakfast service to after the start of the school day and increased participation by 113 percent.
School food is complicated but simple. Schools are feeding children. The food should be fresh, healthy and offer an opportunity to teach them how to eat well. School money should be spent within the community, and farms are an important component of that spending. With advocacy, collaboration and ingenuity, town residents and school staff can work together to make the school meal program mirror the values of the school itself.
Becka Warren works on agricultural issues at the regional organization Vital Communities, an Upper Valley nonprofit that brings together citizens, organizations and municipalities to take on critical regional issues. Reach her at Becka@VitalCommunities.org.