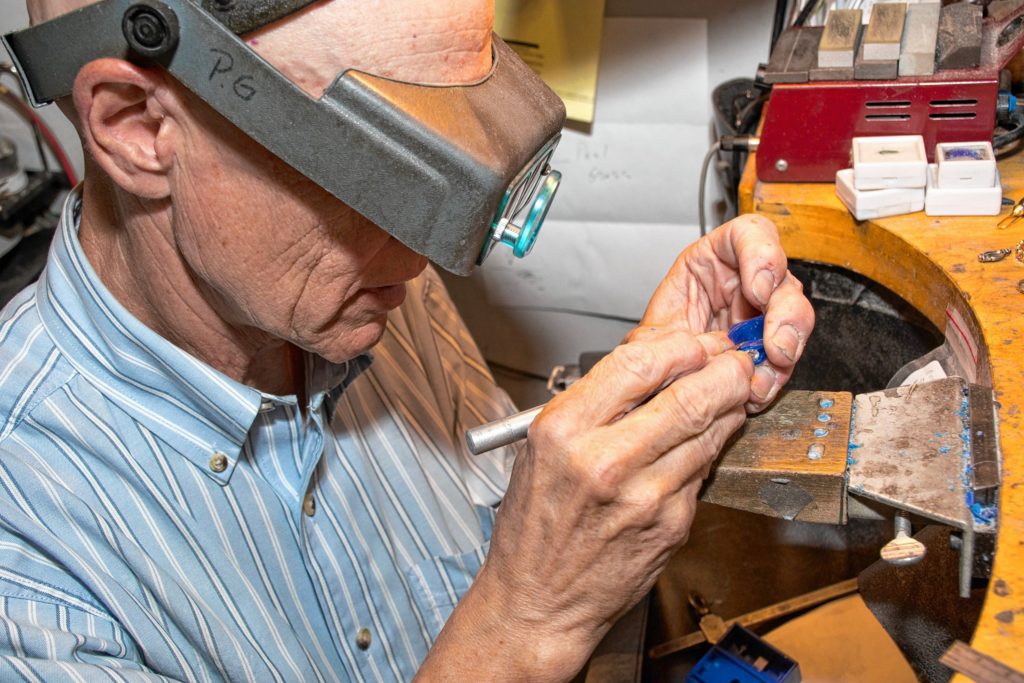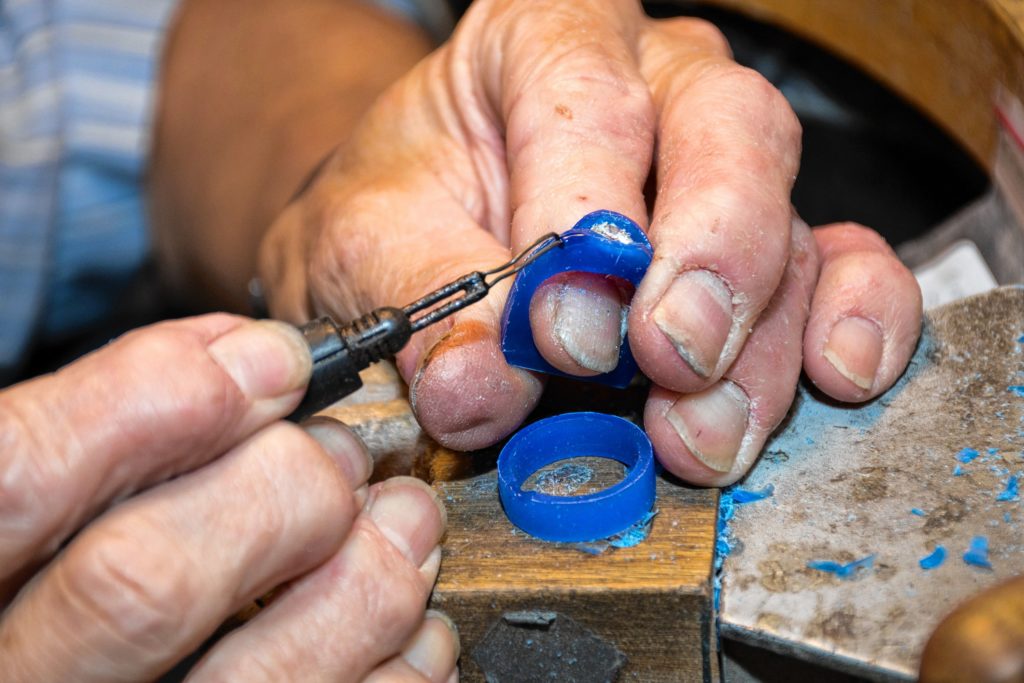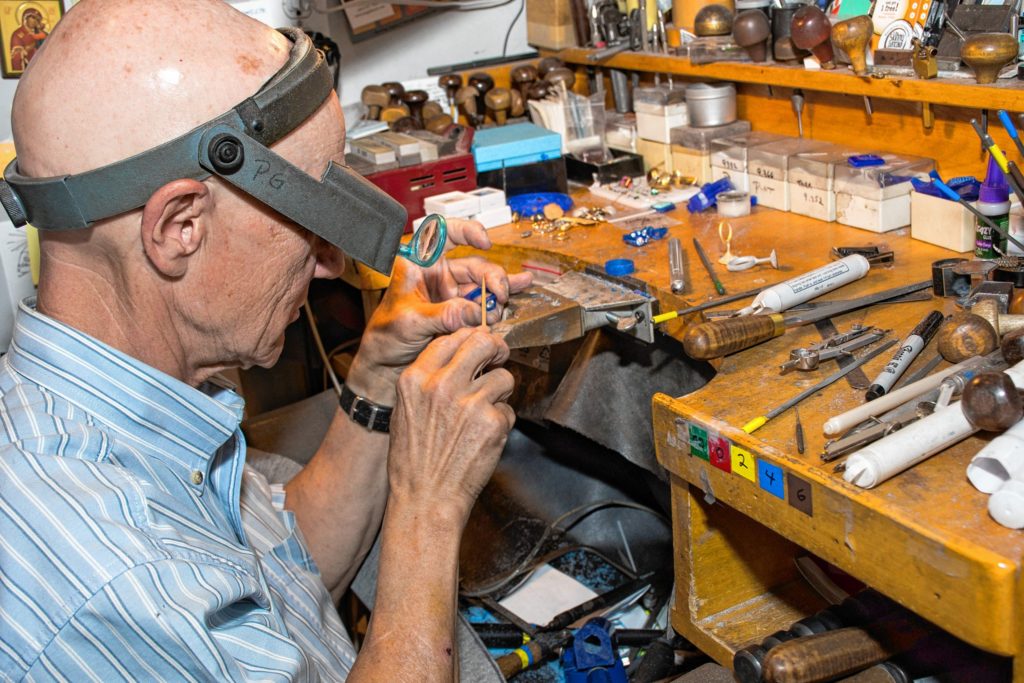 When Paul Gross arrived at Dartmouth College as a freshman in 1969, making jewelry was the farthest thing from his mind. "I had done a little woodworking at home, but never had a chance to take shop or even an art class in high school," he said. Then one day, the psychology major walked into the student jewelry workshop at the Hopkins Center for the Arts and discovered his passion, and talent, for the craft — which he called "an astonishing revelation." Nearly 50 years later, Gross — who taught jewelry making at Dartmouth during the 1970s — is still excited when he finds a unique stone or designs a custom piece. As his Hanover shop, Designer Gold, celebrates its 40th anniversary, the master craftsman has no plans to slow down. Gross recently spoke with Enterprise about his journey, and shared his advice for young artists who want to enter the business.
Tell me about your childhood stone collection.
Growing up, I always had my eyes on the ground looking for unusual stones, especially fossils. I had a fascination with crystals, but never found many. I did find some nice jasper and agate, which were the first stones I cut and polished when I came to Dartmouth.
What about jewelry making hooked you as a freshman at Dartmouth?
Cutting some beautiful stones was the first "hook," but once I started setting them in jewelry I became intensely involved with working in metal and with the design process. I was amazed then, and am still surprised now, that I can start with raw materials and make something beautiful with my hands. Erling Heistad, my instructor and mentor at Hopkins Center, was outstanding at drawing you in and helping you find your hidden talent.
What still excites you about crafting jewelry?
The whole process of finding a gemstone, designing something unique, and executing it in metal is endlessly exciting to me. Helping people celebrate a special occasion with a unique piece of jewelry is always fun and inspiring. It's deeply satisfying to realize that I'm now creating jewelry for the third generation of some of my longtime customers.
What materials do you work with, and why?
I work primarily with gold, palladium and platinum, sometimes with silver. Those metals are the most practical, beautiful and durable metals for jewelry. I also work with gemstones. I have designed with almost everything from precious gems like diamonds, sapphires, rubies and emeralds to lapis lazuli, meteorite, alexandrite, opal, pearls and more. The gems I use are often determined by what my client wants for a custom design. I genuinely love stones, so I'm always looking for beautiful and unusual gemstones (and buying way more than I can ever use).
Where do you look for inspiration?
I have a huge collection of books about jewelry from ancient to modern, and I love to go to museums to look at jewelry and metalwork. I also love wildflowers. My favorite avenue of inspiration is finding a special gemstone. I work with stones cut by world-famous lapidaries, who fashion gemstones into very unusual shapes. I'm inspired by the stone and try to work it into a unique piece of jewelry. One of my favorite lapidary artists is Michael Dyber, who creates amazing gems nearby in Rumney, N.H. One piece we collaborated on won an international competition. I've also used many wonderful stones by Dieter Lorenz, a German lapidary, who specializes in carving agate and black onyx. I just recently finished two interesting pieces using his black onyx stones with sparkly black crystal pockets.
Do you ever purchase jewelry?
I buy jewelry from small-studio jewelry artists like myself for sale here at Designer Gold. My wife, Peggy, is often the beneficiary of jewelry that I purchase from goldsmith friends.
What are your criteria for purchasing jewelry? What's the last piece you purchased?
The design must be integrated with superb craftsmanship, and the jewelry should be easy and practical to wear. My favorite recent acquisition is a gold, meteorite and pink tourmaline pendant by Jacob Albee, who grew up in Strafford and now works out of his studio in Burlington.
What has changed about the craft in the last 50 years?
Many techniques have been developed around new technology like laser welders, hydraulic presses, CAD/CAM and 3-D printers. Lasers allow welding next to delicate stones, hydraulic presses simplify and ease shaping metal, and the computer with 3-D printers make possible designs that would be impossible or very difficult to execute by hand. Ancient techniques have been perfected and pushed to new limits by innovative craftspeople. Examples include John Paul Miller in Cleveland, who rediscovered the lost art of granulation, a technique where tiny gold spheres are seemingly magically attached in intricate patterns without solder. Heikki Seppa in St. Louis and Michael Good in Maine have made significant discoveries in the even more ancient technique of forging: shaping metal with hammers. On the negative side, the cost of rents and jewelry materials has dramatically increased, so it's more difficult now to get started and to thrive in the craft than when I began in 1969.
Jaimie Seaton, of Hanover, has been a journalist for over 20 years. She reported for the SUNDAY TIMES of London from Johannesburg and is a former Thailand correspondent for NEWSWEEK. Her reported stories and essays have appeared in numerous publications, including GLAMOUR, the GUARDIAN and THE WASHINGTON POST. Follow her on Twitter @JaimieSeaton.