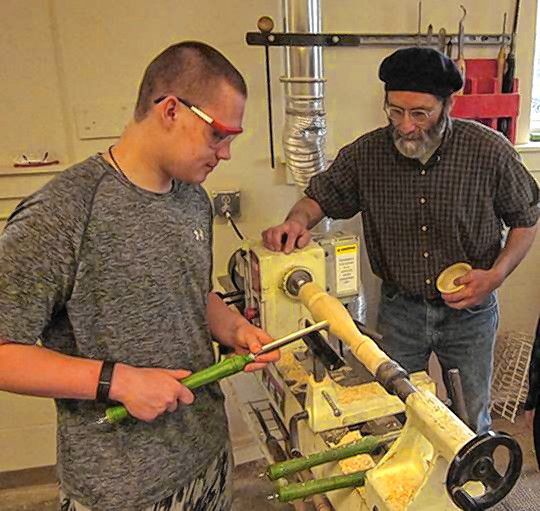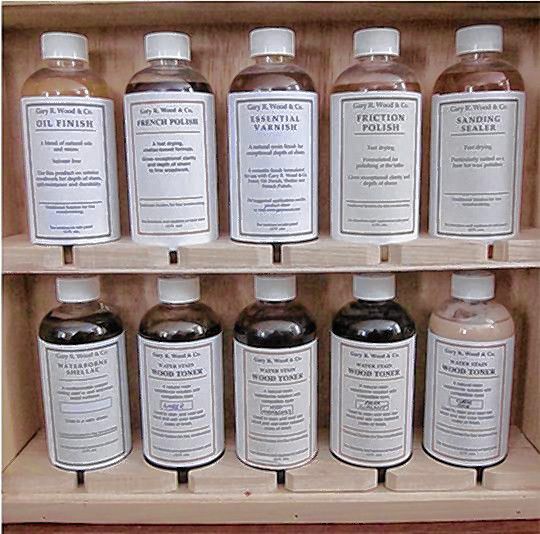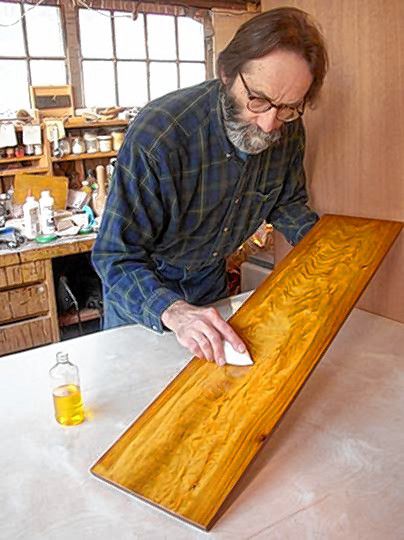 Some might argue Gary Wood's love affair with wood started at birth. After all, given his surname, he certainly seemed destined for a profession in woodwork.
After graduating from the University of Vermont in 1973, Wood founded Gary R. Wood & Co., a custom furniture and specialty finishing business. The young, energetic and fearless artist set out to find a workshop and equip it with specialty woodturning and carving lathes, support equipment, tables and benches for wood restoration and fine finishing and, later, the production and sale of proprietary, "homemade" finishes.
After spending three years in Burlington, Wood moved his operation to Brookline, Mass., to be close to his expanding customer base: high-end antique shops, interior decorators and individuals who had knowledge and true appreciation for fine traditional, custom-made furniture and finishing.
He spent a dozen years in Massachusetts, but soon yearned to return to his more rural roots. He headed north with his wife, Judith, and found a "shop with a house attached" in Canaan in which he could pursue his fine woodworking business.
As testament to his business knowledge and ability to diversify, Wood has stayed current with emerging trends and demands. For 25 years, Gary R. Wood & Co. has built a regional following for a specialty line of custom-fit tables using antique trays or toleware, often-decorated items made from metal. Some of his custom tables can be found in Quechee at Robert James Walsh & Co. and Bill and Isabelle Bradley's Antiques Collaborative Inc.
"A true craftsman," Bill Bradley said of the stands and side tables custom built by Wood at the Antiques Collaborative, located on the corner of Route 4 and Waterman Hill Road. "Gary can incorporate or take a beautiful standalone tray, usually a silver, porcelain or paper-mache, and design and build a custom, traditional table to match and hold the tray into something beautiful, traditional and practical.
"No two tables during the 10 years that I have known Gary Wood are alike, and his work is unmistakably beautiful."
Robert James Walsh & Co., the gallery of which is located not far from the Antiques Collective, features a lot of beautiful furniture, including pieces by Wood.
"We are kindred spirits in our shared respect for the original furniture makers, the wood and the finishes used," company owner Robert Walsh said of Wood.
He highlighted Wood's antique restoration expertise and his appreciation for craftsmanship.
"He brought back to life an old, discarded George II bachelor's chest (circa 1720), again showing his respect for the original furniture maker, the wood and color and finishes used," Walsh said. "His work is very special."
As demand grew for antique restoration and custom work, Wood leveraged his woodturning and carving skills, making him well prepared and equipped to take on the requests.
After years of experience with the lathe, Gary R. Wood & Co. added to its specialties a line of hand-turned and burnished knobs, meeting a demand from fellow antique restorers and high-end cabinet makers.
Based on his belief that one makes their own luck and there is no such thing as coincidence, Wood in 2009 made a call to the SCORE offices in Lebanon. Barry Rotman, a SCORE counselor on office duty that day, answered the phone. Wood explained his need for assistance and guidance in analyzing and evaluating a new product line of proprietary stains and varnishes he was looking to launch. Rotman, the co-founder and chairman of New England's largest furniture and carpet store, took on the mentoring assignment and was instrumental in helping Wood structure his new product introduction. He helped Wood develop his target market of small-shop professionals and finishing enthusiasts. Rotman also shared potential customers and leads in the furniture market.
Wood tapped into the resources of SCORE, a free business mentoring service offered by a stable of successful, mostly retired business executives and academics with a diverse range of business backgrounds and industries. The Upper Valley chapter of SCORE boasts of 30 active mentors.
"Relationships matter," said Charles Foss, chairman of Upper Valley SCORE. "We believe in a relationship-driven approach to our mentoring and workshop programs to help foster vibrant small business communities through mentoring and workshops. We are an organization with a reputation for integrity and delivery on our commitment that every person has the support necessary to thrive as a small business owner. We have mentored over 2,000 clients in the past 10 years, including many like Gary Wood."
In June, Wood reunited with his SCORE mentor because he was interested in exploring new marketing techniques and approaches for his latest and ongoing finishing product line of varnish and shellacs. He was encouraged to attend SCORE's "Marketing Strategy and Planning — How to Get and Keep Customers" workshop presented by SCORE mentor Sheldon Roesch. Wood attended the workshop and later praised Roesch's presentation and advice.
"I was reassured that being flexible in a changing market was the right approach, and he provided me with some valuable ideas about how to economically test market new services and products," Wood said.
Gary R. Wood & Co.'s new finish, "Essential Varnish" — a name suggested from one of the participants of Wood's many teaching workshops in New England — is becoming popular among fine woodworking shops and woodworking aficionados. It is a custom blend of resins from his own backyard "orchard" of balsam trees (which he taps himself) and imported resins from India and Indonesia. This proprietary blend of resins provides a strong protective cover and natural appearance and can be used for many refinishing and restoration projects. Wood sells the varnishes online and during his teaching workshops.
Together with a line of finishes he imports from England's Fiddes & Sons, Wood promotes the renewable quality of natural finishes — a benefit that is difficult to provide with acrylics or polyurethane, especially on floors, where stripping or sanding often is needed before they can be refinished. With England and Europe leading the way toward renewable finishes, Wood hopes natural ingredient finishes, including his Essential Varnish, will increase in popularity in the U.S. as a practical and environmentally sensitive choice.
Richard Reece is a SCORE mentor and a twice-retired executive, most recently as director of finance and accounting at Global Rescue LLC, a Lebanon-based private multinational organization providing integrated medical, security, travel risk and crisis response services. Reece is an avid golfer and enjoys playing with an eclectic gaggle of golfers called The Magno Group. He lives in Quechee. 
Editor's Note: Visit http://www.garyrwood.com to learn more about Wood's services, products and contact information.