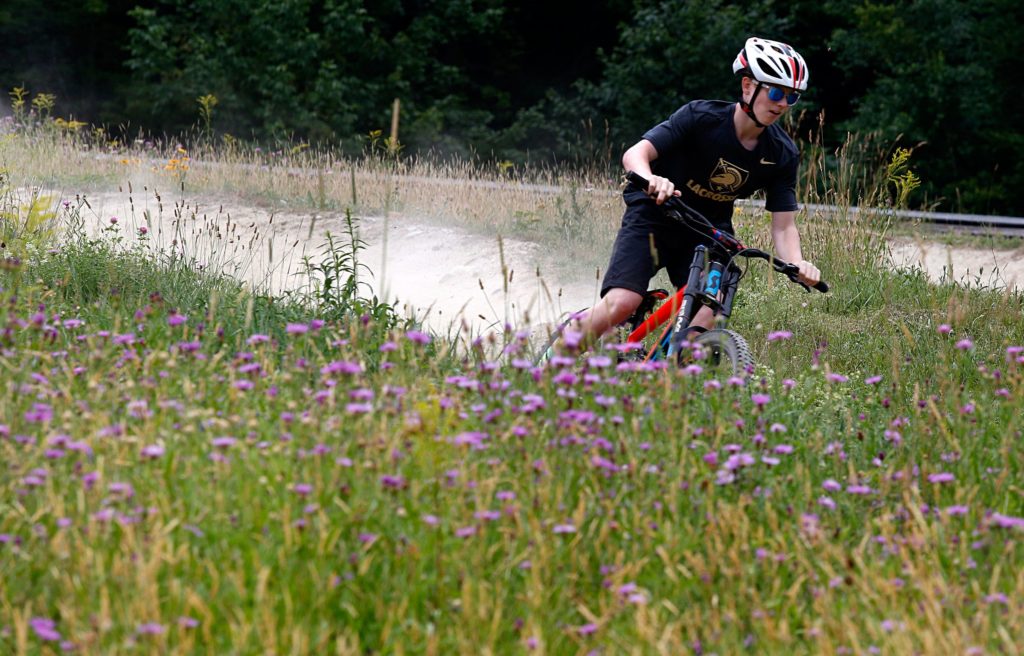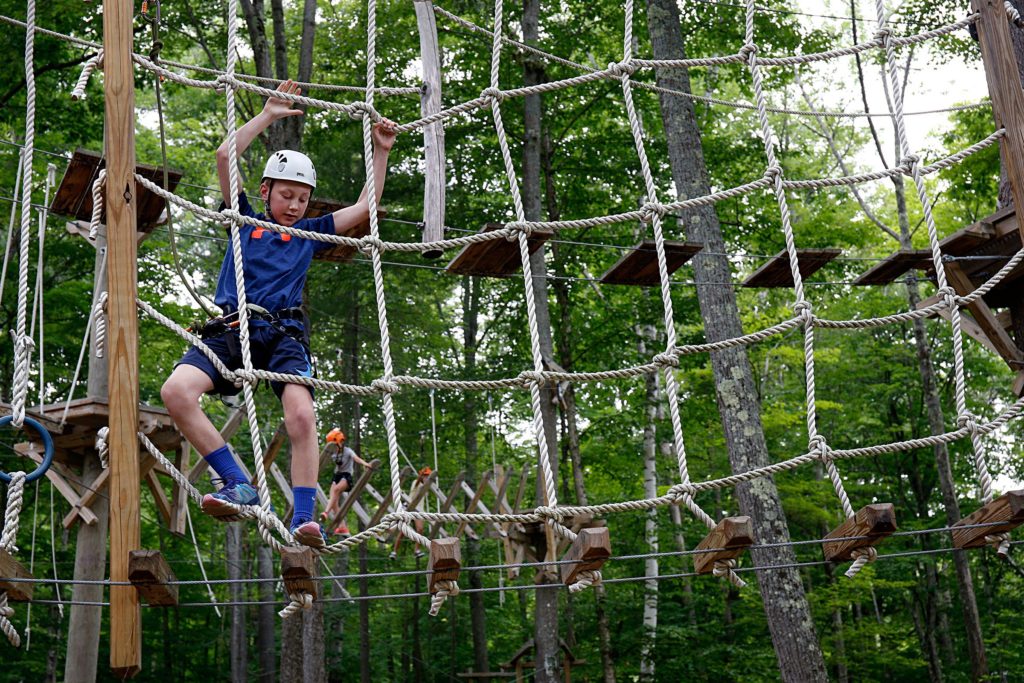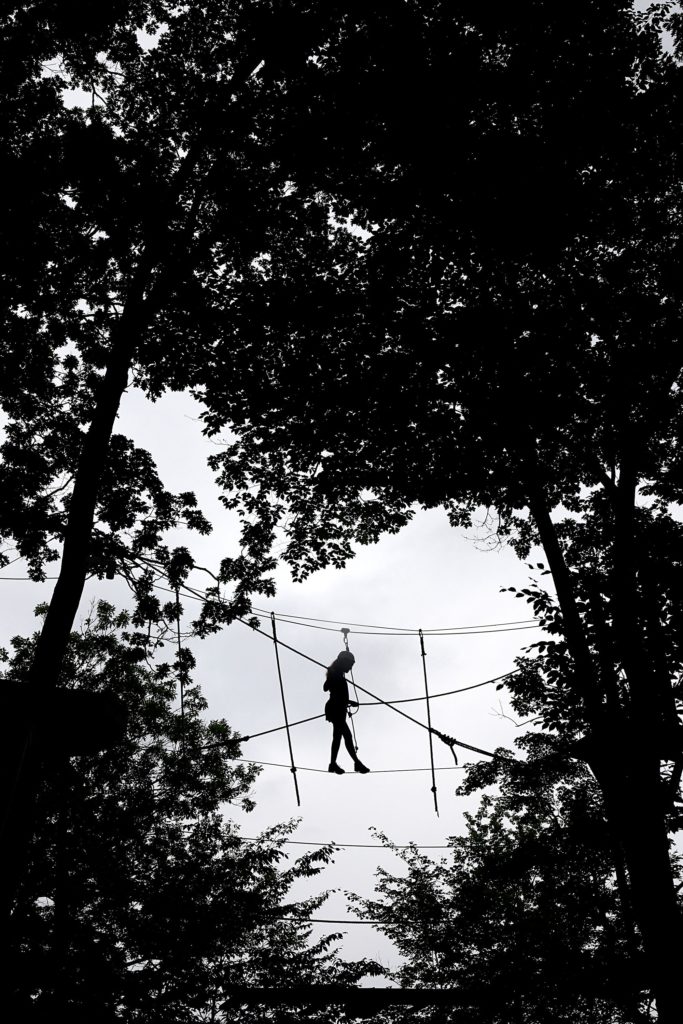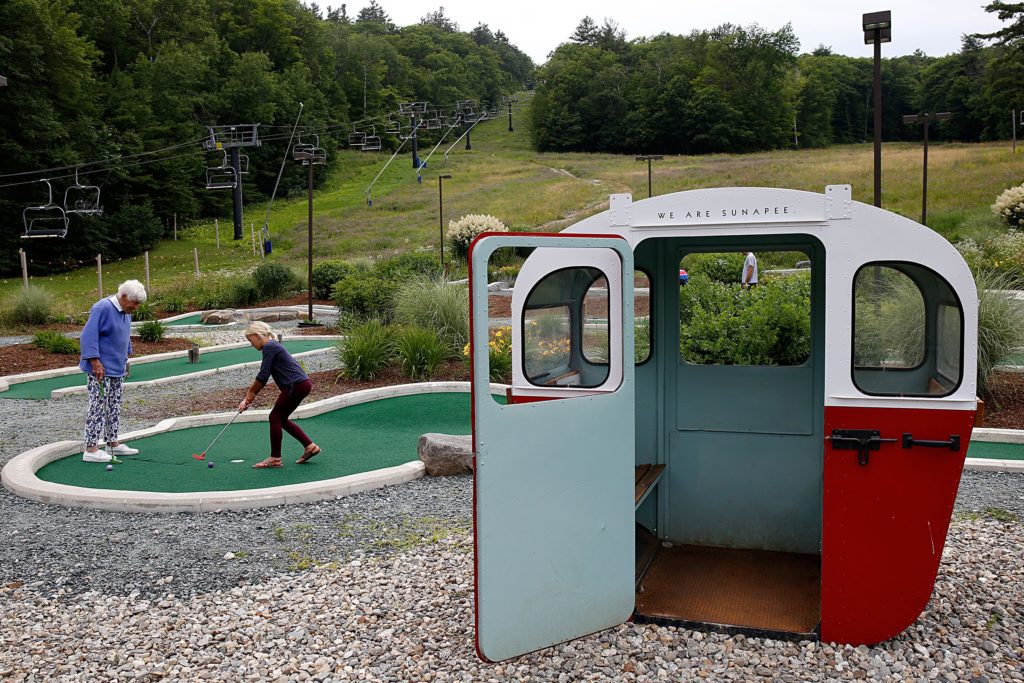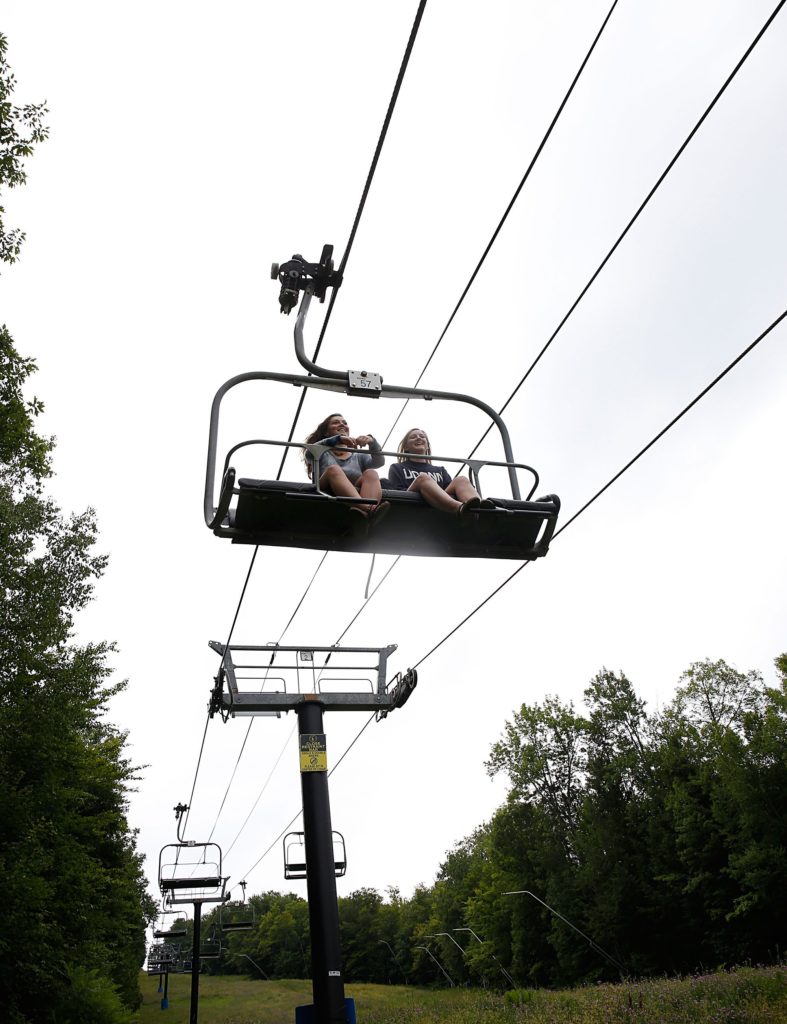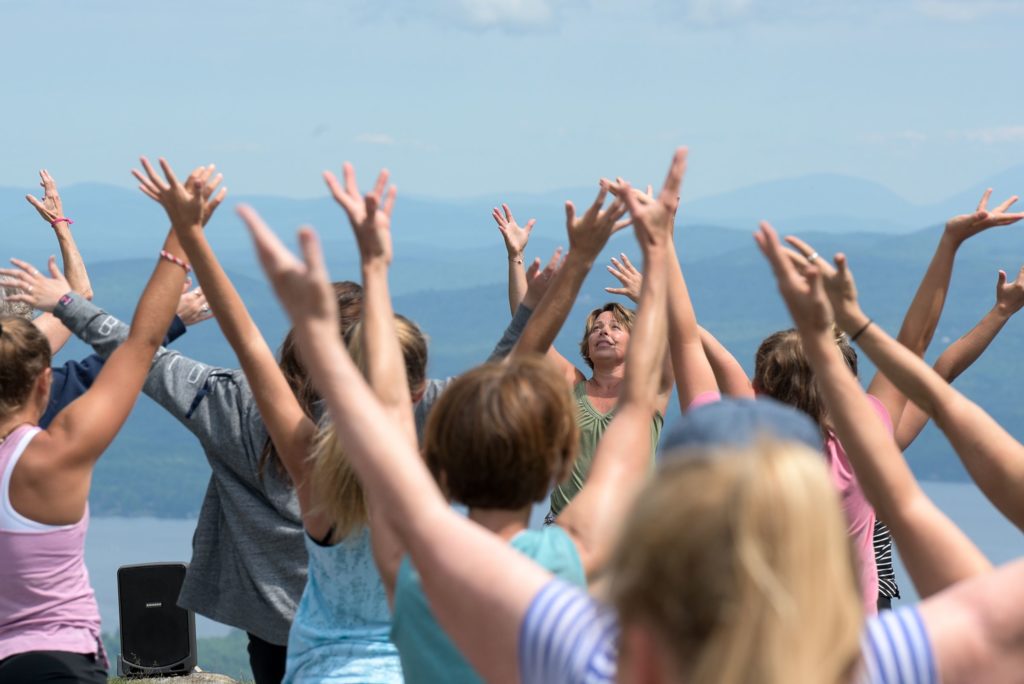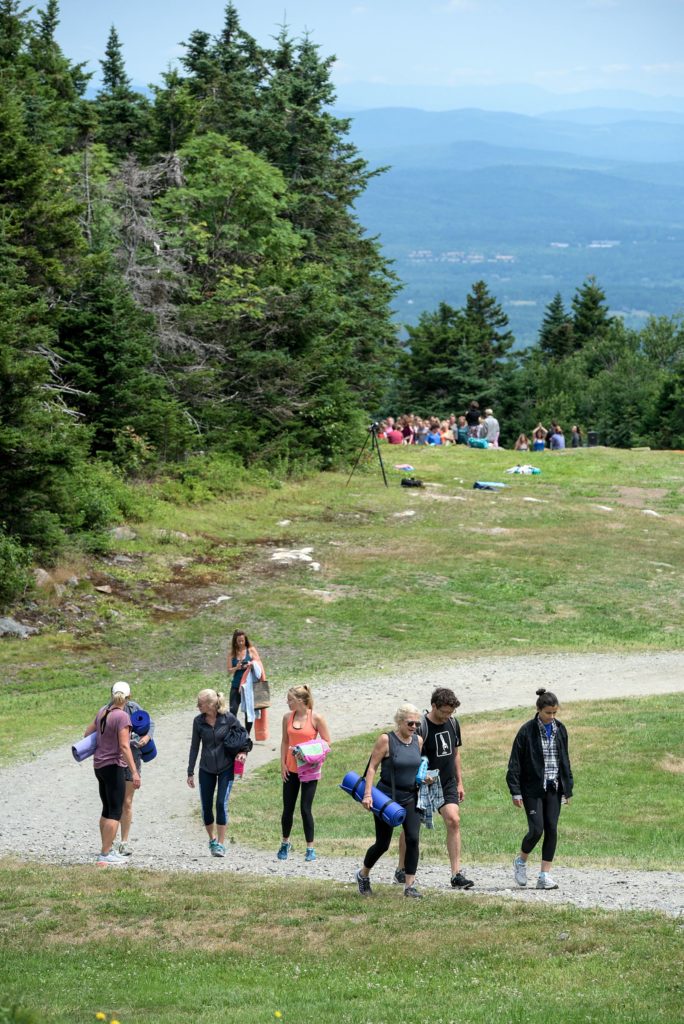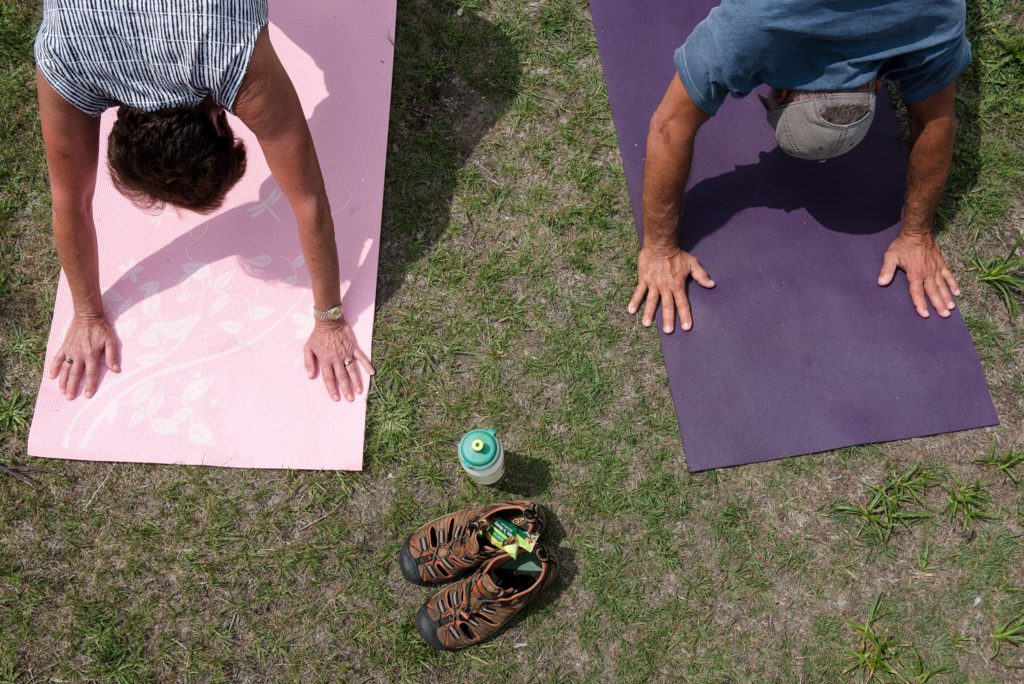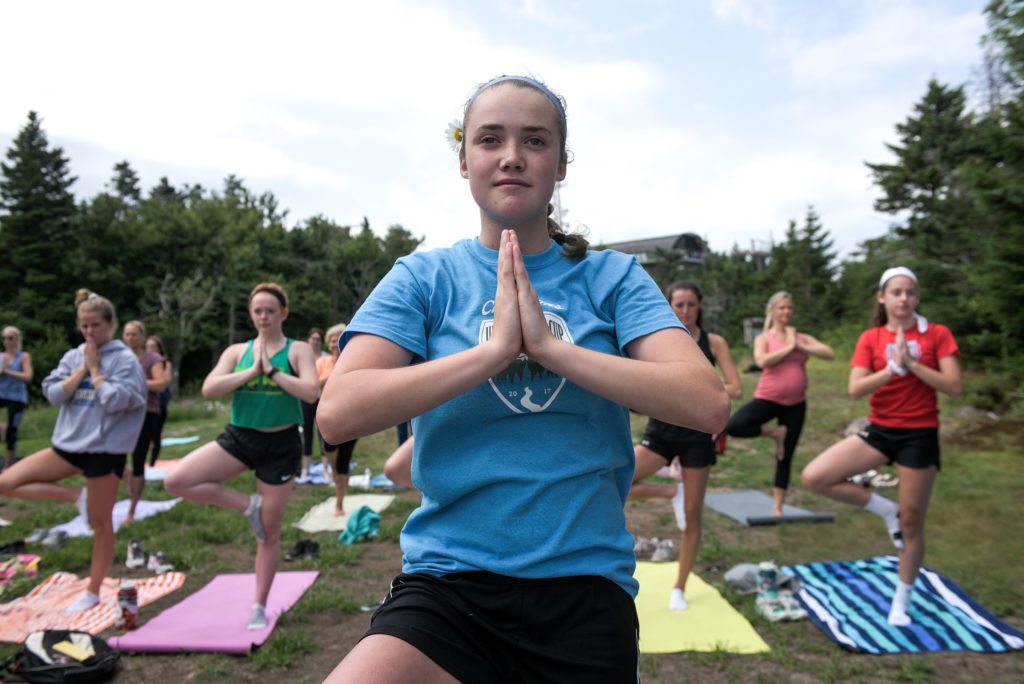 Summer on Mount Sunapee is in full swing as the town of Sunapee prepares to celebrate its 250th anniversary in August. On the slopes, visitors can enjoy an expanding array of warm weather activities like three-dimensional archery, mountaintop yoga and guided hiking. The Adventure Park features rope courses and rock climbing, and the newly opened Evolution Bike Park offers 5 miles of lift-served mountain biking trails with names like the Dirt Serpent, Out-N-Back, Sidewinder, Flo-Motion and Rock This Way.
Winter still accounts for the lion's share of its business, says Megan Burch, director of marketing and sales for the Mount Sunapee Resort, but an important part of the resort's plan is building out infrastructure for year-round activities. "We're so dependent on weather," she says, "and besides, once you get to the lake, it's really hard to leave."
With three quaint lighthouses and picture-perfect villages, Lake Sunapee and its nearby towns provide the ideal surroundings for the resort to segue seamlessly from alpine skiing to downhill mountain biking.
Paradigm Shift
Winters are getting shorter and warmer, baby boomers are aging out of their prime skiing years, and young families have less time and money to spend on resort vacations. Add to that a 2011 law that opened ski areas on U.S. Forest Service lands to summer activities, and snow isn't the only reason to go up and down a mountain anymore.
The growing portfolio of summer activities on mountains in Vermont, New Hampshire and around the world reflects these fundamental and far-reaching shifts in the ski resort industry. Between Mother Nature, demographics and international demand, resorts are adapting to new realities, refining their strategies to capture summer business and looking for ways to entice visitors to the mountains for more than skiing or snowboarding.
---
Related Stories
---
In parts of New Hampshire and Vermont, where skiing traditionally has been the big draw, resort owners are banking on summer to attract more visitors, retain employees year-round and appeal to young families, day-trippers and summer's bumper crop of tourists.
It's a long-term approach that focuses on reinvesting in ski equipment, keeping winter activities steady, re-tooling resorts for summer uses — quad lifts with bike racks, for example — and promoting New England's legendary summer beauty.
Capitalizing on ski resorts as all-season getaways "just makes good business sense," says Ernest Saline, education director for the Colorado-based National Ski Areas Association, or NSAA. "The days of lifts sitting idle on a ski hill from April to November are gone."
According to data compiled by the NSAA in 2014, some 84 percent of U.S. ski areas operate during the summer, and warm weather visits increased by 37 percent during the five years leading up to the study.
"We're seeing an uptick in summer and fall revenue at ski resorts across the United States," says Elizabeth Burakowski, a research assistant professor at the University of New Hampshire's Institute for the Study of Earth, Oceans, and Space. Burakowski's most recent report, "Economic Contributions of Winter Sports in a Changing Climate," focuses on the impact of global warming on ski areas and on activities that rely on cold weather. "Depending on how you look at it, a shorter winter is a downside for skiers and snowboarders, but a huge upside for mountain bikers, hikers, rock climbers and other outdoor enthusiasts," she says.
Summer also lets resorts take advantage of the long vacation season when kids are out of school, parents may have more time, there are more places to go and overall it's easier to get there.
A happy byproduct of year-round activity is that employment and economic activity in surrounding towns can become more stable. For an industry that traditionally has relied on the unreliable — weather — taking advantage of every season means more profit, more jobs, more revenue for towns and states, and better utilization of every mountain's unique environment.
Adding summer activities has been a successful strategy for the Woodstock Inn & Resort, explains President and General Manager Greg Thulander.
"It helps soften the blow of a bad snow year," he says, "and lets us keep staff employed year-round." The resort's Suicide Six ski area has a claim to historical fame as the site of the first ski lift in the eastern United States. The 1934 improvised rope tow on Clinton Gilbert's farm was powered by a Ford Model T engine, a technical wonder for its time. This summer, the resort opened its state-of-the-art Elemental Bike Park, with trails built by Sinuosity, a Vermont-based company that designs tracks that highlight the landscape and capitalize on an area's unique geography. "Mountain biking," says Courtney Lowe, the Woodstock Inn's director of sales and marketing, "is the king of summer mountain sports and, like skiing, it's not going anywhere soon." Citing statistics from Whistler, a resort town in British Columbia, he explains that up until recently, about 25,000 mountain bikers visited there each year and the number has jumped to 100,000. "This isn't trendy," he says. "This is long term."
"Investing more in mountain biking and hiking are just some of the new things we're doing," adds Thulander, noting that summer guests can take advantage of the resort's golf course, falconry lessons or just "enjoy the sunset from their Adirondack chairs."
Straddling the towns of West Windsor, Weathersfield and Brownsville, Mount Ascutney has seen its fortunes rise and fall. It boasts one of the first Vermont state parks, and its granite campsites and rangers' quarters were built by the Depression-era Civilian Conservation Corps. More recently, a succession of private resort owners have struggled, and the base lodge was idled in 2010. Since then, public and private groups have teamed up to form Ascutney Outdoors, a nonprofit that oversees the mountain's recreational and environmental assets.
"Our first step was acquiring the land," says Steve Crihfield, chairman of development and fundraising for Ascutney Outdoors. "We came together in a moment of courage and foresight."
Like many ski areas in the Northeast, Ascutney is building out its summer infrastructure. "Historically, skiing has been a greater economic driver," Crihfield says. "That was the case until our local resort began filling to capacity all summer long."
Ascutney offers 30 miles of summer hiking trails and is the site of the Vermont 50, an event that draws mountain bikers and ultra-runners from around the country. Proceeds from the race go to Vermont Adaptive Ski and Sports, a nonprofit that offers programs designed to engage people in outdoor sports regardless of ability. "Our key is being multi-season and multi-use," Crihfield says.
By the Numbers
Though ski areas increasingly are focusing efforts on bolstering their summer recreation offerings, the truth is summer always has been a big draw for the area. Tourism throughout the year is a major economic driver in Vermont and New Hampshire. Victoria Cimino, director of the New Hampshire Division of Travel and Tourism, outlined the scope of its impact at the governor's annual conference on tourism in May. The Granite State's 2.23 million visitors last year spent $5.5 billion, resulting in $269 million in revenue and supporting 48,000 jobs.
In Vermont, economist Kenneth Jones conducts analyses on the impact of tourism and publishes a biennial Benchmark Report for the state's Department of Tourism and Marketing within the Agency of Commerce and Community Development. Data from the 2015 Benchmark Report show that 5 percent, or more than $950 million, in salaries and other income was generated by tourism between 2013 and 2015. Year-round tourist spending accounts for approximately 8 percent of Vermont's gross domestic product.
Jones says that most spending on overnight accommodations takes place in July and August, followed by October, because of foliage season. "There is definitely a trend for ski areas to invest in those activities that attract summer visitors," he says, "even though the cost of summer activities tends to be lower. This is especially true in the Upper Valley, where there are lake resorts, golf courses, and lots of attractions for bike racers."
The most recent statistics from New Hampshire show a similar trend. According to a 2012 report by Laurence E. Goss at Plymouth State University's Institute for New Hampshire Studies, direct spending by tourists and travelers in 2011 totaled $4.3 billion, or roughly 7 percent of the state's estimated GDP for the same period. Travel spending in New Hampshire for summer 2017 alone totaled $1.78 billion, up 4 percent from the previous year's.
Ski New Hampshire, a not-for-profit, private trade association that represents 34 alpine and cross country resorts, partners with Plymouth State University to measure ski areas' impact on the state's economy. According to its 2012 report, "The New Hampshire Ski Industry 2012-2013: Its Contribution to the State's Economy," 1,107 employees were directly supported by summer and fall visitor spending, and an additional 905 jobs benefited from secondary sales, accounting for some 3,604 jobs in the Granite State that could, at the time, be attributed to summer and fall activities at ski areas.
"Winter revenue per visit is greater than in summer," says Plymouth State's Daniel Lee, a co-author of the study, "but we are seeing a trend in significant investments at ski resorts in year-round activities. One of the major challenges in running a ski resort is seasonality. A bad winter can be challenging, so it makes a lot of sense to invest in summer activities to diversify the revenue stream."
Spreading the Word
In one of those "aha!" marketing moments, someone conceived of a clever way to promote New Hampshire as a summer destination: Erect a giant billboard at the entrance to the Holland Tunnel in New York City depicting whitewater kayakers in New Hampshire. The irony of the tagline, "There's more than one way to cross a river," isn't lost on commuters criss-crossing the Hudson between New Jersey and New York.
The billboard is part of a multifaceted publicity campaign that promotes the "Live Free" marketing push recently launched by the Granite State, where tourism officials are anticipating a record-breaking summer for 2018. They predict that some 3.4 million visitors will visit New Hampshire and spend at least $1.8 billion at resorts, parks, lakes, golf courses and other attractions.
Tourism and economic development agencies in both states are devoting more resources to promoting summer offerings.
"We launched our first summer campaign last year," says Karolyn Castaldo, communications and marketing manager for Ski New Hampshire. The 16-second social media spots highlight mountain biking, ziplining and hiking, and new videos will be unveiled in time for the 2018-19 summer season.
With slogans like "get dirty," "embrace the mountain" and "gear up," the spots showcase New Hampshire's mountains as the ideal destinations for younger guests who are more interested in family-oriented recreation.
Several years ago, the Vermont Department of Tourism and Marketing teamed up with the Vermont Ski Areas Association to conduct a research report, "Leveraging the Vermont Brand," that zeroed in on "the Vermont brand" and identified attributes that differentiate winter and summer tourists. Attracting winter visitors means emphasizing that Vermont is a "good value," filled with "warm, friendly people" situated in an "unspoiled landscape" that "isn't crowded." Summer tourists, on the other hand, respond favorably to messages that describe the state as "original and real," where travelers can enjoy "creative culinary choices" in a "traditional and independent" setting, according to the report.
"Winter will always be king at our ski areas," says Molly Mahar, President of the Vermont Ski Areas Association, "but our ski areas are actively developing their summer business. It keeps more people employed and it's better for the state's economy if you can bring revenue in over more months of the year."
While it's unlikely that Vermont and New Hampshire mountains will revert to their 19th-century appeal as summer retreats for well-heeled city dwellers, they already have moved beyond winter. After all, as Lisa Lynn, editor of VT Ski + Ride asks in this summer's issue, "Why ever leave these mountains?"
Laurel Stavis, a resident of Lebanon, is a contributor to Enterprise.