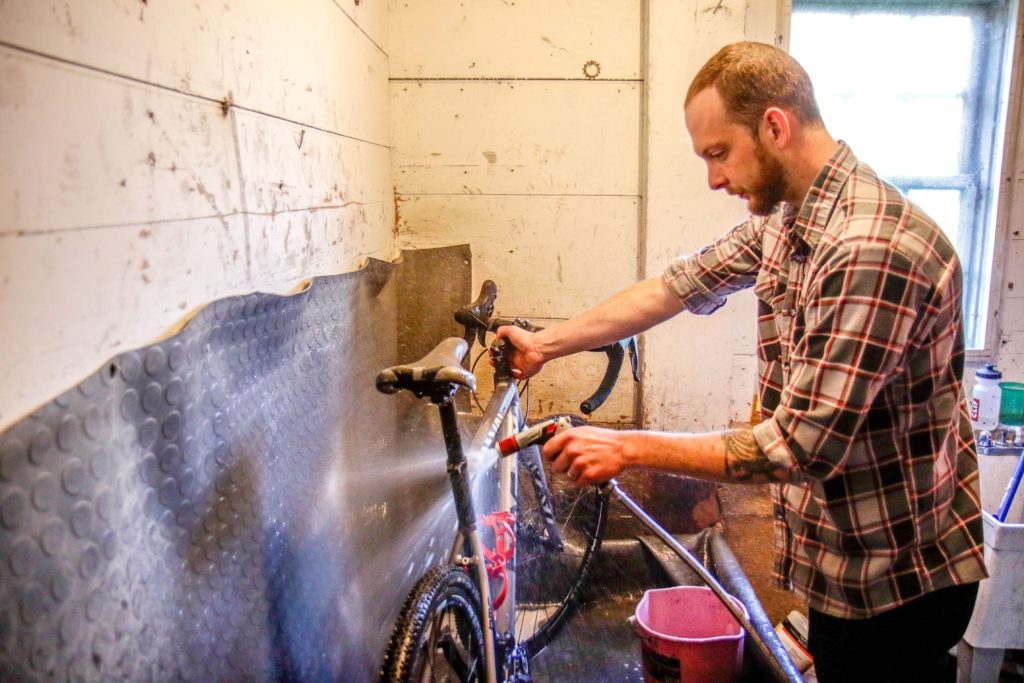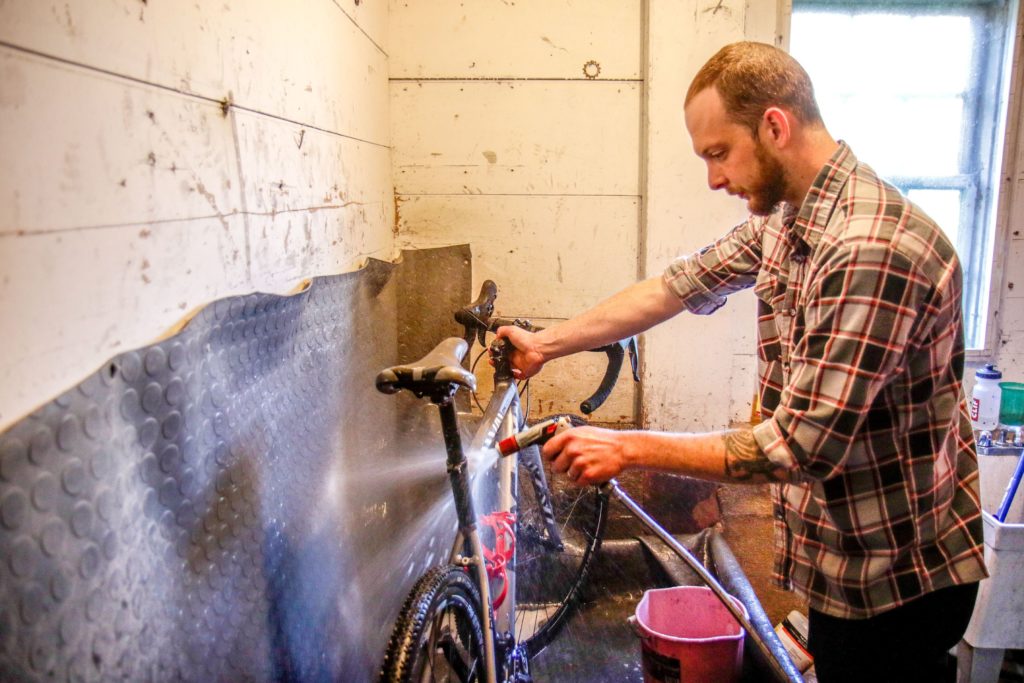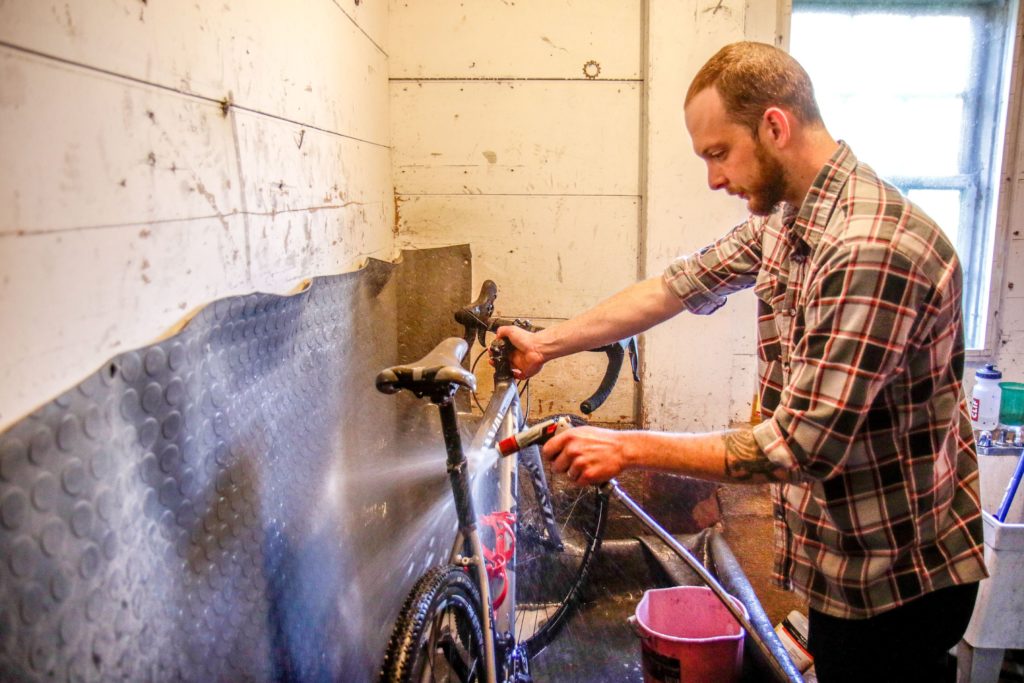 For Dick Drummond, building a custom bicycle is where passion meets precision technology — and a bit of the unexplainable.
"I develop points in space, X and Y coordinates, and I can design the frame around those coordinates," Drummond explained. He was standing next to a dynamic fitting unit, a piece of machinery that looks like a stationary bike hooked up to a computer monitor. When customers come in for a custom fitting, they'll spend about two hours peddling on the machine as Drummond adjusts the heights and angles on the bike.
"I can analyze biomechanics and change things as they're riding it. Literally every axis of this thing moves," he said.
Ultimately, however, the technology is just a tool. Building the perfect bike comes down to Drummond's experience.
"I'm viewing them. It's my eye. We've had motion-capture software, but …" he trailed off. "It's all in the interpretation."
For Drummond, the meeting of measurement, careful observation and craft is nothing new. Before he started building custom bike frames in 2003 and eventually founded Drummond Custom Cycles in its current Enfield location in 2007, Drummond built homes for 25 years.
"I've worked with my hands my entire life," he said. "It was a natural progression."
In fact, when Drummond and his wife, Lisa, decided to relocate to Enfield from Connecticut with their two sons in 2001, the family moved into a home on the shores of Mascoma Lake that Drummond had constructed.
"I built a house on the weekends on the other side of the barn," he said, pointing over his shoulder. Then he extended his arm, pointing across the shop. Now, the family lives about 200 yards in the other direction, in a historic home that used to be a bed and breakfast.
"I liked the commute," Drummond said.
Despite the remote location of Drummond Custom Cycles, tucked among the buildings of the Enfield Shaker Historic District and just steps from Mascoma Lake, the shop regularly draws cycling devotees from Boston and Burlington.
"The whole idea behind the shop was to have a destination shop," Drummond said.
Despite the gorgeous surroundings, Drummond had to become known in the cycling community in order for people to undertake the two-hour drive to visit his shop.
"It's taken many years to build a reputation to get more and more people to trust my judgment," Drummond said.
Drummond did a bit of cycling in college, but didn't really get into the sport until he moved to Enfield. Soon after, he began building custom bike frames out of his house, and in just three years the hobby had grown into a business. As word continued to spread about his quality builds and repairs, customers came from farther afield. Now, Drummond Custom Cycles is one of the premier cycling shops for people who need repairs and custom builds.
As a full-service bike shop, about 60 percent of the revenue comes from selling high-end specialty bikes and accessories from mainstream manufacturers. The other 40 percent of business — custom frames, custom wheels and carbon frame repairs — is what really sets Drummond Custom Cycles apart.
Today, many high-end bicycles are made from carbon. Although it's light and strong, the material isn't easy to fix, so few people offer the service.
"There aren't too many people who can repair the frames. We've developed a reputation to be able to repair those frames," Drummond said. "A lot of the bike shops down in Boston send their customers here for custom repairs."
Although he repairs carbon frames, Drummond's custom builds are made from steel. Building custom frames makes up only about 10 percent of the business, but it has become one of the things Drummond is best known for. Even physical therapists will refer patients to Drummond to get a bike that fits their unique needs.
"We cater to everybody, but most people who come to see us have been riding for a while and realize that something isn't quite right," Drummond said. Often, he can solve the problem by properly fitting a person on a manufactured bike, but this isn't always the case.
"I can build any geometry to fit any body type, and that's where the custom comes in," he said. "Most people can be fitted onto a standard, but 5 percent of the people are outside the range of being able to fit on a standard bike, and a custom can help them."
When someone comes in for a custom build, they spend about two hours on the dynamic fitting unit while Drummond observes and adjusts.
"It's about fit and body language," he said.
Drummond talks with the customer about what sort of bike they are looking for and where they ride (on the road, on gravel paths or on mountain trails). From there, they pick colors and parts for the bike, and Drummond puts a proposal together. After the three- or four-hour visit is finished, Drummond spends about a week working out the details over email.
Once a plan is made it takes about six weeks for him to complete a custom build, welding the frame in the old barn next to the shop. Custom bikes start at $4,500, and, as Drummond says, "the sky is the limit."
When the customer returns to pick up the bike, they spend about another two hours in the shop before heading out for a test ride. On a recent day, a customer Drummond had finished fitting the hour before walked back into the shop.
"Eric, how did that go?" Drummond asked.
"Excellent," the customer said emphatically.
Over the next half-hour, as the day became bright and sunny, more cyclists drifted into the shop. Many seem to be more interested in chatting than riding, and that's OK with Drummond.
"We're building a sense of community," he said, gesturing toward an espresso machine and a fruit bowl. "On a Saturday morning there will often be five or six people in here sitting and chatting, having coffee."
The cycling community in the Upper Valley has grown since the shop opened, spurred by increased interest in gravel riding, which is done on dirt roads and rail trails. Drummond regularly organizes group rides and has worked with other area cycle shops to host events.
"The community up here has been growing and all the shops are doing a good job fostering growth. The healthier all our businesses are, the bigger the community is going to get," he said.
As the background noise of chatting customers got louder, Drummond smiled.
"It's just going to get even more busy," he said.
Kelly Burch, of Claremont, is a freelance journalist and editor. Her work has appeared in The Washington Post, the Chicago Tribune, Boston Magazine, Cosmopolitan and elsewhere. Follow her on Twitter @writingburch.