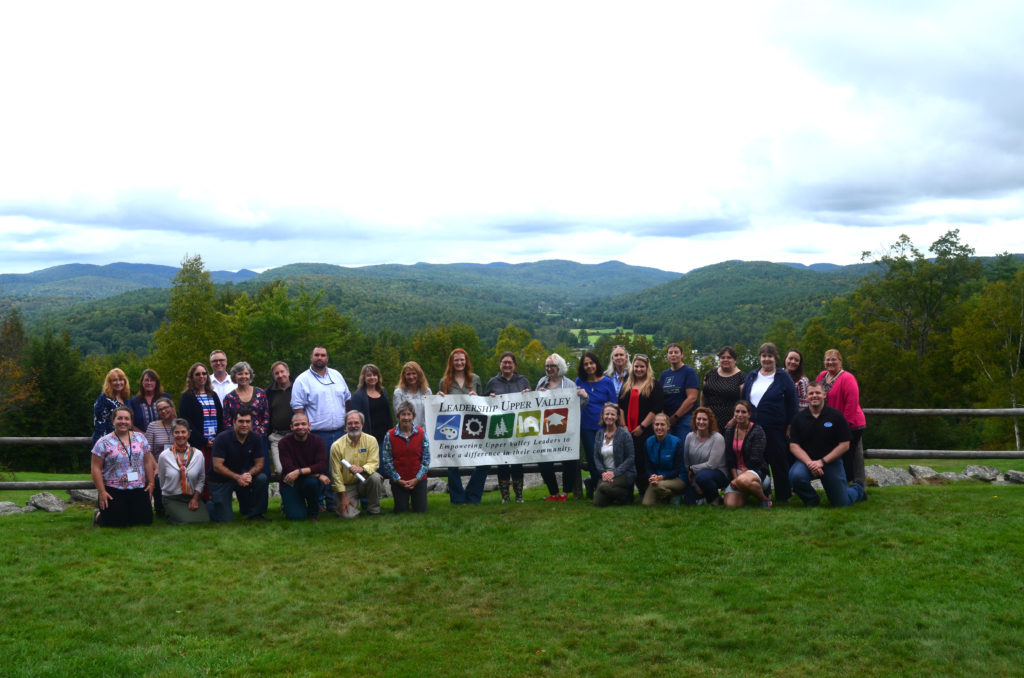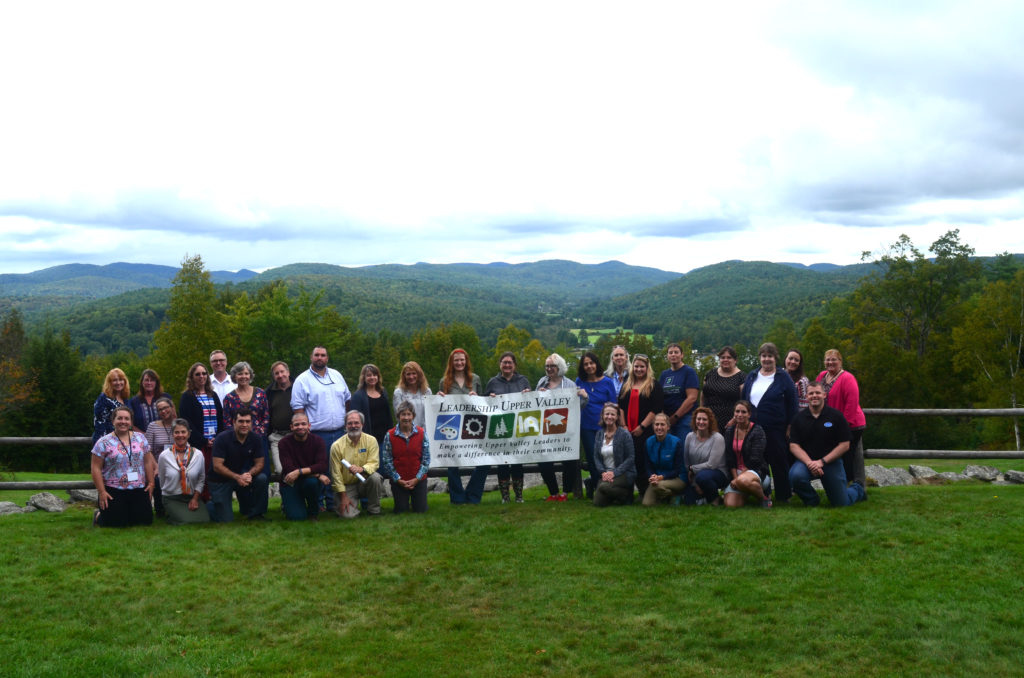 Employers and their workers have lots of choices when it comes to investing in professional development. Workshops, conferences, degree programs, mentoring — there's a range of opportunities locally, regionally and beyond to help employees build their job and leadership skills, and companies are increasingly seeing the value in investing in their employees.
But there's more to professional development than the hard skills necessary to do a given job. Leadership Upper Valley, or LUV, a 10-month program run by the regional nonprofit Vital Communities, provides a unique opportunity for the region's workforce to build knowledge and networks that enhance workers' own leadership skills and more closely connect area organizations with broader community challenges and resources.
"As we discussed in our opening day session (in September), and as Dartmouth alum and author Norman Maclean wrote, 'If you don't know the ground, you're probably wrong about nearly everything else.' LUV is a perfect place for Upper Valley residents to learn about this unique place, and about themselves in this place — building connections throughout the community. It makes for stronger people and stronger businesses," Leadership Upper Valley Manager Rob Schultz said.
"Leadership Upper Valley is an important program for businesses to support. It is the connector between business, community issues and the many nonprofit organizations (that) help support employees throughout the Upper Valley," said Stacey Chiocchio, community citizenship manager at Hypertherm in Lebanon. The company has sent 10 associates through the program, including Chiocchio, who graduated in 2012 and is an active member of the program's Board of Governors.
Leadership Upper Valley brings together 30 participants each year to learn at length about various aspects of the Upper Valley and find inspiration to get involved in new and more meaningful ways. One Wednesday each month, the group spends a day together learning from subject-area experts about everything from health and human services, education, and the environment, to arts and the creative economy, and the criminal justice system.​​​​​​
"At Hypertherm, we encourage our leaders to be engaged with their communities by volunteering. Through Leadership Upper Valley, leaders can get a more in-depth understanding of the various ways they can lead in their community. Through networking with other participants, many of our LUV alumni have joined nonprofit boards and committees. They are more connected and have a desire to be involved and not be an outsider looking in. They bring back their learnings to other associates at Hypertherm and help get others engaged as well," Chiocchio said.
For example, Chiocchio said, one employee helped launch a substance abuse disorder initiative at Hypertherm after learning about the region's opioid epidemic during Leadership Upper Valley's Justice Day, a daylong educational visit to the Southern State Correctional Facility in Springfield, Vt., where they heard from law enforcement and prisoners themselves. Four years later, Chiocchio said, the company has a substance abuse disorder task force that works to help support associates and their families in recovery and educate others to help remove the stigma around recovery.
"We often will send a new-to-the-Upper-Valley associate (to LUV), but honestly the program is also good for someone who has grown up here," Chiocchio said. "We always have good feedback from participants about the value of their time spent in each session."
The first LUV class graduated in 2007 with nine members. These days, Vital Communities receives so many LUV applications that each 30-member class is filled by competitive applicants from all over the region and every sector, representing a wide range of business and life experiences, according to Schultz. The program boasts 271 alumni.
As LUV has grown in recognition and impact over the years, more organizations have grown eager to enroll staff.
Though staff at the Upper Valley Haven have presented at LUV's Health and Human Services Day for years, the Haven did not send employees to "Leadership Upper Valley during the early years, because we felt we were fairly strongly connected to the community. We were not sure what the added value would be," outgoing Haven Executive Director Sara Kobylenski said.
"Of course, we were only seeing one nail in the board," Kobylenski said. "We were not seeing the whole picture and not seeing the intangible part that the collective experience creates. But when we sent one of our team for the 2016-17 class, we were amazed at how much more she learned and then was able to communicate to the whole organization about connections and resources in the community. In the process, she grew her own leadership skills. So we are on our third year of having a staff member participate, and this year has begun with the same sense of awe and amazement. We truly have become a convert."
Employees already are asking her to be considered to attend next year, Kobylenski said.
"We have chosen folks to go who have some of the hard skills but have not yet found their voice as leaders. This is a great resource for that sort of development. Networking and finding a voice — those are the two things that have complemented the skills that emerging leaders already have and given them the boost to get to the next level. Owning their own roles in a stronger way and stepping up in more creative ways have clearly been characteristic of our LUV graduates," Kobylenski said.
Sarah Hastings, a member of the human resources team at Red River Computer Co. in Claremont, began her Leadership Upper Valley journey in September. Red River added LUV to its suite of professional development opportunities a few years ago and chooses among internal applicants who want to learn "how to become a better citizen, how to be part of positive change in the communities and where they can fit in to help that along," Hastings said.
The program offers participants the opportunity to develop their networks and less tangible leadership knowledge and skills, she said, and it "has an immediate and direct impact on the individual and on our organization." With its corporate objective to "positively transform communities," Hastings said, Red River sees LUV as a way to help employees — and by extension the company itself — become more invested in its communities.
As just one example, Hastings pointed to Red River Director of Federal Sales Operations Doug Adams, who graduated from LUV in June. He connected with LUV classmate Derek Ferland, the Sullivan County manager, and their shared interested in the economic development of Sullivan County quickly led to multiple conversations among Sullivan County, Red River and others. They all put their minds together with the aim of strengthening the economy in Claremont and beyond. "Leadership Upper Valley is increasingly seen as an important way for Upper Valley organizations to fulfill the community-oriented aspects of their missions," Schultz said.
"From a recruiting standpoint, our commitment to education, including involvement in leadership programs, is an attraction to candidates," said Beverly Widger, the chief human resource officer at Mascoma Bank. "Leadership Upper Valley is close to home, and it's meaningful for people. There's always an aha! moment for people — it's so exciting to see when employees come back and they've found out something they didn't know about the community. We want to be a force for positive change for our customers, communities and employees. Leadership Upper Valley provides that opportunity."
Another area employer, Kendal at Hanover, has supported employees through Leadership Upper Valley for eight years, sending about a dozen people, including HR Director David Watts, who graduated in 2011, through the program. Interested employees apply internally, and the leadership team selects one candidate who can then apply for LUV with Kendal's support.
"It's part of Kendal's broader strategic plan to become a more visible partner with Hanover and the Upper Valley. We want Kendal staff to be engaged with the Upper Valley, and this is a very direct and obvious way for us to do that, to expose our staff to what the Upper Valley is and how they can become involved in a deeper way," Watts said.
After completing LUV, he said, five Kendal staffers have joined nonprofit boards or committees, giving them leadership experiences and skills that aren't part of their daily work at Kendal.
The cost to attend LUV is $1,425 per person, a price that sometimes is paid by an employer, sometimes by the participant, and sometimes through a combination of both. Vital Communities also offers scholarship assistance to those who need it.
"That $1,400 investment is going to give one of the rising stars in your organization not only a wider viewpoint on our region, but an opportunity to become involved that will feed back in multiple ways to their work and your company," Watts said.
Watts, who also is a member of the LUV Board of Governors, recalled that "my brain was on fire after going through Leadership Upper Valley. LUV is a real springboard — a shot of espresso — for people who want to become involved in the Upper Valley. In a year, you're going to learn more about the region than you would otherwise over many years."
The Leadership Upper Valley year runs from September through June, with participants meeting on the second Wednesday of each month in different locations around the region. Applications for the 2019-20 program year are due on April 30. Details about the program, past participants and how to apply are available at VitalCommunities.org/LeadershipUpperValley/About.
Allison Rogers Furbish is communications manager at Vital Communities and a freelance writer in Canaan.