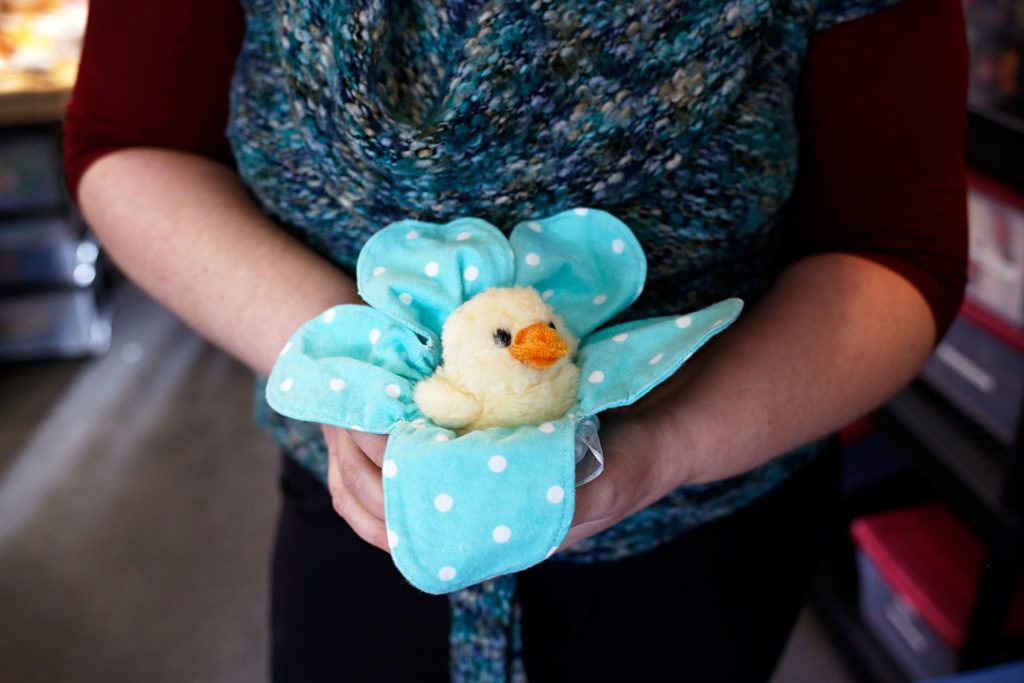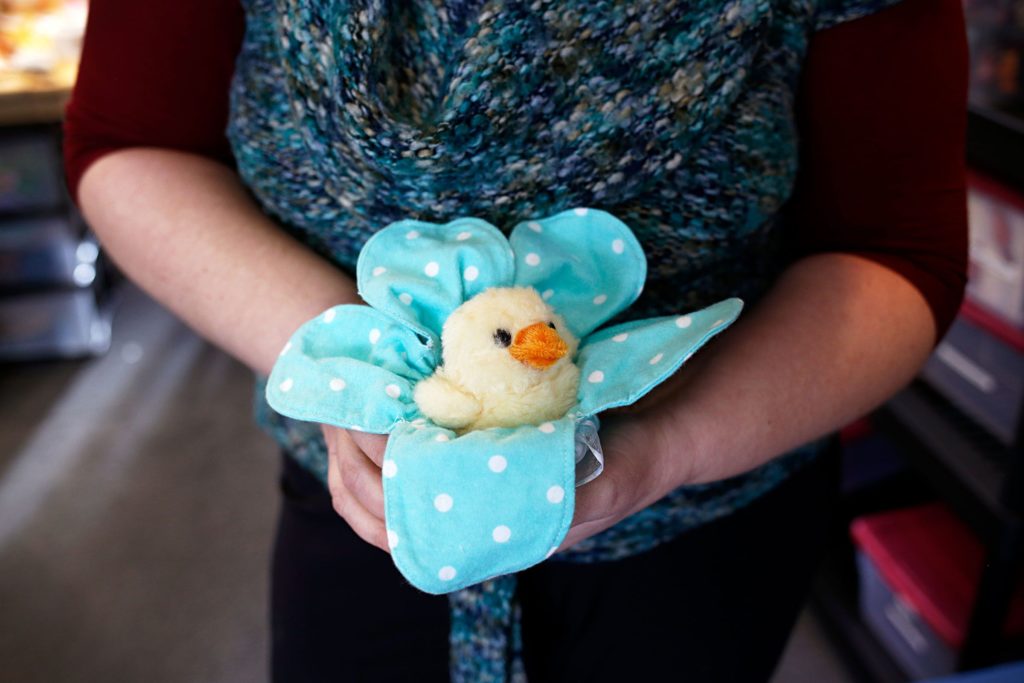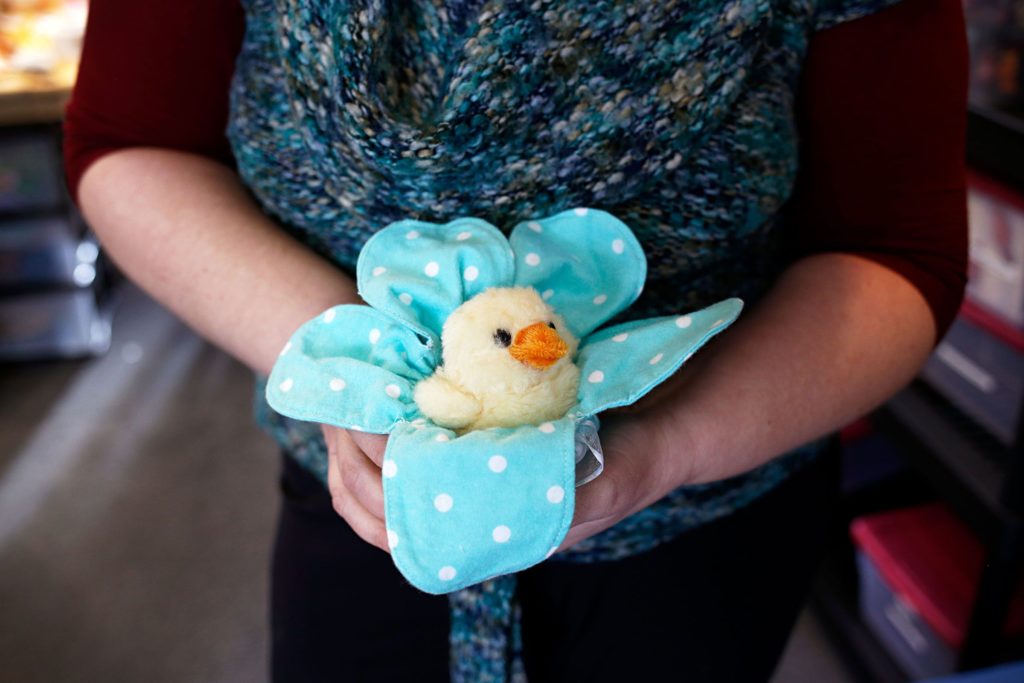 Claremont resident Julie Baker has turned a do-it-yourself home craft project into quite the nest egg: a business that designs and sells chicken diapers and tutus. (No joke.)
While it sounds beyond quirky, it's more popular than one might think, and Baker has been laughing all the way to the bank since she started Pampered Poultry more than 10 years ago.
The 47-year-old Baker, who considers herself a bit of a hippie artist, has always loved fabric and sewing. She has owned and operated a wide range of small businesses since graduating from Hampshire College with a Bachelor of Arts in history. From a floral shop to a coffee shop to a restaurant to Baron Forrester, the wine and cheese shop she owns today in Hampton, N.H., Baker admits chicken diapers were never part of her business planning.
Her creativity and knack for retail has led to many successful businesses over the years, but Pampered Poultry, her most farcical venture yet, was hatched as a way to keep her house orderly.
"My daughter Bridget was around 8 years old. She would love playing with our chickens and she liked bringing them indoors," Baker recalled. "Chickens have big, wonderful personalities. They are great pets and you get attached to them like other pets, but they can be messy, especially in the home."
Baker put her passion for sewing into action, exploring DIY chicken diaper tutorials on YouTube. She studied and quickly learned how to design waterproof, machine-washable cotton drawers. She began toting her early designs and eye-catching, colorful garments at poultry shows. They were an instant hit.
Now, Pampered Poultry has evolved from her backyard chicken coop into a global enterprise. Unique and creative, her chicken diaper and tutu designs solve a home pet problem, but also are a welcome accessory for chicken lovers, farmers and wholesalers across the world. Tens of thousands of customers have purchased the durable diapers or tutus which range from $12 to $20. Baker estimates she sells between 500 and 1,000 units per month (or about 10,000 units a year). Pampered Poultry was on track to generate $60,000 in sales in 2018, up from $30,000 a year ago.
Although her niche enterprise is small, Baker has been able to tap into a global market.
"It's so expensive to advertise and get your business to stand out today, but let's face it, we are quirky and can generate a lot of attention organically," Baker said of her business. "I have been able to reach my tiny niche market because of the global reach generated by great media coverage and social media channels. Our products are seen all over the internet, on Instagram and Facebook. When people post and share photos of their chickens' birthday parties or holiday cards of their chickens, they become a sensation and are shared all over Instagram and Facebook."
Baker also attributes Pampered Poultry's success, largely due to organic growth, to the groundswell of national publicity she's received. Media outlets ranging from NPR, the Wall Street Journal, Reddit and the Huffington Post have profiled Baker, and every time a story appears, sales have increased.
More than 1 percent of households in U.S. urban areas like New York, Los Angeles and Denver now raise chickens, according to a 2013 U.S. Department of Agriculture study. Like pet lovers across many categories, Americans are coddling their fur (and feather) babies.
Pampered Poultry isn't the only business servicing chickens. There are "chicken whisperers" who charge upward of $225 an hour to consult on turning a backyard into a poultry paradise, while Silicon Valley chicken farmers will invest $20,000 for a high-tech coop.
On any given week, Pampered Poultry will fulfill orders from Belgium, Canada, China, India and New Zealand. Her largest customer, City Chicks, is a wholesaler based in Australia. An average customer spends $25-$50 on a couple of diapers and a tutu, but Baker occasionally gets a surprise or special request.
Recently she took a phone order from a woman in Baltimore who spent $180; another customer's special request was a Halloween design for special witch and bumblebee designs. Custom requests don't upset Baker because, after much refining, her operations are in order. She has endured challenges, especially when the demand for her product was more than her at-home operation could handle. The ever-resourceful Baker, who had volunteered in the Dominican Republic, relied on an established network there and identified a group of women in need of employment. She invested in sewing machines, fabric and other equipment and materials and taught the women how to sew her creative designs.
Baker said her partnership with the five full-time employees is by far the most gratifying component of Pampered Poultry's success and she is able to compensate the women three to four times more than the Dominican Republic's minimum wage.
"The learning curve is endless for them and for me," she said. "We are constantly training and improving our quality issues and exploring new designs, but I'm most proud of employing and empowering these women in this venture."
Learning the logistics of manufacturing was by far one of Baker's biggest challenges, especially when sales started to take off. "There's a long lead time from start to finish in making our products, so I had a difficult time planning my inventory cycle and cash flow," she recalled.
When a friend referred Baker to Upper Valley SCORE, she had immediate support from mentors Phelps Platt and Morris McInnes, who provided insights, structure and discipline to Baker.
"Mentoring Julie has been a refreshing, fun experience," Platt said. "She took an off-the-wall concept and has evolved her business, making a name and brand for herself. She was intuitive enough to know she needed guidance in the area of manufacturing and logistics, and I'm glad she came to SCORE and we played a small hand in helping her achieve her current day success."
With the help of SCORE, Baker was able to get a better overall grasp of her operations and planning.
"My SCORE mentors really helped provide discipline for me and provided help where I needed it most, in the not-so-fun areas of business like spreadsheets, work orders and cash flow," she said. "They have years of business experience and brought fresh perspective, answering so many of my concerns and questions."
Baker also has been a teacher and home-schooled her daughter. Before Pampered Poultry took off, Baker encouraged daughter Bridget to explore selling the diapers online. The e-commerce lesson, which was never really part of a business plan or entrepreneurial idea, paid off. They started selling chicken diapers on eBay, and when wholesale orders came beckoning, Baker realized she needed to ramp up her efforts in order to effectively manage Pampered Poultry.
At her women's sewing co-op in the Dominican Republic, Baker continues to invest in new equipment. She has a lead seamstress to manage quality control and moved into a larger workspace to tend to Pampered Poultry's expanded product offerings, which include chicken tutus, Peep Pouches (so people can safely hold baby chicks), aprons and more. She travels to that country a few times a year to work on her new collections, ensuring chickens remain fashionable.
As for her Claremont operation, Pampered Poultry has a new 1,500-square-foot space at the Carriage House on Summer Street, where her imagination continues to evolve. Baker collaborated with Bridget, who now is a Hamel scholar at the University of New Hampshire, where she studies genetics, to create an eye-catching 8-foot tall rideable dragon.
"I have no idea what the purpose of the dragon is, but I can tell you I'm inspired by the space we're in," Baker said. "We love our new location. It smells old and the walls are painted in a whimsical variety so we can be creative with product photo shoots and things. People are always walking by and asking what is going on in there?"
To learn more about Pampered Poultry, visit its website at http://www.pamperyourpoultry.com.