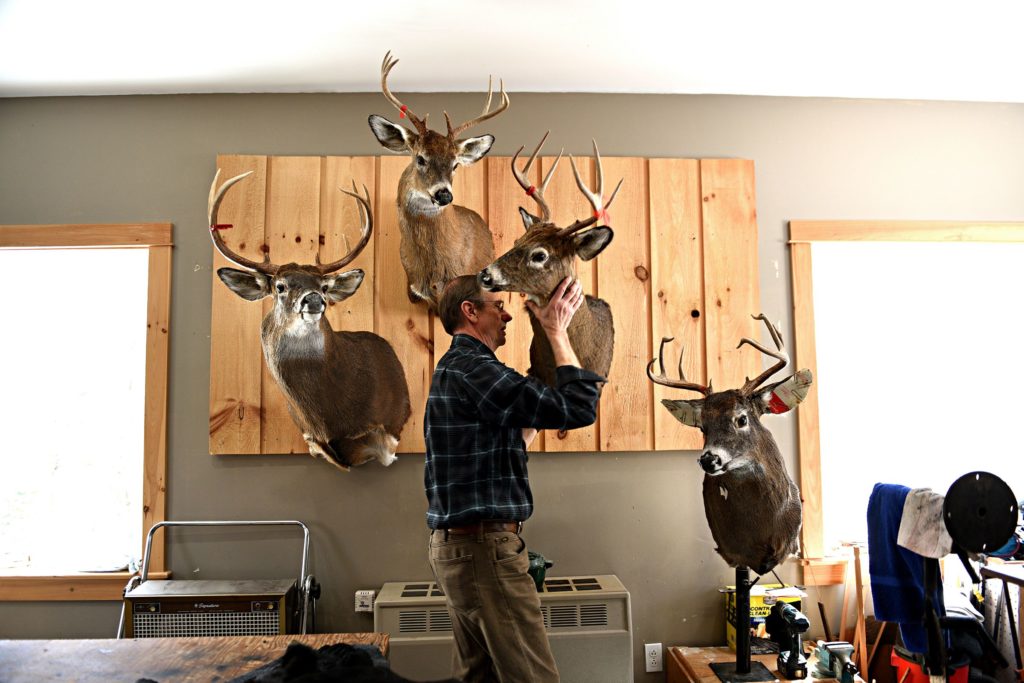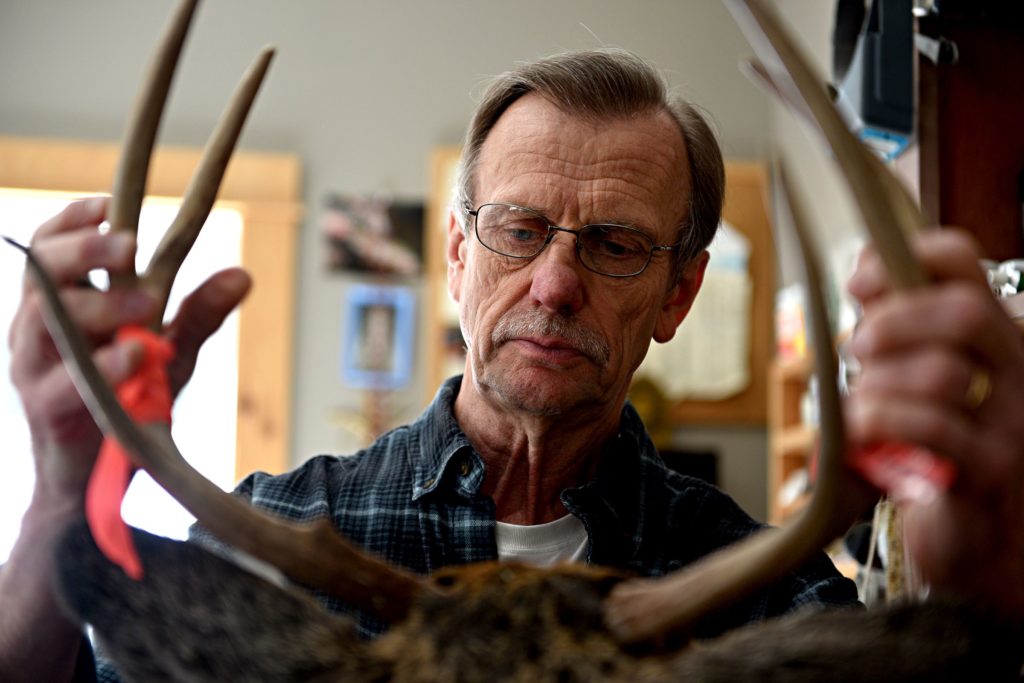 Whether it's a carcass found in the woods, a coyote struck by a car, or the annual hunters' take of deer, moose, bear and turkeys, death isn't necessarily the last stop for animals in the Upper Valley. Many are restored to a semblance of their previous lives by professional taxidermists in New Hampshire and Vermont.
"We memorialize these beautiful animals," said John Matyka, owner of Jacobs Brook Taxidermy in Orford, "and in the process, bring families together across generations and important memories."
At Jacobs Brook, you can expect to pay anything from $200 for a large-mouth bass replica (few taxidermists process actual fish — the skin is too fragile), to $495 for a deer head to as much as $1,500 for a full-size bear mount.
Matyka displays a reverence for the creatures that are renewed at his hands. Black bears and bobcats could spring to life at any moment. A mandarin duck, sporting plumage that would make a bird of paradise bashful, sits contentedly in its swampy habitat while deer look on from their wall mounts. Suddenly, amid talk of tanneries, glass eyes, and industrial sewing machines, Matyka is distracted by chickens clucking disapprovingly in the snow outside.
"I worry about them," he said, recalling mink attacks on their coop. "I couldn't kill a thing."
Like many in the region, Matyka started out practicing taxidermy to supplement existing income. But done right, it's an art that takes time, equipment, supplies, word of mouth and a good business plan.
"At certain seasons it's nonstop," he said. "You could definitely make a good living doing this in the city, where hunters regularly bring in 40 to 50 pheasants at a time. Here in New Hampshire and Vermont, people are more concerned with getting food on their table than preserving an animal."
Still, his studio gets a mind-boggling 50 to 60 deer heads and about 30 or 40 bears each season, which roughly runs from September to December in New Hampshire and Vermont depending on the type of animal and the method used to hunt them.
The business of taxidermy is regulated at the state and federal levels. New Hampshire requires annual licensing of professional taxidermists. Vermont does not. All taxidermists must comply with the Federal Migratory Bird Treaty Act and ensure that any animal taken by hunting is properly tagged and reported. The New Hampshire Fish and Game Department listed 44 licensed taxidermists in 2018, and according to Cathy Gearwar, president of the New England Association of Taxidermists, there are at least 82 taxidermists in Vermont.
Speaking from her studio, Preserving God's Creation, in Benson, Vt., Gearwar said that being an artist and learning the technique aren't enough.
"You have to run a successful business," she said. "If you're not charging for your time or doing a good enough job, you'll fail."
In Gearwar's experience, taxidermy is a kind of luxury item that goes up and down with the economy. "But it's also a powerful educational tool," she said. "Animals are inherently beautiful, and I do my best to recreate them as they looked when they were alive."
Gearwar and other taxidermists recently completed work on a seven-year project at Vermont's Dead Creek Visitors Center in Addision.
Many taxidermists steer clear of mounting pets. For one thing, she said, they must be freeze-dried because manufacturers don't produce the standardized forms readily available for wild animals. Matyka, of Jacobs Brook, said he could never hope to reproduce the expression a beloved pet only gives to its owner.
From the Greek words "taxis" (arrangement) and "derma" (skin), preserving the dead dates to the ancient Egyptians, and probably earlier. One of the oldest surviving examples of taxidermy is a 10-foot-long crocodile said to have been mounted in 1627 and now on display at the Natural History Museum in St. Gallen, Switzerland. Closer to home, the Fairbanks Museum in St. Johnsbury, Vt., boasts one of the Victorian era's most notable taxidermy collections, including one of the world's largest hummingbird displays, and dioramas of moose, bison, flamingos, birds of paradise, snakes, woodchucks and opossums.
Until the 1970s, taxidermists really did stuff animals, mostly with sawdust and excelsior, using an arsenic solution to ward off insect infestations. The process was grim, the ingredients hazardous, and the product sometimes degraded over time or never looked quite like the original animal in the first place. With technological advances in chemical preservation and mass manufacture of polyurethane forms over which an animal's tanned hide is stretched and glued into place, modern taxidermy is completely different.
"People think it's gross," said Josh Martin, owner of Furs to Fins Taxidermy in Enfield. "But dealing with the raw skin is just a minor part of it."
So far, Martin has managed to keep his taxidermy business an add-on to his plumbing and heating career, but it's only a matter of time before he believes it will become full-time work. He opened the studio in 2016 and worked on five or six deer heads.
"Now, I average over 20-plus several fish," he said.
Martin acknowledges that taxidermy evokes strong opinions.
"People are quick to judge sometimes, but if they actually saw the work that goes into these pieces of art, they'd change their minds."
Leon Verville, of Loudon, N.H., gave up on the notion of part-time taxidermy years ago. Always drawn to the process of bringing animals back to life, he started at the age of 13 with a squirrel. Anyone familiar with the spectacular moose and calf recreation at New Hampshire's Fish and Game Discovery Room in Concord will know how far his artistry has developed over the years.
"It's all about learning how to structure your time and income stream," Verville said. "You can only do so much, and at some point you have to say no. It's a nine-day-a-week job."
After a brief pause, he joked, "I should have called my studio 'No Life Taxidermy.' "
As for pets, Verville did agree once to mount a beloved dog, though he has too much work now to consider doing it again.
"When it was done, the whole family came in to get it," he said. "They were overcome with sadness. I couldn't deal with the grief."