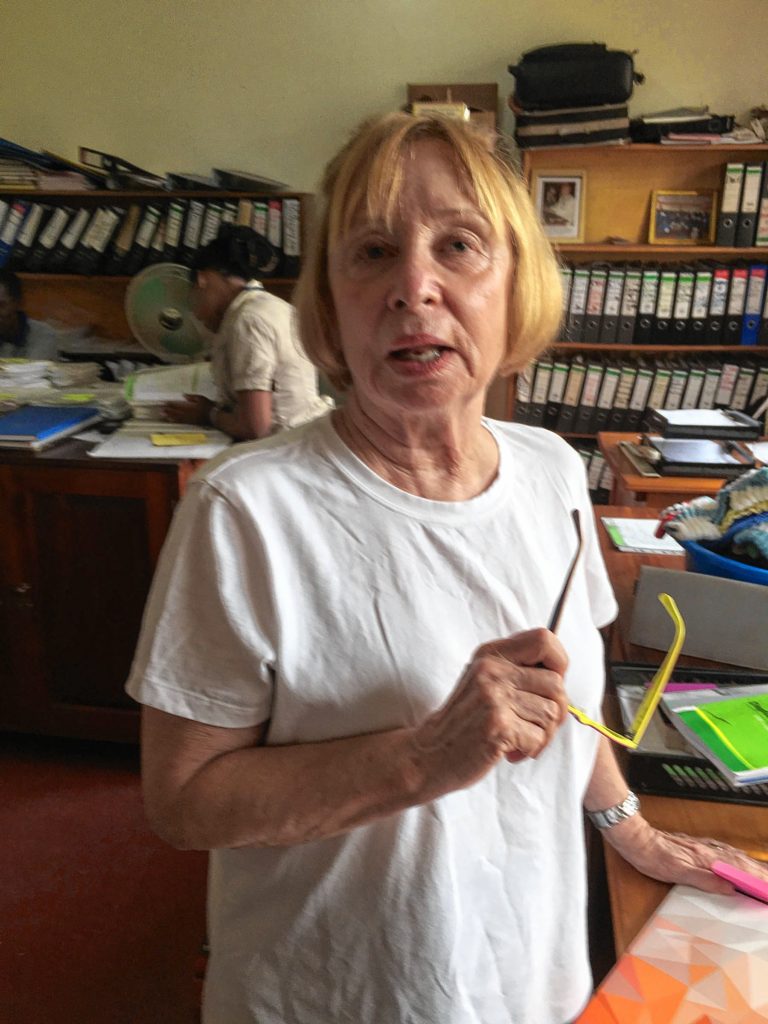 Dr. Judith Hills recalls that when she graduated from high school, not many women went on to become doctors. Still, she'd always been interested in medicine, and after her husband became a veterinarian, she decided she had what it took to become a physician. When her youngest child started first grade, Hills started medical school at Dartmouth College.
She worked briefly at the Ottauquechee Health Center, when hospice was getting started as a federal program. As the newest hire, hospice fell into her lap, and Hills found she enjoyed the work. Later, while working at Mt. Ascutney Hospital, Hills completed a fellowship in palliative care medicine.
(A couple of quick definitions: Palliative care seeks to ease pain and help people living with chronic as well as life-threatening disease. Hospice care focuses on comfort at the end of life, of which palliative care plays an important role.)
Today, at age 75, Hills teaches a course to Dartmouth medical students, but her passion is her service trips to Uganda, where she works in palliative care and brings medical supplies donated by Upper Valley organizations such as Dartmouth-Hitchcock and Bayada Hospice.
Sporting a broken arm from her most recent trip, Hills chats with Enterprise at her South Woodstock, home about palliative care, her work in Uganda, and how she got that broken arm. (Questions and answers have been edited for length and clarity.)
What about palliative care do you like?
I like the fact that it's holistic, and that you can treat the whole person and the family. You can take your time, and you really get to know people and their families.
How have you seen palliative care change?
People certainly understand it better.
There really wasn't much palliative care when I started practicing in '89. Now, almost every large hospital or every large community has a palliative care team. So it's really expanded immensely for the benefit of everybody, I think.
What was missing before?
They were missing a team approach. They had one person doing this, and another person doing that, and nobody was pulling it all together and saying, OK, how are we going to work all together to make your care the best we can?
I'm curious about your trips to Uganda. You said you've been there eight times, now?
Eight or nine.
How did you get involved in that?
I always had the desire to go to Africa to do medicine. When I was doing my fellowship in Chicago, I met a woman who had just gone to Uganda to do palliative care.
She said, 'Why don't you come along?' And I did, and I just kept going back.
When I left Uganda the first time, I asked the woman who started the program what I can do to help, and she said you can start a 501(c)(3) in the States. I'm not a great fundraiser, but I did start Friends of Hospice Africa USA, and that's been my role here. And then when I go over there, I work as a palliative care and hospice physician.
Do you just work as a physician, or do you train other doctors in palliative care and hospice?
Both. They're really well trained. It's amazing how well trained they are.
They have very few medicines. They have morphine. They have some medicines for nausea. So I can't take over a lot of the high-tech stuff we use here, because they don't have it. And to be honest, they don't really need it. It's amazing what little we can use over there and make people comfortable. I just bring experience that I have.
Some of the patients can get radiation therapy. Some of the patients can get chemotherapy. But not a lot. It's really limited, and where I go, it's really out in the country. So I'm going out into people's tiny houses, way out in the bush.
We do go into local hospitals, but most of the work is done in people's homes. And most people can't get anywhere to get help, so we have to bring the medicine to them.
I wonder what else you've learned about palliative care from working in Uganda.
I've learned how important a team is and working as a team. And I've learned that they accept things a lot easier.
In terms of bad news, or disease?
Yes. If a woman is diagnosed with breast cancer, maybe she can't go get treatment because she's got six kids to take care of, and who's going to take care of those kids? They're much more accepting of what life deals to them. If they can get help, that's great, and if not, well, they're just going to do the best they can with what they have.
And they don't need fancy things. I mean, everybody has a cellphone! But as long as they have enough to eat, and can stay clean — it would be great if they could have an education — that's all they really need.
Can I ask about your broken arm?
Well, I was playing with some kids, and we were seeing who could get the ripest mango in the tree. And I lost!
But it seems like you're feeling OK now, though you still have a broken arm.
Yes. They took really good care of me. They X-rayed me. I saw the ER doc. I saw an orthopedist. They wrapped my arm up. They had me come back, and they only charged me $48. That was it. I did have to walk around for three weeks with a broken arm.
People ask, did it hurt? And it only really hurt when I got home. I could walk into the hospital over there, or I could walk into someone's home, and I couldn't even begin to think of my arm. It's just so much that people were suffering that it really put things in perspective.
For more information, or to make a donation, visit http://www.friendsofhospiceafricausa.org.