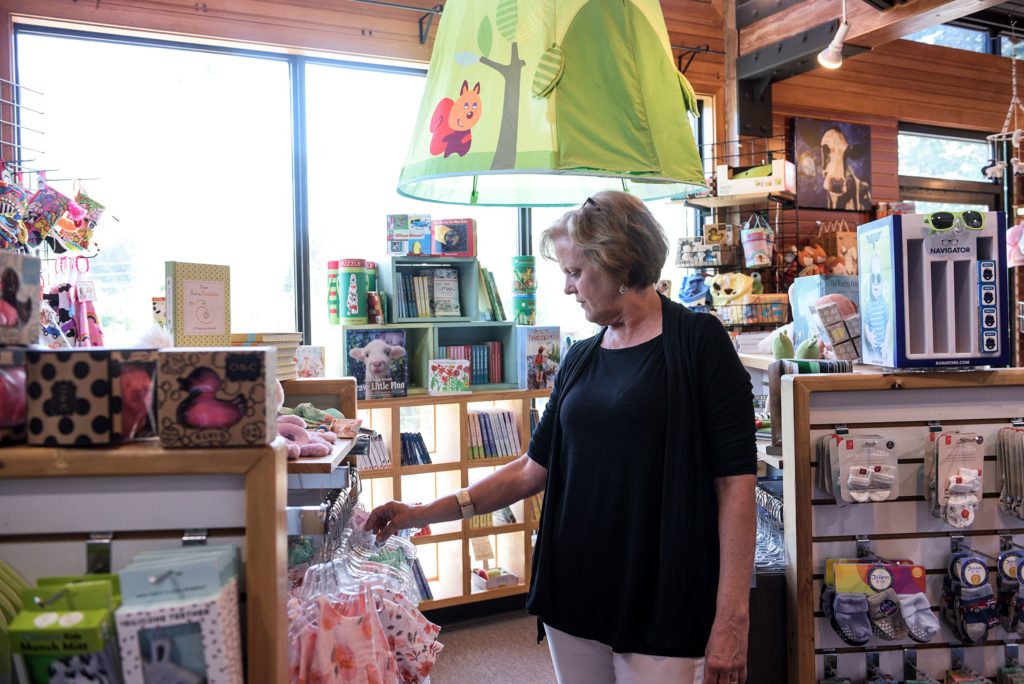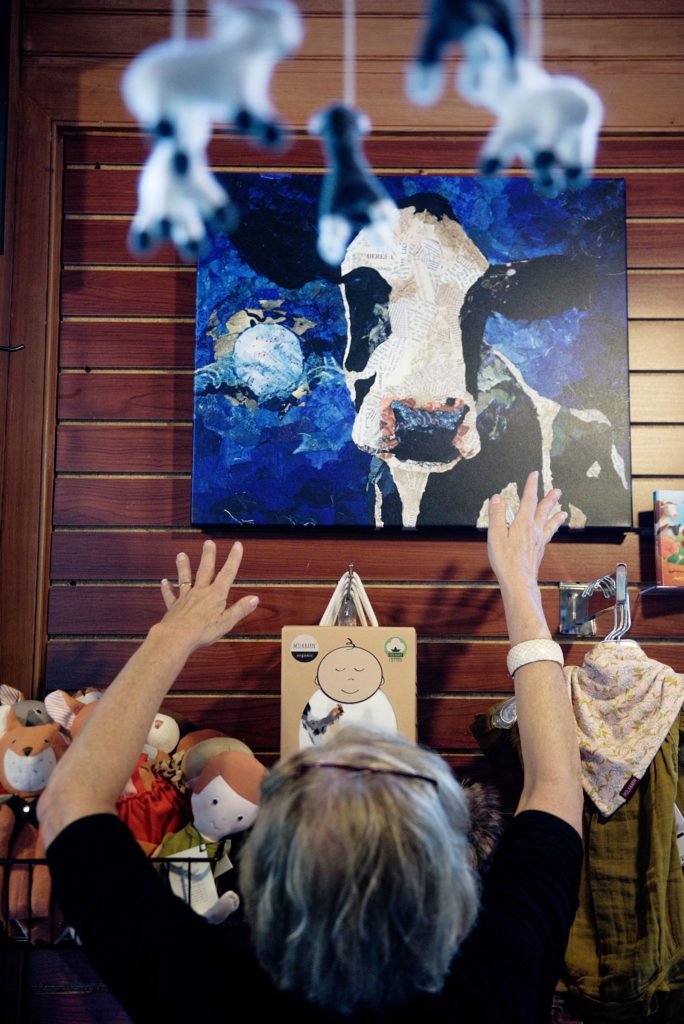 While some of the country's most prominent retailers are closing their doors due to the rise of e-commerce, Liz Joyce, owner of Country Kids Clothing, a boutique in the Power House Mall in West Lebanon, is bucking that trend. Since opening her brick-and-mortar location in July 2012, she's turned a profit all seven years, and she's only getting started.
"People have called it 'the retail apocalypse' and the consumer shift to online has been significant, especially the last two years," said Joyce recently at her store. "Is retail dead? I don't believe that's the case. There are a lot of people, even young people, who are overwhelmed, who can't and won't shop online. Customers often make the comment, 'I love to touch and feel what I'm buying.' "
Customers are touching and feeling and purchasing the goods at Country Kids Clothing, a 1,000-square-foot store with everything kids.
It is a gift-driven business, Joyce said, with customers' biggest purchases in the form of baby gifts, specialty birthday outfits and clothing and accessories for kids ages 7-12. From a semi-dressy outfit for a school concert, wedding or special occasion to the active outdoor lifestyle, Joyce keeps her clothes offerings conservative and young looking because "they're still kids."
When it comes to serving customers and fitting in with the shoppers, Joyce's inventory reflects the needs of daily living from Haba tents to seasonal outerwear: wool socks, neck warmers, balaclavas (full hood fleece pieces you wear under your ski helmet).
"We live an active lifestyle and are here (in the Upper Valley) for a reason," she said. "We love the outdoors so I carry clothing and accessories that accommodate an active, outdoor lifestyle."
There are fun and functional car seat covers, sunglasses and sun hats for babies and toddlers, Thinkbaby's No. 1 rated sunscreen and Green Mountain Tick repellent. A vast offering of clothes including organic brands, which are better for the environment with less pesticides and no chemicals in the dyes, are hot sellers, Joyce said.
Located in the Power House Mall for the past seven years, Joyce is at home and loves the location.
"With free parking and easy in and out maneuverability, it's really an ideal location, and it's critical to have evening hours for the working parents," she said.
When it's time to wrap the gifts, she impresses her customers with creative decor, boxes, satin ribbons and cow tissue for the finishing touch.
No stranger to retail, Joyce started her career working at Talbots. It set a precedence for her attention to customer service. She then went through an executive training program at Jordan Marsh, holding positions as a buyer and a merchandising manager before taking time to raise a family.
Originally from Cape Cod, she and her husband, Deane, moved to Upper Valley in 2001, and after a few years at home, she returned to retail as an assistant manager for Rugged Bear (formerly in the Powerhouse Mall).
"Those training grounds meant everything and set the table for my ability to operate my own business," she said. "When they (Rugged Bear) closed their business, my husband nudged me to open my own store given my background in business and retail."
Before Joyce was ready to flex her retail acumen, she sought out Upper Valley SCORE (in Lebanon, dedicated to educating entrepreneurs and helping small businesses start, grow, and succeed) to outline a business plan. She used SCORE's "template" materials and then went to workshops and met with SCORE mentor Tim Wagg, a Hanover resident and retired CFO.
"Having worked in retail, Liz knew what she was doing from the get go and she was familiar with the Powerhouse Mall, which helped," Wagg said. "In our mentoring sessions, we spent time reviewing the business plan and outlining financial goals. In her first year, she was within $2,000 of sales projections. I thought that was impressive. I'm really happy to see her do so well."
Despite Country Kids Clothing's success, Joyce takes little for granted and realizes the importance of staying relevant amid retail's ever-changing landscape. She keeps up with trends and still attends SCORE workshops occasionally. She also taps into a group of like-minded boutique owners. Her "go to" network is a private Facebook group focused on business-to-business retail with 60 members who own boutiques around the country.
"As a small-business owner, it's imperative to stay connected and networked to colleagues who can shed light on day-to-day challenges we all face," she said. "We share ideas almost daily: our successes, disappointments, new products and trends, you name it."
Staying relevant also means sharpening her social media skills. Joyce is currently working on adding shopping options to her Instagram account as well as implementing a customer rewards program to thank her regular customers. She posts multiple times daily on Instagram and Facebook and often includes private sales and contests to encourage more followers.
Joyce thrives when it comes to engaging with customers. In the middle of her interview for this story, she was double-tasking as a customer, Virginia Brooks, was ready to make a purchase.
"What do you think of this for my granddaughter? It's a medium right? Isn't it sweet?" said Brooks, of Cambridge, Mass.
Brooks had made a special stop to Country Kids in route to visit her grandkids in Vermont.
"They have always have a wonderful selection," she said.
Country Kids has evolved over seven years, and Joyce attributes its success to a family affair of contributions. When it's time to pitch in, her son has conducted inventory, her daughters have both worked in sales and helped set up the store and her husband, a silent partner, manages the accounting.
"When we first moved to the Upper Valley, the kids were in elementary school. It was really a lifestyle change," Joyce reflected. "My husband called it a version of a midlife crisis, and we have since settled in and the kids are now adults."
MacKenzie is 27, Kellie 26 and Conor 23.
Joyce also has been fortunate to have a store manager, Cynthia Jones, who has been with her since the beginning. The two worked at Rugged Bear together. Diane Phillips, a seasonal sales associate, also worked with Joyce at Rugged Bear.
"Collectively our team has 25 years of experience working in children's retail in the Upper Valley, which I feel is a huge part of my success," Joyce said. "Now that Cynthia has grandkids, she is an asset and knows what customers want and how they shop. She's also a 'True Vermonter' and will drive through anything to get to work."
When it comes to the ABCs of selecting merchandise, Joyce hits the trade show circuit attending annual events in Atlanta, Boston, Dallas and New York City.
"To find unique lines, you have to spread your wings," she said.
"Finding the right inventory is a constant adjustment. I like having newer lines and less inventory to keep things turning," she said. "At our store, customers know what they're getting. We have environmentally conscientious customers who are concerned about global warming and its impact on the environment of manufacturing clothing. It's not always cheaper, but it's quality and they sell great."
For other entrepreneurs and those looking to start a business, Joyce is eager to share lessons and what it takes.
"Be ready to be actively involved in the business, and if it's retail, it's seven days a week. It's work. It's rewarding and in retail it's nights and weekends — you have to put a face with your store," she said.
And a smiling face at that.
Country Kids Clothing is open Sundays 11 a.m. to 5 p.m.; Mondays and Wednesdays 9:30 a.m. to 6 p.m.; and Thursdays, Fridays and Saturdays 9:30 a.m. to 8 p.m. The store is in the Power House Mall, 8 Glen Road, West Lebanon. To learn more about Country Kids call (603) 790-8168 or visit https://www.countrykidsclothing.org.
Lynn Luczkowski is a SCORE volunteer and president of L2 Communications, a public relations, marketing communication and social media agency in Quechee. Email her at Lynn@L2comm.biz.