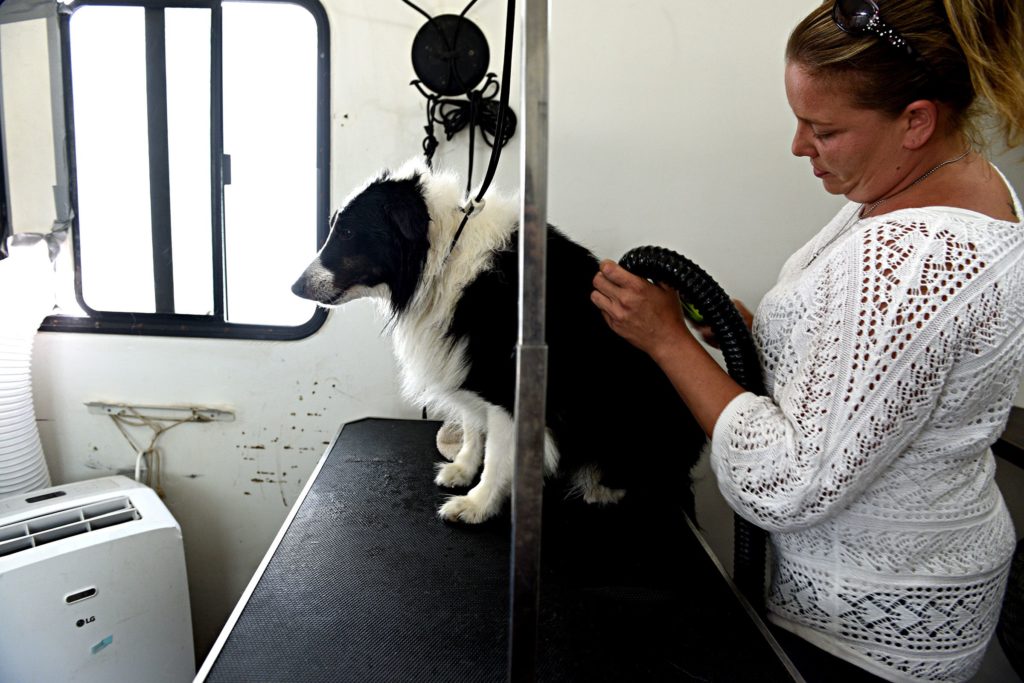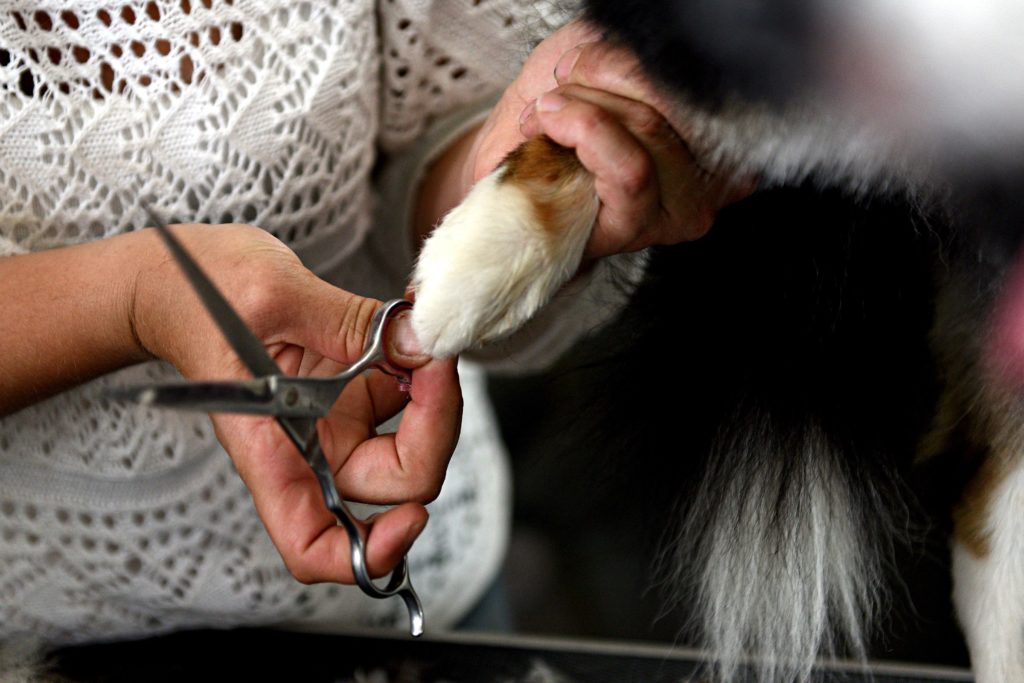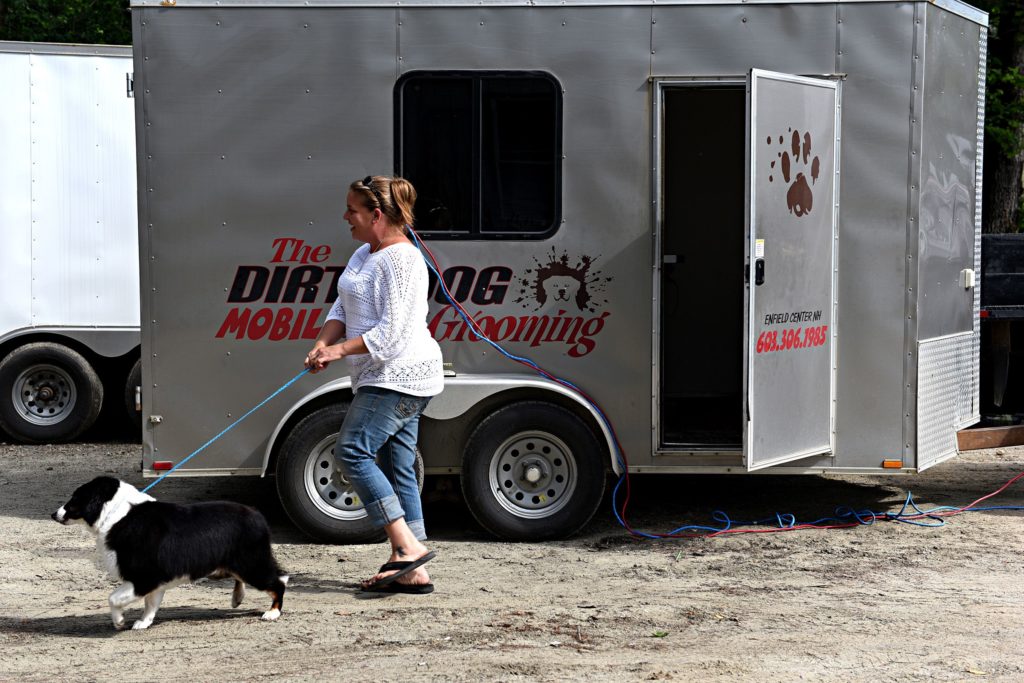 Americans spent $6.6 billion on pet boarding and grooming services in 2017, according to the American Pet Products Manufacturers Association, and the U.S Bureau of Labor Statistics predicts that jobs in pet grooming will grow by 11 percent through at least 2023. Add to that a 2018 American Veterinary Medical Association report that shows almost 30 percent of Vermont and 24 percent of New Hampshire households own at least one dog, and it's easy to understand why Samantha Stanford, founder of Dirty Dog Mobile Grooming, doesn't have a moment to spare.
While mobile grooming is trending nationwide, it would be a mistake to characterize it as a luxury or niche service. It's a necessity for those who don't or can't drive and a major convenience for pet owners who can't take time off during the day to travel to a groomer. Through a dog's eyes (and occasionally, a cat's), a mobile grooming service means not having to sit in the car for a long trip or wait for your people to come get you when all you really wanted to begin with was to be at home.
Stanford's idea to create her own mobile dog grooming unit was born partly out of necessity but also, as she said, "for the love of the dogs." She's been a professional groomer many years, but an accident a few years back left her unable to tend to the number of dogs per day she was accustomed to in a pet salon. She refused to give up and instead asked her dad, Gary Hutchins, to help her retrofit and transform a used trailer into a dog grooming palace on wheels. A longtime faculty member at the Hartford Area Technical and Vocational Center, Hutchins turned it into a group project for his Industrial Welding and Mechanics class.
Between dog appointments, Enterprise caught up with Stanford to talk about Dirty Dog and what it's like to crisscross the Upper Valley in search of grimy pets. (Questions and answers have been edited for length and clarity).
What gave you the idea to become a mobile dog groomer?
I've been a groomer for the last 15 years, but about three years ago, I had a severe accident. I needed to cut back, but I wanted to keep doing what I loved. Mobile grooming seemed to be the answer. It let me continue what I do best, feels more personal and compassionate, and it's an adventure to be an entrepreneur.
Is it just you, or do you have employees?
It's mostly just me, but honestly, I couldn't do it without my fiancé, John Kantkowski. He typically goes with me and helps if there's a mechanical problem with the van. We work around his schedule as a landscaper. I've thought about expanding, but it's tough to find people who can work a trailer and groom a dog. There's a lot more to it than working at your average grooming shop.
Why is mobile grooming more compassionate?
When I come to a dog's home, there's no cage time. It's just one dog at a time, and that's less stressful for everyone involved. The dogs are having a bath where they feel most comfortable: at home. At the same time, I can devote a lot of attention to a single dog and get to know them better. It's just a more comfortable atmosphere. Some dogs are fine with onsite groomers, but I've seen anxious animals who aren't comfortable in large places or they have separation anxiety. Coming to them is much less stressful. It's easier on their owners, too.
What was it like to get your business up and running? What were and still are your biggest challenges?
Well, this is New England so winter is definitely a test. But I have amazing customers who understand that we don't go out if it's snowing like crazy. Scheduling is a challenge all year round because of travel times in the Upper Valley, but winter really tests you because you don't know what the conditions will be.
I was incredibly lucky getting started because of my dad and his class at Hartford Vocational Tech. He and his students made it possible for me to buy a used van on line, with some upgrades for insulation and wipeable walls, but then, they retrofitted it so I could get the business off the ground in a major way.
What kinds of equipment does a mobile dog grooming van need?
For starters, you need to pressure treat everything because you're dealing with lots of water all the time. You also need to build in — and know how to use — auxiliary power in case you can't access electricity at a customer's home. My trailer has a full-sized tub, a grooming table, and all the supplies a shop would have. We also have a generator and an inverter system with batteries. Our hope is to someday run on solar power. What we don't need are cages. While I think crate-training is a great thing for dogs, when they're out of their homes and waiting, I prefer they not be in cages.
How important is access to power?
I have an inverter that converts AC to DC. But I also have a generator for air conditioning and blower work. Most people don't mind the sound of the generator, but if they do, I can always plug right into their systems. I work off a battery so my water pumps are always working. We hide everything behind a wall, water pumps, heaters, the whole works.
What's the appeal of mobile pet grooming?
It's just less stress on the animals, and it's easier for their owners. For example, many of my customers are doctors who work long days and can't take the time to get their dogs to a salon. But I can drive to someone's house, and even if they're not home, wash their dog and put it back in the house when we're done. A lot of the dogs I deal with have had serious anxiety problems in the past but they just jump right into the trailer when we show up.
Tell me something about your scheduling process, your coverage area, how you manage jobs over distances.
I try to combine towns and schedule people so I start afar and work my own way home. It gets smoother all the time. I have people that work from home, have demanding dogs or elderly people who can't travel. I'm always on the move, though, that's for sure.
Does Dirty Dog cater to other animals?
Yes. I've bathed cats but only if they've been groomed before. They're either OK with it or not. You definitely know with a cat! We had a bunny once. He seemed to really enjoy it.
What keeps you going?
I love working with animals and always have. I enjoy getting up every day to go to work. Dogs are always happy to see you. They wag their tails, they know they're going to feel better when we're done. When they jump in and realize they can look out the van window and see their home, it's all good.
Are you taking new customers?
Oh, yes. I'm still taking new customers but I'm getting close to the point of having to say, "no." I hope before that happens, I'll have a chance to meet as many dirty dogs in the Upper Valley as possible.