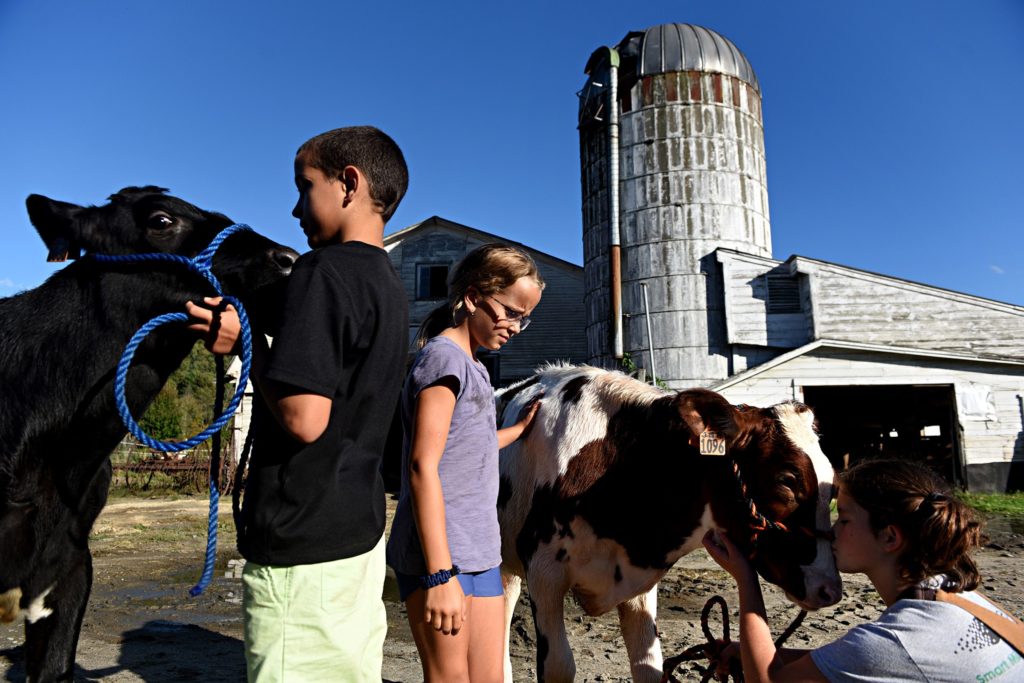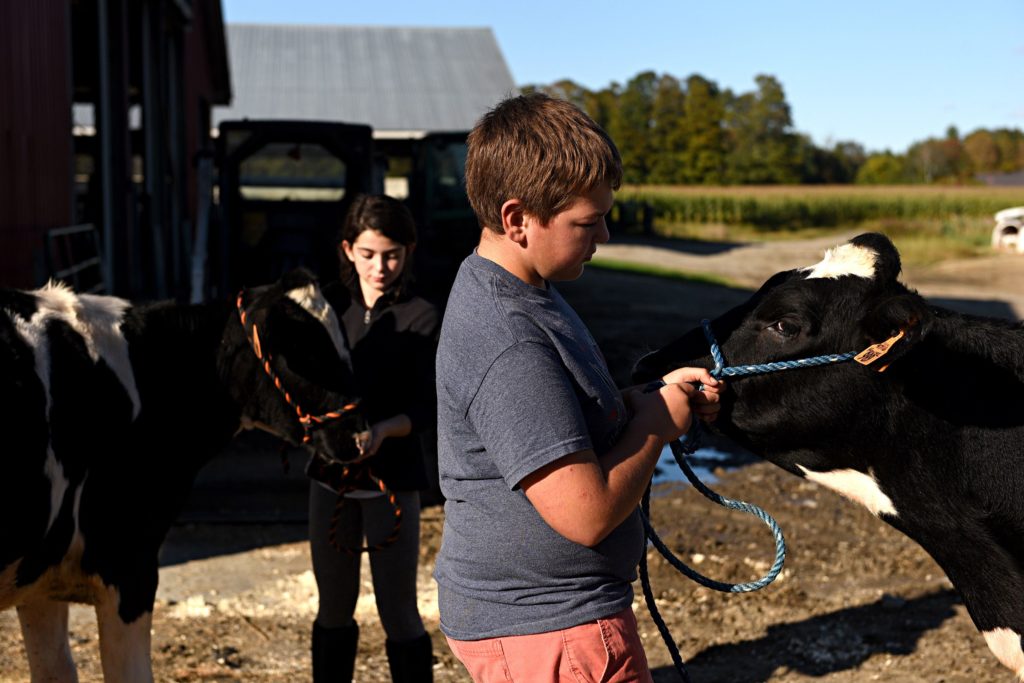 It may not seem like much of a real business deal but closer study reveals an investment proposition.
Orford's Tullando Farm, a 500-cow dairy that employs robots for milking, this summer leased prize heifer calves to a dozen 4-H Club youngsters from the vicinity to care for and then show at agricultural fairs.
There's not much of a direct economic payback to Tullando Farm, as no money is exchanged and the payment is in the work the children do, but even if only two or three of the kids get some experience and inspiration from taking responsibility for their critters, they just might go on to study animal science or production agriculture in college and take up a related occupation, whether it's hands-on "dirt" farming or in one of the many agri-business fields.
Nate Tullar oversees the lease-a-heifer program at Tullando and makes certain the participants hold up their end of the deal. They're expected to come to the farm and perform the routine chores of feeding and managing their assigned animal and to pitch in and help others get the work done.
The commitment lasts through summer and the show season, and Tullar works out schedules so everyone gets days off from their duties. A vital part of the program is learning how to fit animals for the show ring and then teaching them to lead on a halter and look their best for the judge.
What Tullando does for kids in the Orford-Lyme area is done by many other dairy, beef, sheep, swine and poultry farms throughout the Upper Valley. Virtually all expect the youngsters to take an active role in caring for their animals and won't allow in those who just want to go to the fair to get a ribbon and some prize money.
Andrea Chickering-Sawyer, a UNH Cooperative Extension youth development specialist, estimates that well more than half the animals exhibited by 4-Hers at this summer's Cornish Fair were being shown under lease agreements between actual owners and the children.
Recent years have seen a reversal of the traditional pattern of livestock showmanship — today there are more exhibitors leading the animals, but the farms represented in the ring are fewer, the opposite of how it used to be. And Chickering-Sawyer also notes that parents often benefit from the exposure to what it's like to be responsible for the care and well-being of a farm animal.
Jen Thygesen, a Tunbridge farmer and mother of a very successful 4-H dairy project participant, said the recent Tunbridge World's Fair likewise noted the uptick in children exhibiting animals, even though overall numbers of animals were down this year. Instead of a few farms bringing many animals, the fair now records many exhibitors who show just one or two head. She also points out that when it comes to poultry, it's not just fairs in the late summer and early fall we're talking about — you can find poultry competitions at various times of the year.
Of course the competing possibilities for kids' available time make taking on responsibility for tending a 4-H project animal an iffy proposition for many, and a definite non-starter for many others. Soccer camps, family vacation trips, video games and the like are formidable barriers to tending a calf and trekking to a fair to show her off. Another problem is the widespread belief that a youngster has to actually buy and own an animal in order to exhibit at a fair, but that's not so. Leasing is perfectly acceptable and is likely the most practical and responsible course for a youngster and her family to take.
The leasing of livestock is by no means a 4-H Club phenomenon.
Amid the popularity of having backyard flocks of chickens or even pet laying hens in an apartment, outfits have sprung up to rent chickens to people who only want to have them around for a while, like, say, the warm-weather months. A company in southern New Hampshire will bring you four hens ready to lay eggs, a cute little coop to house them in, artisan organic grain to feed them and an instruction pamphlet, all for around $600 for a season.
Around the country, there are herds of goats that can be hired to chew down brush and weeds where mechanical mowers can't navigate or where use of herbicides is forbidden.
Back in the early 1990s the Public Service Company of New Hampshire enlisted a flock of sheep to feed on vegetation along power line rights-of-way. The animals did a good job, but the utility didn't like the cost of bringing in the sheep from Montana and employing a shepherd to keep the beasts focused on their job.
A generation ago, leasing whole herds of dairy cows was in vogue, spurred largely by quirks in the U.S. tax code at the time that lured high-cash-income non-farmers like doctors, dentists and stockbrokers in to avoid some of the IRS's bite. The same tax gimmickry also led to unneeded investment in such commodities as wine grapes and apples that continues to plague those sectors of agriculture today.
Steve Taylor lives and farms in Meriden.