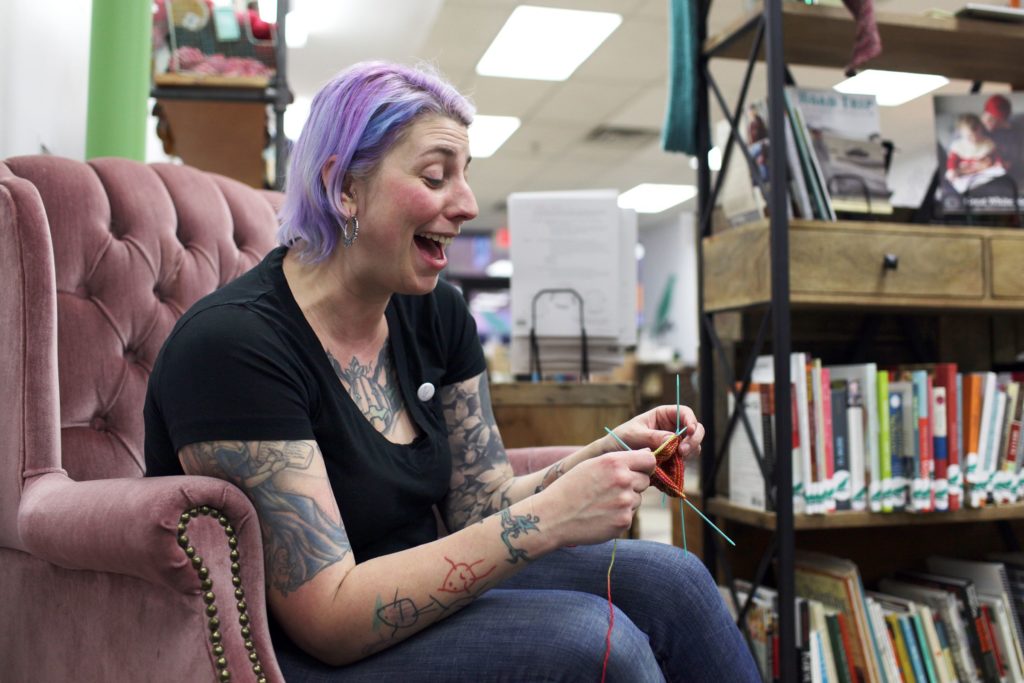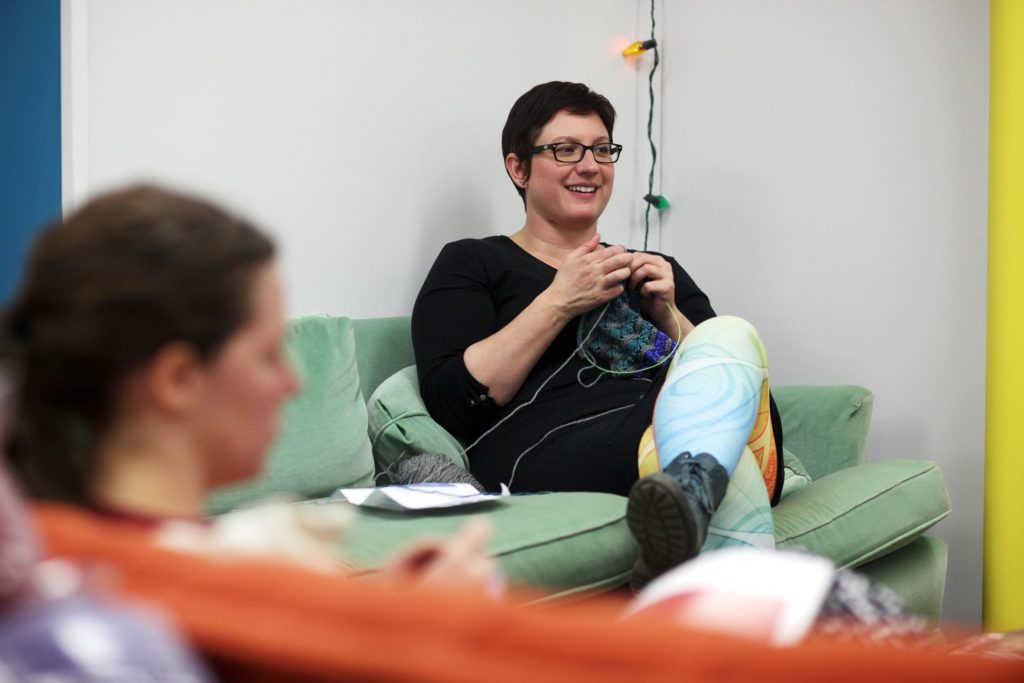 Winter in the Upper Valley is full of outdoor activities, but sometimes you want to escape the cold and cozy up inside with good friends and good conversation. That's exactly what happens at Scratch Supply Co., a fiber, fabric and supply shop in Lebanon.
On a given day in the shop, you'll see patrons coming in and out, troubleshooting their projects, perusing through the carefully-curated inventory of yarns, or just catching up with friends. Since Scratch opened in 2016, owners Jessica Giordani, Karen Zook and Travis Griffin have nurtured the open, inclusive community environment just as carefully as they've built their business.
"There aren't a lot of public spaces available to the community where there isn't an expectation that you buy something that day," Zook said. "Here, you can bring yarn into the shop and spend all afternoon knitting on the couch, and we're not going to care that you didn't buy more yarn that day."
Making space is a way of investing in the customer, knowing that if they fall in love with knitting, they'll likely become a long-term patron.
"From a business perspective, we want people to be successful with their craft," Zook said. Sometimes a customer will come in with yarn that they bought years ago, hoping for guidance on a project that has been hanging over their head.
"If they can't get help, they're never going to pick up a second project," Zook said. Building a customer who is confident in their craft and wants to invest in high-quality materials "takes some time, and that's fine with us."
"Experience and education is a really important part of this industry," she said.
On a snowy December day in the Upper Valley, Enterprise caught up with Zook and Giordani to talk about craft, community and why brick and mortar stores aren't going anywhere. (Questions and answers have been edited for length and clarity).
You're running a small business, in a rural community, targeting a niche market. How do you make it work?
Zook: There's a narrative about small business, that brick and mortar stores are on the decline. We have found the opposite of that. If you are offering something that cannot be offered by the internet, that's the whole point. For us, that's community.
Giordani: There's a camaraderie and connection through shared love of fiber craft, and that was really important to us to be part of the experience at Scratch. You can meet strangers and have a new best friend. People aren't sure how to connect with other people. This is the space where that happens.
You sell products, run classes, host trunk shows and host events. Where does most of your income stem from?
Zook: The majority of our income comes from products. We want people to have access to the classes, so there are almost nominal fees. They might cover the cost of the pattern.
We also have an online store, about 20 percent of business is online. We ship across the region and the country. We've even sent orders to Japan!
Your ethics and belief system are a central part of Scratch. You source your inventory from indie wool dyers, and choose to elevate underrepresented voices, including people of color and members of the LGBTQ community. How does publicizing your beliefs intentionally affect your business?
Zook: Part of how people find us and the national audience that we have has to do with our philosophy. People are loyal to us because of the stances that we've taken and the community engagement we've done.
Giordani: One of the things that makes us a place that knitters seek out is that we're really intentional about who we work with and what we offer here in the shop. Because we're working with indie dyers and such small businesses, knitters are able to come here and find unique things, things they can't get anywhere else locally.
Do you ever worry about mixing business and politics, so to speak?
Giordani: The way we are public about our personal beliefs in this business is key to who we are. Scratch does not exist without who we are as people. We as people love this community and are really invested in making this a space for everyone. Hiding who we are as people takes away from what we have to offer as a business. We're principled in supporting diversity. Visibility for all people is important for us and we make it clear in our business. We can't exist in this community as we do without being public about our beliefs.
Being public about our beliefs makes some people uncomfortable, but if we are to dial it down, we are making underrepresented people uncomfortable.
People think a lot about seasons when it comes to outdoor businesses in the Upper Valley. Do the changes in weather affect you as well?
Giordani: There's definitely a wool season. The people who really love to knit will knit all summer long, but we see an uptick once fall hits, through the time when you start thinking about your garden.
Zook: We're planning to try some new class things this year, but we understand the rhythm of the business and plan for it. The slower times are a good chance for us to tend to some of the other needs of a small business, like bookkeeping or rearranging the store.
An interesting thing about The Upper Valley, and Lebanon in particular, is that we have the college and the hospital, so they're bringing in people every summer. We get people who are exploring, and that's a chance to involve them in the community. Because we're bright and colorful, people come in. That makes it a lot of fun.
Kelly Burch, of Claremont, is a freelance journalist and editor. Her work has appeared in The Washington Post, the Chicago Tribune, Boston Magazine and Cosmopolitan.​