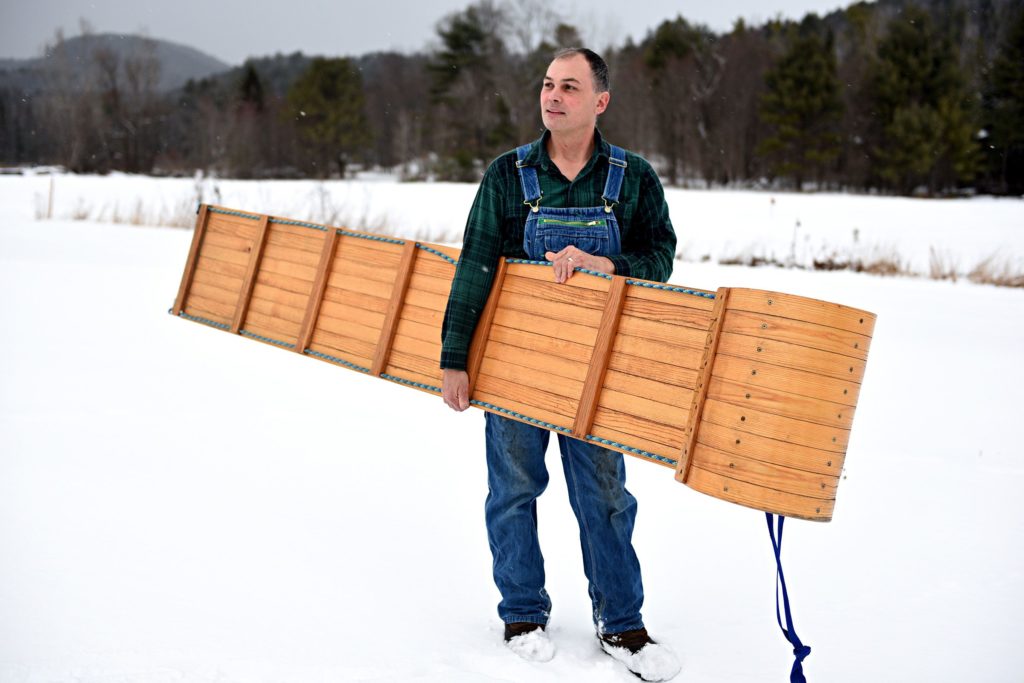 No matter how long it's been since you last went sledding, the memory of swooshing down the hill, filled with equal parts terror and exhilaration, likely still brings a smile to your face. It's no wonder that winter landscapes filled with sledding children are a beloved sight throughout New England.
Glen Norton wants to make sure that the next generation has those same memories.
"I'd like to bring back sledding," said Norton, the owner of Norton's Vermont Toboggans.
That's part of the reason that Norton's prices are surprisingly affordable. Norton handmakes artisan toboggans in West Fairlee that he sells locally and through his website for $175-200, depending on whether you're shopping for a child or family size.
"If I could come out with a product that's affordable and could help kids go outside to enjoy the fresh air, I'd rather do that," than raise price, Norton said.
The desire to make quality toboggans more affordable is why Norton started making sleds back in 2011. He was out with his father, Garreth, when he noticed a toboggan retailing for more than $300.
"I don't think this would be too hard to build," Norton told his father.
The two were handy — Norton's day job is laying flooring. Still, it took a lot of persistence to figure out how to build a quality toboggan. There was nothing online about how to bend the wood into the signature curved front of a toboggan without breaking it. Norton wound up with many cracked pieces of wood.
"Because I don't give up on things, we tried different things with a lot of trial and error," Norton said. "We had to just figure it out. It took us hundreds of hours to learn how to steam-bend and get it down to work."
Eventually, the hard work paid off.
"Through prayer and my dad's help, things started happening," Norton said.
He is still secretive about his process, which is understandable since it took him so long to perfect. Norton will say that initially he would build the sled and curved all the wood together. Eventually, he realized that he could create a more refined product by bending and finishing each piece of wood (or ski) separately, before assembling the sled.
"I'm always, constantly thinking about a better way to do something," Norton said. "That's just the way I think. It would drive my dad nuts."
Despite being a headache for his father, Norton's tweaks to the design process paid off. His sleds began getting attention regionally and even from a manufacturer in Japan.
"We have sleds on the other side of the world right now, which is kind of cool," Norton said.
It's hard to say how long it takes to craft a toboggan, since Norton build sleds in batches. He starts with rough-cut, kiln-dried wood (usually ash or oak) from a Vermont sawmill.
"Everyone says you can't steam bend it, but I'm able to," Norton said.
The first step is cutting the wood to size and steam-bending each piece individually. After that, the individual skis are sanded and finished.
"There's a fairly lengthy process on sanding off the water marks after you steam bend," Norton said. "That's probably the lengthiest part of the whole process."
Once that is finished, it's time to assemble the sled.
Since Norton has a day job, it sometimes takes him time to get into the creative space that he needs for making toboggans.
"There's a transition period, where I acclimate myself to (the) shop, look around, organize, then leave," he said. "But once I get making them, the day flies by. I don't even realize it's dark out."
Norton would love to eventually be making toboggans full-time, but for now he's happy to watch his side business grow organically.
"I could go get a loan to build this huge thing, but it's been building itself for years," Norton said. "I'd rather just let it build itself. I don't want to go into debt."
Despite dedicated enthusiasts like Norton, sledding, let alone tobogganing, isn't as popular as it once was. The nostalgia for those winter scenes, however, is as strong as ever. Because of that, Norton has been experimenting with making decorative toboggans. He sells a miniature version of his baby sled that is roughly 7 inches by 22 inches, the perfect size for hanging on a wall or filling as a decorative gift basket.
And although winters in the Upper Valley can be long, Norton wants to deliver a product that can be used year-round. That's how he developed the Wagoboggan, a sled that can convert into a wagon for the warmer months.
Norton day dreams about visiting schools one day and getting kids excited about woodworking and sledding.
His dad, a Vietnam veteran, is no longer able to work with him due to his declining health, but Norton is proud to carry on the craft that they figured out together.
"It was through his help really that got me going on figuring things out. His guidance," Norton said. "Now, this is my passion."
Norton's Vermont Toboggans is in West Fairlee. They can be reached at 802-477-2273 or visit http://www.vttoboggans.com.
Kelly Burch, of Claremont, is a freelance journalist and editor. Her work has appeared in The Washington Post, the Chicago Tribune, Boston Magazine and Cosmopolitan.​