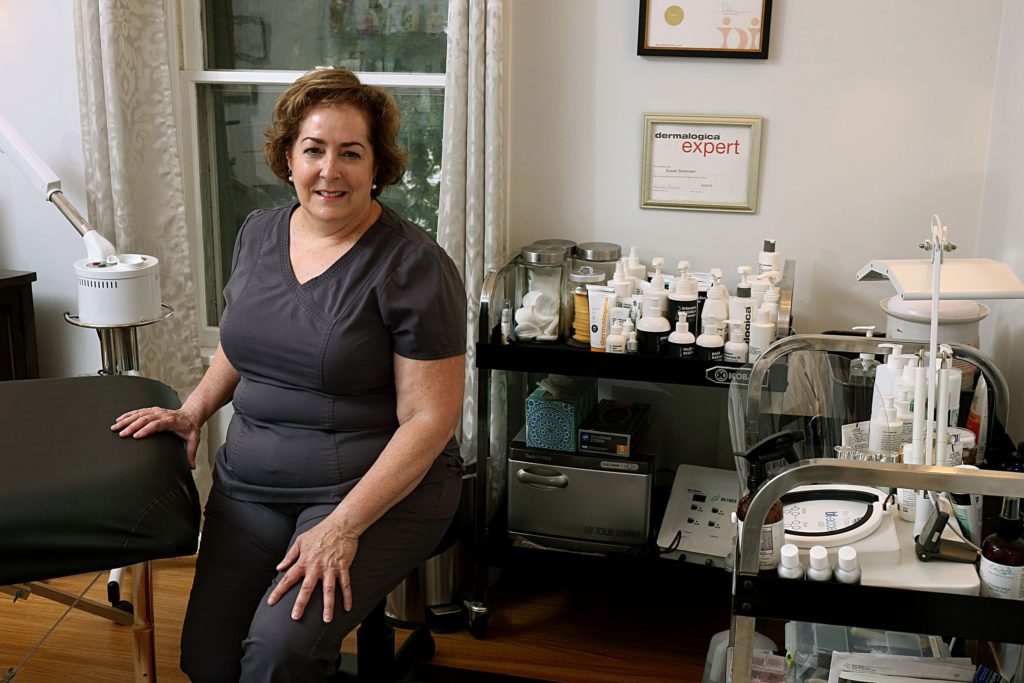 Susan Sorensen has been helping clients in the Upper Valley put their best face forward since 2014, when she opened AboutFace Skin Therapy in Lebanon. Enterprise caught up with Sorensen, a licensed aesthetician, to discuss skin care as part of an overall health regimen, and the challenges of marketing skin care services in the era of multi-level marketing promising miracle cures. (Responses have been lightly edited for length and clarity.)
It seems like many people who engage in other self care — going to the gym, getting a massage or practicing meditation — hesitate to get professional skin care. Who is your typical client?
Sorensen: It's mostly women as you might imagine, but I'm always excited when men come in. Their skin needs treatment, too! As a licensed aesthetician, I provide a range of therapeutic skin treatments from chemical peels to ultrasound therapy. I do a lot of anti-aging treatments but also help people with skin conditions like rosacea or acne. Occasionally, I refer clients to a dermatologist, but most of the time, we can make a big difference in their skin's health and appearance through regular treatment.
Is skin treatment a treat or a necessity?
Sorensen: I have some people who see it as an indulgence, but most people who come to me see skin care as a necessary part of their overall health and well-being. Your skin is your largest organ, and it needs to be cared for. Skin protects your other organs and affects your microbiome. It protects you from infection, which we're all thinking about these days.
People who go to the hairdresser every six weeks or the dentist every six months will go years without paying attention to their skin. It always astonishes me when people have perfect teeth but their skin looks awful. And your hair is just a protein, but people take such care of it. Your skin is a living organ that needs maintenance and attention.
So people should be coming in for a regular facial?
Sorensen: "Facial" is a pretty general and overused term, and not descriptive of what I do. I consult with people about their skin conditions and help them develop a routine to make their skin healthier.
Sure, people come here because they want to lie down and relax, then get up and leave here looking and feeling better, but skin care is more than that. It's kind of an extended conversation. My clients understand this is not a place to come for a miracle: There are no miracles in skin therapy. There's good care, consistent care.
You don't embrace the term facial. Are there any other challenges you have in how people talk about skin care?
Sorensen: There are a lot of misconceptions. There's an idea that this is prohibitively expensive, but my services bring health and value to the consumers. In a few sessions, we can get your skin healthy and it becomes pretty low maintenance after that. Most of my products and services aren't as costly as people expect.
Sometimes, it's hard to help people understand the value in quality skin care. People have been misled by very expensive skin care products that don't do much for the skin. Then, they don't think about coming into a business like this to purchase skin care products, although the makeup and skin products that I sell are a better value and higher quality than what you'd get in a drug store or a makeup store like Sephora.
Have you found ways to convey that in marketing?
Sorensen: Posting on Facebook and taking out adds in local magazines has worked best. But I need to toot my own horn more for sure. I don't want people to think this is a glorified MLM business, or that I've rented a space to sell mineral makeup. I'm a licensed professional. Ultimately, recommendations and word-of-mouth is very important. When a person becomes a regular client, my name is on their face. I want them to get the best possible results.
You were closed for more than two months earlier this year. Now that you've reopened, how is the pandemic affecting business?
Sorensen: I'm seeing a lot of skin conditions these days resulting from people wearing masks!
Once we reopened, I had a lot of bookings for people who just wanted to get the COVID stress off their faces — stress can really take a toll on skin. I've started offering Zoom consultations where I can recommend products and send people samples. We check in in a week or two and tweak the routine. That's an even more affordable way to give more people access to professional skin care. My hope is those people will eventually come in and have a treatment.
How did you become interested in skin care?
Sorensen: I had acne as a teenager. I wish there had been someone like me to go see. That person could have helped me greatly.
Nothing looks as good as how you feel with healthy skin, and now I can help people achieve that, whether my client is a teen with acne or a middle-age woman struggling with skin changes during menopause. When people exude confidence, they feel good.
Recently I had a client who was seeing me and a dermatologist. We were working together to help control her skin conditions. When we were finished, she felt like she could conquer the world. When you can make a difference in someone's life that's really powerful. That's why more people should have access to this.
Kelly Burch, of Claremont, is a freelance journalist and editor. Her work has appeared in The Washington Post, the Chicago Tribune, Boston Magazine, Cosmopolitan and elsewhere.​ Follow her on Twitter @writingburch.​