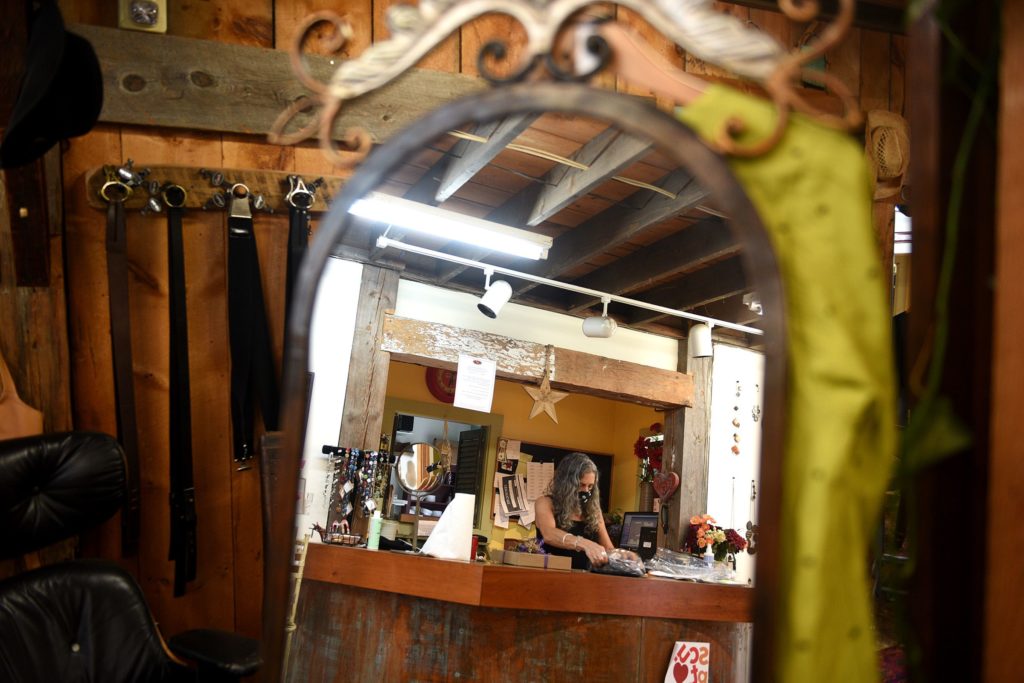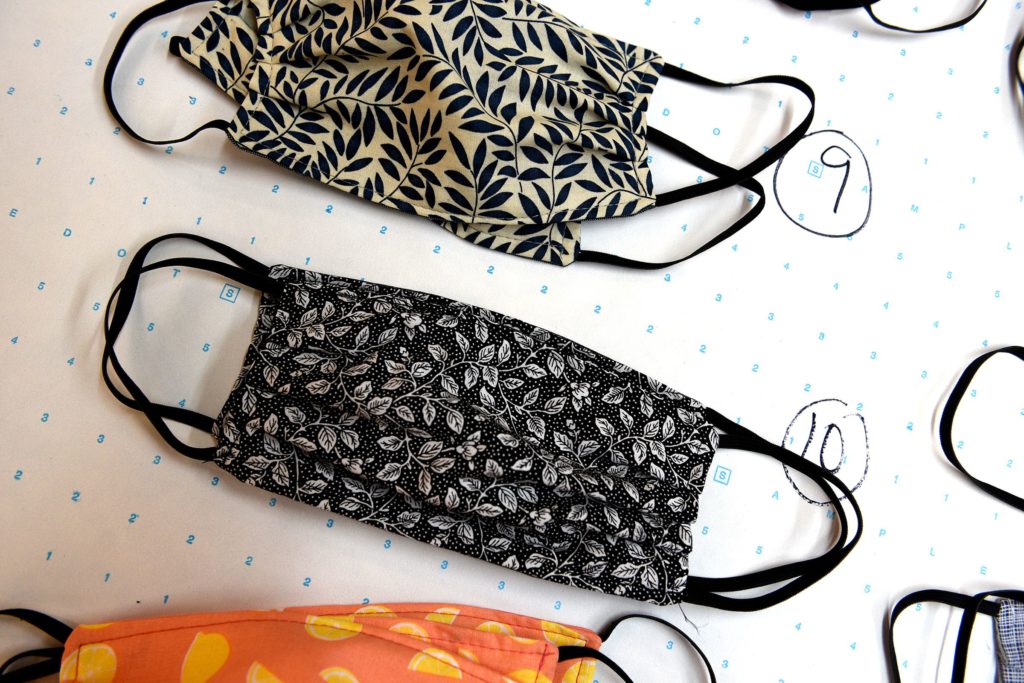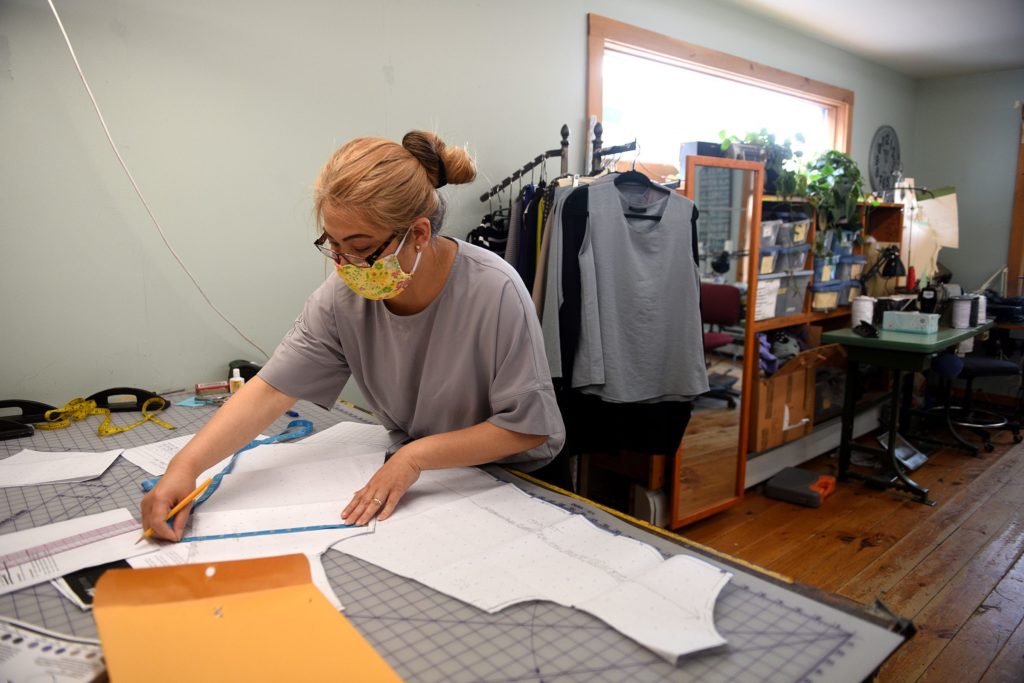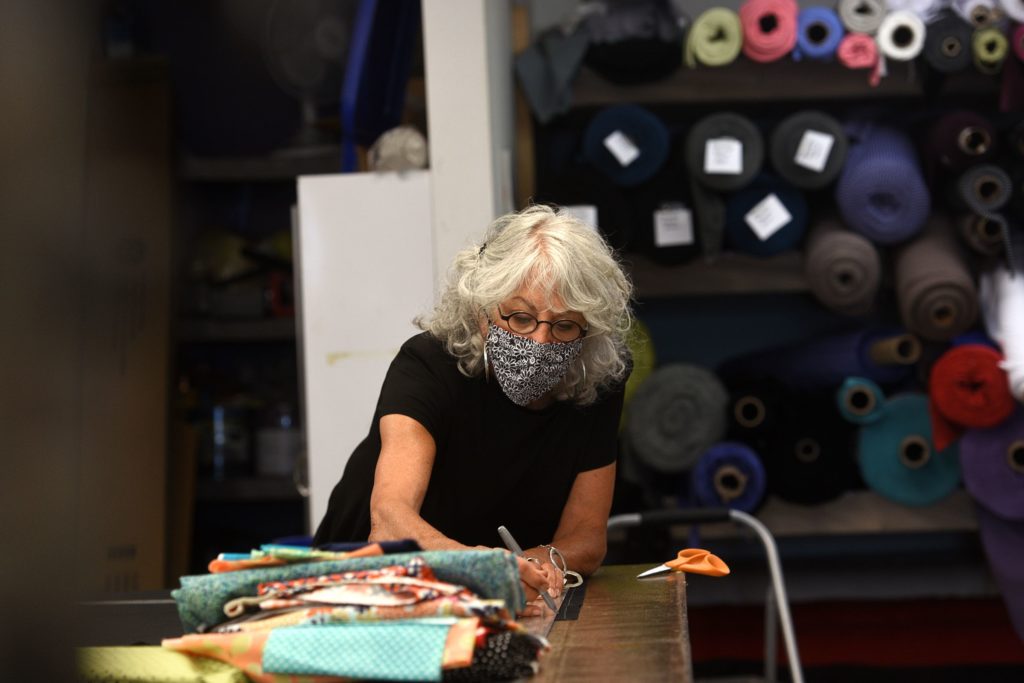 More than 40 years ago, Joan Ecker started Fat Hat Clothing during a tough situation. She was a single mom, launching her business largely from the back of her Volvo and sewing hats beneath a tarp while her friend helped her build a home. Still, she pushed through.
In the decades since, Fat Hat — now known as F.H. Clothing — grew into a big business, producing comfortable women's clothing from its headquarters in Quechee. Yet, in 2020 Ecker again finds herself flying by the seat of her pants to keep the business going during a global pandemic, hoping that rather than hats, masks will be the answer this time.
"It's what held us together," Ecker said. Since the start of the pandemic, F.H. Clothing has sewn and sold more than 5,000 masks, enough to keep the business operating.
The operation started in March, with a plea from Dartmouth-Hitchcock Medical Center asking for mask donations.
"We figured we could fill that," Ecker said.
An anonymous donor "with a big heart" gave the company $5,000 to produce masks. Ecker, along with her daughter Jen Ecker, her grandkids and a few core employees started cutting and sewing masks around the clock.
"We gave them all away, until we ran right through that money," Ecker said.
With her employees having trouble accessing unemployment during the early weeks of the pandemic, Ecker was able to continue paying them for sewing masks, providing a bit of security.
It took a while to iron out the hiccups in mask production.
At first F.H. Clothing made masks with flannel but realized they'd be too warm coming into the summer months. No one could get elastic since it was suddenly in high demand for ear loops until Jen Ecker found a source in Massachusetts.
The team realized their masks should be more secure over the nose, so they started sourcing metal for nose clamps. But just as F.H. Clothing was getting in a good routine with production, "we ran out of donation money," Joan Ecker said.
About that time, it was becoming clear that everyone — not just health care employees and frontline workers — was going to need face masks to protect themselves from the coronavirus. F.H. Clothing started selling masks for $5, which they sold to wholesalers and local community members, who could call the Quechee store for orders.
Although the masks were popular, Ecker realized they weren't a viable business solution. F.H. Clothing was spending about $3.25 on materials for each mask. When Ecker factored in the labor cost, she realized she was barely breaking even on the sales. In May, she raised the price to $8 per mask, which improved the business' cash flow.
The profit on masks is still extremely slim. But with wholesale clothing orders down 92% and overall revenue at just 15% of normal, the masks are keeping F.H. Clothing open.
"The masks are what kept our lights on," Ecker said. "It did help us get through this time, because we had cash flow coming through."
In June, Ecker noticed that the demand for masks was beginning to lessen. However, she has no plans of stopping mask production any time soon. The effort is both practical — creating revenue for a struggling business — and philosophical.
"It's a blend," Ecker said. "We certainly needed financial impact from the masks, but this all began because of our sense of community. We're strong believers that you don't go anywhere without a mask on. We are trying to be responsible citizens."
Even with the mask sales, F.H. Clothing is under strain. The company typically has 12 employees, but is down to five. Everyone is assuming new roles.
"I'm down being the salesperson in White River Junction. Our (fabric) cutter is answering the phone here, trying to help out the one retail person. And Jen's doing everything: ordering, hanging, ironing."
Orders for the fall season are trickling in but are still drastically reduced. F.H. Clothing started the year strong, with the best first quarter the business has seen. That's allowed them to weather the storm, but Ecker isn't sure what the future will hold. Right now, she's dealing with an array of issues: supply chain interruptions and increased prices on orders she's already placed, coupled with wholesalers and customers asking for reduced pricing.
"The idea of lowering your prices when you're getting slammed everywhere is impossible," Ecker said. "The problems are enormous on every level."
One worry is staying true to brand at a time when people have less disposable income.
"We have a niche with moderately-high priced, comfortable, easy clothing for women of all ages," Ecker said. "That's what defines us."
Looking at the rest of the year, Ecker is cautious, hoping that all those masks she's helped produce will continue to flatten the curve of the coronavirus in Vermont and New Hampshire and avoid another shutdown.
"I'm not sure what's going to happen," she said. "Nobody will recover from a second wave."
It's tricky when what's good for infection prevention — staying home and not shopping — is in opposition to what's good for business. For now, Ecker is doing the best she can, producing both masks and clothing.
"It's a lot of work to just be hanging on," she said. "To be just hanging on when we're working this hard is difficult."
Kelly Burch, of Claremont, is a freelance journalist and editor. Her work has appeared in The Washington Post, the Chicago Tribune, Boston Magazine, Cosmopolitan and elsewhere.​ Follow her on Twitter @writingburch.​