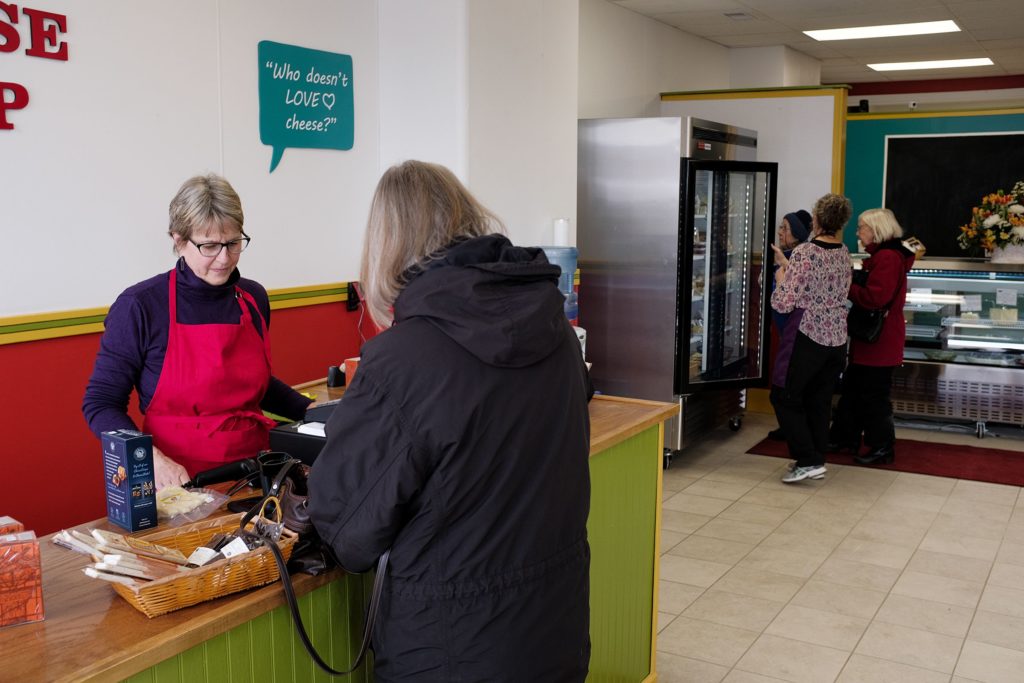 Our present-day situation, as they say, is fluid. If being an Upper Valley entrepreneur pre-COVID was akin to floating on a placid lake, awaiting quiet inspiration before paddling forward in a charted, safe, almost predictable direction, then our current situation can feel like navigating Colorado Class VI rapids without a paddle in the dark of night.
How is the pandemic affecting small businesses in the Upper Valley? We are experiencing a black swan event: an unpredictable life-altering event that is beyond our normative experiences and expectations. Even the most risk averse among us could not be wholly prepared.
To state the obvious, the consequences have been severe.
Black swan events are characterized by their extreme rarity and their severe impact, compelling or forcing people to reassess both their general perspectives of reality and their prediction models for what might transpire next.
Consider Jeri Martino's circumstance.
The owner of Out of the Whey Cheese Shop in Bradford, Vt., Martino opened her doors Feb 19. Five weeks later, she was blindsided by the nationwide lockdown. Streets and shops emptied. No one was around: No customers, no forewarning, no anticipated reopening.
Four months before then, in November, Martino retired from the Grafton County prison system after spending the last 16 years of her career looking forward to a new life and lifestyle of independence and private ownership.
With always too much energy, she set out to find a business to own and operate. She had no idea where to start, other than wanting the business to be hers and for it to be in Bradford.
As fate would have it, she stumbled upon a New Hampshire Chronicle show about a cheese shop in southern New Hampshire. That is what she wanted: an upscale cheese shop in Bradford to call her own.
But she had a lot of questions: Where to start? What to do? Who could help?
She called SCORE Upper Valley in Lebanon. She had read that SCORE and SCORE mentors were part of a stable of resource partners for the U.S. Small Business Administration.
She was assigned Bruce Butler, a five-year SCORE volunteer/mentor. She explained her circumstances and her dream. Together they worked on a business plan. This is an iterative process with a mentor analyzing, challenging and testing one's assumptions in the preparation of a cash-flow statement and/or financial projections.
Equipped with a vetted business plan, Martino approached the SBA and Woodsville Guaranty Savings Bank and obtained a loan to start a cheese shop. Key to getting an SBA loan are the six "C's" of credit: character (no felonies, good credit score); capacity (to repay loan); capital (cash and sweat equity); collateral (savings, real estate); conditions (terms, interest, biz climate); and cash flow (sufficient income to pay loan and interest).
Martino reflected on this aspect of starting her business.
"Bruce Butler was a life saver in preparing a business plan, explaining the mechanics and many interactions in an income-and-expense or profit-and-loss statement, and how to present a good credit position," she said. "He was supportive and a great sounding board throughout the process."
She noted the importance of community, and a local bank, and the SBA in taking a "rooting" and financial interest in bringing a new business to their small community. They wanted her to succeed.
Next was implementing initial phases of the business plan.
A store location had to be found and secured. Vendors had to be re-contacted (after initial contact used to develop the plan).
Locating the ideal property for her business was at times difficult with the various lease terms and traffic variables to consider, but eventually, she settled on a prime spot. The day that Martino was to sign her lease, she took an additional day to make sure her decision was right.
That wait time led her to a new choice. Serendipitously, a company on Main Street announced it was relocating to a larger property. The most ideal but unavailable location was now hers if she wanted it. Martino quickly inked a lease for this new location.
She remodeled and painted, doing most of the work herself, until everything was in order and ready for a grand opening. She ran a few ads and opened the doors to a new venture and way — (or, shall we say, "whey") — of life. From clarifying to realizing her dream the process was relatively painless, straightforward and even exciting.
And then the COVID-19 mandatory shutdowns began.
Martino was forced to close due to Vermont's COVID-19 rules and regulations. She did not panic. She was thankful that her business plan provided for some contingency funds that she used to make her loan payments until relief would come in the form of SBA debt forbearance. Her employees filed for unemployment and Jeri used that time to revisit her business plan and strategize, as best anyone could, about how to manage business coming out of the COVID restrictions.
She reopened Out of the Whey Cheese Shop on May 4, this time utilizing a "soft" rollout: no ads and no employees. Business has improved each week as COVID regulations have relaxed and more shopper traffic — including more out-of-state patrons — visit Bradford and the surrounding area. She intends to rehire her original employees as foot traffic increases.
The pandemic has had a ripple effect on different products and aspects of the supply chain. In this instance, it has affected the dairy farm business, which in turn has implications for Martino's cheese shop.
Dairy farms in the area have had to discard milk, reducing availability (with the attendant increase in cost) due to the reduction of demand from the largest consumers, namely restaurants who were forced to shutter their businesses as well. The predictable laws of supply and demand have become a veritable roller coaster, shifting dramatically from one week to the next.
To survive in this uncertain pandemic environment, Martino like many business owners realizes she needs to stay nimble and respond quickly to changing circumstances. She has been attentive to product prices and product availability, and in turn, is dependent on the financial health of her suppliers and customers during the pandemic.
Another business that is managing through this pandemic is Goldcoast Housecleaning LLC in the greater Woodstock area. Goldcoast, a residential cleaning service with a small but growing commercial cleaning operation, came to a screeching halt in March. This halt affected its sole owner, Sarah Kaminski Adams and nine part-time employees.
What does one do when not deemed an essential business? Your circumstances are out of your control. Helplessness abounds. The Cares Act, with its many changes and delays, makes it all the more difficult for small businesses not equipped to interpret convoluted government rules and regulations, causing these business owners to become cautious and timid for fear of a misstep, even when survival requires fast-acting adaptability.
"We are getting so much information so quickly, and it is changing each day. It can be overwhelming for the small business," Kaminski Adams said.
As is often the case with bureaucracy-generated guidelines and regulations, protective measures fail to consider the financial hardship of complying with new regulations. It can throw entire business models out of order. For example, Goldcoast Housecleaning had to prepare a 20-page prevention, preparedness, and response plan. These plans to implement a new COVID-safe environment limited the business to taking only one job per day per employee when two or more jobs per day had been the previous norm.
In addition, Goldcoast was not at liberty to increase the price per job. They had no ability to retool or change service offerings, unable to even reduce product costs to their business being one that touts a line-up of "green" cleaning products and safety protocols used in each home. The cost of advertising to potential new customers is also prohibitive under this truncated productivity model. Financially and emotionally, it is a daily struggle of uncertainty for both the business and its part-time employees until productivity can resume to past levels.
More federal and state financial relief may be necessary. Barring that, the only hope for businesses like these is that there will be some return to normalcy in the near future.
As we struggle to find what the new normal looks like, there is a reflexive temptation to look back at our pre-COVID-19 lives for guidance. But, we must do so carefully, or we might end up in an even worse condition than we are in today if new hurdles, instead of relief, come our way.
A new normal may not be fully understood for months or even years. We need to accept this pandemic reality.
What to do? How do we organize our personal lives? How do we organize our business lives with all these unknowns? Ponderous, indeed. Welcome to tomorrow! Business must find its own optimism in its ability to adapt to these new pandemic changes.
There is help out there from SBA and SCORE. These organizations offer virtual advising as well as webinars assisting small businesses. Together businesses and entrepreneurs can adapt, share information, learn from one another and prosper.