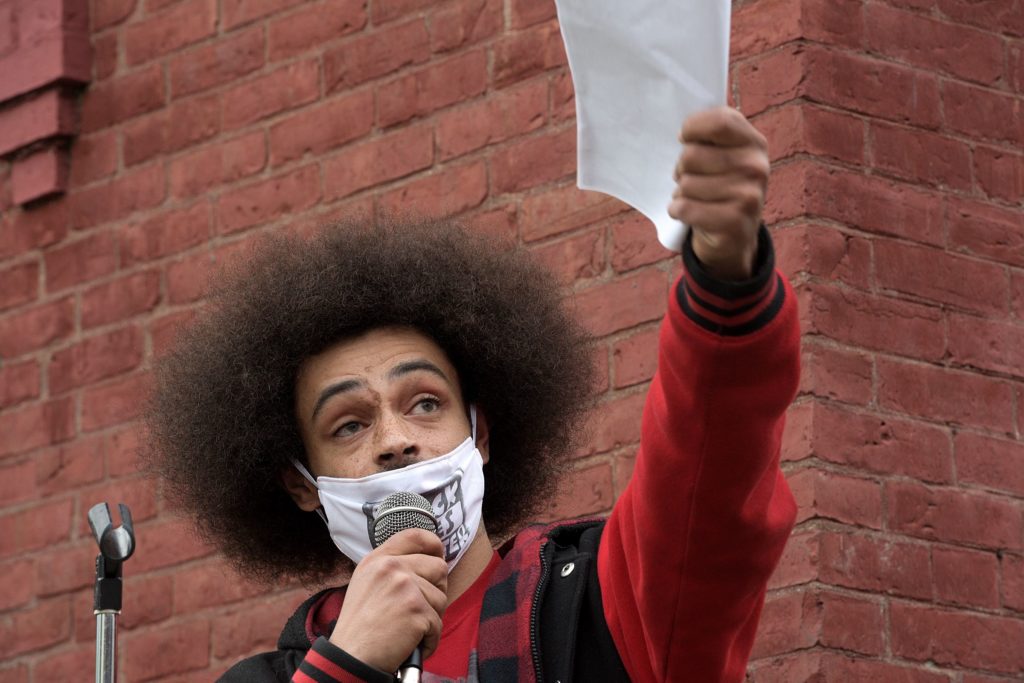 When David Phair is not working at New England Precision, Inc. in Randolph, the Bethel entrepreneur has been establishing a quietly-thriving hip-hop scene in central Vermont with his company Hustle and Loyalty Records, which promotes hip-hop is peace — a means of expression and a tool for educating. After George Floyd and Breonna Taylor were killed by police officers, Hustle and Loyalty partnered with Babes Bar in Bethel to hold a vigil for Floyd  in early June; a week later, they hosted a rally and march for Black lives, ending with a demonstration in front of the Vermont State Police barracks. Enterprise chatted with Phair about hip-hop in New England, growing up as a Black person in the foster-care system of Vermont and the importance of community. (Responses have been lightly edited for length and clarity.)
When you think music in Vermont, you don't necessarily think hip-hop.
Phair: No, definitely not.
What has it been like for Hustle and Loyalty Records being one of the main proprietors of new hip-hop in a pretty non-hip-hop culture area?
Phair: First off, let me say that hip-hop has always been here, you just gotta know where to look. My main focus has been introducing it — because it's mostly up in Burlington and down in Bennington, Vt., or like Manchester, N.H., area — to Central Vermont. As far Central Vermont, nobody knows about Rutland, nobody knows about Manchester, Vt. For me it was, 'how can I do that living in Bethel, where I grew up?' Then Babes Bar opened, and I thought, they need people to fill their bar and I need people to fill my shows, so let's just kill two birds with one stone."
What has that relationship been like? How did it get started?
Phair: I lived maybe 100 yards down the road and was walking to the store and they were hanging their sign, and I was like, 'Hey, when are you opening?' And they told me, and I said, 'Within that first month, I'd like to do a show to help draw in some people,' and they were all about it. We've been working hand-in-hand pretty much ever since.
The hip-hop nights seem to be pretty popular.
Phair: Yeah, they're one of the most popular nights that they have. Between that, their Queer Dance Parties and karaoke, I'd say those are their three most popular nights.
How do you approach being a music producer and promoter in rural Vermont? What has that been like for you?
Phair: For me, it's been a little too easy, but it's also had its times where it's like I don't want to do this anymore. It's easy because I keep it simple. I have Facebook pages where I share music and stuff like that, but as far as promotion goes, I'm old school. I print out flyers. I go around and hang them on every bulletin board I can find. If I was allowed to and didn't think I'd get fined, I'd hang them on street poles like they do down in Connecticut. I put in the footwork. Basically, it's all about the hustle. Sticking to what's been working for 20, 30, 40 years, and that's just getting out there and doing it.
For someone who may be looking for or interested in hip-hop in the area, where might someone start?
Phair: The best spot to go is Facebook and go to Vermont Hip-Hop News. They are pretty good about putting out a monthly calendar that stays pretty up-to-date on all the local events happening. Even just searching "hip-hop" in Facebook will pop up all of the events near you. The biggest thing is word of mouth. A good place to start, third Thursdays up in Winooski, Vt., at The Monkey House. Every third Thursday of every month; even now, they're doing virtual events. Networking is key whether you're in the industry, or you're a fan, or whatever it is, just getting and meeting the people involved is the best way that I can tell somebody to discover Vermont hip-hop.
Why is hip-hop important to you as a tool for activism?
Phair: If you dig deep enough — and again it's all about networking and finding all those people that are sitting there and telling a good message, and Worpaint from Hustle and Loyalty records is a great example of that — if you're willing to actually listen to the words that he says, he's teaching you. It's something that makes you think. It's something that literally can change people's lives, and if I can find one artist who can do that, then I've accomplished my goal. I feel like I have an entire roster of artists that can do that as well. I will not work with you if all you can do is rap about sex, drugs, money. I don't care what you drive; you can drive a 1973 whatever, and if you can rap, you can rap.
So it's about the music and the meaning and intent behind the music?
Phair: The message. Which is why Nas is one of my favorites of all time. He was sitting there preaching knowledge to people that didn't even understand it, and now 20 years later, we're all like, 'Oh, whoa, OK.'
What was it like growing up here 20 years ago?
Phair: I was born in Connecticut and was placed in foster care when my mom moved up here when I was like 4, and I stayed in Vermont until I graduated high school, bouncing around from foster home to foster home. I think in 17 years, I had 24 foster homes. I was tired of being controlled by the state. I was tired of being one of I think three Black people in the entire school — me, my best friend and my ex-girlfriend. I was like, I need to be around my people. The day I graduated high school, I packed my stuff, went out to breakfast, did the graduation ceremony, threw the graduation party at my house, and was living in Connecticut at the end of the day. Then I spent 10 years down there, got completely lost because I had been so pinned down by the state of Vermont. I wasn't allowed to do this, I wasn't allowed to do that, and then I got to Connecticut — 'Oh, freedom!' Yeah, nothing but trouble for about seven years.
What's next?
Phair: We need more emcees speaking the truth and teaching the youth about our history, our present and our future. Simple stuff like taking care of yourself, being a healthy person — both mentally and physically. Little things like that are going by the wayside, and that's why I joined the (international hip hop awareness group) Zulu Nation because their focus is teaching each other, teaching the youth, making sure that we do have a future both in the music world and the regular world."