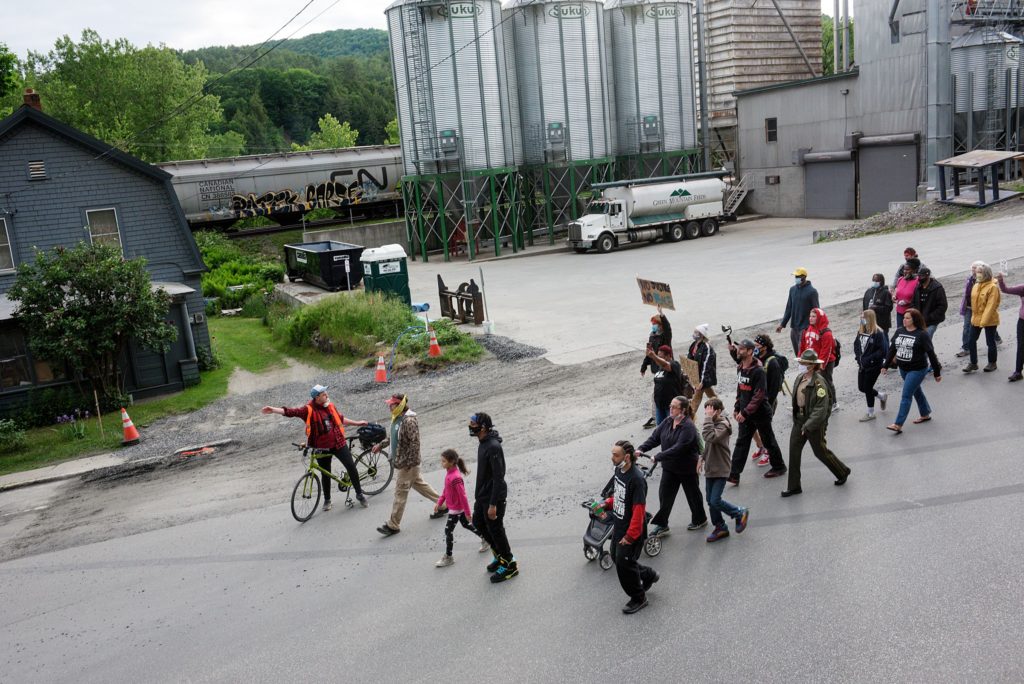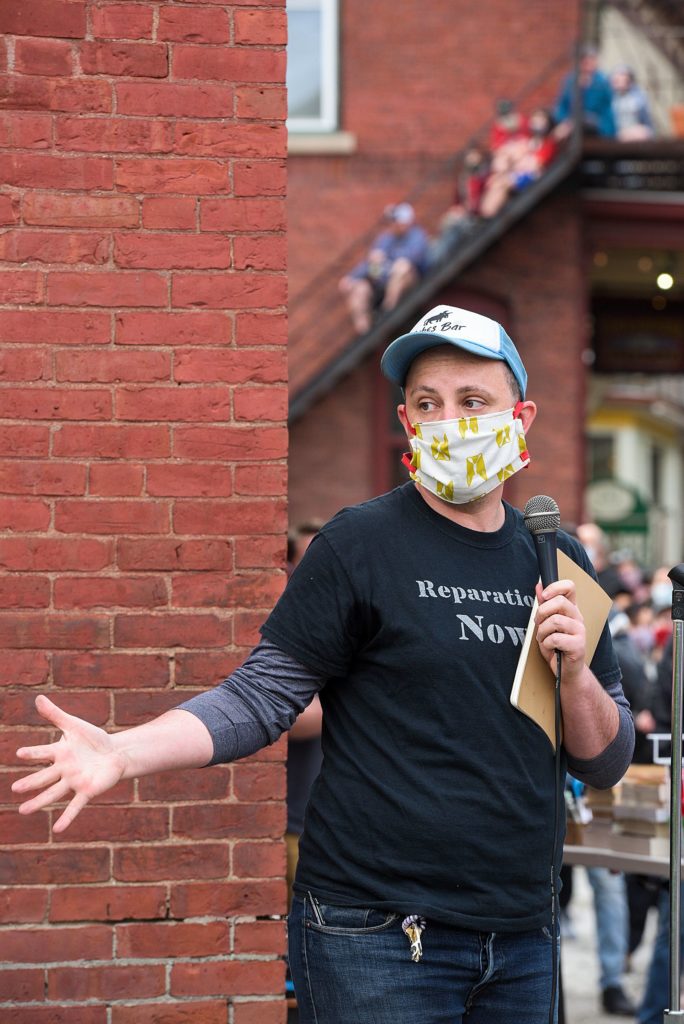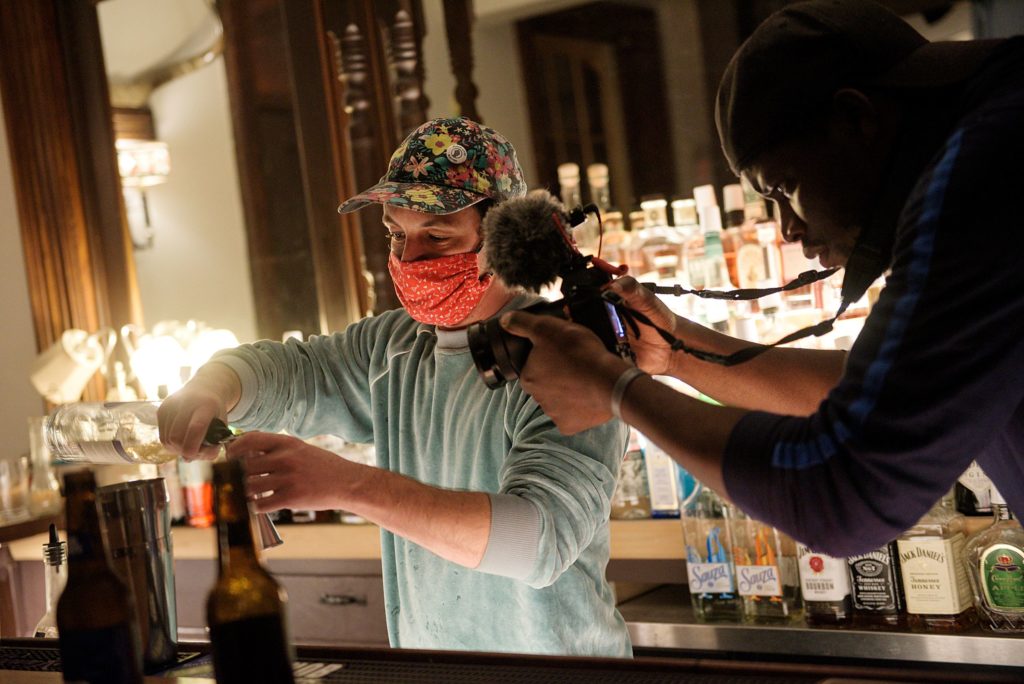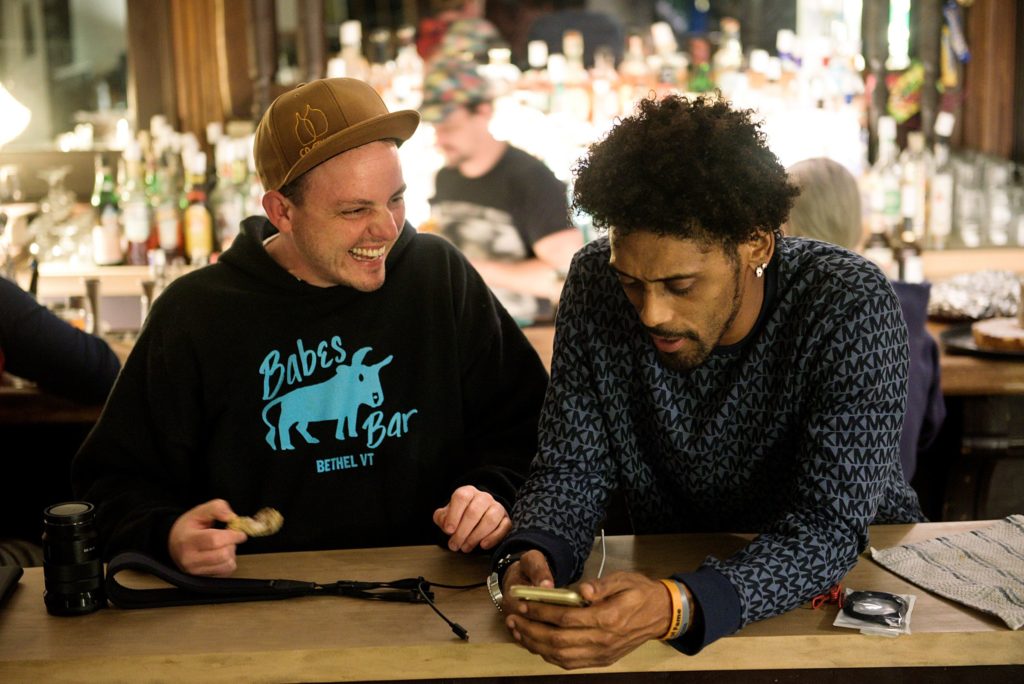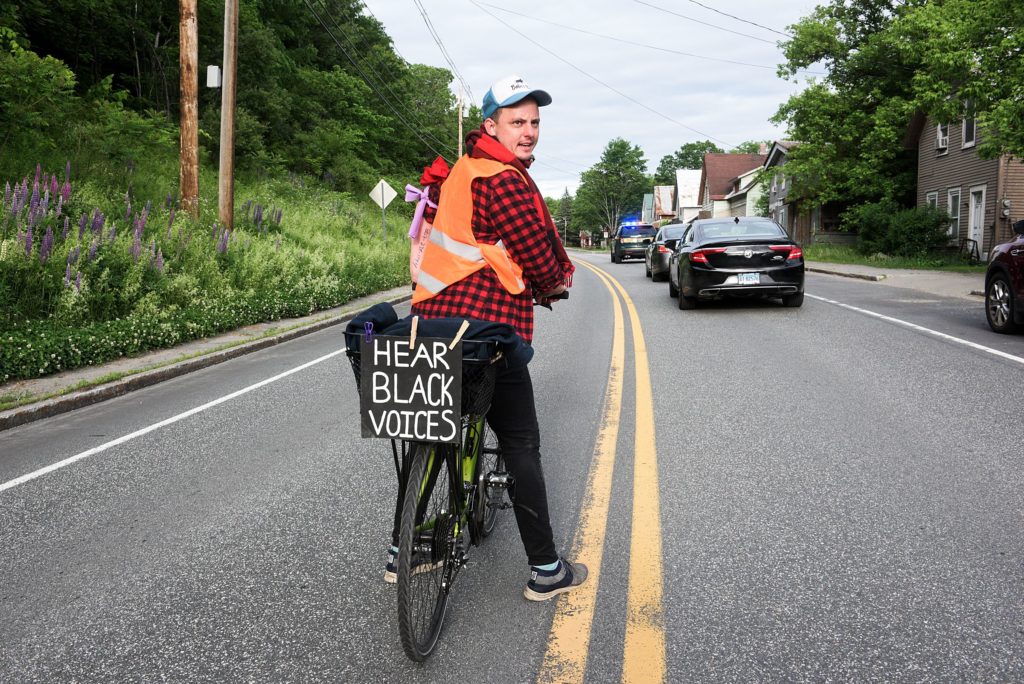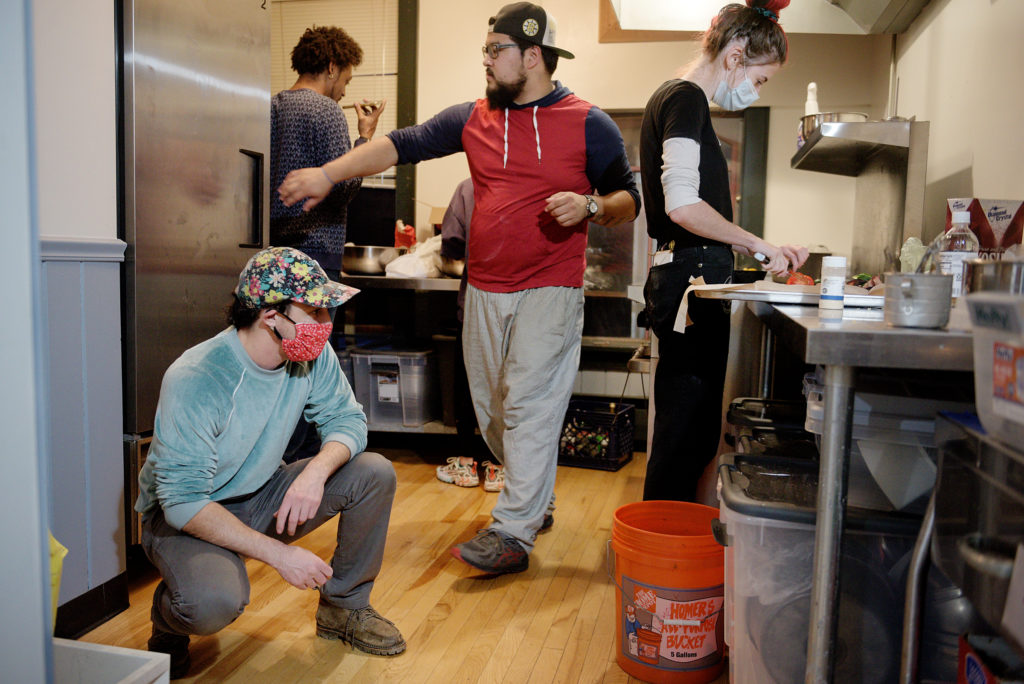 When Owen Daniel-McCarter and Jesse Plotsky, owners of Babes Bar, arrived to Bethel from Chicago in 2018 to open the only stand-alone bar in town, they were met with one question more than any other, "Why the hell did you move to Bethel?"
Aside from being closer to family — Plotsky's brother and sister-in-law live in Bethel — the couple sought a change of pace from the Windy City. Neither had owned or run a bar before, but the one thing they knew was that their bar was going to be a safe, inclusive and welcoming place for all.
Daniel-McCarter said that they wanted Babes to "model what a space looks like that is centered on traditionally marginalized folks and oppressed people in our country."
Their beer taps are dry as they have closed their doors due to the pandemic; their liberation-themed library with sections including self-care, prison abolition, first nations and Indigenous peoples is closed, and they can no longer host popular recurring events featuring marginalized voices, such as queer dance parties and hip-hop and karaoke nights.
But they're responding to a national period of racial reckoning by making space for protests, dusting off old legal skills to help in the fight for prison justice and organizing training sessions for other small-business owners. It's an extension of the values-oriented mindset they've employed since opening in an overwhelmingly white town and region, implementing a "no cops" policy and events that are inclusive of people across races and genders.
"We center (marginalized) folks. We think about women. We think about people of color. We think about queer people before we think about everybody else," Daniel-McCarter said. "That doesn't mean we don't think about everybody, but it means unlike most places in Vermont, we actually think about centering those folks."
'Closer humanity'
After the killings of George Floyd and Breonna Taylor at the hands of police, David Phair, who runs hip-hop night at Babes, held a vigil in Bethel along with Plotsky and Daniel-McCarter in early June. On one day's notice, 250 people attended. One week later, the trio organized a rally and march with even more people that ended in a demonstration in front of the Vermont state police barracks in Royalton.
The vision, Daniel-McCarter said, is using transformative justice — an alternative to criminal justice, which devalues conflict and repression and prioritizes restoring people and communities — to bring people closer together. He acknowledges that a bar may seem a strange place for such lofty work, but bars are also a place where "I feel like there is such an opportunity to show people that you care about them," he said.
"I don't even know if we would have been able to do the Bethel rally or the George Floyd vigil without that pre-work that we did where people came to trust us," he said. "It's that everyday abolition — preventative work, relationship building, that's what it's all about."
Everyday abolition for Daniel-McCarter is a commitment to "knowing your community and knowing your people," that no person is disposable and that as long as people are respectful of one another, everyone is welcome. Accountability and communication is a big part of that.
"The only way that transformative justice works is if you truly invest in every person in your community, which means when we're bartending, we're not just making a drink and going and sitting on our phone and playing games. No," he said.  "When we are bartending, we are asking every single person, 'How was your day today?' 'What happened with your cat's surgery?'
Remembering things about customers shows them that they are cared about, which is "helpful later when that person gets into a fight with someone outside in our parking lot and I say, 'Hey bud, what's going on with you? This is not the you that I know. Let's walk and let's talk, and you trust me and I trust you,' and that trust is critical for de-escalation. There is not trust with law enforcement right now. And that's not just for folks of color. There are so many people in our bar who've had bad experiences with police brutality who are white folks."
One of the ways Babes Bar centered marginalized voices while it was still open was by maintaining a no-cop policy. Daniel-McCarter explained that based on his experience as a criminal defense attorney and activist, he has found that "the police never help a situation. They usually wind up arresting our clients, our staff, it always escalates in really harmful ways. For me it's always been a practice to not involve the police if at all possible."
"If you call the police, then it's like, 'cops, you take this person away.' Solved the problem, which is apparently giving them an assault charge or something," he said. "Now they have a background. Now they're angry. None of the root issues have been addressed."
The no-police policy was a given from the beginning of Babes Bar, and Daniel-McCarter said they have not sought out feedback nor have they received complaints from law enforcement.
"We have had state police park themselves outside of the bar, especially on busy nights," he said. "We do not want people to leave drunk. We don't want people to drive drunk. We're pretty vigilant about cutting people off, making people stay in the bar if they've had too much or pre-gamed before they came in, and safety is our number one priority, which is why we don't let the police in."
The no-cop policy improves customer relations, builds trust in neighbors and even lowers insurance costs, according to Daniel-McCarter. This policy extends beyond the walls of the bar, Daniel-McCarter explained.
"What I'm excited about is that because it's always been our model and those are the values and the experiences we came in with, we've trained our staff on that model, we're training our staff on harm reduction and other things that now we get to say, 'Hey, you person that likes our bar but you're really afraid of what it means to defund the police, guess what? It looks like our bar.' "
Making space for organizing
In the past two years, this fierce commitment to centering marginalized voices has positioned Daniel-McCarter and Plotsky as leaders in activist and organizer circles in the Upper Valley, especially during this time of national turmoil concerning police violence against people of color.
"For us, bars are always a site of organizing," Daniel-McCarter said. "I love going to bars and I also love going to queer bars, which are fundamentally — at least historically — activist spaces and spaces where the physical presence of being out and being queer is an act of resistance."
The duo designed everything from the art on the walls, books in the library and non-gendered bathrooms to align with their values.
"To us, our bar is always going be a space where we're going to bring our full selves, we're going talk about our politics, and we're also going to meet people where they're at," he said.
Before the onset of the COVID pandemic, Daniel-McCarter said he and Plotsky were looking at ways to hold transformative justice trainings, including de-escalation and violence prevention strategies, with other small business, bars and people in the service industry. That is helpful "particularly when your literal business is about people using substances," he noted, and now they are "really dreaming big" about how to share their and others' models.
Daniel-McCarter and Plotsky also have had more time to dedicate to activism. Since the Bethel Rally and March for Black Lives, Babes has organized a violin vigil for Elijah McClain in partnership with BarnArts and hosted a conversation session with Black Vermonters.
"It's actually been really awesome to finally be like, OK here's this moment where we have the capacity to be responsive and we've already done a lot of base-building with folks who trust us," Daniel McCarter said.
Not known for being complacent, Daniel-McCarter and Plotsky recently purchased a food truck for Babes Bar that will be run by Travon Groves of Braintree and Tristan Brown of Bethel. Diving into the food side of the business is scary Daniel-McCarter said.
"We never wanted to do food, never," Daniel McCarter said. "Jesse and I didn't even honestly know that bars had to serve food in Vermont because we came from Chicago where you do not have to serve food in bars … we've never done that part of the industry before, but these guys have. We trust them, we trust their leadership and we're supporting them.
Daniel-McCarter and Plotsky met Groves when he spoke at the rally and march for Black lives in Bethel. Both Groves and Brown had separately thought about starting businesses that focus on food activism, Daniel-McCarter said, and that as the food-licensed and fully-insured bar sat empty, this was the right time to invest in the community in a different way by connecting the two. The food truck, "A Taste of Justice," will be ready by winter they hope.
"Travon (Groves) is Black, Tristan (Brown) is Korean-American and they really want to bring food that they love into the mix of Bethel, which feels really powerful," Daniel-McCarter said. The effort is linked with another project Daniel-McCarter been working on to start a prisoners' rights organization, and he's "thinking about this as a way to mentorship and first jobs for folks getting released from jail. That is the long-term vision."
Prison work
The prisoners' rights organization Daniel-McCarter has begun to work on is called Vermont Justice Project. He's applied for seed money and grants, as well as petitioned the Vermont Bar Association to be admitted to practice law again in Vermont.
"As I've been working with Black organizers across the state, there's such an obvious need for legal work — particularly legal work in the criminal legal system — that's rooted in an abolitionist framework. While I don't love being a lawyer, it is a skillset that I have and paid a lot of money for; it's a privilege, right? And to not use that privilege right now, doesn't feel super great."
According to research done by the national organization Prison Policy Initiative, only 1% of Vermont's population is Black yet nine-percent of the state's prison population is Black. Daniel-McCarter said he wants to help end the Vermont prison system that actively holds up these discrepancies and racial disparities.
"The long-term goal of the Vermont Justice project is abolition," Daniel-McCarter said. "We use 'abolition' because we know that slavery is not over as long as we have prisons. It's perfectly legal to enslave people under the constitution who are incarcerated, still. When I think abolition, I'm thinking about the fact that the criminal legal system we have now — if it is actually designed to stop crime — is a failed system. It doesn't work; it doesn't do that. Otherwise we wouldn't have more prisoners than any other country in the world. It is a system built around anti-Black racism and slavery.
Due to the small size of Vermont, Daniel-McCarter said he believes abolition of the prison system is achievable in the state. He notes that he went to a high school with 4,000 classmates, significantly more than the roughly 2,400 prisoners held by the state.
"We can actually know the story of each of those people. We can humanize them. We can ask them what they need," he said. He believes Vermont's small size allows it to serve as a model, but sees another "reckoning" that needs to take place.
"You love Bernie Sanders, you are liberal supposedly, you are a bunch of white folks that believe in justice," he said. "Let's make good on that promise and actually be that model for other places."
Educating Vermonters
Daniel-McCarter also has been asked to be a part of and accepted a role with the Racial Justice, Equity and Inclusion taskforce that was created by the White River Valley Supervisory Union in order to develop policies and conduct trainings for the district and to make changes to professional learning and the curriculum.
"The White River Valley School District in June after George Floyd was murdered issued a statement that was very clear about examining their own internal biases and really engaging in social justice work in the school district," Daniel-McCarter said. "They've now made a lot of good on that promise by welcoming in community members, teachers, students into a district-wide racial, equity and inclusion taskforce."
The work happening in the schools inspired a group of Bethel citizens who identify as people of color, white adoptive parents of people of color, LGBQT+ people, or a combination of those things, to propose an equity and inclusion committee to the town of Bethel, Daniel-McCarter said.
"We think that Bethel can be and should be a small-town leader in racial justice work," he said. "I think a lot of the selectboard members need support and a little bit of pushing to realize that that is part of their task, part of the power that they have as leaders."
Whether Babes Bar is open or closed, Daniel-McCarter and Plotsky say they are committed to having the conversations and helping to creating a just Bethel and a better Vermont.
"This moment, I'm a dreamer and schemer," Daniel-McCarter said. "This moment has told me that the bar is beautiful and amazing — and we need more than just this bar.
"I think that's why we're going deeper and spreading our wings a little more, trying to look at the town."