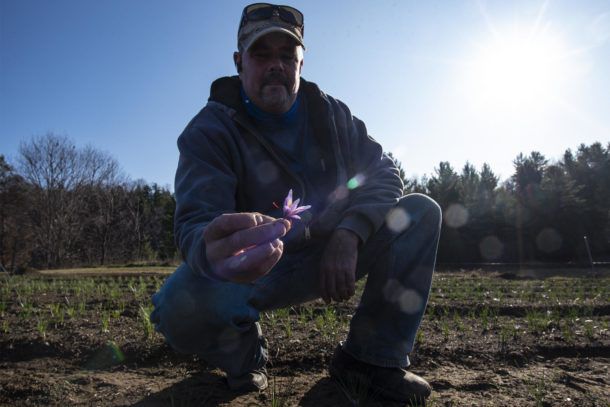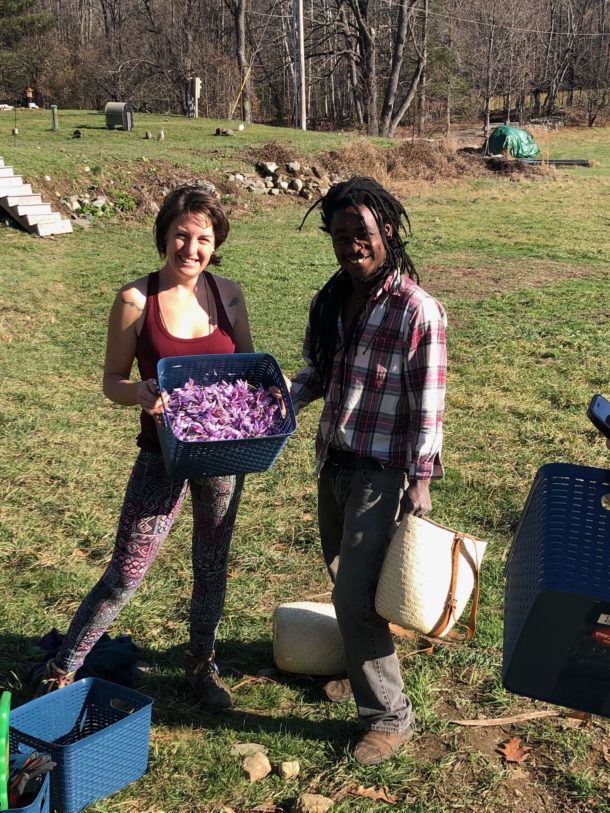 Delicate, fragile and subtle it is. But saffron is finding a foothold in the rocky soils of wintry Vermont. The crocus flower that produces saffron — a flavoring that is said to be the most expensive in the world — is suddenly being planted by the thousands around the state.
In March, researchers at the University of Vermont held a saffron workshop attended by about 60 people in person and another 60 online from all over the country. A UVM saffron email list has 700 members, and the university runs the North American Center for Saffron Research and Development for growers, marketers and buyers from around the world.
"Every year more people are contacting us," said Margaret Skinner, a research professor at UVM's Department of Plant and Soil Science.
She sees saffron as a way to diversify agricultural businesses, a top priority for Vermont policymakers who are trying to retain and bolster the state's agricultural economy. "Our interest is to meet the needs of growers in Vermont, the nation and internationally."
A meeting of the minds
Vermont's burgeoning saffron industry is partly the result of a lucky meeting between Skinner, an energetic and creative scientist who likes to put her expertise to practical use, and Arash Ghalehgolabbehbahani, an Iranian entomologist who moved his academic studies to UVM because his wife was getting her Ph.D. at UVM in 2014.
Ghalehgolabbehbahani quickly understood that Vermont might be hospitable to the spice that he and his family use every day in Vermont and in his native Iran. About 80% of the world's saffron production is in Iran, the two said.
Ghalehgolabbehbahani, a sociable sort who is patient with people who try to pronounce his last name, suggested saffron as a Vermont crop to Skinner in 2015. She said she initially pooh-poohed the idea, having tried unsuccessfully to grow it in her own backyard. She hadn't realized it was a fall-blooming crocus and had looked for spring blossoms. She assumed Vermont was too cold for saffron cultivation, an assumption that research has since shown to be erroneous.
"I will forever be embarrassed about my initial reaction: 'That's a stupid idea,' " said Skinner.
Now she's a leading promoter of the crop. She loves that it can be cultivated in a relatively small area — the state's largest saffron grower, Calabash Gardens in Newbury, planted 120,000 corms this year on half an acre — and that many people, dabblers or serious horticulturalists, have a chance of succeeding as long as they do extensive research.
The corms are planted in the fall, before the harvest, at a time when farmers aren't as busy with other crops. The growing season lasts only about two months. In Vermont, that means the bulbs are planted in early- to mid-September and the flowers are picked in November. The bulbs stay in the ground to produce flowers the following year.
"The beauty of saffron is the most intense labor demands for this crop are at a time when most other field production demands are finished," Skinner said. "Most people are finished haying; they have finished most of their vegetable harvesting. It's just like maple syrup: A perfect fit. If maple syrup had to be produced in June, July or August, no one would have ever produced it."
Ghalehgolabbehbahani added that many would-be research funders initially object to the idea of supporting UVM's saffron studies because the harvesting is so labor intensive. The grower must stoop over the rows to pick the purple flowers. The delicate red stigmas — just three to a plant — that are dried and sold must then be plucked from each flower by hand.
"So then we explain why we think it will work," Ghalehgolabbehbahani said. "It's the timing."
Entrepreneurs step up
Ghalehgolabbehbahani estimated Vermont now has 200 saffron growers, many of them just starting out with a few backyard plants.
"We have gotten calls from such a wide variety of potential, current and future growers," Skinner said. "People who want to do more with agritourism, teachers who have some land in Vermont and want to develop that into some kind of agricultural thing, people who want to move back to the family farm and make sure it doesn't fall into development."
In the past few years, some growers have expanded their planting, among them Calabash — which put its first corms in the ground in 2018 — and Sean Lindley, a garlic farmer who this year has 15,000 plants growing on 12,000 square feet at his farm in Barre.
Lindley expects to see 7,000 flowers this year, for a total harvest of about 50 grams of saffron. He can sell the spice wholesale at $30 a gram, and retail at $50 a gram.
For now, he's working with a wholesaler in Middlebury, Vt., and selling a lot of saffron by word of mouth and on Facebook. Meanwhile, he has also planted 30,000 garlic plants this year.
The time-consuming nature of the work doesn't bother him. His wife helps separate the stigmas from the saffron's purple flowers.
"Usually what we do is at the end of the day we sit around and watch TV and separate flowers," he said.
The good news is that those stigmas, when dry, can be stored for long periods of time, meaning the farmer isn't in the position of having to sell the harvest immediately or throw it away.
Apart from being used to flavor dishes, saffron is used as a dye. And Golden Thread Farm, a saffron grower in Stowe, Vt., says on its website that saffron treats Alzheimer's disease, prevents cancer, and improves eye health, among other things.
Like Lindley, Golden Thread credits the North American Center for Saffron Research and Development for the growth of the industry.
Industry development
Skinner and Ghalehgolabbehbahani held their first saffron workshop in 2017, and about 90 people attended.
"People from Illinois, Ohio … it was a surprise to us," Skinner said. "People were so excited; they thought, 'Oh, boy, I'm going to make millions of dollars.' "
Skinner and Ghalehgolabbehbahani cautioned the growers to take things very slowly. While saffron has been grown in some regions of the U.S. for 300 years, "generally speaking, this should be considered a new crop, especially for our region in the Northeast," Skinner said. "Don't buy hundreds of thousands or thousands of corms. Buy a small amount and see how it goes for you."
The North American Center was started primarily as a source of trustworthy information. While there is an American Spice Trade Association, that group doesn't have any U.S.-based saffron growers as members, said Executive Director Laura Shumow. Its saffron growers come from places like Iran, Afghanistan and Spain.
Shumow said she had learned the U.S. has a fledgling saffron production industry. "From a trade standpoint, however, the U.S. is not a significant producer," she said.
Growers and consumers need information because saffron's high price prompts many to adulterate the crop.
"There are lots of fake products in the market," said Ghalehgolabbehbahani. "We wanted to centralize the information; we wanted researchers to find us."
Comparisons to hemp, which inspired a gold rush of planting in 2018 and 2019, followed by a market crash, are inevitable. But it's much easier to grow hemp, said Jette Mandl-Abramson, who co-owns Calabash Gardens in Newbury.
"In terms of the market being glutted, you can't even compare the two on any sort of standard really at all," she said.
Calabash Gardens planted 120,000 saffron corms this year on half an acre and plans to put in another 120,000 next year. Mandl-Abramson would ultimately like to have 5 to 9 acres of saffron at her farm, which has 14 acres of usable land, much of it the sandy and rocky soil that Mandl-Abramson said saffron appears to thrive in.
Skinner and Ghalehgolabbehbahani expect saffron to gain a larger hold in the marketplace, in Vermont and elsewhere, over the next few years.
"It's a very high-value crop," Skinner said. "It's worth it to some growers to bend over and pick those darn flowers and then separate them."
Lindley helped Calabash Gardens plant corms over Labor Day this year, traveling to Newbury with his tractor. Saffron growers are working together to create a stronger market, he said.
"I already have probably two dozen people who are interested in purchasing for their own personal use," he said. His wholesale purchaser will buy as much as he can produce. "I'm assuming I can make fairly sub stantial money at it, once it kicks in."