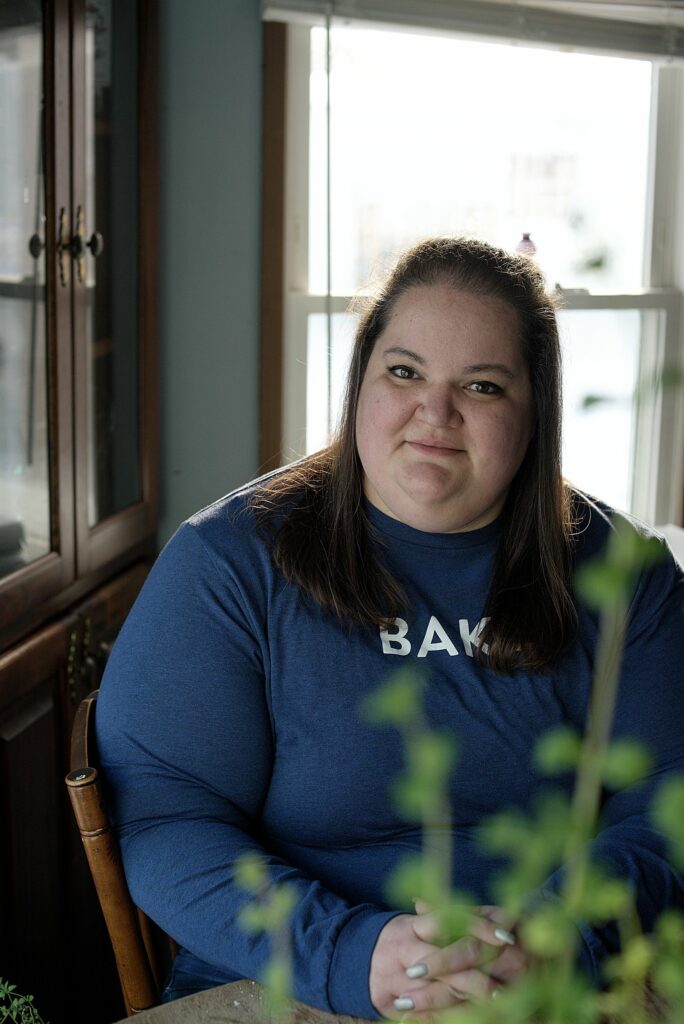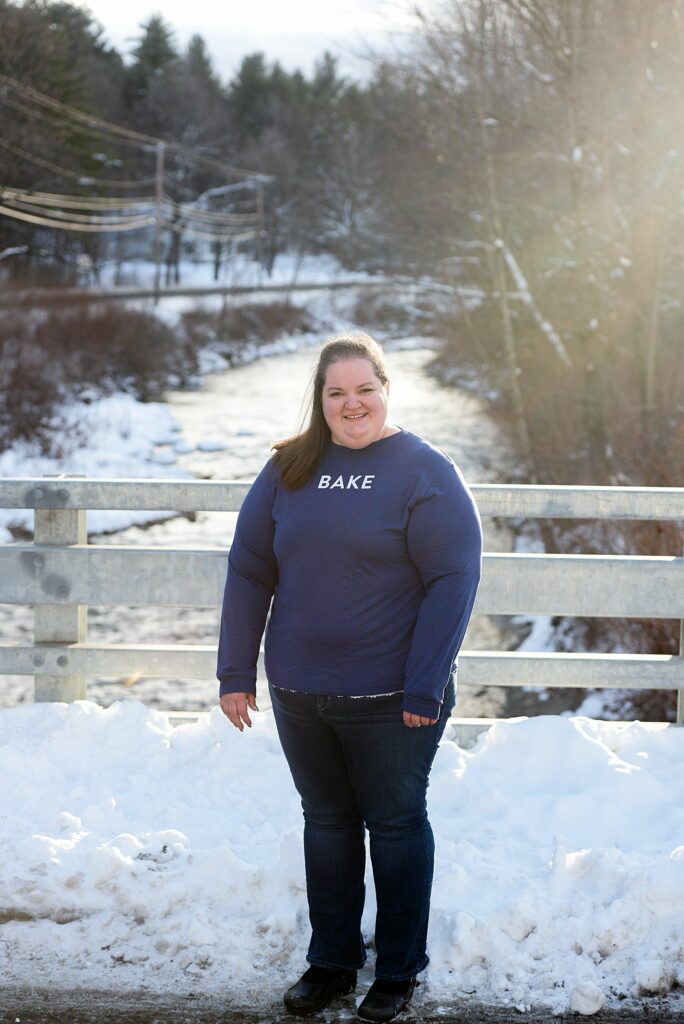 When your bread is sad and your meringue is weeping, when you want to try something new or are struggling to get a recipe just right or when you can't find yeast, the King Arthur Flour Baker's Hotline helpers can talk you through your baking woes, questions and experiments. The line has been active since 1993. Baking Specialist Martina Pochop is one of 15 bakers who staff the call center that operates for eight to 12 hours a day, 357 days a year.
What is it like working as a Baker Specialist on the Baker's Hotline? What was it like for you when you originally started working? And what has it been like during the pandemic?
My first couple of years, it was a lot of general questions. People trying new things or needing help understanding certain recipes or conversions or substitutions. That's really what the hotline is all about — asking those questions that you may have originally called a family member for but either are embarrassed or don't have that family member in your life anymore — so they call us. We're a bunch of friendly bakers who have a good bit of knowledge under our belts and no question really throws us.
Going into the pandemic, with everything going on, people really searched for comfort. Along with comfort, comes food. … People decided now is the time to learn, but then had trouble finding flour or even yeast at the grocery store. So we switched from general want-to-know questions to how do I survive or feed my family with the minimal amount of ingredients I have or can find at the store?
We saw a huge increase in questions about sourdough baking. Sourdough has always been a very popular topic but it's a misunderstood concept, or people are very intimidated by sourdough. But that became the norm because people weren't able to find yeast at the grocery store or even online. So we did a lot of sourdough for months — more than usual.
Is sourdough your specialty? What do you particularly enjoy baking?
No, I was not a sourdough baker before I started at King Arthur. I was more on the pastry side, the cakes, the cake decorating, cookies, pies, those kinds of things. I was definitely not a huge bread baker. I think my first real loaf of bread I made was my first week at King Arthur. I thought if I'm going to talk about it, I should probably know what I'm doing. I have become more comfortable. I bake sourdough now every weekend. For a while I could talk about it more than I could do it myself at home. I've taken classes, honed my skills and practiced a lot so I could be more helpful to those calling for that particular subject.
Did the Baker's Hotline see an increase in phone calls when the pandemic started? And what were the vibes of those phone calls?
There definitely was an increase in calls when the pandemic hit. I think most of it was a bit of panic and also looking for some comfort. We were able to thankfully increase our staffing so we could handle the amount of calls. It almost doubled overnight with people trying to learn. They were trying to find some sort of stability in their lives, and they found that by coming up with these recipes or following recipes, that they gained comfort in food, or just being able to provide for their family with food was what they needed.
With people being distanced from family members or friends, they were looking for, I don't know if this is the right word but, companionship. A lot of people just called to chat. They had a question, or maybe two questions, about something simple but then wanted to continue to have a conversation about what was going on with them, or their families, or with politics, or whatever it really was they wanted to talk about. With the call volume what it was, we tried to be that person and also help them with their baking questions the best we could. … Halfway through the conversation, you had to decide whether it was a call for (baking) help or just a call to chat.
What was this holiday season like? What's the holiday season normally like?
We always see an increase in call around the holidays, but this year especially, people were baking things for the first time because they've never had to do it before. Baking pies for the first time because now they can't be with their family and their sister-in-law normally bakes the pies, and they want pie at their family meal.
It was a lot of first-time bakers this holiday season. Normally we see a lot of people who have tried the same recipe multiple times but are still getting subpar results and so they're just looking to get it right this time. But this year, we saw a lot of first-time callers or first-time bakers trying to perfect those recipes that their mom makes every holiday season. … which is rough because if you have no experience and you're trying something new, it can be very frustrating and emotional. We have to try and talk them through it and figure out the best way to communicate with every person so they can be successful. In this crazy time, we wanted people to be successful, to make that recipe, to make it right the first time, or maybe the second time and have some sort of normalcy. We all went working remote almost immediately after everything hit, our customers never saw a change in our service. We were still there for them during our regular hours. We were just sitting in the comfort of our own homes instead of all together in the call center. I was thankful that we could still service the customers while keeping everyone safe.
What are some tips and hints for people getting started? Or even for seasoned bakers?
I think the thing I've stated to many different bakers is that you're not going to get it right the first time, but if you do, great. It does take practice, especially if it's something you've never done before, most likely it's not going to turn out right the first time. I'm a seasoned baker and I make mistakes all the time, but I learn from them and move forward and try again. If it's a new recipe, I try to convince people to try it once or twice before the big day comes. Before it's Thanksgiving. Before it's Christmas Eve and you're baking panettone for the first time. It's a tricky recipe and practicing it a few times before it's important, is important.
Do you find that the willingness to fail, to be open to failure and to learn from those failures pairs well with the patience required to talk with people who may be frustrated or stressed?
Being a member of the Baker's Hotline definitely does require a level of patience, especially when customers who may not have the patience to experiment or try the recipe a few times. Most of the customers, though, are willing to experiment and be patient and wait. People call and say that their bread is not rising and if you tell them to wait a little bit longer, some of them are like, 'But I don't have time,' and others are like, 'OK, I just need to breathe, step back and let it do its thing.' I feel that patience is an ingredient that's constantly left off of recipes because there are so many variables that can change according to where you live or what you're doing or ingredients. But a lot of people had more time on their hands this year than others, so they were willing to really try whatever we were suggesting because they wanted to get it right.
In your time working at King Arthur and on the hotline, have there been any calls or moments that come to mind or stand out?
Last summer we had a call, one that was sent up to me because we were really trying to get them to experiment with something new because we weren't sure if it was going to work either. The caller was baking bread. Not the first time she had baked bread, but relatively new to the process, and her power went out mid-bake.
She put all this work into this recipe — bread can take a long time depending on the bread recipe — and now her power's out and her oven's not working. Thankfully it was summer time, so I asked her if she has a barbecue grill, and she said yeah. I told her to go turn it on as high as it goes and put your bread pan with some foil over it on your barbecue grill. I said I've never done it before. I don't know if it's going to work. I assume it will kind of be like baking in a wood-fired oven or something like that. You've put all this work into it, so it's either going to fail or be great. So she did what we said, and now in the summertime, she will only bake bread in her barbecue grill. She called us back later in the day and said, 'It works and I'm never baking bread in my oven during the summer again.' So I suggest that now to people in the summertime who don't want to heat up their oven because it warms up the house — might as well bake it on the barbecue grill.
I've done it. I ended up trying it because I wanted to know if she was pulling my leg or not, and it worked. I've done pizza out there and I've put my dutch oven on the barbeque grill and baked bread out there.
What are your favorite flavor combinations? What do you like putting into your baking?
I have a pretty large herb garden that I started this past spring because I was home and could tend to a garden. I definitely kind of went overboard. I brought my herb garden inside this winter, which is the first time I have ever done that. It's still expanding. So I put a lot of fresh herbs into my bread. Recently, I did a cheddar cheese and rosemary sourdough bread. It was delicious. Because I was such a sweets baker for a long time, I don't go for the sweet stuff. I go for the savory. Even in cakes, some flavor combinations that might be a little bit different that I've done are lavender or olive oil cakes — something that cuts through. I'm not a chocolate fan, either. … If I am going for something sweet, it will be like a salted caramel because of the salt, or something on the savory side. I can bake a mean cake but that doesn't mean I want to eat it.
Isaac Lorton, of White River Junction, is a freelance writer, editor and photographer. More of his work can be seen at junctionmagazine.com.