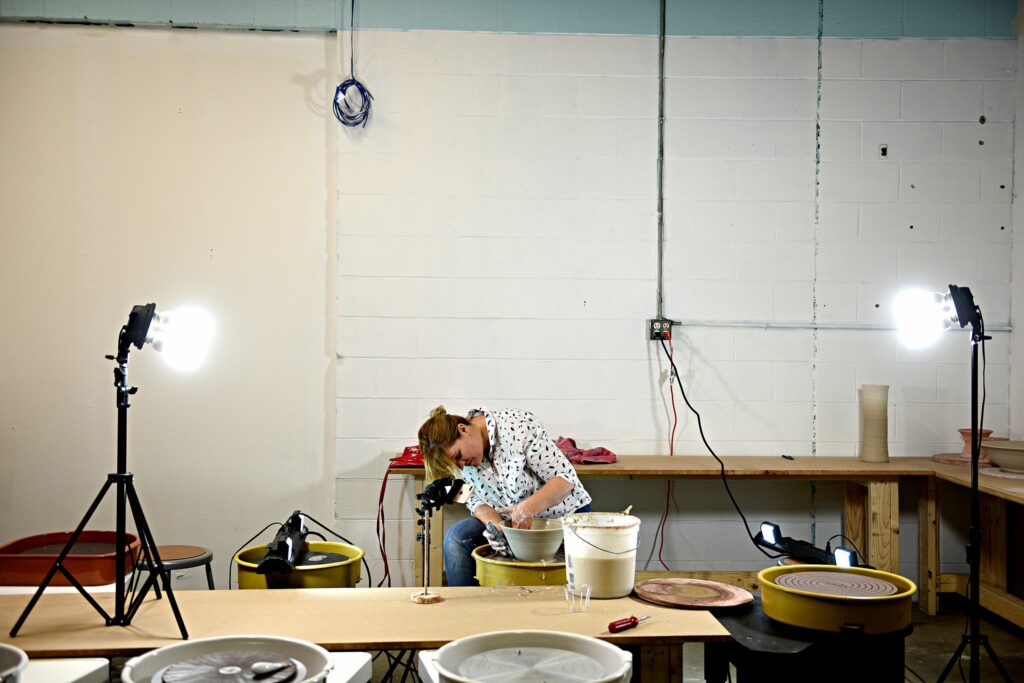 In 2016, Georgia Donnelly's pottery business was flourishing. But with a move back to New Hampshire from Florida, Donnelly wasn't producing as much. Donnelly was also busy: She had a job as a potter, first for Simon Pearce, then for Fireside Pottery. But she wanted to get back to her own craft and away from the physically taxing work of production pottery, where she might make 100 mugs in a single day.
When she bought a house in Lebanon last December, she decided 2020 would be the year to build her business back up.
"(Pottery) is always my job, but not always my own business," she said.
With the house, Donnelly had the space to create a studio and take her equipment out of storage. Letting go of the storage unit helped her keep cash-on-hand each month, which covered the cost of putting the studio together and put Donnelly a bit ahead financially.
That let Donnelly slow her pace and focus on the works that her business, Donnelly Pottery, is known for, including handmade mugs and place settings.
"I'm a little more detailed, and I probably put a little more time into each aspect" when working on her own products, Donnelly said. "I move a lot slower."
Donnelly spent the summer getting ready for sales. With two young children and a part-time job outside the home, she wanted to have products ready to complete before listing them online.
"It gives me anxiety to have orders hanging over my head," she said. "I'd rather say, 'this is what I have,' rather than 'this is what I can make.' I'm much more comfortable having something ahead of time."
Once she had her products lining the windows of her sunroom shop, Donnelly was ready to begin marketing. As she had back in 2016, she focused on sales through Etsy, the national marketplace for artisans and crafts. Although she had been unsure about how the pandemic would affect business, she was pleasantly surprised at the demand she saw.
"Because people are stuck at home more, they're thinking about their homes more," she said. "I don't know if someone would want to spend $45 on a mug they're going to leave in an office break room, but they might like to have it next to their desk at home."
In addition, her clientele — people who can spend $45 on a mug or $65 on a place setting — still seem to have the discretionary funds to do just that, Donnelly said.
"I was worried about that a lot, considering everybody's financial situations are so iffy … but not everybody's are," she said. "I cater to people that can afford to buy handmade pottery anyway. That helps."
Donnelly spends to advertise on Etsy. If someone searches for a product she offers, like handmade plates, Donnelly Pottery is along the first results, and Donnelly pays per click. That's helped her reach people as far away as Colorado.
Etsy prioritizes sellers who offer free shipping, so Donnelly has adjusted her prices to build in her shipping cost.
"People prefer free shipping, so I'm happy to build it into my price," she said.
That also allows Donnelly to increase her margins by delivering products she sells locally. This holiday season, she's had luck drumming up local sales by posting in Facebook groups for Upper Valley residents.
Although deciding to leave full-time employment and grow a business during 2020 was risky, Donnelly is happy with the outcome.
"It's the ultimate goal for me anyway and I've been pleasantly surprised by the attention my Etsy shop is getting," she said.
This story is part of the 50 Businesses, 50 Solutions series, shared by partners in The Granite State News Collaborative, that aims to highlight how business leaders across the state, from mom and pop shops, to large corporations have adapted to meet the challenges and disruptions caused by the novel coronavirus in the hopes others may be able to replicate these ideas and innovations. Tell us your story here. For more information visit collaborativenh.org.