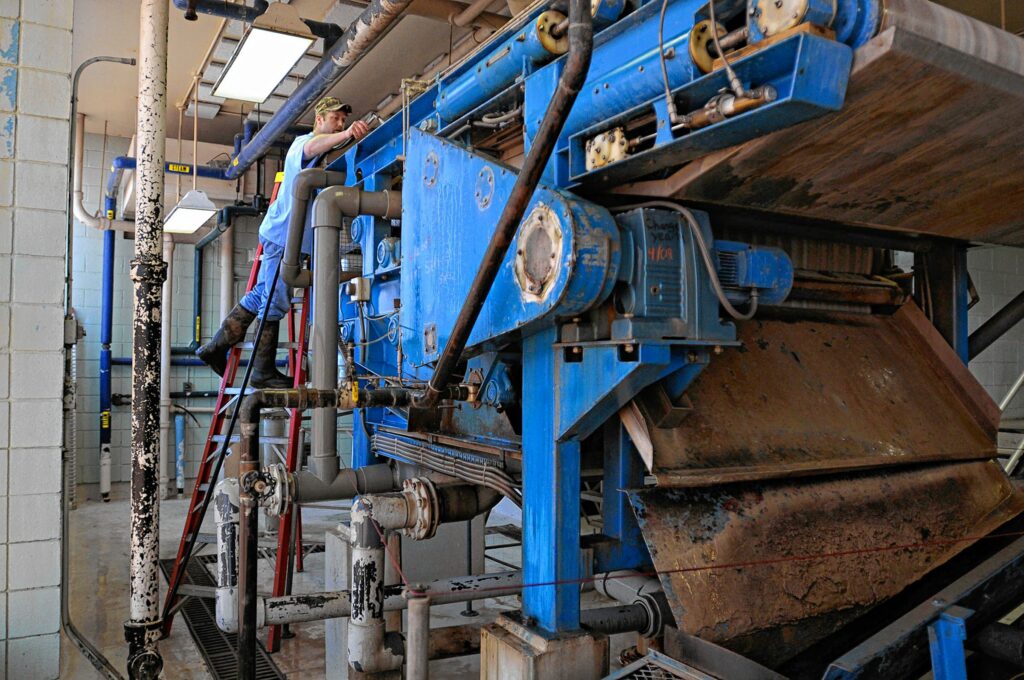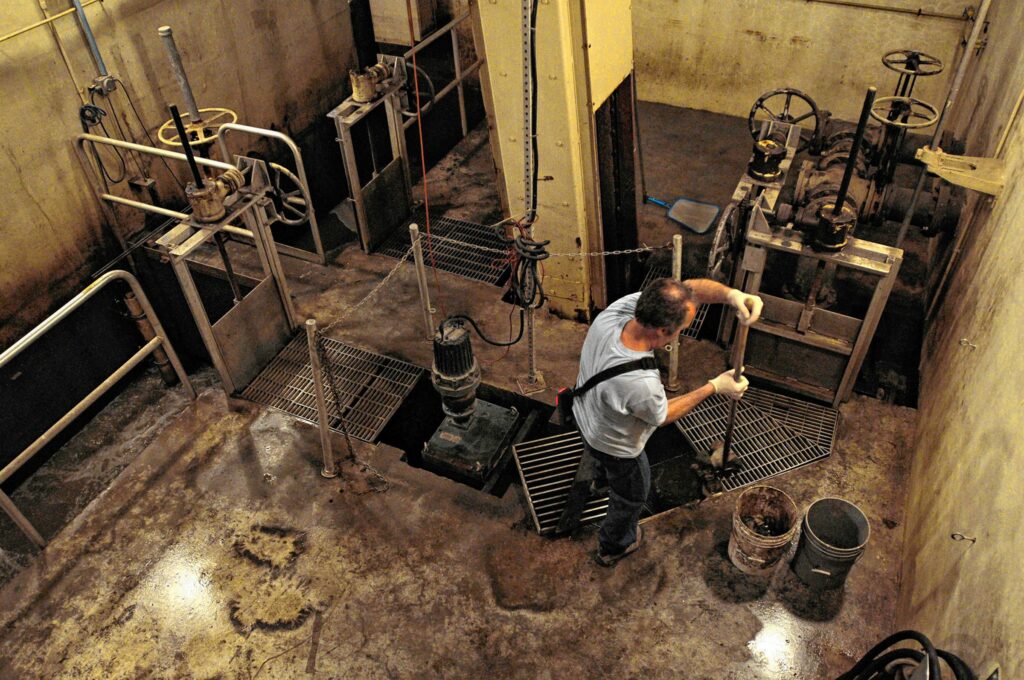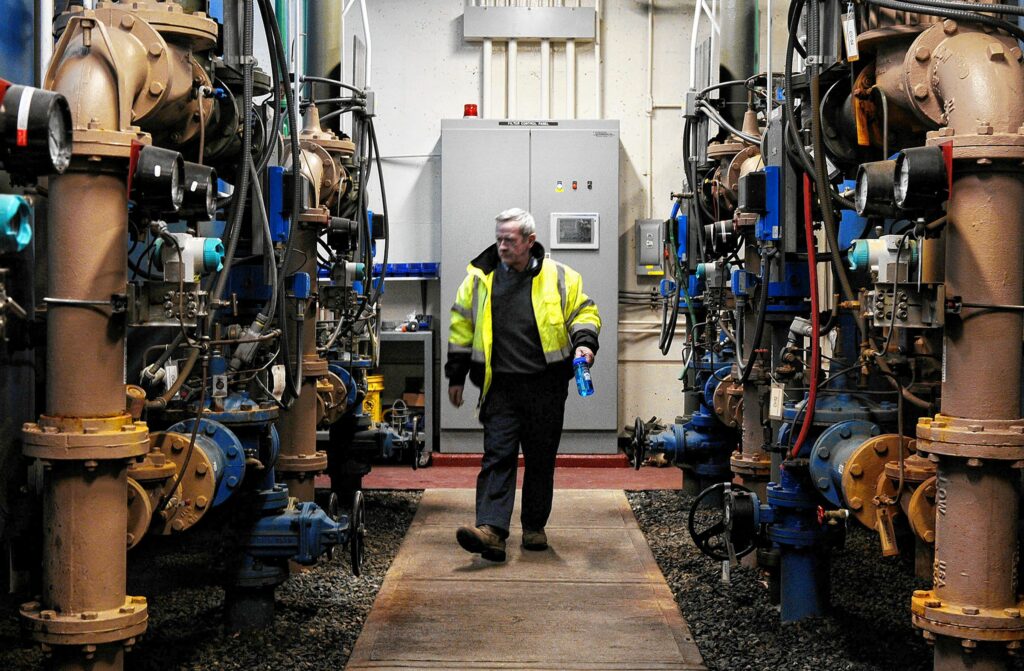 From a sock getting flushed down the toilet to parts-per-trillion contaminants, there are myriad mayhems that can disrupt a community's water system.
Fortunately for the town of Hartford, Chief Water System Operator Rick Kenney said, there are not any per- and poly-fluoroalkyl substances (PFAs) — a human-made chemical used in industry and consumer products since the 1940s — in either of the two central water systems that provide service to over 7,500 people in the villages of Hartford, Quechee, White River Junction and Wilder.
After 48 years in public works' water departments — 33 for the Town of Hartford — Kenney's mantra has become "What goes on the ground, goes in the ground."
"We don't make water, we recycle water," Kenney said. "We take it out of the ground, it's used and then it goes back into the ground. We just treat it and distribute it. We are part of the cycle. We are testing for contaminants that are man-made. That's the unfortunate part of it.
"We're fortunate in New England, though. We're fairly good as far as water is concerned, especially our systems."
The annual water quality reports for the Hartford and Quechee central water system show that the water is filtered and clear of the 80 contaminants that they test for continuously.
Eventually that groundwater makes it to the aquifers, where 150-horse-power engines pump fresh, ground-filtered water through over 40 miles of water mains in Hartford and another 20 miles in Quechee buried at least 5½ feet underground into homes and businesses. The water mains are a mix of 100-year-old-plus cast iron pipes, cast iron from 1955 and ductile iron put in during the 1970s through today. This doesn't include any of the copper or plastic pipes that get water into faucets.
"There's quite a menagerie of plumbing in the ground," Kenney said. "There's something to be said about some of the old, old stuff. The problem is we're going to be getting to a perfect storm as far as infrastructure, in terms of piping, where we're replacing 100-year old pipes and 40-year-old pipes are also having to be replaced."
The Water Division makes sure clean water is getting safely and efficiently to homes, while the Wastewater Division treats the area's wastewater and releases it refreshed back into the rivers and streams, where it begins the cycle again.
Unfortunately for the team of eight people who operate the two treatment plants of Wastewater Division, rags, wipes and other improperly-disposed things get flushed and can disrupt the system, said Jeff Lord, a wastewater operator at the Quechee wastewater treatment plan.
"The example is someone throws a sock down there and it clogs a pump. Well, not only does it inconvenience other people, but there's a limited storage capacity at these stations, and it could overflow. It could overflow into the river," Lord said. "Our main concern, our highest priority is not to have anything untreated go into the river. We're constantly vigilant about that."
From a home or business in the Quechee system, wastewater flows to one of 11 pump stations where the pumps hike the wastewater up the hills, which then gravity-feed it to a main pump station and finally to the treatment plant. The Hartford wastewater treatment plant has 10 pump stations that serve Hartford, White River Junction and Wilder.
The wastewater then goes through five stages — fill, react, settle, decant and idle — in one of the two sequencing batch reactors (SBR) at the Quechee plant. In both the Quechee and the Hartford wastewater treatment plants, there are two reactors — or large basins — where the entire biological process of treating the wastewater takes place in one reactor at a time. Once that is complete, the clean water is discharged into a river or streambed, in this case the Ottauquechee River, and new wastewater is brought into the other reactor.
"There's a little bit of pre-treament where we take the big stuff out and it's a screen and grit collector," Lord said. "That gets some of the inorganic stuff out before it goes into the basin. We have two basins that are identical, and they have two pipes going into them with valves. We always have one valve open and one valve closed, so they're on a staggered cycle. There's always raw waste water going into one, while the other one is doing the treatment."
Decanting is the fourth step in the process, Lord said. But with how this system works, the time required for the fifth step — idling — varies while waiting for the other basin to fill. It is during the idle stage that some — but not all — of the "active sludge" gets pumped out and goes to the landfill.
"Once they go through the five cycles, then what we do is decant, or essentially take the clear water off the top when everything's settled. That goes through a filtration system just to get the finer solids out. Since we're a recreational river, we've got pretty strict limits on what can go into the river, so we've got a nice filter system that's the last part of the process before it goes out."
Relatively modern in terms of wastewater treatment plants, both Quechee and Hartford use ultraviolet light as the final disinfecting step before water is tested and sent out.
"The thing that amazes me — and it's one of those things you never think about or take for granted — is when you see the clarity and the lab analysis of what's going back into the Ottauquechee River, and the fact that it's almost completely done biologically, it's really amazing what we can do. We accelerate the natural process. If there were fewer people in the world feeding their waste into the river, the river could handle it on its own, probably. But there are so many people, so you need to accelerate that whole process. It's pretty impressive."
As water is used at all hours of the day, both teams have a crew member on call 365 days a year around the clock. Director of Public Works Hannah Tyler said that the teams keeping the water clean in the Upper Valley are at their best when they are taken for granted by the public because it means they are effectively delivering people natural resources without any major issues.
"Ultimately it massively impacts our whole community and it affects everyone who lives here and everyone who wants to visit here," Tyler said. "That is something that we take seriously. … If we're not making enough water that is not only clean water that's supplying our residential needs, but also that we have enough that existing businesses are sustained and that new businesses have the ability to come here."
Isaac Lorton, of White River Junction, is a freelance writer, editor and photographer. More of his work can be seen at junctionmagazine.com.