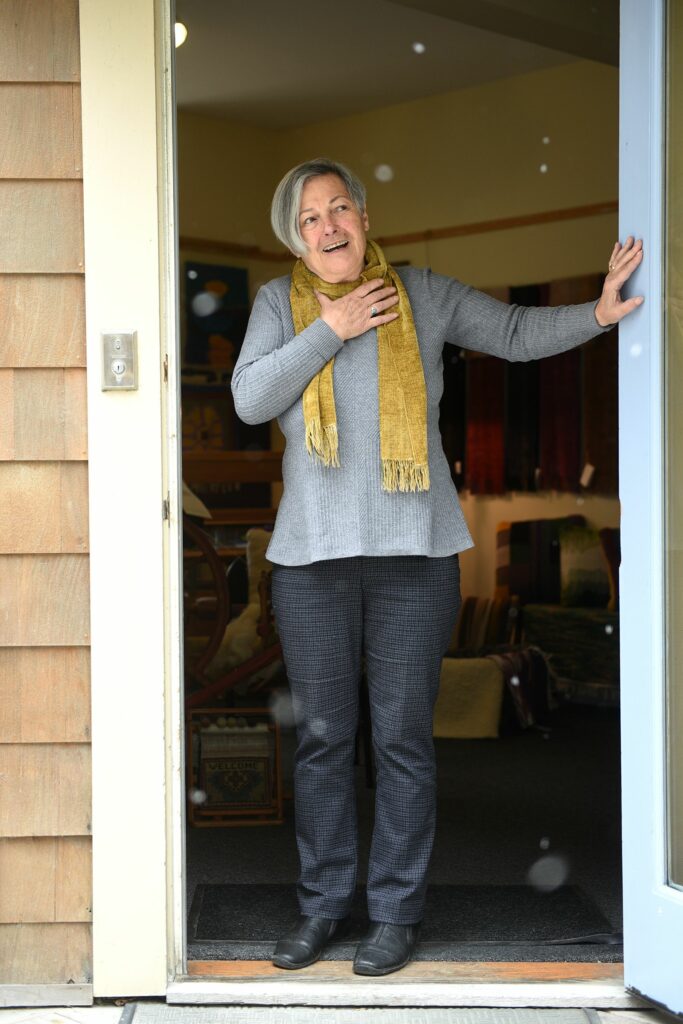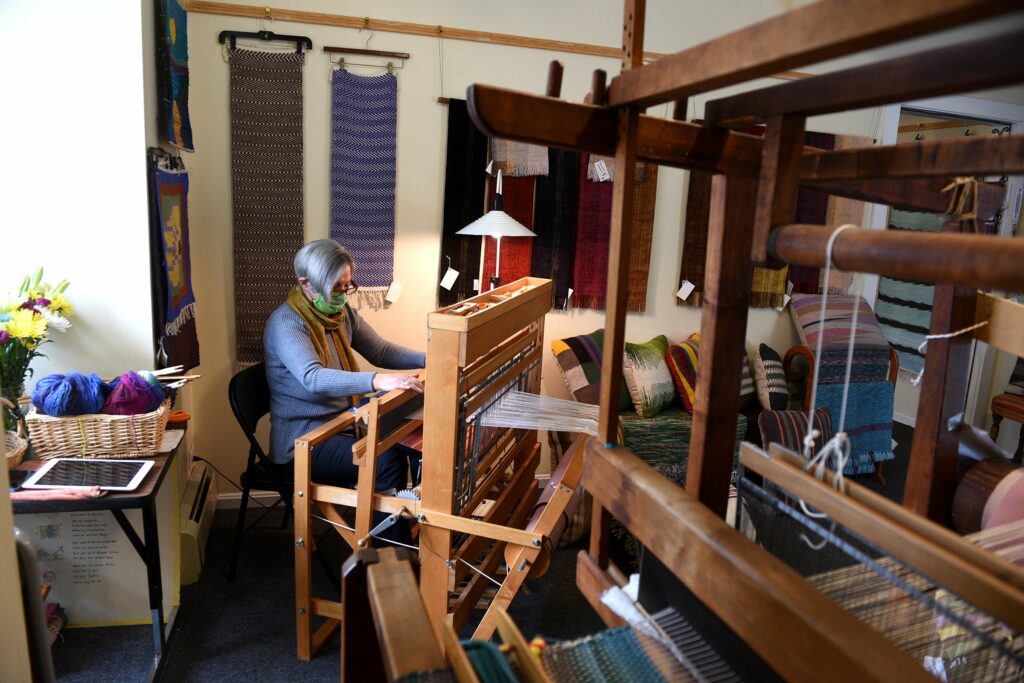 By ISAAC LORTON
Enterprise Correspondent
What got you into weaving and using a loom?
My husband's family from Chicago, they had a couple that lived with them. They were Swedish and he was an architect and also a craftsperson — he worked with wood and metal — and his wife was a weaver and took care of the family. Her loom that her husband had built for her in the beginning of the 1900s, they wanted it to stay in the family but they didn't have children — no heirs. I inherited that loom because I was Greek, and supposedly, they thought I would be more familiar with a loom than anyone else in the family.
Is Penelope (of Homer's Odyssey) a distant relative or something? Is that why you got the loom?
The Swedish lady, her name was Sofia Haag. About 36 years ago I gave birth to a girl and I named her Sofia, and the family goes, "Aha! That's where the loom is going to go! Sofia!" They gave it to me and I got involved. I took lessons, went to Greece. Took lessons there too for a year, and then here in the States.
So I started weaving about 36 years ago. When you pursue something, you can learn a lot on your own once you know the mechanics and the basics of an art. Memories came back to me as a child when I used to see women preparing the weaving process. How they measure the threads, and how they put them on the loom, and so on. They used to work as a group because it does take many hands to do that.
I started weaving, and I really enjoy it. There's so much to weaving. There's so many designs. There's so many ways to weave. A lifetime is not long enough to do all what could be done in weaving.
You were born and raised in Greece. How'd you make your way here to Woodstock?
I was born and raised in Greece, but I left at the age of 19. I traveled a lot around the world and ended up in Canada, and then in the U.S. I've been here since 1979.
What about Vermont made you stop in your tracks and stop roaming?
I lived in Montreal for many years. I met my present husband in Montreal — who is an American — through friends, and that's how I came to Vermont.
I love Vermont because I grew up in the mountains, which is about 3,000 feet altitude, my native village. Vermont was very comfortable and de ja vu in my past.
The nice thing about people who grew up in high altitude, we have big lungs. And hopefully are in good shape!
What did you do before weaving?
I was a clothes designer. Never got anywhere far. I did some clothes designing in Montreal. I used to have a retail store.
And the two documentaries detailing women's accomplishments?
I am a woman. And I know the tribulations women have gone through. Where I come from women were more oppressed, but we still see it in this country.
I want to make sure that women's contributions in the world and in society are acknowledged and reminded to people.
What are some of the materials you use in your weaving?
There are many materials you can use in the weaving.
Of course, the wool, it's a beautiful material to work with. Chenille is also really soft. It was invented by the French in the 1700s to replace silk. Chenille means little caterpillar in French.
When I started to weave more and the movement about recycling was picking up in 2009, I started a T-shirt recycling program in Bridgewater Mill.
Personally, I did not need the income of work, so I gave my time as a volunteer. I started a program where we created a studio called Heritage Weaving Studio, and I got some looms, and we recycled thousands of thousands of T-shirts. I was in that program for seven years. For a rug that's 28-by-42 inches, it takes about 14 T-shirts to do it.
We incorporated the thrift shop. They gave us all their T-shirts that they couldn't sell. After seven years I wanted to move on and work with other materials that you need to buy. Like wool is pretty expensive and other special fine, fine, threads. The program continues, and they continue to recycle T-shirts.
Now, in my new studio, which is right here in Woodstock, I still do special orders for people with recycled T-shirts. People love it because those rugs are washable.
I also work with wool. I love working with wool because it is soft and there's a lot of local people who have one or two sheep and they're not interested in selling the wool or it's too much trouble. There's not a lot of market for the wool. So they donate me the wool. I process it and I wash it. I card it and I spin it. I make some woven things like pillows, mostly, and rugs.
I do work also with alpaca. The alpaca process, they make a yarn that is very, very thick, which is great for rugs.
I work with cotton, I work with chenille, and many other materials. I teach and work with individual special orders.
Have you found that you have been teaching more due to the pandemic? And how has that changed for you? I'm assuming not many people have a loom at home.
I haven't been advertising during the pandemic. I have had a few students one-to-one, wearing masks and they were people I knew from the area. But I haven't advertised, those people came to me, because of the pandemic. Soon I will start again because my classes go from 3 to 5 students at a time. I teach only frame loom, which is like a picture frame. People are very, very much interested to learn something.
When you do weaving on the small scale, you can use leftover yarn — a little bit of this color, a little bit of that color. In weaving you can create designs with material that you have left over from another project.
I do have people drop off leftovers, which I recycle. I recycle a lot of material, even wool that people drop off because they are done with a project or clean up or whatever. I continue to recycle.
As far as leftover wool goes, have you found a need for smaller wool processors and weavers in this agrarian society of Vermont?
Absolutely! And I am very excited with the mill that is opening up in White River Junction with Peggy Allen and Amanda Kievet. I don't know the latest. But I've had to process wool up in Mad River and it takes a long time.
There's another mill that I got familiar with and visited in Brandon — that wait was something like two years. I understand that there is a need for a mill for smaller farmers who have a few animals, maybe they will process the wool instead of throwing it in the garbage because that is what most people do.
People come to me and tell me they have a couple of sheep and that they have wool and ask if I want it … You have to wash it several times, boil it, it's a long, long process, but it's fun. I have done it a few times just for the fun of it or the experience of it with groups of women, but it's an enormous amount of work.
It's good that there is a new mill in White River Junction. I'm planning on going to introduce myself. As a weaver, I love wool. It's a wonderful material, and it's right there. We have it aplenty.
What's happening in your work and your studio in the near future?
I have a big rug loom, and smaller looms. I have about 5 to 6 looms. I think that I will invite people to come and weave projects on the loom, instead of just teaching them on frame. And sometimes it is already people who know how to weave, so I would like to have people come weave their projects on my loom while I supervise them and prepare.
The most difficult thing for a lot of weavers who are not experienced is how to prepare the loom for a specific project, or what specific threads you need.
I already have a young lady who comes in to weave rugs and she brings her own material. I thought it would be a good idea to open it to more people so they can do their own project under my supervision.
Sometimes when people clean up, or they lost a grandmother, or a person who had many beautiful pieces of clothing and don't know what to do, I can teach them how to make it into a rug. They can look at it and say, 'oh, that is the dresses of my grandmother,' or 'grandfather's shirts.' I think that would give people incentive to recycle and also to keep a memory alive.
Learn more about Woven Treasures from Vermont at woventreasuresvt.com.