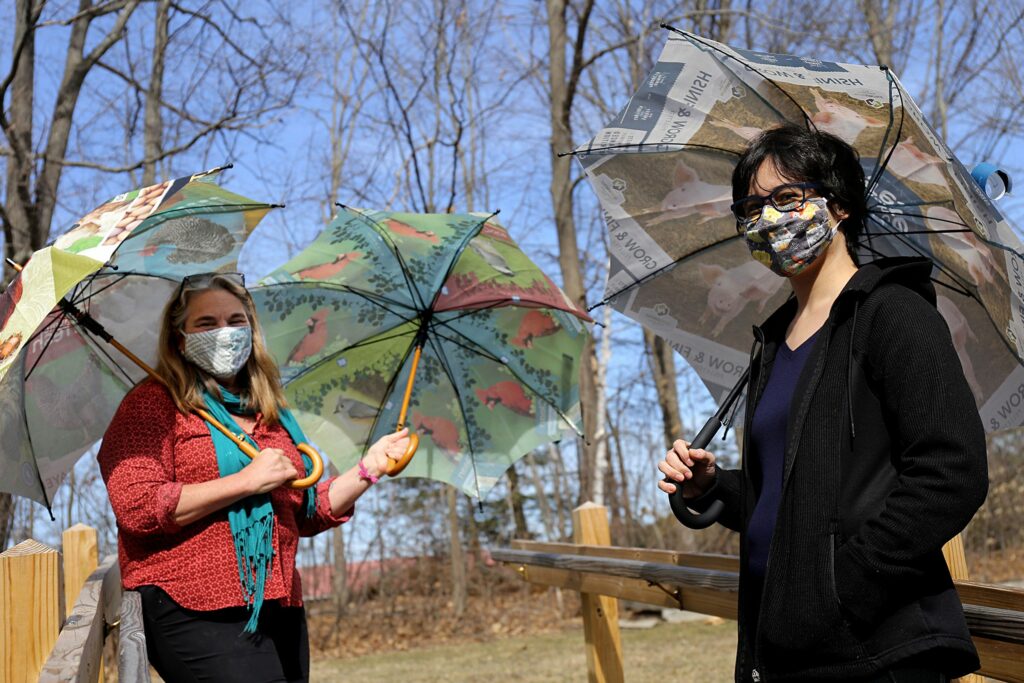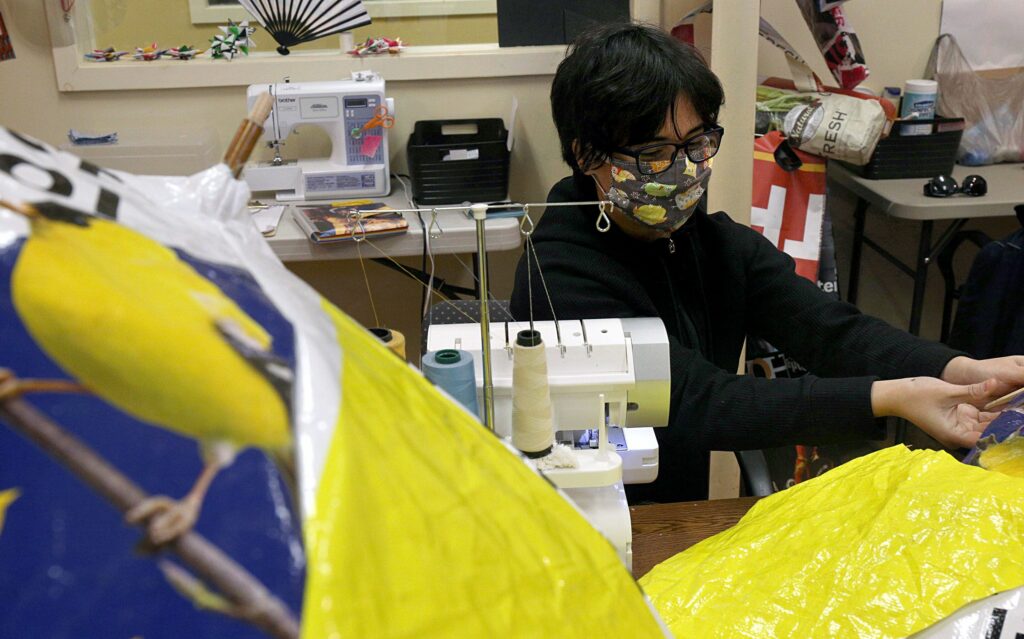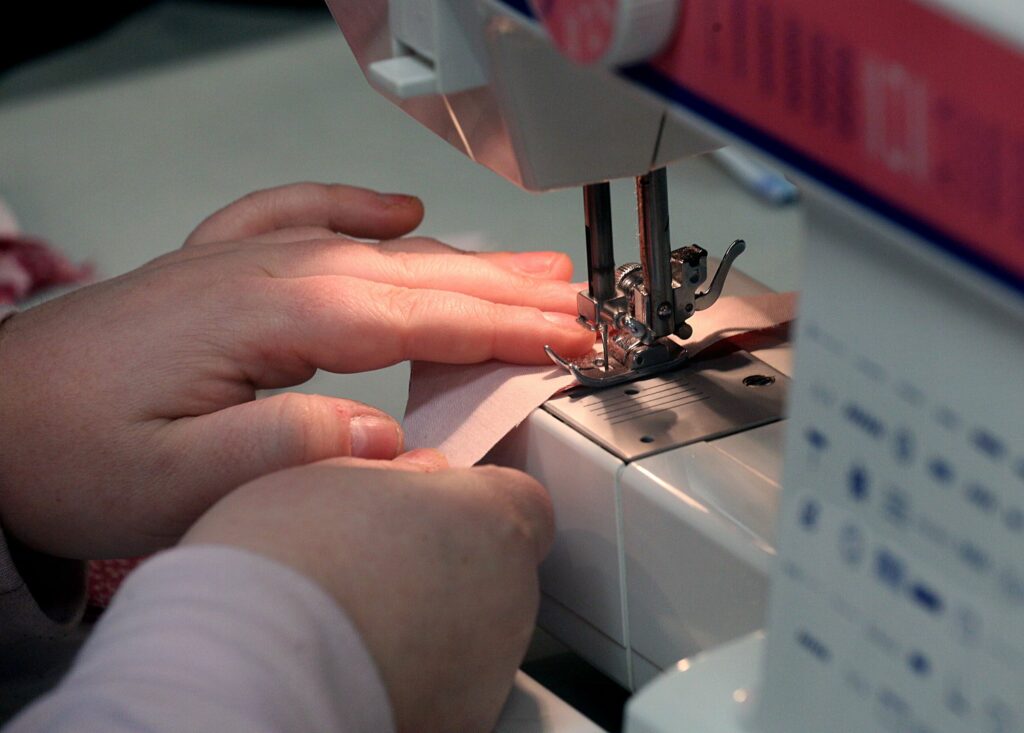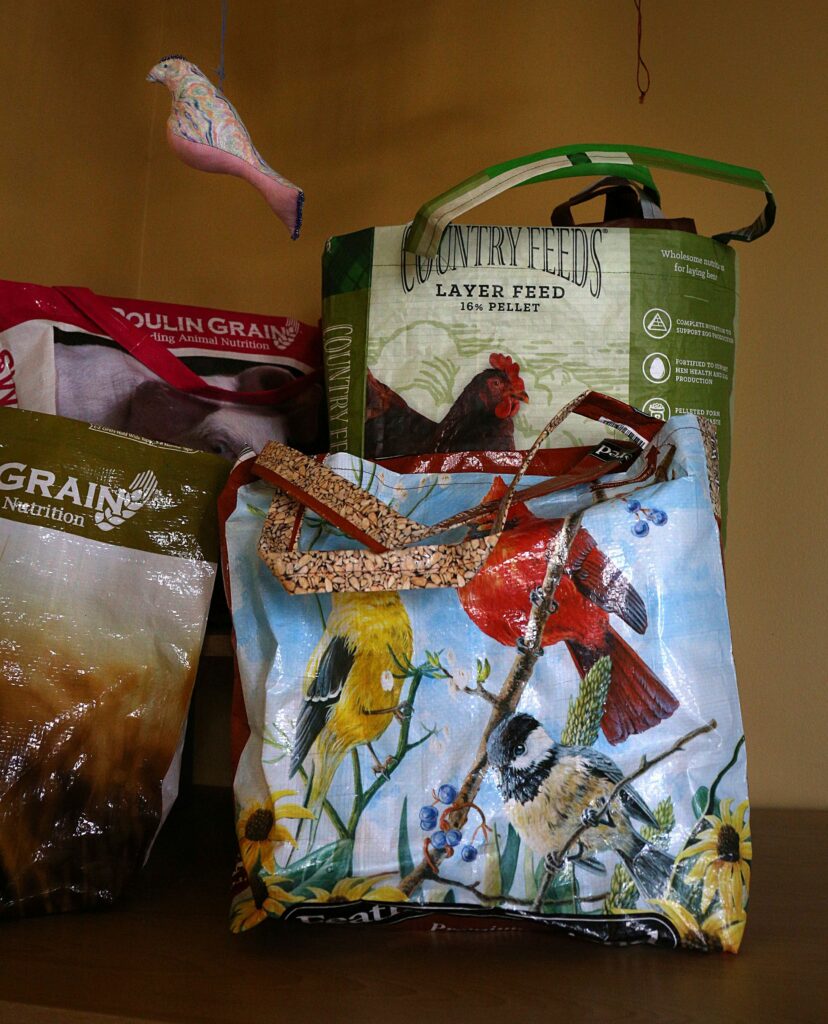 By ISAAC LORTON
Enterprise Correspondent
At the bottom of an empty polypropylene feed bag is potential. Probably not to be recycled because — up until recently — most recycling facilities have not accepted the plastic bags found throughout agrarian New England.
The Farm to Bag initiative at The Family Place in Norwich takes donated feed bags and uses them as material to make tote bags, yoga mat carriers and even umbrellas, said Julia Dickenson, the Children's Integrated Services Early Intervention Admin. Coordinator and Families Learning Together Studio Worksite Supervisor.
"We call it Farm to Bag, but it is much more than bag and it is much more than farm," Dickenson said.
The umbrellas have become a favorite. While many people make totes from grain bags, the Family Place was looking for other items to add to its repertoire.
"We started to think about really innovative products that we could make with these grain bags, and one of these was umbrellas. We sourced umbrella frames and started to make them," Dickenson said. "We've had really nice sales with that because it's so unusual. … They're pretty fun to make and they've gotten really good reception."
Dickenson said she did not know how many $38 umbrellas they have sold for the program, but for each holiday fair they attend they aim to have 100 shopping bags and 20 umbrellas, made from eight grain bags.
As part of the Families Learning Together program, which aims to help young parents become more self-sufficient, the Farm to Bag worksite is an opportunity for parents to learn basic sewing and workplace skills, while reducing waste and creating one-of-a-kind items. The items are then sold at local markets, fairs and online on Etsy. All of the money made from selling the items goes back into the Families Learning Together program.
"We're helping all the wrap-around skills for someone," Dickenson said. "I'm not anticipating that a lot of our participants are going to go out and be professional sewers, but we're simulating a workplace. We're doing a lot of soft skills around that: taking criticism, working with others, meeting deadlines, showing up on time. All those things that translate into real job experiences. That's what our worksite is simulating."
There have been about 12 to 15 participants in the two years of Farm to Bag's existence. There are currently six or seven members in the program.
"Some love it, some don't, but they all learn how to use a sewing machine and that's a useful skill," Dickenson said in an email. "Plus, our sewing machines aren't made to sew with such tough material, so our participants are also learning how to troubleshoot frustrating problems and move forward — a huge skill. After feed bags and vinyl, sewing fabric seems easy! We started making fabric masks and simple baby quilts this fall and our machines love the change."
In the original worksite that Dickenson led, the avid craftsperson taught Family Place parents how to make jewelry. After attending a Claremont MakerSpace class on how to make a poly feed bag tote in the spring of 2018, Dickenson called on the community for feed bag donations and the response was staggering. Stacks of empty bags have been dropped off on Family's Place porch every weekend. She also reached out to Dartmouth College and Northern Stage to reuse the large vinyl banners for the Farm to Bag program.
"I think it's important to teach basic sewing skills for the sewing reasons and bringing in the non-traditional materials is just a great lesson in reusing and recycling," Dickenson said. "Seeing the outpouring of the bags from local farms was really pretty incredible. Realizing, wow, these need to get used up."
Unfortunately, due to the COVID-19 pandemic, and after having accepted bags up until March 2020, The Family Place has had to ask people not to drop off any more feed bags and its doors are not open for visitors. The Farm to Bag program began again in the fall, but has had to limit the number of participants sewing at once.
They continue to sell online through Etsy and will be at the Norwich Farmer's market occasionally this season.
"With COVID, we're really not producing very much," Dickenson said. "We were going pretty full force last year. The whole program has really taken a hit."
Though the future of the Farm to Bag program is murky, Dickenson said that regardless of what they're making, the participants are learning how to be good employees which will benefit them no matter what job in what field they move onto next.
"There are some Upper Valley businesses that could use sewers, but this is such a strange time," Dickenson said. "Hopefully we're igniting a nice creative outlet for them too. Our hope — we do work with donated sewing machines — is that if someone is interested in doing their own sewing, they go home with a sewing machine, so they can continue that at home and work on things like repairing their children's clothing or household things."
Learn more about the Farm to Bag program at familyplacevt.org