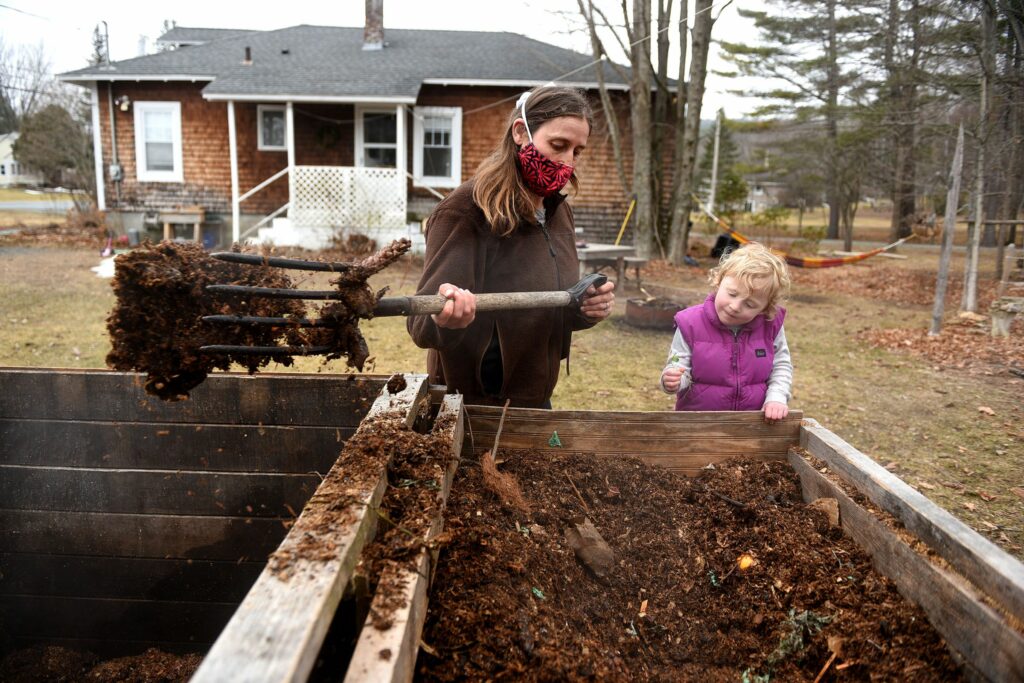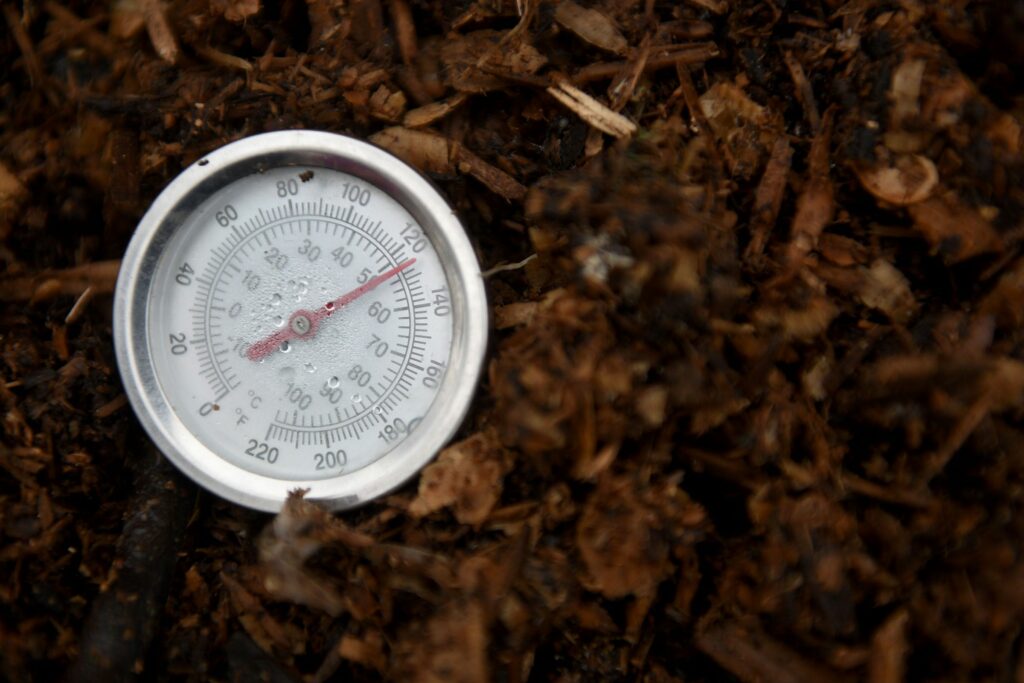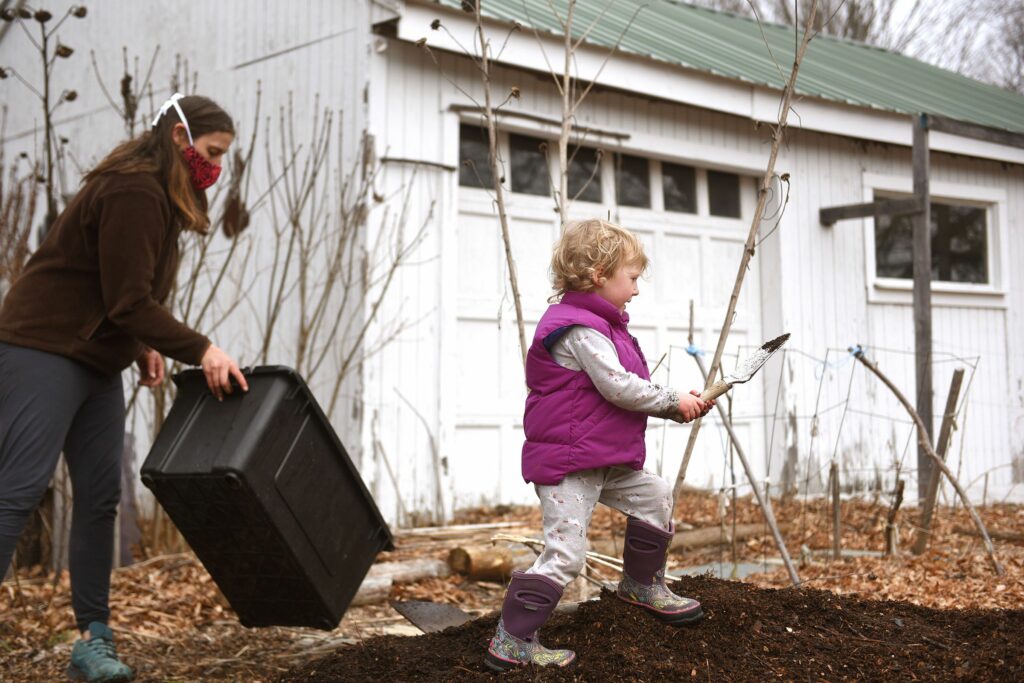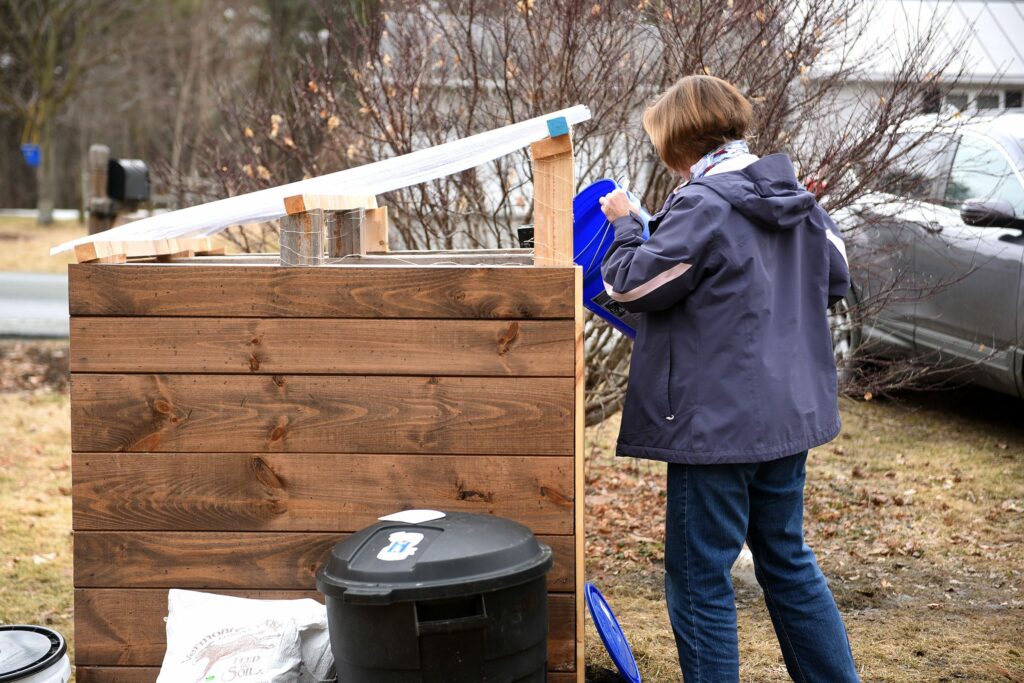 By ISAAC LORTON
Enterprise Correspondent
They've been sugaring this spring at Sunrise Farm in White River Junction. They have about 700 tapped trees. They are growing "onions and onion family stuff." They have a heated greenhouse that is growing what will make you cry chopping in the summer, among other baby plants. With the warmer weather recently, they have been getting regrowth of winter greens that they are starting to harvest again from their unheated hoop houses. And whenever they get a chance, "there's fixes, repairs and upgrades," according to farm owner Chuck Wooster.
Amidst all of that, the largest upgrade of the past season at the farm on North Hartland Road, aka Route 5, was building a new carbon management facility with the help of community fundraising and a state grant.
Completed last December, the 1,600-square-foot, rectangle-shaped building, with solar panels on the roof, now provides all farm operations with electricity. It will house all of the compostable material from the farm, in addition to organic waste brought in from other locations.
"(The roof) helped determine the size and shape of what the building was because we knew how many panels we needed," Wooster said. "We started there and worked backwards."
Below the sun-catching shingles lies the biological alchemy.
"We've always composted animal manure and veggie waste and stuff that we had lying around," Wooster said. "It's something that we've always done, but what we really wanted to be able to do was take food scraps back, initially from our CSA members, but also from the community at large."
But in order to do so, they had to have a licensed facility as specified under Vermont law. The business became certified and has been processing outside compost since December 2020.
CSA members Jen Murphy, the owner of Willow Tree Community Compost, and Cat Buxton, a sustainability consultant, approached Wooster with the idea of creating the carbon management facility in order to close the bio-loop as part of Sunrise's ongoing effort to be self-sustaining.
"The nice thing about this system is that it's taking all those nutrients from the food scraps that often would just go into a landfill or into a garbage disposal in the sink," Murphy said, adding that that prevents food waste from entering the soil ecosystem. "If you aren't recovering them all, a farmer has to go outside of their loop and bring in fertilizer or buy compost from another facility. We're just recovering all the nutrients instead of having them sit in a landfill where they anaerobically decompose."
The 400 CSA members can pick up their fresh vegetables and empty their compost bin in one go. The facility also takes in about a ton a week of food scraps that Murphy collects from 200 households — including curbside pickup, drop-off and apartment buildings — two restaurants and three businesses. Willow Tree has kept the compost pile warm this winter, Wooster said.
"That was the genesis of this and Jen has been a really important part from the beginning, especially right now during this winter. Pretty much all the food waste we've been taking so far has come from her," Wooster said. "Our CSA opens in May, so starting in May, we'll have a direct stream coming from our members."
Though Willow Tree has expanded rapidly since beginning in 2019 as a pilot program in her home village of Wilder, Murphy continues to maintain the three-bin composter, made from pallets in her yard. Customers receive a five-gallon bucket of compost for their own gardens; the rest is donated to the White River Community Garden.
"The community composting part of my name is building a network of people that are composting, as well as businesses and restaurants that compost and are paying attention to their waste," Murphy said. "Pulling everyone together and supporting each other, and giving the community different opportunities to be a part of that process."
Last July, when Vermont's residential composting law went into effect, Murphy's workload increased for commercial properties and she saw an uptick in her curbside pickup and drop-off programming.
"Now in Vermont, everyone should be composting, but it's nice to know who has kind of gone out of their way to make it a priority and keeping it in the community," Murphy said. "It definitely had a big bump there with apartment complexes calling. There was quite a bit of residential, but it wasn't huge. There was certainly a bump, though."
The carbon management facility was a large upfront cost, but with the help of the community and state support, Sunrise Farm has become more sustainable in the long run, Wooster said.
"There is the ecological piece and there's the economic piece too," Wooster said. "We need to make sure that we're figuring out ways that make financial sense, as well."
Wooster estimates that the farm will save up to $10,000 a year in organic fertilizer costs by having a compost operation onsite.
"Whenever you're buying stuff from outside, it's being made somewhere, it's being trucked somewhere, it's being produced somewhere; there are carbon elements in all of that. It's both financially and ecologically great to buy less and make more of our own," Wooster said.
At the farm, Wooster, a conservationist, environmentalist and self-described "land lover," said he is willing to push innovative carbon management practices. At one point, Sunrise Farm attempted to only use 100% biodiesel fuel from reclaimed restaurant oil in their tractors. After two years, however, Wooster realized that it was unsustainable at that point in time because it was too expensive to maintain fuel lines and filters.
"We've always been trying to figure out what's the sustainability angle?" Wooster said. "A little bit of what happened is about five years ago, we greatly expanded the size of the farm."
Five years ago, he purchased another property to use for farming and increased the number of participants in the CSA.
"In making that leap, we got away from sustainability that I was after. … Now that we've kind of plateaued at our new size, it's a chance for me to go back and say, 'Okay, great! We're at this new size, now what are the pieces that became less sustainable, or what are the opportunities now to be more sustainable than before?' "