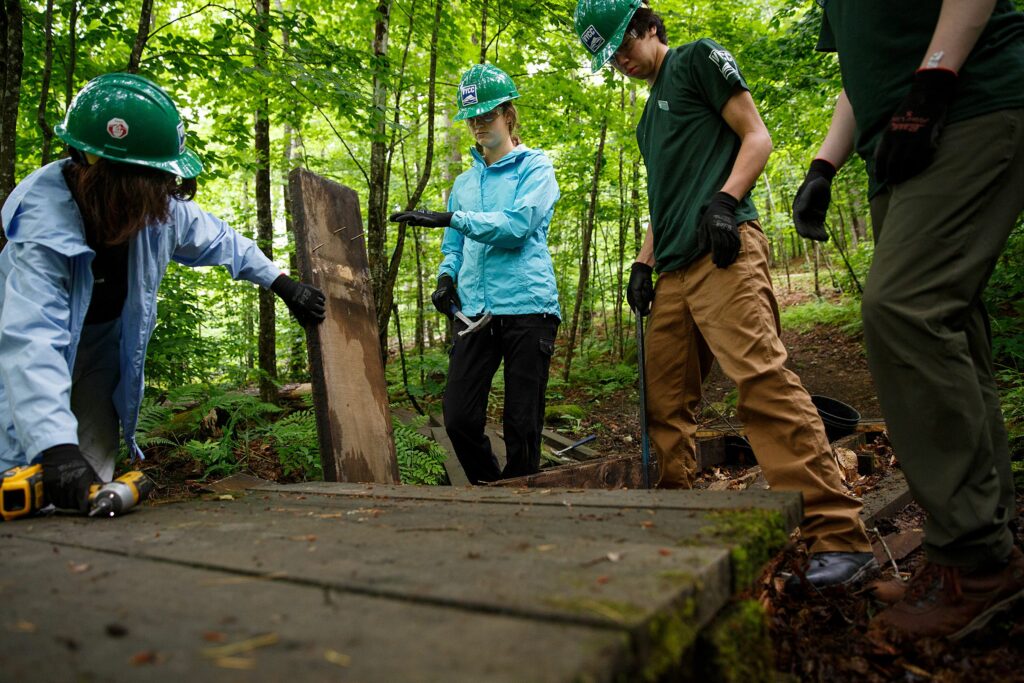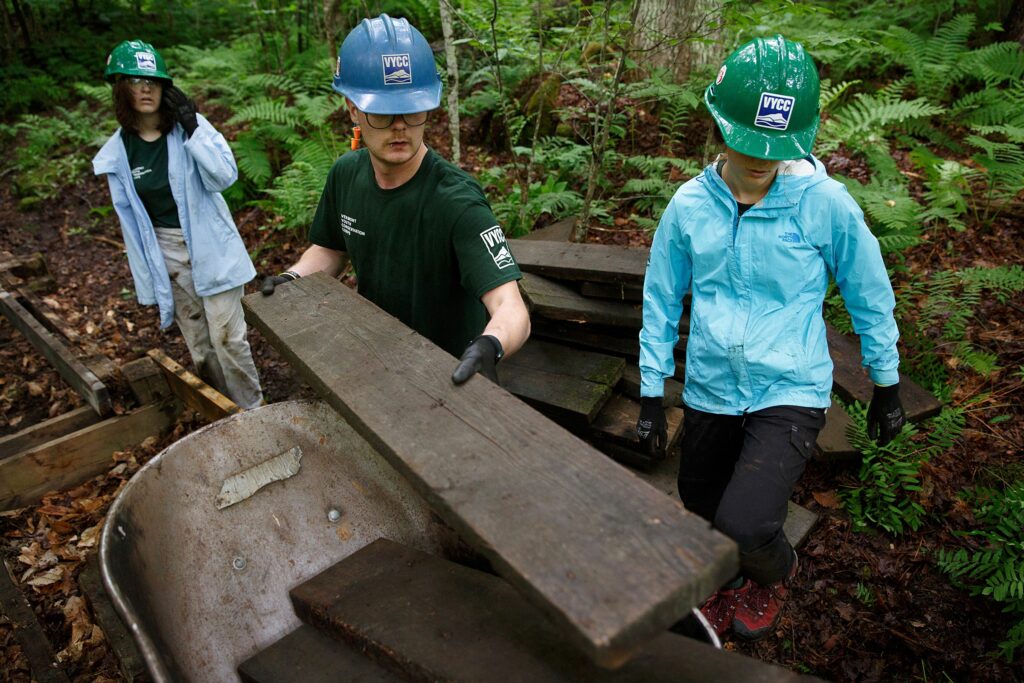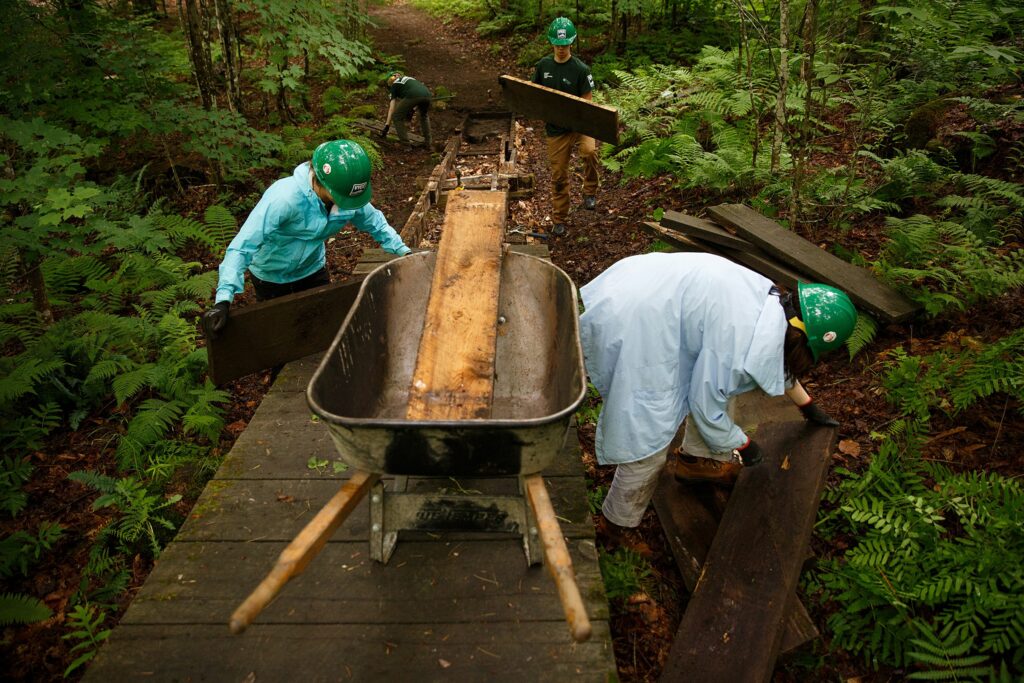 Valley News Correspondent
WOODSTOCK — There are thousands of miles of public trails for hiking and other outdoor pursuits throughout the United States on federal, state and municipally-owned land. From the flat, short and easy stroll through a meadow or marshland to the more challenging steep trails to mountain summits, there are trails for people of every ability level.
But, as the National Park Service's website declares, "trails just don't take care of themselves," and each year a combination of volunteers and paid staff work to keep the paths accessible by addressing erosion and clearing debris.
That was not always the case. According to the NPS, many of the trails built on federal land in the early part of the 20th century by the Civilian Conservation Corp. and other groups had been neglected for so long that by the early 1970s, deterioration was a major concern. Visitor numbers were growing, but without a maintenance plan, erosion was impacting the trails and park managers struggled to maintain trails and staff crews. That began to change in the late 1950s when policies were developed — and resources provided — to improve and maintain trails with paid park employees and community volunteers.
At the Marsh-Billings-Rockefeller Historical Site, operated by the NPS, a network of about 20 miles of trails ranging from easy to difficult loop around and through the park's property west of Woodstock Village.
Last month, on a cool damp morning, a small but significant piece of trail maintenance was being done by a work crew led by Sawyer Connolly and Katie Reidinger. The team was making repairs to a short footbridge just off the trailhead of the roughly half mile Prosper Trail.
The four-person crew ripped boards off the bridge's stringers, which run the length of the bridge and are supported by larger timbers called sills. Pry bars, the claw of a hammer and some muscle were needed to dislodge some of the more than 40 treads, which were originally screwed into the stringers years ago.
"What we have going on today is a bridge restoration project," said Connolly, a team leader with the Vermont Youth Conservation Corp., a nonprofit founded in 1985 for the purpose of working on public lands and running state parks from late spring to early fall. "We are pulling old boards (treads) out and the stringers under the bridge — which support the planks — are rotted out."
As Connolly spoke, crew members Andreis Morin, 16, Chloe Masillo, 15, Beatrix Garza, 15, and Ben Johnsen, 15, all wearing hardhats and gloves, shared the effort of pulling up the boards, 2 by 8 pieces along the roughly three-feet bridge.
"I am really interested in environmental science and I thought this would be a cool opportunity for me," said Morin, of Pittsfield, Vt., adding that he initially was not aware he would be paid, which he said made the work even more appealing. "So far, so good."
Masillo, also from Pittsfield, Vt., had a similar reason for signing up.
"I want to go into a profession similar to this so as soon as I found out about this I was really interested. I want to do it for the experience," Masillo said, taking a brief break from the work as Garza and Morin worked with a pry bar and hammer on a board that took some extra effort to dislodge. The treads were loaded into a wheelbarrow and brought out to the nearby parking lot.
Connolly said around Memorial Day about one-third of the bridge collapsed (it is nearly at ground level).
"We are resurfacing the entire length (of the bridge) with fresh, pressure treated hemlock but only replacing a third of the stringers," Connolly said.
Additional work will include improved drainage designed to divert water that runs down a slight slope and under the bridge during rainy periods so the new stringers will not be as susceptible to rotting. The new bridge was to be completed in a week and then the crew, which will work in the park for six weeks, will move on to other projects including building benches, and clearing vines and hardwoods from a stand of trees that are crowding out the conifers.
Reidinger, who has worked on trails out West, including part of the Continental Divide Trail, which runs from Canada to Mexico, said trail building and maintenance focus on accessibility and safety.
"The main thing we look for is what group of people will be using this trail," Reidinger said while the crew continued its work. "And what level of quality does it need to be to accommodate the hikers. Then we look at the safety aspect. Is this navigable for the average person to walk? Does it need steps? There are also erosion consideration and drainage so the trail stays dry."
The bridge project was completed on time and in the way it was planned, Connolly said in early July.
"There was some problem solving as we worked and we ended up having to level the stringers so we had to make some adjustments to make sure everything was square and level," Connolly said.
The Marsh Billings trail network requires regular maintenance to accomplish what Reidinger said is most important: safety and accessibility. That work is done through resources from NPS and others with funding from NPS, the park and Mary and Laurance Rockefeller, said Kathleen Robbins, Youth Programs Coordinator at the historical park. Trail maintenance — which costs between $50,000 to $100,000 annually — is conducted throughout the year by members of the park maintenance and natural resource management staff along with partnerships with the Vermont Youth Conservation Corps. and Student Conservation Association.