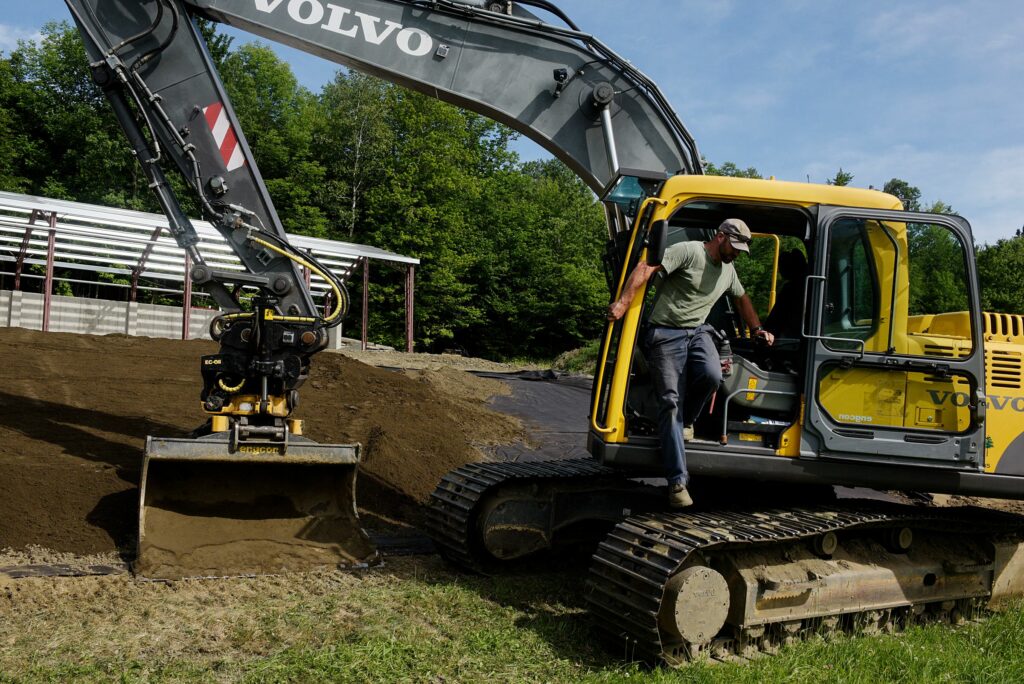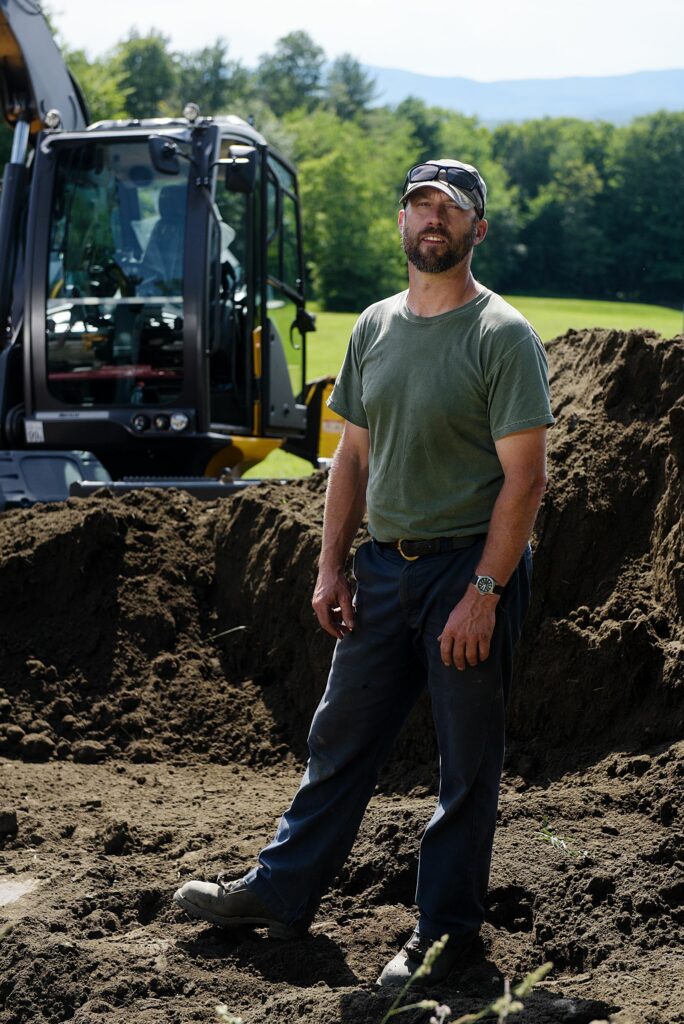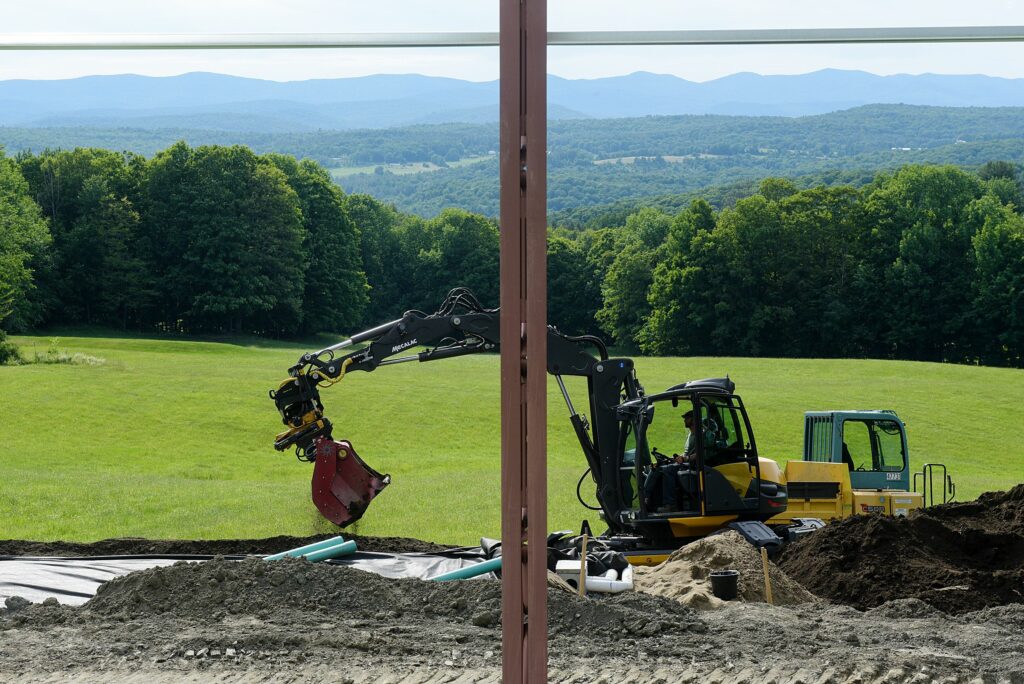 Valley News Staff Writer/Enterprise Editor
Ben Canonica, of Chelsea, has always liked playing in the dirt and being out in nature. In 2007, he started his business, Canonica Farm & Forest Services, where he focuses on trail building, general excavation, stonework and riverbank and habitat restoration.
"A lot of times I think it's like being a little kid. A lot of little kids enjoy playing in the brooks and as little boys we always have our equipment and various Tonka toys," Canonica told Enterprise during a phone interview from a project site in Northfield, Vt., where he was working on a trail project. "Now it's big scale and just being out there. It's all permitted so it's all legal. It's just kind of fun being creative, doing work that has a purpose and is somehow beneficial to the natural setting."
In July, he started working on a floodplain restoration project in Lisbon, N.H. In the Twin States, river season runs from July 1 through Oct. 1. That's when instream work — construction done in the river — can take place between the time spring spawning and fall spawning of native fish species occurs. Some of the riverbank projects Canonica's works on take a week, others take three weeks and some have taken a couple months.
"Meeting and working with great people, these projects are always a team effort," he wrote in an email. "I also enjoy the challenge, a lot of problem solving and on the go decisions to be made, keeps it interesting and engaging."
Canonica answered questions via phone and email about his work. The interview has been lightly edited for length, style and clarity.
Q: How did you get into the field of river and habitat restoration?
A: I started running equipment at a pretty young age. I grew up on a small farm in Massachusetts and had a landscaping business and ran farm equipment. Then I went to college and studied environmental science and did wetland restoration work for the US Fish and Wildlife Service one summer. That was kind of where I got started in the restoration work and then after college I ran heavy equipment doing general excavation work and then we kind of bounced around on some different farms. By that time I'd started my own business doing excavation work. Right after Tropical Storm Irene, I was helping clean up some farm fields and got talking to the White River Partnership about projects they were working on.
Hurricane Flats farm along the White River in South Royalton was my first river restoration project. We did a bank stabilization where we buried root wads — a process in which the first 20 feet of the tree and its root ball is harvested and buried with the stem into the riverbank horizontally with the root wad facing into the river —  up the side of the bank to help kind of stabilize the bank and then planted it to get some new vegetation established. It was really fun and it's different work.
Doing general excavation, you're usually going by plans. You're trying to make certain grades and elevation and usually digging for foundations and septic systems. Things are level and straight.
But when you work in the rivers or along the rivers, it's a little more creative. You do have plans, but it's a lot more design and build as you go sometimes, which is a little more creative and stimulating. I got a taste for that doing that first root wad project. I realized I enjoyed running equipment and have a stronger land ethic so it seemed like a good fit for me to do restoration work using my skills as an operator, but also trying to do some more supportive work, I guess you can call it, with results that were benefiting that natural systems as well as people and infrastructure all together.
Q: How has the demand for your services changed over the years?
A: After Tropical Storm Irene, there was quite a bit of assessment as far as maybe things that could be done differently, in terms of how projects and restoration work was completed and just how the human interaction along the rivers, how that might need to be changed. So there has been quite a lot of work using large wood for restoration projects which has many benefits.
Typically they would have used riprap — which is large blasted rock to do the same projects — but using the large wood has many benefits. The rocks heat up from the sun and increase the water temperature. This is something that wood typically does not do. The wood also provides al these little cavities under the roots, which provides great habitat for aquatic organisms. It's much more mutually beneficial to the river system versus just using rock although rock is used in some places where they're trying to protect infrastructure.
After Irene, there was a lot of work that came as a result of repairing the damage done, but it was looked at in a different light, how we can do things differently going forward.
Right now there's a lot of interest in doing dam removals in terms of small dams that are kind of defunct and don't serve a purpose anymore. Usually someone owns the dam per say and for various reasons they may want to have it taken out, or the various river groups will approach them and talk to them about removing it if it has a hazard to it. Usually it's a many years process from the original conversation to permitting and also all the funding and design work so that's kind of how it goes. It's usually a team of state officials, private landowners, nonprofit organizations and federal agencies as well.
Q: What is your process for approaching and planning a project?
A: Usually the project goes out to bid. That's not the last stage of the whole project, but they take many years to get through the design and permitting processes. You have to bid competitively on them and then there are always your typical construction variables like weather, soil, and buried treasures, such as metal, wood and old dam structures from past operations that may have gotten destroyed in previous flood. But it's a little bit amplified because we're actually working in the river and there's so many more unknowns that you may experience instead of a regular excavation project. A lot of time access is somewhat challenging: Getting down the steep banks, building an access road to get to these locations. If you're using the large woods sometimes sourcing it can be an issue.
When digging at the base of a tree, you want the stem of the tree with the root wad attached to it. That's a whole process itself: sourcing the wood, being able to handle it and trucking it to the site can be quite the endeavor sometimes. Depending on the location, a lot of times you start with a general plan. I usually have most of the aspects of the project figured out in my head but there's always surprises.
Because you're working in a live system in the river, things can change from day to day because of the water levels. You always have to be prepared to have a plan B and react to some of those changes.
Q: Can you describe bioengineering and the role it plays in your work?
A: Bioengineering is essentially attempting to mimic the natural systems. It kind of is designed as a softer approach: where they would kind of be using riprap, which is the rock, usually you hear them described as hard armour. When they talk about bioengineering, it's incorporating the wood and the planting. We will use rock sometimes but not exclusively.
You're giving the entire riverbank a chance to reestablish some growth on it. That growth overtime would develop root systems and that will buy you some time to hold the toe of the slope and give the trees and other vegetation a time to grow which will in the future stabilize the bank. You have to remember a river is a living system: It's always moving and it's beyond our control. Nothing is really permanent and we're just trying to use some of the bioengineering design to lessen some of the negative impacts, such as erosion.
The other aspects are that a lot of the bioengineering is more fish friendly. It helps using the root wads, especially versus the rocks, to dissipate the energy. It also can help to trap sediment and build the bank back up. The rock can hold a lot of heat from the sun and that in turn will heat up the water which isn't great for the aquatic organisms. By using the wood and some of the other plantings, it helps to provide shade as well as a place for fish and various critters to hide and gives them some protection as well.
Q: What is something people misunderstand about your work and what you do?
There's a lot of science behind rivers, something I wish I had studied a little bit more and am always looking to learn about. A lot of time typical excavation techniques don't always hold true when you're working with systems like that. You have to be able to think out of the box a little bit more.
When you're working with the rivers, it's a little bit of a different set of rules just in terms of working with the energy of the river and how things need to be put together to withstand all that energy that can happen during high water. We do have plans that we're working from, but they're typically more of a guideline we're working with.